Looking for the best lavalier mic for interviews, YouTube videos, or podcasting?
Are you overwhelmed by the plethora of portable microphones to choose from? Price point? Requirements? Manuals? Application? Etc?
To help you focus on what matters – recording, our plain & simple guide we drafted here easily detours the miss-matched review and journal sites.
Keeping up with audience demand is trickier than ever. People expect more. And the increasing contest for recognition means creatives constantly battle to gain the upper hand. Any shorthand route to make life easier wouldn't go a miss.
Highlight Mic
Rode's SmartLav+ Omnidirectional Lavalier was the stand out microphone in our selection. Designed with Smartphone use in mind, it offers broadcast-grade audio quality direct to iPhone and Android devices. Also, tablets fastened to a Kevlar-reinforced cable, this discreet little gem will make a recording on the fly so much easier.
Our Pick

Lavalier Microphones? Worth the investment?
Not every seasoned producer or newcomer has access to a pristine recording studio. Often, creatives find the best content is recorded on the fly— a jammed city street, perhaps, a sports hall.
Sometimes, in remote rustic locations. In those situations, you'll need reliable gear to record those moments in the highest possible quality.
Quality, your stock smartphone or tablet device microphone, won't give.
Lapel mic. Clip mic. Body mic. Collar mic. Sometimes, tie mic.
Sound familiar? Since their early 1930s initiation, Lavalier microphones ('Lav' for short) have been a go-to tool for Stage, Film, academics (Ever guess how TED Talk speakers managed to project so well?) in broadcast media (TV and Radio). And now. The podcast.
Why?
'Lav' mics' small-size factor makes it easier to transport than a traditional boom mic. Less intimidating to the interviewee than regular boom mics
If needed, Lav microphones are more comfortable to smuggle into restricted areas for those concealed recording sessions.
With limited crew members, 'Lav' mics are easier to operate and implement in the growing video podcasts sphere.
A few prelims to show just how Lavalier mics can benefit anyone's podcast operation. Even yours. Stick around. These are our five best lavalier microphone selection.
The TOP 5 Selections
Rode SmartLav+
Specs:
Acoustic Principle: Permanently Polarise
Active Electronics: JFET
Capsule: 0.10″
Polar Pattern: Omnidirectional
Address Type: End
Frequency Range: 60Hz – 18kHz
Output Impedance: 3Ω
Maximum SPL: 110dB SPL (@ 1kHz, 1% THD into 1KΩ load)
Maximum Output Level: 189.0mV
Sensitivity: -35.0dB re 1 Volt/Pascal (17.80mV @ 94 dB SPL) +/- 2 dB @ 1kHz
Equivalent Noise Level (A-weighted): 27dB-A
Weight: 6.00gm
Dimensions: 1180.00mmH x 4.50mmW x 4.50mmD
Output: TRRS
Warranty: 1 year
Operates in conjunction with RØDE Rec app
Mentioned at the start, the SmartLav+ Omnidirectional Lavalier by Rode has all bases covered. Boasting a professional broadcast-grade Lavalier mic.
The TRRS jack connector is a useful timesaver. You can plug and play directly into your smartphone or tablet device without a prior adaptor.
The minuscule 4.5mm miniature microphone will make any recording session easily discrete.
It also includes a windshield and mounting clip—both capable of shrugging off harsh winds to maintain high-quality sound during outdoor recordings. We particularly love the Kevlar-reinforced cable. Every manufacturer should soon follow suit.
As you may suspect, these superior features put this lavalier at the premium end. However, Rode is a respected brand in the audio industry. Many audiophiles swear by the quality and everlasting reliability. With the option of a 24-month warranty when you register online, you have one highly dependable product that you'd probably only need to buy once.
Shure MVL Lavalier
Specs:
Microphone Capsule MEMS
Polar Pattern Omnidirectional
Frequency Response 45 Hz to 20,000 Hz
Output Impedance 350 Ω
Signal-to-Noise Ratio 65 dB
Maximum SPL 124 dB SPL
Dynamic Range 95 dB, typical
Sensitivity -44.0 dBFS/Pa @ 1 kHz (Ref. 1 kHz)
Equivalent Output Noise 29 dB A-weighted
Microphone Connector 3.5 mm (1/8″) TRRS (Tip=No Connection, Ring1=No Connection,
Ring2=Ground, Sleeve=Audio)
Microphone Bias 2.7 V DC through 2.2 K Ω resistor
Current Drain 245 µA, typical Housing Cast Zinc
Dimensions With Cable .22″ dia. × .6″ × 52″ in. (5.5 mm dia. × 15.2 mm × 132 cm)
Net Weight 8.0 g (.28 oz)
At a close second, we have industry-leading SM58-famed Shure with the MVL Lavalier Microphone for Smartphone or Tablet. This capable device is more in reach for most, making it ideal if your budget is already a bit stretched.
Like the SmartLav+ from Rode, the MVL features a TRRS jack connector so you can easily plug into your iOS or Android device. Available to use for free when you purchase the MVL is ShurePlus MOTIV Recording App. This free app – for iOS and Android – features so many smart tools that enable EQing, manipulation, and optimizing the mic to achieve the highest quality when you're on the move.
Shure prides itself on MVL's best-in-class signal-to-noise ratio, headroom, and maximum SPL (Sound Pressure Level). MVL sports Shure's proven RF/GSM interference protection can compensate for drastic differences in amplitude and outside interference when recording.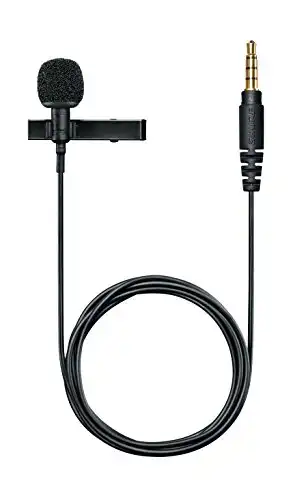 Shure MVL Lav Microphone
Industry-leading SM58-famed Shure with the MVL Lavalier Microphone for Smartphone or Tablet. This capable device is more in reach for most, making it ideal if your budget is already a bit stretched.
Latest Pricing At Amazon
Read Real User Reviews
Some links to other sites might be affiliate links so we earn a commission at no extra cost to you.
While providing a crystal clear audio capture, the clips included with the MVL mic present a stable solution for applying MVL to clothing or external structure for secure attachment. Sadly, the clip size makes it difficult to hide for video applications. The cord cable, in general, is quite volatile. Cord vibrations pick up easily when recording.
The extra windscreen and carrying pouch included ensuring maximum security during transit. With the free MOTIV App, overall, Shure's MVL is a worthwhile investment and credible alternative for long term podcast producers.
Audio-Technica ATR-3350IS
Specs:
Element – Condenser
Polar Pattern – Omnidirectional
Frequency Response – 50-18,000hz
Open Circuit Sensitivity -54db
Impedance – 1,000ohms
Battery Type – LR44
Weight – 6g (0.2 oz)
Cable – 6m (20′) terminated with 3.5mm (⅛") dual mono mini-plug
Accessories Furnished – Smartphone Adapter; tie clip; battery; foam windscreen
Middle meddling at number 3 of our selection is the ATR-3350IS by Audio-Technica. This omnidirectional ATR-3350IS, explicitly engineered for newscaster-style applications, is best suited for long-form interviews style podcasts when stationary.
The mic features a high-quality condenser. The mic casing is its key feature. A low-profile design that ensures near-invisibility when applied to interviewees' clothing. The mic is ideally suited for video use if you intend to take advantage of the video podcasting trend. It remains a popular choice for aerobics, dance, and sports instructors.
Supplied with the mic itself is a dual-mono ⅛" output plug that easily connects to a video camera or DSLR. The dual-mono output plug can also plug into a mobile audio recorder device for balanced left and right channel levels. An adapter for use with smartphone and tablet devices included—also, a tie clip, LR44 battery, and foam windscreen to discard outside interference.
Best Economic Option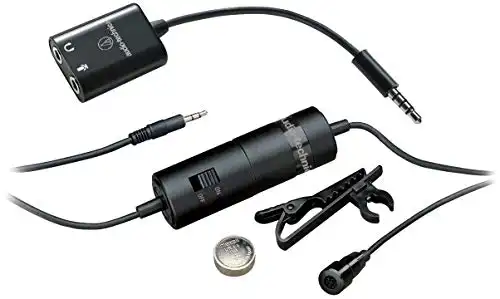 Significant issues we found include a tie clip that picks up interference from clothing rustle. Also, further feedback interference that manifested as a CRACKLING sound. Even during indoor recording sessions.
At times, the volatile sound was hard to decipher, forcing us to spend extra time in the DAW to fix and make amends.
With ATR-3350IS, Audio-Technica has built a competent device at a price point available to many. It just happens to work better with computers, rather than on the go with smartphones.
If you're planning on buying ATR-3350IS for smartphone use, be prepared to use a DAW to salvage the sound in post. Or hire someone to do it for you.
Sennheiser Pro Audio ME 2-II
Specs:
Dimensions:

d 6,5mm (ME 2-US) 

d 10,5 mm (ME 2-II)

Pick-up pattern: omnidirectional
Frequency response (Microphone)

30…..20000hz (ME 2-US)

50…..18,000hz (ME 2-II)

Transducer principle (Microphone): Permanent polarized condenser
Connection cable: mini-jack
Cable length: 1.6 m
Sensitivity in free field, no load (1kHz): 20 mV/Pa
Equivalent noise level: 36 dB
Maximum sound pressure level (passive): 130 dB
Operating voltage (stand-alone): 7.5 V
Holding the penultimate spot at 4, we have Sennheiser's Pro Audio ME 2-II. A small omnidirectional – yes, you guest right – lavalier microphone in black.
A faultless professional appearance makes this little capsule ideal for conferences, lecturers, and trade show applications.
The Pro Audio ME 2-II features high speech intelligibility and supports the technology that assists varied frequencies, scarcities, and nuances that come from human speech across the wavelength spectrum. This warrants crystal clear human speech for the most demanding podcast interviews.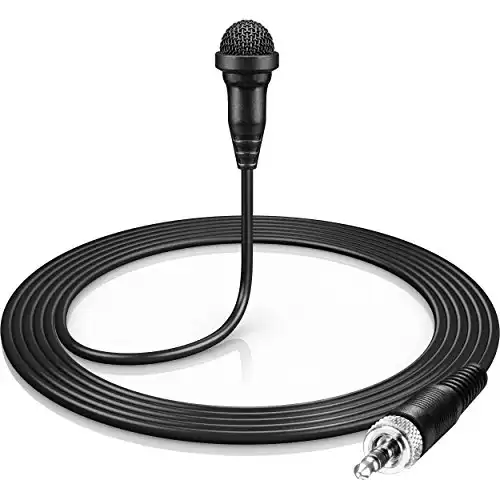 Included with Pro Audio ME 2-II is a clip to fasten onto clothing, a metal windscreen, and mini-jack that can easily be plugged into bodypack transmitters from Sennhiesers line to independent vendors. Perfect for use with video recording equipment for video podcasting applications.
We found the Pro Audio ME 2-II wasn't best for live applications. The Sennheiser mic had feedback tendencies and to pick up on handling noise. Also, we found intermittent static noise issues during post-production. Unlike others in our selection, there was no TRRS Jack adaptor included, making mobile podcast recording unlikely.
Like ATR-3350IS by Audio Technica, Sennheiser's Pro Audio ME 2-II is best suited to stationary podcast recording sessions. However, give yourself extra time during post-production for additional corrections.
Hey Mic! Bluetooth Microphone for iPhone
Specs:
Bluetooth: CSR 4.0
RF Frequency Range: 2.4GHz-2.48GHz
Operating Distance: 20m/65ft (free space)
Battery Capacity: 100mA
Usage Time: Up to 6 Hours
S/N Ratio: >95dB
Operating Environment: -10 to +50 Degrees Celsius
Weight: 10g
Hey Mic! was labeled 'The Bluetooth Microphone And App For Your iPhone To Get Great Audio On Your Videos When You're On The Go' by Hey Mic! themselves. Hey Mic! Bluetooth Microphone ends our selection at spot number 5.
The Hey Mic! does seem to solve a lot of problems for aspiring and regular video podcasters. Mostly cable related. For small crews or solo podcasters, this bug-sized Bluetooth microphone does consolidate mobile AV production in a promising package that can achieve all your audio needs. It's generously sized clip can be attached to any surface you may come into contact with.
As the tagline says, Hey Mic! connects to your smartphone or tablet device via Bluetooth. We found it a little easier to connect it with iPhones or iPads.
Our Pick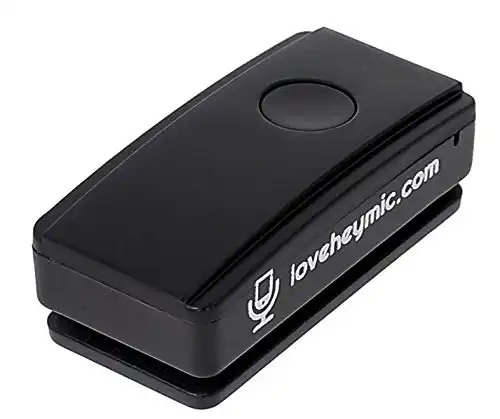 Thanks to Hey Mic! optimized for iOS with the app. It does work with Android-powered devices, though a 3rd party app – Cinema FV-5 – will be needed. Hey Mic! can also pair with the video app, which simplifies image settings – white balance, ISO, etc. – for newbies. Hey! Now that is very handy!
This little bug from Hey Mic! is very impressive. An original piece of design that makes you curious about the big players not covering it first.
Logically, it makes sense. In practice, it's fragile. Fragile during the audio quality control test. It picked up the interviewee just fine. The tone, however, was very compressed and thin. Not much better than a smartphone or tablet microphone. An EQ setting in the Hey Mic! app to fine-tune could have helped. Maybe in the later editions.
For basic recording in a secluded indoor setting, it would meet most podcaster's needs. After a few more editions, and app firmware updates, Hey Mic! should have a mic that suits even the noisiest locations. Until they hit the sweet spot, it's probably best to choose another mic.
Takeaway
Is it worth paying just a little more for something that will sustain you and your team in different podcast applications? In the short term, it's a pain. In the long run, premium prices are justified.
If you're looking for the Leatherman/Swiss Army Knife/Go Anywhere Lavalier mic, Rode's SmartLav+ Omnidirectional Lav is, FOR NOW, the best way to keep up with demand, whether stationary or on the fly.
It's all subjective. All subject to your needs and requirements. Where you are in podcasting, and where you're hoping to be. If you have the time, try different lav mics at your local audio shop. Or order online and return.
…So long as you have the receipt.
References List: