Certain recording situations call for the use of a lavalier microphone. This is especially true if you're recording and filming simultaneously and prefer to keep your hands free but still want to achieve high-quality audio.
There is no shortage to choose from either, and a quick search online will pull up thousands of them. But, amongst the very best, you'll find the Movo LV4 & LV8 Lavalier Microphones.
Podcasters, journalists, and sound engineers worldwide attest to each of these lav mics' quality and performance. But what makes them so good? And what is the difference between them?
To answer these burning questions, we decided to take an in-depth look at each.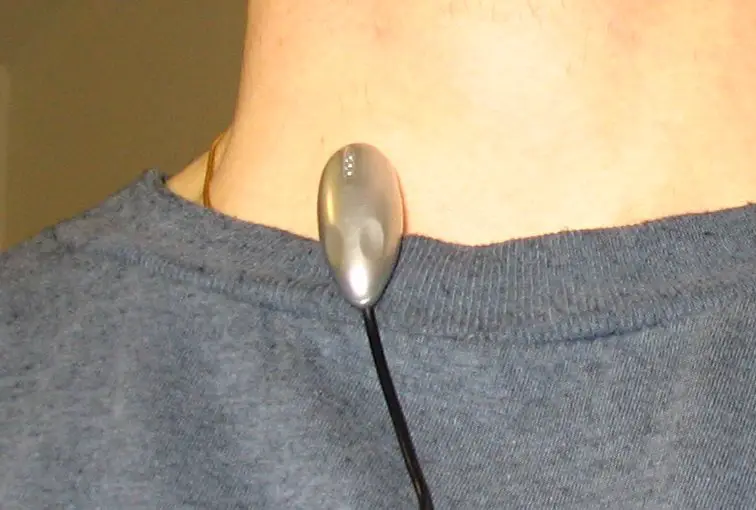 What is a Lavalier Microphone?
Before we start breaking down both the Movo LV4 & LV4 in a little more detail, let's take a moment to talk about what a lavalier microphone is.
Lavalier microphones are small and designed to be discreetly pinned to an item of clothing or a stationary object throughout a recording. However, their size is deceptive, and they are still capable of recording high-quality sound despite being so small.
They are also a lot easier to transport between recording sessions, making them a great choice for anybody wanting to record from a remote location.
Many people find recording with a lavalier microphone a lot more comfortable too. This is because it's easy to forget you're wearing one, allowing you to move freely and gesticulate without having to worry about holding a microphone or talk directly into it.
Movo LV4 Lavalier Microphone
The Movo LV4 Microphone is a small, powerful lavalier microphone. One of the things that separate it from the crowd is that it is available in two different polar pickup patterns. This allows you to get the best sound for your personal recording needs.
Polar Patterns
The first model of the Movo LV4 Lavalier Microphone to take a look into is the LV4-O. This records with an omnidirectional polar pattern, picking up sound coming from all directions.
The LV4-O would be the best choice for anybody wanting a microphone that focuses on their own voice as well as others, and it's great for interview podcasts or mic-sharing.
The second model is LV4-C. This lavalier microphone records with a cardioid pickup pattern, focusing on sound coming from directly in front of the mic. By doing this, it completely blocks out any ambient noise.
This makes it the best choice for any solo-podcaster who would like their audience to hear every word they are saying clearly. It's also a great choice for interview or group podcasts and will help to prevent any other voices in the room from being recorded. Instead, it will only pick up the voice of the person wearing it.
The two different polar pickup patterns are the only differences you'll find between the Movo LV4-O & LV4-C.
Frequency Response
Both of the Movo LV4 models have a frequency response of 35Hz-18KHz. This is fairly wide and allows the microphone to record a variety of vocal tones, which it can then produce into smooth, conversational sound.
Again, this makes it a great choice for interviewing as you'll be able to record different voices week after week without worrying about your audio quality being compromised.
Design
We know that lavalier microphones are small on purpose and the Movo LV4 is no exception to this rule. One thing that does make it stand out, however, is its durability. The all-metal construction means this lavalier microphone is tough and can withstand bumps and knocks without getting easily damaged, unlike some plastic counterparts.
It also features a removable lapel clip. This can be used to hold the microphone securely in place throughout the recording, no matter where you decide to place it.
Cord Length
Each of the Movo LV4 models comes with a generous 6-foot long cable. This allows you to set yourself up at a good distance away from your recording equipment and dramatically reduces any restrictive feeling.
Power
The Movo LV4 lavalier microphone requires 48V Phantom power to function. This is easily achieved by connecting to your recording device through the conveniently located 3-pin XLR port on the mic's underside.
Price & Warranty
This is a really affordable lavalier microphone and would be a great choice for anybody on a budget. It's also a good option for anybody new to sound recording as it will allow you to find out what works best for you without having to spend a fortune.
A 12-month warranty backs the durability and performance of the Movo LV4. This also gives you that extra bit of value for money.
Movo LV8 Lavalier Microphone
Let's move onto the Movo LV8. As with the LV-4, you've also got the choice of two different models depending on the polar pattern best suited for your recording needs.
Polar Pattern
The first of these is the Movo LV8-C. This uses a cardioid polar pattern to pick up sound coming from a 180º arc directly in front of the microphone whilst simultaneously ensuring no ambient noise appears on your recording.
So, if you're looking for a lavalier microphone that will isolate you or your guest's vocals and ensures that every word is picked up clearly, the LV8-C would be a great choice.
Your second available option is the Movo LV8-D. This record with an omnidirectional polar pattern, picking up sound coming from all directions. It's ideal for mic-sharing during an interview or for any recording where you'd like to pick up a little ambient noise alongside your vocals.
Frequency Response
The frequency response of the Movo LV8 is the same as the LV4. You might be wondering why this hasn't been upgraded. Well, the simple fact is that it didn't need to be!
A 35Hz-18KHz frequency response is wide enough to produce smooth sound across a range of vocal tones. Lavalier microphones are, first and foremost, designed for speaking into, after all, so you wouldn't really need anything wider than this frequency response to get great results.
Design
The Movo LV8 has been designed with an all-brass construction. This makes it super durable and capable of withstanding life on the road without it getting damaged easily.
It also features a lapel clip designed to keep the microphone held in place throughout your recording. This lapel clip also gives you more versatility over your set up, allowing you to place the microphone in various locations and positions for optimal performance.
Cord Length
You get an extra 0.5-feet of cable length with the Movo LV8, giving you a total of 6.5-feet. This gives you even more of an opportunity to set your microphone up at a fair distance from your recording device and move freely as you speak.
Power
Just like the LV4, the Movo LV8 needs to be connected to 48V Phantom power to function. This can be achieved by connecting to your recording device through the XLR-port and, with the extra 0.5-feet of cable, is easier than ever before.
Additional Accessories
So you might have noticed that both the Movo LV4 and the Movo LV8 are fairly similar. However, one thing that definitely separates them from each other is the additional accessories that the LV8 comes with.
The first of these is a foam windscreen. This can be placed over the mic's head, and, when worn outside, it will help reduce the level of wind noise that appears on your recording.
The included foam windscreen isn't only good for outdoor use, though. Attach it to a microphone when you're recording indoors, and it will help to eliminate any plosives and breath sounds too.
There is also a super handy carrying pouch included with the Movo LV8. This gives you somewhere safe to store the microphone and its accessories when it's not in use. It also helps to protect it further when you're transporting it between locations.
Price & Warranty
The Movo LV8 is marginally more expensive than the LV4, but it is still affordable and would suit a more experienced podcaster or sound engineer working to a budget.
It also includes a 12-month warranty, so you'll be able to rest assured that, in the unlikely event of something going wrong, you'll be covered for repair or replacement.
Final Word
Having broken down both of these fantastic little microphones and examined each of their features, there isn't actually anything too dissimilar between them. There certainly isn't a case of one being better than the other and, instead, the difference lies in what you need it to achieve for you.
Both are available with different polar patterns, but the LV8 comes with some accessories that might be better suited for somebody with a little more experience with sound recording. The inclusion of a foam windscreen definitely makes it a better choice for anybody looking to record outdoors.
All in all, both are powerful and affordable lavalier microphones that would be a valuable addition to any podcaster's arsenal.