Over the last few years, Shure has gained notoriety for producing high-quality recording equipment. And, amongst its expansive catalog of choices, the SM58 Cardioid Dynamic Vocal Microphone continues to grow in popularity.
Since its initial launch in 2004, this microphone has become a firm favorite amongst podcasters, musicians, comedians, and everyone else that needs a microphone to deliver a fantastic vocal performance.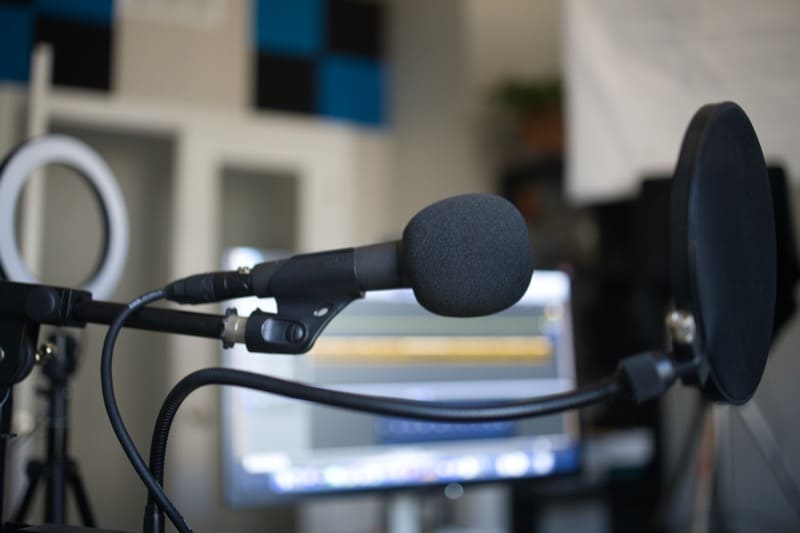 Durable, affordable, and packed with features that can deliver detailed recorded vocals and outstanding audio-quality, there isn't much this amazing microphone can't do.
But is it the right choice for your podcasting needs? And what exactly makes it such a great microphone?
Join us as we take a thorough look into the Shure SM58. Here, we'll break down each of its features and determine once and for all exactly why this microphone has become the industry standard for recording vocals.
Design
Let's kick things off by taking a look at the overall design of the Shure SM58. Its enamel-coated metal construction makes it highly durable and ensures it's rugged enough to carry between recording sessions without getting damaged easily.
The microphone's head, which houses the dynamic capsule, is made from a steel-mesh grille. This design also reduces the chances of it suffering from damage or environmental exposure and keeps it well protected.
This steel-mesh grille is also removable, making it easy to clean the inside of the microphone when necessary.
It requires an XLR cable for connection, which, in terms of modern technology and the evolution of the US-port, might seem a little archaic. Still, it makes it more than suitable for creating a secure connection to a mixer or audio interface.
This "outdated" connection doesn't mean you can't use it to record directly into your computer, though. You'll have to use an interface with an XLR input, which is simple enough.
Something else that is incredibly appealing about this microphone is that many of its internal parts are easy to source and replace.
This ease means that, in the unlikely event of something going wrong, you won't have to purchase a new microphone altogether, which can certainly save you a lot of money.
It doesn't require any disposal or rechargeable batteries to get it working either, and it doesn't even rely on Phantom power to operate it.
Simply connect one end of an XLR cable to the microphone, the other end to an audio interface or mixer, and you're good to go!
See the Latest Pricing on Amazon
Pickup Pattern
The Shure SM58 operates with a cardioid pickup pattern. This pickup pattern focuses the microphone's attention on the sound coming from a 180º arc directly in front of it while completely blocking out any background noise.
That makes it ideal for vocal recording, and it also means that you don't have to worry too much about getting placement right. As long you or your guest is sat in front of the microphone, it'll pick up nothing but vocals.
It is also a dynamic microphone. This type of mic design records vocals and produces natural, real-life tones when spoken into.
Again, this makes it an ideal choice for recording a podcast as your audience will want to feel as though they are in the room with you, rather than listening to an almost-robotic voice.
See the Latest Pricing on Amazon
Frequency Response
The natural tones that the Shure SM58 can deliver are all because it has an extended frequency response of 50Hz – 15KHz. This frequency range means that all voices, whether high or low, are reproduced digitally in a clear, life-like manner.
Remember, however, that this is a dynamic microphone designed with vocal recording in mind. So, if you're planning on using it to record low-frequency sounds such as a kick-drum or a bass guitar, you'll likely find that they come across much quieter.
That shouldn't put you off, though, and you can always edit it afterward using free audio production software such as Audacity or GarageBand.
See the Latest Pricing on Amazon
Shock Mount System
The Shure SM58 is designed to either be handheld or mounted on a stand and will give you equally good performance from both thanks to the internal shock mount.
This feature ensures that any vibration-induced noises, such as echoes reverberating from bare walls and floors or accidental table-bumping, don't get picked up by the microphone while you're recording.
It also cuts out any handling noise, so if you find you need to rearrange your microphone during your recording session, it won't create any uncomfortable scratching sounds.
This also makes it perfect for passing the mic between two people in an interview situation.
Pop Filter
The Shure SM58 features an internal pop filter designed to eliminate any plosives occurring on the recording.
That means certain words requiring pronunciation with 'p,' 'k,' 'g,' 'd,' or other 'plosive' letters will be produced smoothly and won't leave a 'popping' sound on your recording.
As well as protecting against plosives, the built-in pop filter will help prevent any breath noises from appearing on your recording.
Nobody wants to listen to a heavy breather after all, and the Shure SM58 will make sure any silent moments or sharp intakes of breath are clean spaces.
The internal pop filter also allows you to use this microphone in an outdoor setting without having to worry too much about wind noise affecting your recording. This internal pop filter makes it perfect for taking your show out on the road!
Accessories
As far as accessories are concerned, there isn't very much to shout about. You get a zippered storage case, which is ideal for keeping the microphone safe when it's in storage or if you're taking it out on the road.
There is also a 180º stand adapter made from super-hard plastic and gives you the ability to mount the microphone to your preferred style of stand.
It's worth noting, though, that the reason the Shure SM58 doesn't include a wide variety of accessories is that it doesn't need them.
While other microphones may include external pop filters and shock mounts, this brilliant little piece of equipment has them built directly into it.
Price
Despite all of its fantastic features, the Shure SM58 is a very reasonably priced microphone. You'll be hard-pressed to find an alternative microphone that can do so much yet cost so little, and it's perfect for anybody on a strict budget.
The inexpensiveness of it also means that it's an excellent choice for anybody new to podcasting and is looking for a great quality microphone that will last a long time, without needing to spend a fortune setting their studio up from scratch.
Pros & Cons
The features and benefits of the Shure SM58 are undoubtedly fantastic. However, every person has their own needs and wants, and it might be that there are a couple of things that won't work with your podcasting setup.
Below, we've broken down each of the features into a simplistic list of pros and cons, giving you a better idea of whether it's the right choice for you.
Pros:
Rugged, durable construction that designed to withstand wear and tear, as well as protect the microphone's internal components
The XLR port creates a stable connection to either a mixer or an audio interface.
A dynamic microphone designed specifically for recording vocals
Operates with a cardioid pickup pattern that concentrates on vocals and eliminates background noise
The pickup pattern also means less time spent worrying about placement
Has a frequency response of 50Hz – 15KHz to pick up natural tones from a variety of voice types
Features an internal shock mount that eliminates any vibration sounds when recording
Also features an internal pop filter that removes plosives and can reduce wind noise when recording outside
Comes with a zippered storage bag and a 180º stand adapter
Is a budget-friendly option that contains a lot of features you'd find in a more expensive microphone
Cons:
Doesn't feature any USB connection ports
There isn't an XLR cable included with the microphone
Isn't the best choice for recording musical instruments
Conclusion
The Shure SM58 is popular for many reasons, the biggest being that it works reliably, and it works well. Not only can it produce warm, rich, natural vocals, but it is highly durable, which means it'll last a long time too.
The cardioid pickup pattern works harmoniously with the dynamic capsule to produce clear vocals while eliminating any background noise.
This design makes it a perfect choice for podcasting where your audience only wants to hear you and nothing else!
By choosing this microphone, you'll also produce audio with vocals that have a natural tone to them and will sound as though the person speaking is sat right in the room with you. This clear sound comes from its wide frequency response range.
Finally, it's a perfect choice of microphone for anybody just starting with their podcast or working to a strict budget.
Inexpensive, durable, and reliable, you'll find it challenging to source another microphone that can do so much for such a small price.