You've heard of the Blue Yeti and the AT2035, right? Are you still wavering between the two? We've gathered the main points to make a final decision less dubious.
Skimming forums for a microphone is staggering. Even from a specific company, you had in mind. *Not naming names* Many mics lie in the same product line and price point. INFORMATION OVERLOAD!
There are so many options. Stereo? Cardioid? Bidirectional? Not to mention any hypochondriacal issues you need reassuring. Is it durable? Dependable? Can I utilize it on projects outside of quiet recordings?
The two microphones we've got pitted against each other – the Blue Yeti and the AT2035 – are swashed with impressive specs and features. Both to make any podcasters' job that much simpler.
Our handy specs table highlights the main points and makes compiling the two microphones high points easier.
What lies underneath the respected boxes? Let's examine further.
Blue Yeti
Since 2009, the Yeti by Blue has claimed the title: Worlds #1 USB Microphone. And one of the first significant USB microphones to sell in mass numbers. Whether they be podcasters, game streamers, or YouTubers, the Yeti has been a favorite choice for web content creators worldwide for over ten years.
Our Pick for In-Person Interviews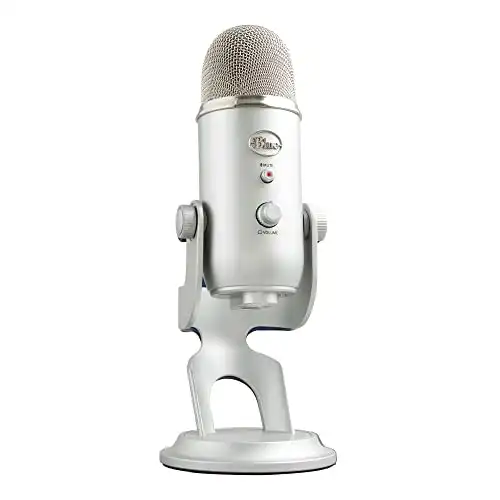 Blue Yeti comes built-in with a tri-capsule array system; three condenser mics backed against one another set in a triangle to ensure broadcast quality sound for recording and streaming.
To accompany the three abreast capsules, a 4-way dial that switches to 4 distinct pattern modes to designate the sound for any given situation that best suits them:
Cardioid Mode delivers a rich and balanced sound that registers directly in front of the microphone. Cardioid Mode is perfect for single use when alone recording vocals for a music track, voice-overs, commentary, or a direct instrument sound.
Stereo Mode uses opposing left and right mics to deliver an acoustically minded sound. The channels register an immersive experience suitable for other dynamics from an instrument, a choir, or the growing ASMR video trend.
Omni-Directional Mode records sound equally around the mics edge. For situations where you need to capture the spirit of 'being there' – recording a live band's shredding performance, a multi-person interview, a conference call – this provides a certain depth.
Bi-Directional Mode registers only from the front and rear sides of the microphone, which is perfect for channeling an intimate duet or two-person interview.
The Yeti offers absolute control when recording or streaming inside and out on-the-go. The onboard gain dial allows you to level out any distortion or feedback. An additional headphone jack, mute button, and pivot stand offer stability and comfort where you need it.
In such a stunningly simple design, a pleasing retro appearance, and numerous colors to have yours in, the Yeti easily assembles in with any current recording set-up.
Audio Technica AT2025
Following its adaptable sibling the AT2020, the AT2035 is a 2-pound purpose-built condenser microphone that sits near the premium end in Audio Technica's 20 Series affordable line—outlined as a side-address cardioid studio condenser that delivers exceptional detail and low noise.
First impressions seem rather basic. The AT2035 comes in a large-diaphragm (Audio Technica say for smooth, natural sound and low noise) housing encased in metallic black (The basic rugged exterior does add a prime quality feel)
Great XLR Option
The permanent polar cardioid pattern microphone capsule has a fixed-charge back plate isolates pick-up sounds from the side and rear.
It also features high SPL handling with a wide dynamic range making it suitable to a variety of sounds and volumes. On the lower backside, the mic features a switchable 80Hz high-pass filter and a 10dB pad if the owner wishes to fine-tune the microphone's characteristics.
Also, the AT2035 comes packaged with a protective pouch and a custom shock mount so you can position the microphone straight up or upside down for great flexibility.
What separates the two?
The Yeti features everything a web content creator on a smaller budget could ever want from a microphone and plenty more.
The primary division is the Yeti's ability to plug-and-play straight into an external device. The additional gain dial, mute button, and headphone jack plausibly demonstrate why this is a best seller!
The pivot stand is perfect for setting on a desk-top surface in a smaller scaled set-up. The microphone size is about the same as a small water canteen. With the 4-position pattern modes switch, you could call the Yeti, portable, which is perfect for anyone in need of a versatile recording device looking to record-on-the-fly.
Audio Technica's 2035 houses a single XLR out for phantom power only. Not suitable for those who need a keen-and-ready device on the move. For those fastidious about audio quality, this may be the blow that rotates their decision.
An XLR out doesn't offer convenience. But phantom power guarantees high-end studio-quality sound. The AT2035's 22mm recording capsule also provides a much larger, sensitive, and specialized sound over the Blue Yeti's smaller 3x 12mm capsules. Depending on where you have the Yeti's 4-way pattern dial switched, only one capsule will be in operation at any one time.
Any commonalities?
Instead of dynamic mic components, both the Yeti and AT 2035 utilize condenser capsules. Thanks to their shallow mass and a diaphragm that accurately follows sound waves, condenser microphones offer a more comprehensive frequency response and a better transient response. Condenser microphones also provide much higher sensitivity and lower noise than dynamic microphones—ideal for studio applications where you would want to dial out interference and zone in on the voice.
The Yeti and AT 2035 are reasonably priced considering what they offer customers. Both microphones support Windows and Mac platforms, allowing you to record web content of many kinds, music studio recording or live streaming sessions with multiple devices and audio software of your preference.
The AT 2035 requires an additional phantom power box with external power and extra drivers for your computer/device to track it down. The Yeti consolidates the situation by reversing the need for extra drivers or external I/O. The Yeti works on a plug-and-play basis so you can simply plug in and focus on recording.
Blue Yeti – the Pros and Cons
The aesthetic aspect alone has the AT2035 trumped. The Blue Yeti is one of the very few microphones we've seen that wouldn't look so bad on camera. Depending on whether you're a vlogger or a live streamer, the Blue Yeti is a beautiful piece of design. However, if you're intending to use it in multiple locations, please be wary. The build quality isn't the best. Just by stroking it, we could feel the cheap plastic composite. It's particularly noticeable on the dial and knob.
The Plug-n-Play feature is convenient for the less tech-savvy web content creatives who want something simple and easy to work.
We especially approve of the Yeti's physical gain dial and mute button. Both allow the purchaser to fine-tune the microphone's levels without an additional mixing board to reach the sweet-spot. Of course, the 4-way pattern switch is handy for people needing something for studio purposes and on-the-go. However, we found the microphone performs best in Cardioid mode 6″ from your lips with the gain very low. With the gain dialed in slightly, it started picking up lots of background noise.
Audio Technica – the Pros and Cons
Audio Technica's brand distinction certainly shines with the AT2035. It comes with a single capsule transistor to capture sound. However, at 22mm, it is much larger than the tri-arrayed capsules set up in the Blue Yeti.
It is also a purpose-built condenser capsule sporting High SPL Handling and wide dynamic range, giving it a more refined sound. It also features the low-frequency roll-off switch that you may or may not want to use, 80 Hz high-pass filter and 10 dB pad giving you more flexibility.
Regardless, the AT2035 is a STUDIO microphone for STUDIO or isolated room applications with little to no interference. The XLR- out only option means you will need an additional mixing desk or phantom power box to use it with your Windows or Mac device. Considering the microphone is marketed towards podcasters and streamers, this is a little frustrating.
As we'd expect from Audio Technica, the overall build quality felt solid when we held it. However, we found the XLR connection was looser than expected at the bottom. Also, the AT2035 provided a very flat sound which could be pleasing for some. For others, they would prefer to look elsewhere for a more vibrant, deeper sounding microphone. For sound techy nerds, this will come as a welcome venture since it will require more time in the DAW and virtual mix desk to hit the microphone's sweet spot. Or, fiddling with a physical mixing console or I/O box.
Our Pick for In-Person Interviews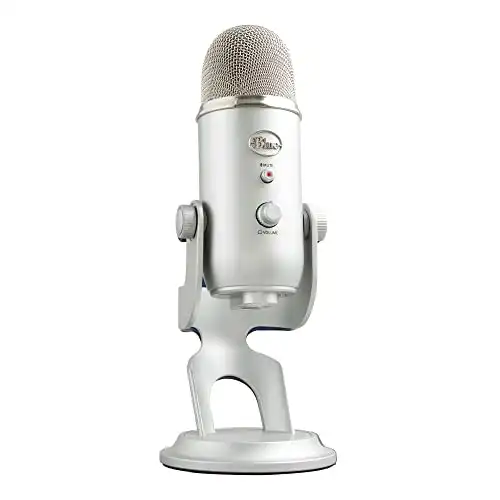 Great XLR Option
Who does the Blue Yeti suit?
The Blue Yeti's versatile 4-way pattern mode switch will persuade those wanting more for less. Also, those who want something a little more portable on the move. The Yeti's convenience will play out for others needing an all-in-one recording solution with smaller set-ups. Whether the smaller 3x 12mm capsules transistors aren't good enough, we'll leave that up to you, and your ears prefer best. As with all audio products, we highly recommend testing before making a purchase.
Who does the Audio Technica suit?
The wide dynamic range and High SPL Handling the Audio Technica would suggest it is capable of recording on the move. Thanks to a single XLR out port, we would advise looking for a different
In practice, the AT2035 suits podcasters, streamers, and web content creators looking to record or live stream with absolute control over the sonic characteristics this product yields. The AT2035 is also for those who need a reliable condenser microphone in a tranquil studio environment for recording subtle voice nuance and the occasional instruments in an isolated room with little to no interference.
Which is Better AT2020 vs AT2035?
Both the AT2020 and the AT2035 are excellent microphones, however, we would say that the AT2035 is better due to the quality of sound that it is able to produce. The AT2035 has a low sound frequency which allows the quality of the sound produced to appear natural and completely unaltered.
Whereas the AT2020 produces a more synthetic sound due to its higher frequency. Additionally, the AT2035 outperforms the AT2020 in terms of signal to noise ratio and switchability. However, the AT2020 is better than the AT2035 in some aspects, in particular, its sensitivity which ensures less room noise than what is produced by the AT2035.
That being said, overall the AT2035 ticks more boxes than the AT2020 and simply has the ability to produce a better sound which is something that is essential in a microphone. So we would say that the AT2035 is better than the AT2020 microphone.
References