Among all the microphones you can use to create the excellent sound quality needed for podcasting, two are the most revered among professionals and amateurs. They are the Rode NT USB and the Blue Yeti.
But what makes them the best? They are pretty different from each other, after all, so how can you be confident that one is going to be better for your podcast than the other?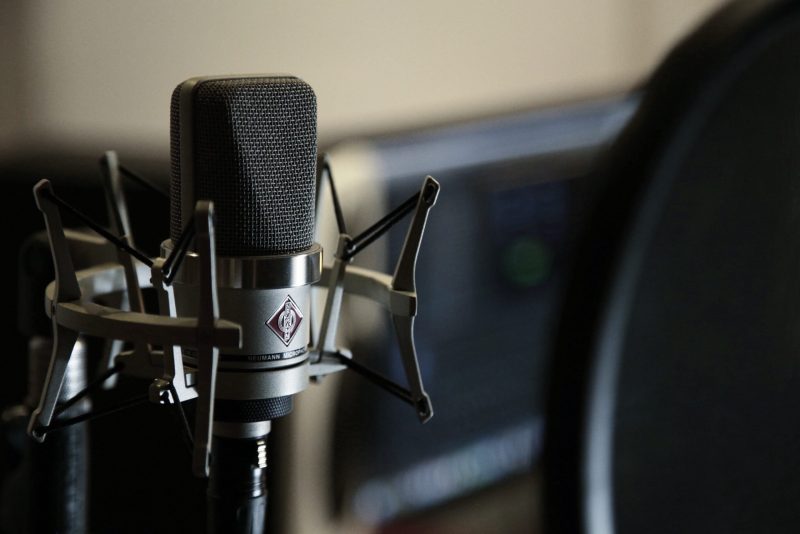 To answer these questions and give you a better idea of the differences between the two, let's dig into the specifications and features that make them world-class podcasting microphones. 
Let's begin by looking at what each has to offer individually. 
Rode NT USB Microphone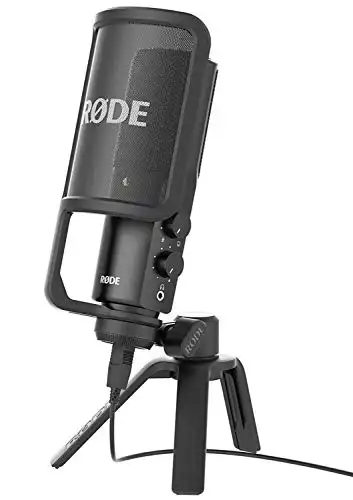 Let's start with the Rode NT USB. Right off the bat, you'll probably be more familiar with the Rode brand and its reputation for making some of the best sound recording equipment around. The NT USB's creation has helped further push the company's reputation for excellence. 
The NT USB is built with a condenser transducer, often the preferred style for podcasting because it tends to give a much more natural sound when recording vocals. It has a cardioid pattern that works across a 180º arc directly in front of it, meaning it picks up less ambient background noise to muddy the vocal.
It's easy to use, connecting to an audio interface or mixer through the USB port, while the 3.5mm stereo headphone jack allows you to perform zero-latency monitoring. Podcasters – in fact, anyone who uses microphones a lot – will know that's always a great extra feature to find. 
Two sets of controls are built into the Rode NT USB, one for volume adjustment and one for direct mix control between the microphone input and the source output. That gives you a choice. To hear what's coming from your computer, or only what's mic fed. 
Pop filters help produce clear vocals by removing any noise created by intakes of breath or the 'popping' noises that can come from pronouncing certain letters. The first 'P' in 'Pop' is an example because you push air out when you pronounce it, and without a filter, that can block out your sound for a second. A pop filter comes with this microphone, a useful additional accessory.
The NT USB also comes with a tripod desk stand, which is especially useful for podcasting when you need your microphone to stay as steady as possible. You also have the option to use the included ring mount to keep it in place. Meanwhile, the 6m USB cable will allow you some flexibility over your studio setup. 
One thing the Rode NT USB doesn't have is a gain dial built into it. It isn't too much of an issue, though, since you'll still be able to adjust your sound levels from your computer. That works perfectly well; it's just not as convenient as being able to do it directly from the microphone itself.
The build quality of the NT USB is sturdy, and you'll feel you've invested in a microphone that will last you a long time. Rode is so confident in the quality of the NT USB Microphone that it comes with a 2-year warranty. 
See the Latest Pricing on Amazon
Summary
What's in the box?
Rode NT USB Microphone

Pop Filter

Tripod Desk Stand

Ring Mount

Storage Pouch
Specifications:
Cardioid Polar Pattern

Headphone Jack

Volume Control Dial

Direct Mix Control Dial

6m USB Cable

Frequency Response: 20Hz – 20KHz

Sample Rate: 48KHz/16-bit

Max SPL: 110dB

Weight: 520g
User experience
The Rode NT-USB is a high-quality mic that offers fantastic sound quality.
Customers are generally happy with the mic, praising its sound and build quality. However, some users have found that the mic is incompatible with the Rode Connect software, which can be disappointing.
Additionally, users noted how this microphone works exceptionally well for podcasting and gaming, though recording vocals had its flaws.
The reviews feature favorable comments, and customers find that the microphone exceeded their expectations.
Blue Yeti USB Microphone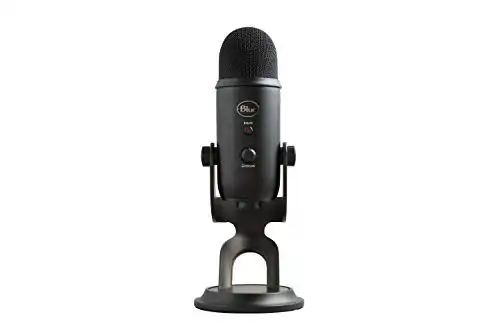 Blue Microphones is another world-renowned brand famous for creating high-quality recording equipment. The Blue Yeti USB condenser microphone is another addition to the company's arsenal of impressive creations. 
This microphone's USB Plug & Play connectivity makes it incredibly easy to install and use with an audio interface or mixer. Alternatively, you can plug it directly into your podcasting laptop and use it with your preferred recording program. 
It works with both Windows and Mac OS, giving you the flexibility to switch between computers without needing to buy a separate system-compatible microphone.
This microphone is also incredibly versatile and features a total of four (yes, four!) different pickup patterns. You can switch between cardioid, omnidirectional, bidirectional, and stereo. That allows you to record in various ways using just one microphone, rather than needing a space-consuming (not to mention expensive) setup of multiple microphones. 
So no matter what the theme of your podcast is or how many guests you're featuring at a time, this microphone can handle your requirements. 
Unlike the Rode NT USB, the Blue Yeti does feature a gain control dial that will allow you to easily and quickly adjust your levels directly from the microphone. It also has a volume control dial and a zero-latency headphone jack on the bottom. There's even a mute button that lets you cut out your mic without needing to switch it off altogether. 
As with the Rode, though, Blue Yeti has a sturdy build, thanks to its metal construction, and it comes with a 2-year warranty. You can also choose from various colors to inject some personality into your podcasting gear or give your studio that extra finishing touch.  
If there's a downside to the Blue Yeti, it's the fact that it isn't sold with a range of accessories, as the Rode NT USB does. However, it features a desk stand already attached to the microphone, arguably making it sturdier than a removable stand.
While they don't come as part of the package, the Blue Yeti has a range of accessories sold separately. And the fact you'll be able to record in four different pickup patterns with just one mic will save you enough money that you'll be able to afford a few. 
See the Latest Pricing on Amazon
Summary
What's in the box?
Blue Yeti USB Microphone

USB Cable
Specifications:
Three built-in condenser capsules

Multiple Pickup Pattern Selection; Cardioid, Omnidirectional, Bidirectional & Stereo

Gain Control Dial

Volume Control Dial

Headphone Jack

Mute Button

Mac & PC Compatible 

USB Connection

Desk Stand (already attached to the microphone)

Frequency Response: 20Hz – 20KHz

Sample Rate: 48KHz/16-bit

Max SPL: 120dB

Weight: 1.2lbs
User experience
In online reviews, the Blue Yeti has been highly praised by users.
The commentary was primarily positive, with people highlighting its reliability and quality. Some said that it was perfect for non-professionals who still wanted great sound.
Some users note that the mic is especially well-suited for recording video, while others find it ideal for streaming. Overall, the model has been proven convenient for multiple purposes.
According to user experience, most people are satisfied with their purchase and recommend this microphone to anyone looking for a high-quality yet affordable option.
Which Is Better For Podcasting?
As you can see, each microphone comes with a set of unique features that separates it from the other, and the easiest way to decide which of these two microphones is better for podcasting is to assess the format of your podcast itself.  
Let's look at the most critical factors you need in a podcasting microphone and how those factors might steer you toward either the Blue Yeti or the Rode NT USB.
Audio Quality
Pickup Pattern
Most podcasting microphones allow you to choose between a cardioid or an omnidirectional pickup pattern. The Blue Yeti has changed the game. Instead, it will enable you to switch between four different patterns, including cardioid and omnidirectional. 
The Rode NT USB only allows you to record with a cardioid pickup, which is often the preferred method among podcasters. That said, it can be limiting, especially if you intend to grow your show or have multiple guests on at once.
To decide whether the Blue Yeti or the Rode NT USB is the best choice for your podcast, you need to understand what each pickup means for sound quality.
An omnidirectional microphone works across a 360º arc and picks up vocals from different directions. It also has a low-frequency response, so it will be able to make vocals sound clearer while reducing background noise. 
Cardioid patterns work across a 180º arc and focus more on vocals coming from directly in front of the microphone, which simultaneously blocks out background noise. 
So, if your podcast has a lot of guests or co-hosts, the Blue Yeti and its multiple pickup patterns would be the best choice for you. If you're a solo host or have only one guest at a time, then the Rode NT USB would be a better choice for your podcasting needs.
Built-In Controls
Most of the time, you'll use your computer for the majority of your audio level adjustments. But the ability to quickly change the sound quality while you're recording can be instrumental. 
You can use the audio coming from your microphone, the audio coming from your computer, or a mixture of both. The Rode NT USB allows you to adjust the volume coming from the microphone while you're talking. It also features a direct mix control dial, which provides you with the freedom to switch between sources. 
These features are straightforward to use and helpful to have once you've hit the record button. 
More built-in control options are found on the Blue Yeti. A gain dial allows you to adjust your sound levels and avoid distortion directly from the microphone, making your editing much more effortless. 
The Blue Yeti also has a mute button, a helpful feature for podcasts with multiple guests. The mute function means you can cut off the feed from your mic without needing to adjust any levels or switch it off. If things get controversial or heated, it's easier to mute the mic live than to cut any unwanted material during your edit.
Connection
One feature that the Rode NT USB and the Blue Yeti have in common is that they use a USB connection to attach to your computer, audio interface, or mixer. That makes them a lot more universally compatible across different operating systems, such as Windows and MAC, and gives you the convenience of a simple Plug & Play installation.
Accessories & Style
One area in which the Blue Yeti comes up short is the accessories that come with it. It does have a desk stand to which the microphone is attached, but not much more. Meanwhile, the Rode NT USB includes several extras that help improve the quality of your sound recording as part of the initial layout rather than making you buy them separately.
A pop filter is one of the most useful accessories included with the Rode NT USB. That can be used to remove any breathing sounds or sharp intakes of air and reduce the 'popping' effect that comes with the pronunciation of certain letters. It leaves your vocals sounding crisp, concise, and much more appealing.
The Rode NT USB also includes a tripod desk stand that will help to keep your microphone firmly in place. Unlike the Blue Yeti, this stand can be removed and replaced with the included ring mount, giving you more versatility over where you place your mic.
However, one trump card that the Blue Yeti has over the Rode NT USB is the variety of colors in which you can get it. Sure, this doesn't bring you any advantage in terms of performance, but it's always fun to inject a little personality into your studio.
Final Word
The Rode NT USB and the Blue Yeti are excellent microphones for podcasting, and ultimately the choice will come down to what you and your podcast's format require. 
Generally speaking, go with the Rode NT USB if you're starting your podcast journey or for smaller, established podcasts with no more than two people on the mic. Its simplicity, cardioid pickup pattern, and the value you get from the included accessories make it suitable for your needs. 
More extensive operations, professional studios, and podcasts that have multiple hosts and guests – grab yourselves a Blue Yeti. Switching between four different pickup patterns and the variety of built-in controls will allow you to record in several ways without changing equipment. It will also give you more control over the sound quality while recording, making editing much more effortless.
Frequently Asked Questions
Does the Blue Yeti mic pick up background noise?
Any microphone will pick up background noise, but the Blue Yeti minimizes this problem. The Yeti uses a directional pickup pattern, which means that it is most sensitive to sound coming from directly in front of the microphone.
In addition, the Yeti has a low-noise preamp and a built-in pop filter. These features also help to reduce the level of background noise that is picked up by the microphone.
What is a good USB microphone?
Aside from the featured ones, there are plenty of other great models. The Blue Yeti is a favorite, but other models, such as JLab Talk and Movo UM700, are some excellent premium options.
If you're looking for more affordable mics, you may want to check out the PreSonus Revelator, Razer Seiren, and Rode Podcaster.
How do I choose a USB microphone?
If you're looking for a quality USB microphone, there are a few things you'll want to keep in mind.
First, choosing a large diaphragm condenser mic is essential, as these produce superior sound quality. Second, look for a mic with a 20-20,000 Hz frequency range, as this will ensure you can capture a wide range of frequencies.
Also, zero-latency headphone monitoring is essential for recording vocals, so choose a mic that offers this feature. Finally, for best results, consider opting for a 24-bit mic.