Whether you're launching a podcast, starting a YouTube channel, or hoping to lay down some tracks for your demo — you're going to need a good microphone for voice over.
You may be having trouble deciding because the options seem endless, but fear not! We're going to tell you about 3 of the best microphones for voice over.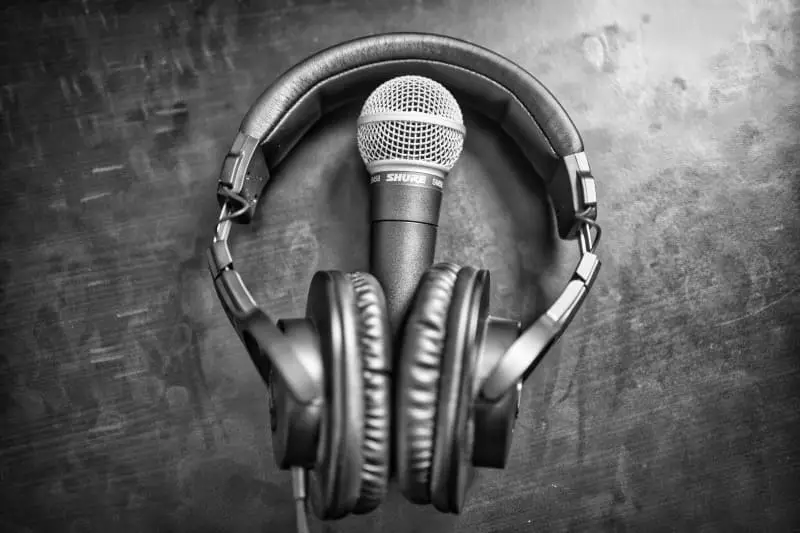 If you're eager to get the ball rolling on that creative audio project, our top choice is the Audio-Technica AT2020 USB+. This sophisticated condenser mic records studio-quality sound.
Top choice: Check out the AT2020 on Amazon.
Its USB output, zero-latency monitoring capabilities, and reasonable price — make it a practical choice for any aspiring audio creator. This mic won't disappoint.
But we know that buying your first piece of audio equipment can be overwhelming.
So if you're confused about mic types, phantom power, or the difference in cable choices — we've got it covered. We've put in the time and research to help you find the best mic for all your audio needs.
Here are our top 3 picks.
Audio-Technica AT2020USB+
Audio-Technica AT2020 is our top choice because — quality, quality, quality. This mic will give you a professional and luxurious sound at a modest price. Here's why we love it.
It's a condenser microphone, so it picks up a higher frequency range, giving you a live and vibrant sounding recording. It will feel like a serious upgrade for any humble home studio.
It also comes with a stand and a protective pouch for safe travel and storage. And it has a sleek, minimalist look if you're worried about that type of thing.
The USB output and compact size also make it practical for on-the-go audio creators looking for versatility. Our preferred plus option even comes with some attractive features like a built-in headphone jack, which allows you to monitor your recording in real-time — which is mega convenient.
Podcasters, singers, and sound engineers all agree that you're going to be impressed by how good you sound on this mic. Can you say fancy?
Now, we love this mic because it's excellent for almost all your audio needs under virtually any circumstance. But since it's such a great mic, it also has a few quirks.
As a condenser microphone — it's substantially more advanced. The higher frequency range that we mentioned before is what gives you such great sound.
But this premium sound means that the internal mechanisms are delicate. So it's also highly sensitive to background noise. It's designed with a cardioid polar pattern to prevent this, but it's still something you should consider when recording.
Our Pick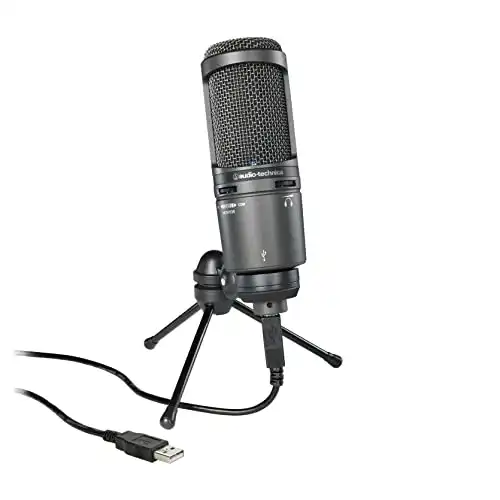 Because it's more powerful, it also needs an external phantom power supply to work. What does that mean? It means that you'll need some additional equipment to use this mic — most audio mixers and pre-amps will do.
So if you're planning to record with multiple people — you may need to do some DIY soundproofing in your space. Or just make sure there are no barking dogs around. And you'll also have to accessorize with a phantom power supply. But chances are you're going to need additional equipment anyway.
In our humble opinion — the benefits outweigh the minor quirks. It is our favorite mic hands down. It produces fantastic sound with no fuss. It's perfect for almost anyone, and buying it won't break the bank.
Pros
Complex frequency range
High-quality sound
Zero-latency monitoring
Reasonable price
USB Output
Durable
Cons
Sensitive to background noise
Needs phantom power supply
Shure SM7B Cardioid Dynamic Microphone
This sturdy microphone is built to last, and it's a crowd favorite for a reason. Its name even sounds reliable. You're sure to like it!
All jokes aside — it's a dynamic microphone, so the internal mechanisms for capturing and converting sound waves are a lot simpler than in a condenser mic. This simplicity is part of what makes it so durable.
But it also means that it doesn't have the same advanced frequency range. Now at first, this may sound like a negative — but it depends on your needs.
An uncomplicated internal structure also means that it's much less likely to pick up background noise or break. If you're recording at home and don't have the luxury of a quiet space, this is a great option. This minimalist mic won't pick up annoying sounds like the whirr of a computer or a squeaky chair.
It's a favorite among podcasters because it's great when multiple mics involved in the same recording. It's second on our list, but often it is praised as number 1 in the dynamic mic category.
Premium Choice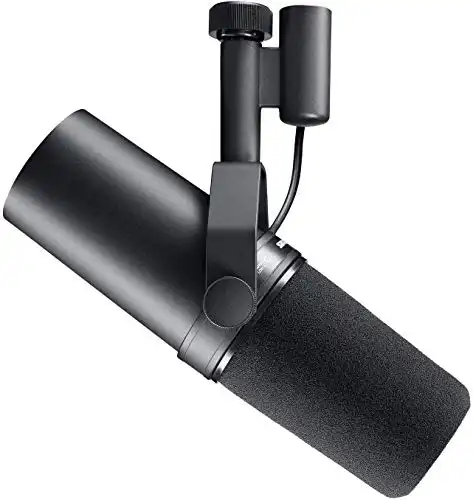 If you know what you're doing, this mic will give you a gorgeous, clean sound.
This model also offers internal shock isolation and minimizes hum — reducing any interference, and unpleasant breath sounds on a voice over. We know from personal experience that this can bring down editing time post-production if you're dealing with a heavy breather.
The Shure is the most expensive mic on our list, but it's incredibly durable, so most people who have bought it will tell you — it's worth the investment.
It may not be the best choice if you're a crooning R&B singer — since it's not as sensitive as a condenser mic. But it will give your recordings a beautiful, crisp sound. And it's likely to last you a very long time.
Pros
Long-lasting
Durable
Minimal background noise
Quality sound
Cons
Expensive
No USB output
No headphone jack
Blue 1967 Yeti Pro
The goofy name for this mic is appropriate because its popularity is downright legendary. It's third on our list, but it's an icon of sorts in the audio world.
It's a free-standing condenser mic with a retro look. But there's nothing old-school about its recording capabilities.
Since it's a condenser mic, it's going to give you that rich broadcaster sound you're looking for. And it comes with a solid desk stand so you won't have to worry about mounting.
It also has some great features that make it extra practical. It has a headphone jack for monitoring and a USB output for convenience. And it has super straightforward controls for headphone volume, microphone gain, and muting.
Like any other condenser mic — it's going to be sensitive to background noise, and it's going to need a phantom power supply. But in our opinion, these are minor downsides.
If you're getting serious about audio production, you're probably going to need the accessories anyway. And most people agree that sensitive condenser mics are worth it because of the high-quality sound they record.
But remember, be realistic. Don't make a snap decision just because you want to sound like an NPR show, and don't buy this mic just because it comes in teal (did we mention it comes in tons of colors?). We love this mic for many reasons, but if your recording space is going to be noisy, a dynamic mic may be the better choice.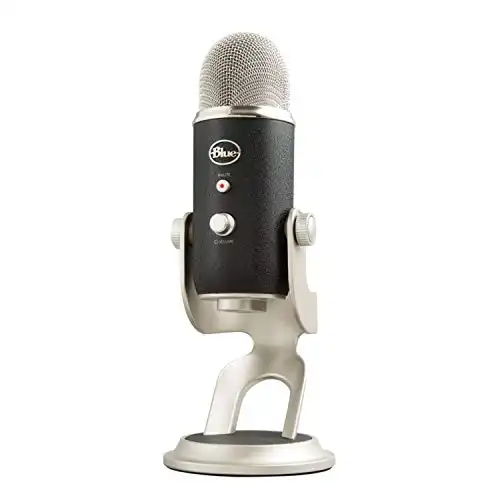 This mic is another sweetheart in the podcast world because it's seriously easy to use. It's also affordable for almost any budget. If you have a decent recording space, you're going to love this mic.
Pros
Complex frequency range
High-quality sound
Sturdy desk stand
Very affordable
Zero-latency monitoring
USB output
Cons
Sensitive to background noise
Needs phantom power supply
Key Features to Consider
Now, we know you are eager to make a purchase, so you can finally start making your audio dreams come true. But there are some key factors you should consider before you make a choice.
Condenser Mic vs. Dynamic Mic
Condenser or Dynamic is one of the most significant decisions you'll make as you start your audio journey. No pressure, but make sure you take it seriously. Even if you're not an AV nerd, it's essential to understand a little about the internal components of a microphone — but don't worry, it's pretty simple.
Each type of mic uses a different internal mechanism to convert sound waves into an electrical signal. The piece that does this is called a transducer or capacitor.
A condenser mic uses a more complex and delicate capacitor — containing tiny charged plates to create an electrical field inside the mic. This field allows it to convert sound waves into electrical energy.
And if you were wondering about phantom power — this is why condenser mics need it. It's that extra power that gives the plates inside the transducer an electrical charge.
A dynamic mic uses a more simple structure. It uses the vibration of a coil, charged by a magnet, to convert sound waves into an electrical signal.
So, all that means that one is much more delicate than the other. Condenser mics pick up a more sophisticated sound, but also more background noise. Dynamic mics are seriously sturdy, so they're the type of mic that is taken out on the road or used at concerts.
Be sure to consider the conditions you'll be recording under, and choose accordingly. But also remember that post-production editing goes a long way. And the possibilities for DIY sound treatment are endless — pillows are useful, and so is knowing your noisy roommate's schedule.
USB or XLR
If you're like us when we first started our audio adventures, you probably only know what a USB is. It's an input/output found on pretty much all laptops and computers.
But an XLR cable may be a bit more mysterious to you. It's a circular cable with 3 or 7 pins at the end — and it's prevalent in the audio world.
Unfortunately, most computers don't come with XLR input. This makes microphones with a USB cable a lot more convenient for anyone building out their home studio or hoping to do traveling interviews. USB inputs are just way more common, so if your mic uses a USB output, you're more likely to plug and play under any circumstance.
Zero-Latency Monitoring
If it's not your first time recording audio, you'll probably already know that it's imperative to monitor an audio recording in real-time.
If you can record and listen at the same time, with no delay — that's zero-latency. Another thing that sounds confusing and fancy, but isn't. However, this feature is critical to check the quality of your sound.
So you'll probably want to consider if this is a make or break feature for you. Some microphones come with a headphone jack that allows you to do this type of monitoring, and some don't. Just make sure you check this out in the item details.
Conclusion
If you're just getting started as an audio creator, buying your first microphone is an exhilarating step. And there's no doubt that you'll want to kick things off right with a quality headphone. So we hope that now you can go out and make the decision that's right for you.
Take into consideration key features like mic type, cable type, and monitoring abilities. You already know that you won't be disappointed with the Audio Technica AT2020USB+ (see on Amazon) because it's an all-in-one package, and it's one of the best condenser mics out there.