Depending on the type of podcast you're the host of, the need to take your show on the road and record outdoors might be something you have to consider at some point.
Switching up your recording environment from time to time can help keep things fresh and exciting for your audience, which, in a crowded market, is more critical than ever.
Recording outdoors doesn't necessarily mean hauling large amounts of heavy equipment around with you, though. There is a much simpler alternative.
This is where the Shure MV88 Portable Microphone comes to the rescue! This mic is designed to work with iOS devices; it can be plugged into your smartphone to record high-quality sound when you're away from the studio.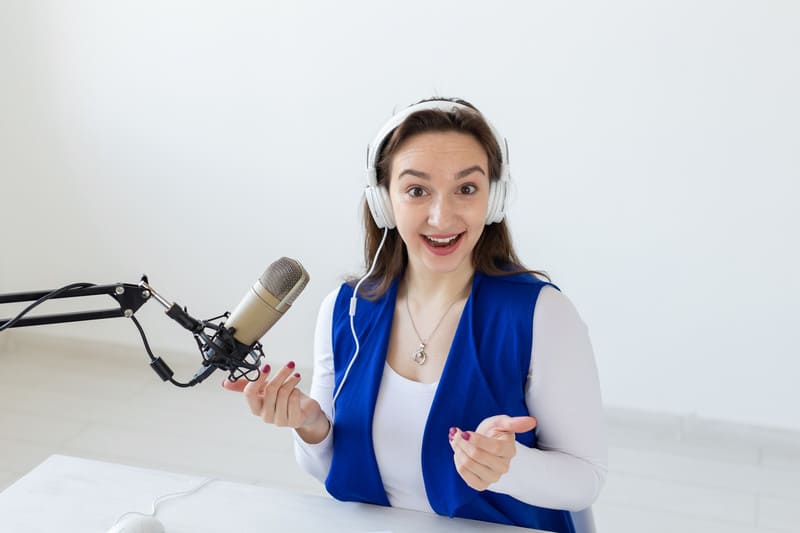 This simplicity and ease of use make it a fantastic choice for anybody new to podcasting. It's also an excellent microphone for someone with a smaller studio space or a podcaster working on a tight budget.
Below, we will look at all the features and specifications that make the Shure MV88 such an impressive piece of podcasting equipment. This complete breakdown will give you a better idea of what this microphone can do and help you decide whether it's the best option for your podcasting needs.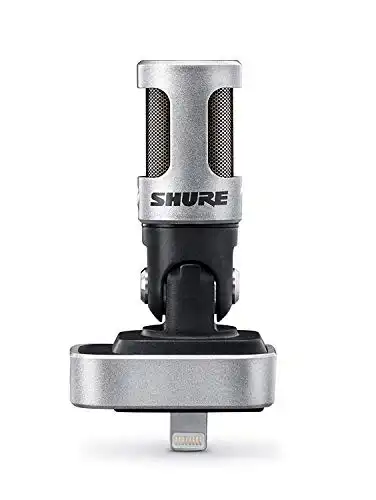 Design
Let's start by looking at the overall design of the Shure MV88 Portable Microphone. As its name suggests, it's effortless to transport from place to place. This ease is mainly due to its compact size.
We're not joking when we say this microphone is tiny and measures just 1.38" x 2.64". What it lacks in size, however, it more than makes up for in performance, but we'll go into more detail on that a little later.
This super-compact size also makes it incredibly lightweight, so there's no risk of it weighing down your equipment bag.
Its lightweight nature prevents it from adding any extra weight to your recording equipment while it's in use, which is particularly useful if you're recording with a handheld device.
A lightning connector installed on the base of the microphone allows you to connect it to your iOS device easily.
This means you can use it with any recording software installed on an iPhone or iPad without special adapters.
It's stylish too, and while this doesn't necessarily affect its recording performance, having a microphone that looks professional and blends in with the rest of your equipment is always nice.
Plus, the metal construction makes it incredibly durable.
See the Latest Pricing on Amazon
Recording
One of the most remarkable features the Shure MV88 has is switching between stereo and cardioid recording. The switch is achieved through two capsules built into the microphone head that sit neatly side by side.
The cardioid capsule position focuses solely on sound coming from in front of it, making it great for recording in outdoor environments where noise pollution may be an issue.
The second capsule is a bi-directional condenser, and this position is to pick up sound from a 180º arc.
Switching between these two recording styles gives this microphone exceptional versatility that is rare for something so small in stature.
Crystal-clear, concise vocals are now easily captured regardless of your recording environment, even when using a handheld recording device.
The foam windscreen further enhances this portable microphone's sound recording quality, significantly reducing background interference when recording outdoors.
A unique hinge has been built onto the base of the microphone too. This hinge allows you to adjust it into various positions, making it easier to pick up sound from a specific direction.
See the Latest Pricing on Amazon
Power
One of the best things about the Shure MV88 is that it doesn't require any recharging or battery replacement to function. Instead, operational power is taken from the battery life provided by your iPhone or iPad.
This power design doesn't only mean that you don't have to worry about keeping a stash of batteries available at all times, but you'll also never have to worry about running out of juice when you're recording.
App
While the Shure MV88 is designed to be a plug-and-play microphone, it also includes details of two free downloadable apps that can help enhance your recording experience even further.
The ShurePlus MOTIV Audio app is the most useful for podcasting. The app allows you to adjust your sound levels, switch between recording modes, and adjust the bitrate and sampling rate.
It's also a straightforward app to use. There are no confusing menus, in-app purchases, or annoying adverts getting in your way. Easy-to-use sliders help you adjust your levels quickly, and as soon as the app has detected the microphone, it automatically opens up a wealth of recording options.
These include easy switching between mono-cardioid, mono-bidirectional, or raw mid-side recording. You can even choose to switch to a stereo mode that combines both of the capsules and allows you to adjust the stereo width from 60º to 135º.
You can use this app to the microphone's limiter and dynamic compressor and adjust the amount of wind noise getting picked up. It also allows you to switch between left and right recording channels.
Aside from opening up a plethora of recording options that will make capturing crystal-clear sound super easy, the app also has a few useful design features.
One of these is the ability to switch to dark mode, which is helpful if you're recording and filming in low light levels and don't want any unnatural light interference.
You've also got the option of clicking the screen off altogether while recording without the app thinking that you've finished and accidentally cutting out the microphone.
See the Latest Pricing on Amazon
Accessories
It's always worth seeing what else you can get for your money, and the Shure MV88 doesn't disappoint when it comes to included accessories.
Not only will you get a high-performance microphone and a windshield to help reduce noise pollution when recording outdoors, but you'll also receive a headphone monitor adapter cable.
The adapter cable allows you to record with the microphone while simultaneously monitoring your sound levels through your headphones.
You can also use Bluetooth headphones to monitor while you record without needing to unplug the microphone.
An included carry case gives you a safe place to keep the microphone well protected as you transport it or when not in use. You'll also receive a two-year warranty, which is a real testament to the quality of the microphone.
Pros and Cons
No honest review is complete without a list of pros and cons, and while the features of the Shure MV88 are pretty phenomenal, there are a couple of things that may not make it the best option for you.
Let's take a brief look at the pros and cons below.
Pros:
Small, lightweight, and highly portable
Two built-in capsules allow you to switch between cardioid and stereo recording.
The simple plug-and-play design requires no batteries or recharging.
An included foam windscreen helps to reduce noise pollution further when recording outside.
Free access to the easy-to-use ShurePlus MOTIV Audio app opens up a world of new recording options.
Includes a carry case for easy storage and a headphone monitor adapter cable that allows you to check your sound levels as you record
Comes complete with a two-year warranty
Cons:
If you'd like to explore the model in more detail, check out this video:
User experience
The Shure SM58 is a world-famous microphone, beloved by live performers and recording artists alike. But what do users think of this iconic piece of equipment?
Well, opinions seem to be divided. Some users are impressed by the SM58's clear and detailed sound quality, while others find it indistinguishable from the much cheaper built-in microphones found in smartphones.
When it comes to podcasting, many users are impressed by the SM58 and believe it to be on par, if not better, than most mics.
This mic is also popular with traveling musicians and podcasters as it is easy to detach from a home recording setup and take on the road.
However, there seems to be some disagreement about the build quality of the microphone; some users find it to be rugged and well-constructed, while others believe that it feels flimsy and overpriced.
Ultimately, whether or not the Shure SM58 is worth the investment is up to the individual user.
Conclusion
Easy to use, budget-friendly, and powerful, the Shure MV88 is a fantastic microphone ideal for any podcaster who likes to take their show out on the road.
Whether you're recording in a busy city environment, in front of a live audience, or a quiet studio, this microphone will capture clear vocals every time.
This ability is mainly due to its unique ability to switch recording modes. However, the included app plays a huge role in enhancing your recording capabilities.
You'll even be able to listen to your sound levels and easily adjust them as you record, either with the included headphone adapter or Bluetooth headphones.
Its size requires a special mention. This tiny microphone packs a real performance punch, and it's rare to find a piece of equipment that can produce such high-quality sound with its size.
This microphone's compact size and lightweight nature make it incredibly easy to transport from place to place without weighing you down.
It won't take up much room in your equipment bag either, and the included carry case gives you somewhere to safely store it away when it's not in use.
Frequently Asked Questions
Can you use Shure MV88 with other apps?
Yes! While it is designed to work specifically with the ShurePlus MOTIV app, it is also compatible with other recording apps that support USB microphones.
What's the difference between Shure MV88 and Shure MV88+ microphones?
The most significant difference between the MV88 and the MV88+ is the accessories that come with it. So if you're looking for a complete recording setup, the MV88+ is the way to go.
Also, the MV88+ can capture slightly higher quality audio than the MV88. But if you're on a budget or don't need all the bells and whistles, the MV88 is still a great option.
What are some recommendations for using the MV88?
To get the best sound quality, following a few simple recommendations is essential.
First, put your phone in airplane mode. This will prevent any background noise from interfering with the recording.
Also, always make sure to have the proper wind protection. The MV88 has a foam windscreen that should be used when recording outdoors or in other windy conditions.
Finally, ensure the phone case is compatible, as some cases can prevent the mic from functioning correctly.