It's extremely rare to come across any camera or smartphone that doesn't have an integrated microphone. And as technology advances, the quality of these microphones increases too. 
But no matter how good their recording capabilities are, an integrated microphone will never produce the same crystal clear sound that an external microphone can. 
It is undoubtedly the case for DSLR cameras. And while the quality of the images and videos they can produce is unrivaled, if the sound doesn't match the imagery, the finished product will always look slightly 'off.'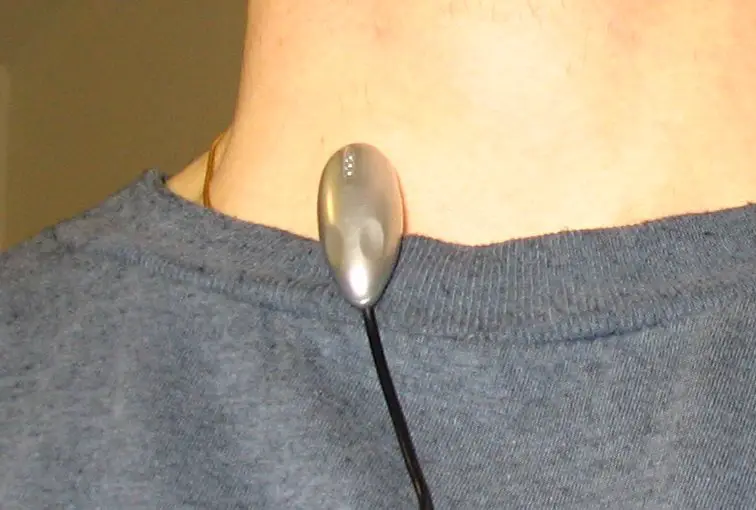 So how can you keep the great visual experience a DSLR camera can provide, still get the freedom of movement some shoots require and ensure the highest quality sound?
You use a lavalier microphone, that's how. 
The subtlety of these small microphones means they'll be barely noticeable on screen and will give the wearer the freedom to move around the frame. And what they lack in size, they more than make up for in high-quality audio. 
But with so many available to choose from, finding the right lavalier microphone for your needs can be confusing. That's why we've put together this list of the best lav mics for DSLR, along with a useful buying guide that will guide you towards the perfect choice. 
Keep reading, and pretty soon, you'll know exactly which lavalier microphone would be the perfect addition to your recording gear. 
Best Lav Mic for DSLR
1. Rode SmartLav+ Lavalier Microphone
Our Pick
Compatible with a wide range of Apple iOs and Android devices the SmartLav+ Lavalier Microphone from Rode is lightweight, portable, and makes the perfect choice wherever discreet audio is required.
The condenser capsule 4.5mm miniature microphone operates omnidirectionally, picking up sound from all directions while drowning out background noise, making it perfect for outdoor recording. 
An included windscreen further enhances its outdoor sound recording quality, while the Kevlar™ reinforced cable and mounting clip ensure the microphone stays securely in place. A 12-month warranty backs the quality of this lavalier microphone, and it also comes with a travel pouch for safe storage and transportation. 
See the Latest Pricing on Amazon
Pros:
Compatible with a wide range of devices including Apple iOs and Android systems

The discreet 4.5mm condenser microphone has omnidirectional recording

Drowns out background noise

Perfect for recording outdoors and includes a windscreen for further wind-noise protection

The Kevlar™ reinforced cable and mounting clip ensure the microphone is held securely in place
Cons:
Although suitable across a wide range of devices, there are certain smartphones and cameras that it won't work with, so check this before buying
2. Rode Wireless Go
The Wireless Go from Rode is a lavalier microphone like you've never seen before. Its combination of a transmitter that easily clips to clothing and a receiver that fits inside your camera's shoe mount lets you start recording in lightning-fast time. No-fuss, no wires, no cables. Let's Go.
The transmitter operates through an omnidirectional condenser, picking up vocals from a 360º arc while reducing any background noise. That means it's perfect for outdoor recording, while its super-lightweight compact design allows you to store and transport it with ease.
The range between the transmitter and receiver is a generous 70m, giving you flexibility overshooting and recording at the same time, and they pair in just 3 seconds. They also don't require batteries or phantom power to operate, instead featuring built-in USB-C rechargeable batteries, which will give you up to 7 hours of use from one charge. 
See the Latest Pricing on Amazon
Pros:
A combination of a transmitter and a receiver that quickly pair together and need no wires or cables to operate

The omnidirectional condenser microphone picks up sound from a 360º arc while reducing ambient background noise

A 70m connection range gives you more flexibility when shooting and recording

Built-in USB-C rechargeable batteries give you 7 hours of use from one charge
Cons:
There needs to be a clear, unobstructed line between the transmitter and receiver; otherwise, there can be gaps in the audio
3. Tascam DR-10L Digital Recorder with Lavalier Microphone
Giving you excellent value for money, the DR-10L from Tascam is a set of two digital recorders with built-in lavalier microphones that are both lightweight, portable, and easy to use.
Each microphone has an omnidirectional recording pattern, and the innovative playback function lets you check the recording immediately so you can re-record straight away if necessary. 
A USB-B port allows for smooth data transfer between the recorders and a computer, and the clever sliding hold-switch locks the record button in place to prevent any accidental misoperation. Their compact size also makes them a discreet way to get great audio, and the built-in sound levels and easy-to-read display makes any post-record editing a lot easier. 
See the Latest Pricing on Amazon
Pros:
A set of two digital recorders with built-in lavalier microphones

The omnidirectional recording pattern picks up sound from all directions but also reduces background noise

Built-in sound levels and an easy-to-read display take a lot of work out of post-record editing 

Features a playback function that allows you to check the recording immediately after cutting
Cons:
These lavalier microphones are not rechargeable and don't use phantom power. Instead, each one runs on a single AAA battery and will give 10 hours of use at a time.
4. Sennheiser Pro Audio ME2 Lavalier Set
The ME2 Lavalier Set from Sennheiser Pro Audio will let you start recording in seconds. Its wireless receiver plugs directly into your camera's audio input and self-configures, and it has automatic audio and level management, to give you a grab-and-go recording readiness.
The phantom power functionality of the ME2 means you won't have to worry about charging anything or carrying batteries around with you. And when your camera powers on and off, so does the lavalier, so there's no risk of picking up unwanted audio when you're not recording. 
One of the best features of this lavalier set though, is the Dynamic Range. The Dynamic Range guarantees perfectly level sound by matching itself to your camera's sensitivity and adjusts the microphone's audio level for you. The set also features Link Protection, which detects any potential sound interference during recording and switches to a different frequency, keeping the audio clear and sharp at all times. That's a whole other league of smart in a small but mighty microphone.
See the Latest Pricing on Amazon
Pros:
The wireless receiver plugs directly into your camera and runs off phantom power

Features self-configuration and automatic audio and level management

Link Protection detects interference and automatically switches to a different frequency

Dynamic range adjusts the microphone's level for you and makes recording even easier
Cons:
On the higher end of the price range, but the features and quality of the set are exceptional
5. PowerDeWise Professional Grade Lavalier Microphone Set
Compatible with a huge range of devices, and complete with a DSLR adapter, the Professional Grade Lavalier Microphone Set from PowerDeWise lets you record super clear audio. It even comes with two microphones so you can interview without sharing.
Each microphone picks up sound from a 360º arc while concentrating on direct vocals and reducing background noise, and the Plug & Play connectivity allows you to get up and running with ease.
The 59" cables give you a good deal of freedom over mic placement, but if you need that extra bit of space, included is a 79" extension cable. Other accessories include two windscreens for outdoor recording, a mono-adapter to increase the range of devices the microphones can be used with, and a Y-connector. If that sounds like a lot to drag around, don't panic – it's all stored alongside the lav mics in the included travel pouch. 
See the Latest Pricing on Amazon
Pros:
A set of two lavalier microphones that works with a wide variety of devices and includes a DSLR adapter 

360º omnidirectional recording picks up vocals from all directions while reducing background noise

Plug & Play connectivity makes setup and operation more effortless than ever before

The range of accessories include a 79" extension cable, two windscreens, a Y-connector and a mono-adapter
Cons:
Despite the windscreens, the mics still pick up some wind noise when recording outdoors
Lav Mic for DSLR Buyer's Guide
Using a lavalier microphone with your DSLR camera will give you a professional level of audio quality that you won't get from your camera's integrated microphone alone. The lavalier's subtlety will let you record great sound without ruining the look of your finished product. 
There's no doubt that a lav mic is an essential addition to your videography set up. But before you make your final decision, there are some key considerations to bear in mind.
DSLR Compatibility
The first thing you need to be sure of is that the lavalier microphone you're thinking of buying is DSLR compatible. Getting this wrong could result in both frustration and expense. 
If a lav mic is DSLR compatible, it is stated within the product features. However, some need adaptors to work with DSLR cameras, so it's an important thing to look for. 
Luckily, many lavalier microphones come with the DSLR adapter included in their accessory kits. Finding one with this option will save you having to buy one separately alongside the microphone.
As well as being DSLR compatible, it's also a good idea to look at what other devices you can use the microphone with. It will broaden your recording possibilities and give you the flexibility to switch between cameras, smartphones, and more, allowing you to choose the best device for the task at hand.
Microphone Type
You'll come across two types of microphones when looking for a lav mic to use with a DSLR camera: 'omnidirectional' and 'cardioid.' They each have particular benefits, and finding the best one for your own recording needs will ultimately determine the quality of the sound.
Omnidirectional microphones pick up soundwaves from every direction and operate with a flat frequency response, which enhances vocal sounds while reducing ambient background noise.  
Cardioid microphones focus on a 180º arc directly in front of them while drowning out any noise coming from behind. Drowning out noise makes them ideal for outdoor recording, where sound interference could be an issue. 
Connection Type
There are also a few connection types to choose from when buying a DSLR lavalier mic, and again, the choice you make will come down to your individual recording needs.
Wireless connectivity is by far the most popular since no cables are required to make the connection between your DSLR camera and the microphone. However, there can be an issue with range when using wireless mics, so check how far the receiver can travel from the camera without the audio cutting out.
Interference and blocking can also be an issue with wireless mics; microphones are available that include Link Protection to solve this problem. Link Protection identifies anything compromising the connection and automatically switches the recording to a different frequency, keeping everything running smoothly and the audio crystal clear. 
Another connection type is Plug & Play. While this is easier to set up, it's a lot more restrictive than wireless, and the microphone needs to plug into your DSLR camera or smartphone while you record. 
Audio & Level Control
Many lavalier microphones let you adjust the audio and sound levels while you record, which saves you a lot of editing work, so it's a feature worth looking out for. 
These levels are on the receiver that plugs into your DSLR camera and can be viewed on a small built-in screen. Some microphones also include a digital recorder so you can listen back to test audio and check that you've got the levels right before you start recording correctly.
You can even find some models that come with a receiver and microphone that automatically adjust the sound levels for you, taking all the hard work out of small adjustments. With less to think about and less to do, you can start recording even faster. 
Accessories
It's always a good idea to see what else you can get for your money. Many DSLR lavalier microphones come with a variety of accessories that don't only make life easier when recording but can also enhance the quality of your audio even further.
Windscreens are always an excellent extra to look out for, as they will help to reduce the amount of wind noise the microphone picks up when you're recording outside, leaving you with consistent, clear vocals. 
Another great accessory is an extension cable, which you can use to lengthen the amount of space between your microphone and your transmitter, giving you more mic placement options. 
Price
It's always a good idea to set yourself a budget when you're looking for a lav mic for a DSLR camera, especially as they can vary in price a lot. 
If you're starting, it would be a good idea to go for something at the lower end of the scale. That way, you can get a feel for what you need before upgrading to something more expensive. 
For a more professional set up that gets lots of use, a higher-end lavalier microphone could be your best option. It will likely have more features than you'll need, and you'll have a better understanding of what you need from it.
Frequently Asked Questions
What is a lav mic?
Short for 'lavalier microphone,' a lav mic is a small microphone that can be pinned to clothing and used to record audio directly into a DSLR camera or other device. 
What is DSLR?
DSLR stands for 'Digital Single Lens Reflex' and is a system of mirrors built into specific cameras that allow you to see what the lens sees when you look through it. It's this technology that has given DSLR cameras a reputation for taking the highest quality images and video possible.