Excellent audio quality is essential for any podcast. But, in an increasingly crowded field, many podcasters are coming up with new and innovative ways to keep their listeners engaged, ensure that their audiences numbers continue to grow, and keep those advertising deals coming in.
One of the best ways of doing this is to start videoing your podcast episodes while recording. Lots of people like to put faces to names and see the inside of a recording studio.
And, thanks to advances in cellphone technology, you no longer need to invest in an expensive video camera to do this.
Cellphones that use Android operating systems are arguably the best for small-scale videography. Models such as the Google Pixel or Samsung Galaxy, for example, are capable of producing high-definition, true-color video.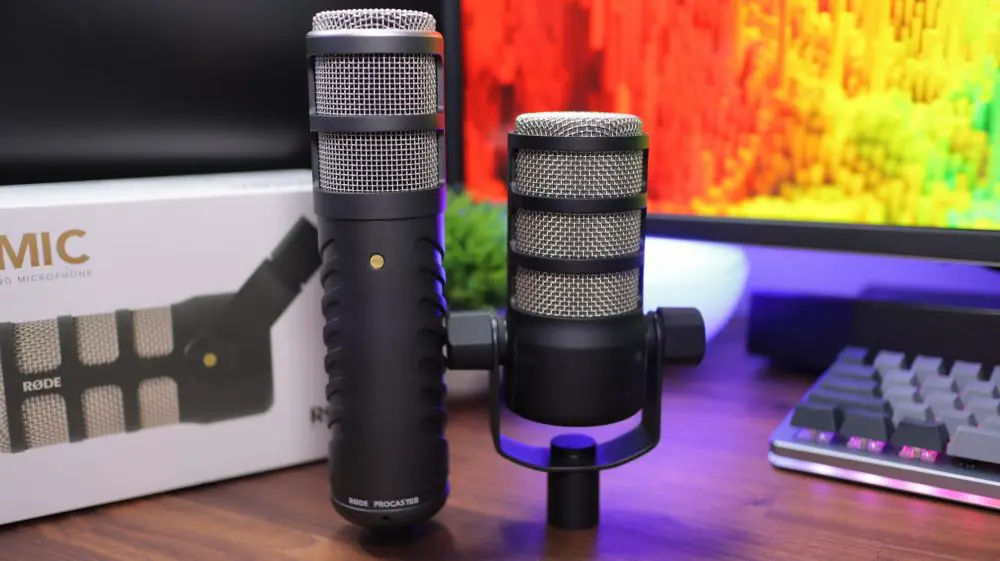 However, as impressive as the video quality featured on some Android cellphones is, the audio-recording quality doesn't always match its filming performance.
So, to make sure you're able to film your podcast and still capture high-quality sound, investing in an external microphone to use with your Android cellphone is an essential purchase.
That's easier said than done, though.
So, to make things easier, we've put together a list of some of the best android microphones for video and podcasting, along with a useful buying guide that's got all the information you need to help make the shopping experience a little easier.
1. Rode SmartLav+
Our Pick

Rode has become a world-renowned brand for creating high-quality sound recording gear, and the SmartLav+ is a great addition to any podcaster's arsenal.
Rode designed the SmartlLav+ for use as a lavalier microphone; it's super easy to use and connects to your Android smartphone through the headphone port.
It features an omnidirectional condenser capsule. So, this microphone picks up vocal sound from all directions while simultaneously drowning out background noise.
This condenser makes it an excellent choice for outdoor recording or a podcast with multiple hosts and guests.
It's small in size too, measuring in at just 4.5mm, and its lightweight nature won't leave you feeling weighed down by it.
The connector cable between your cellphone and the microphone measures 1 meter, so you'll be able to set your phone to record video while still having a fair amount of freedom to move around.
A windscreen is included with this microphone too, which further helps reduce unwanted background noise and prevents the occurrence of plosives.
You'll also receive a storage pouch to keep the microphone safe when it's not in use, and a 12-month warranty backs its quality.
See the Latest Pricing on Amazon
Pros:
A small, discreet lavalier microphone that connects to your Andriod cellphone through the headphone port
Features an omnidirectional condenser capsule that picks up sound from all directions
The capsule also drowns out background noise and is further enhanced by the included windscreen
The long 1m cable gives you room to set your cellphone to record video while still leaving you room to move comfortably
Includes a storage pouch and a 12-month warranty
Cons:
While the 1m cable is perfect for filming yourself while you're podcasting, it won't give you the room to record your entire studio or multiple guests in one frame
2. Movo PM10 Lavalier Microphone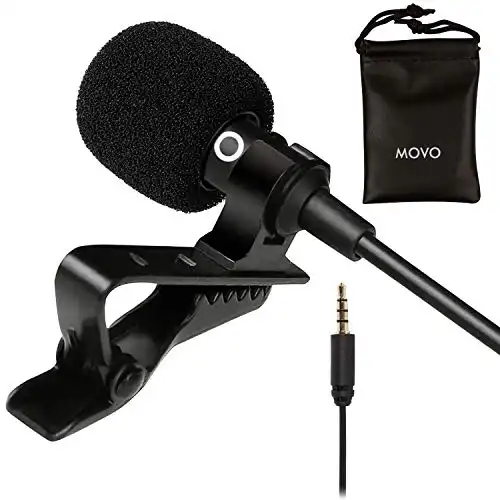 Featuring an omnidirectional pickup pattern, the PM10 Lavalier Microphone from Movo is capable of capturing sound from all directions whilst ensuring vocals are picked up with increased clarity.
The plug-and-play design makes it incredibly easy to use, as well. Simply connect the microphone to your Android cellphone through the headphone port, and you're all set!
Meanwhile, the 1.2m cable gives you plenty of room to set your camera up in the best position and hit record without leaving you feeling restricted.
This microphone comes with two foam windscreens that are perfect for eliminating background noise and for recording outdoors.
You'll also receive two lapel pins to keep the microphone securely fastened in place throughout your recording session.
It's universally compatible, so not only can it be used with Android systems, but with Apple products and DSLR cameras too.
It gives you extra value for the money and allows you to switch between devices without paying for additional equipment.
See the Latest Pricing on Amazon
Pros:
Has an omnidirectional pickup pattern that picks up ambient sound from all directions while concentrating on vocals
Super easy to use with a plug and play design that connects through your cellphone's headphone port
The 1.2m cable gives you more freedom of movement when you've set up your video camera to record
Is universally compatible with Andriod devices, Apple products, and DSLR cameras
Includes two foam windscreens, two lapel pins, a travel pouch, and a 1-year warranty
Cons:
Depending on the Android cellphone you have, you may need to purchase an adapter separately
3. Rode VideoMic Me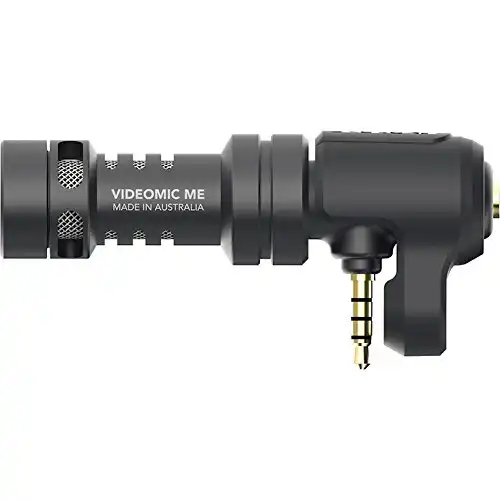 Another fantastic product from Rode. The VideoMic Me is designed as a shotgun microphone that attaches directly to your Android device, making it a great alternative for anybody that isn't too keen on lavalier microphones.
This microphone picks up sound coming from a 180º arc directly in front of it and completely shuts off background noise when recording with a cardioid pickup pattern.
That means it ensures you get clear, concise vocals every time and makes it the right choice for outdoor recording.
It also has a frequency range of 100Hz – 20KHz, so it can pick up a wide range of vocal tones and transform them into one fluid, conversational style that is more pleasing to the ears.
Super easy to use; simply attach it to your cellphone's headphone port and start recording.
The fact it doesn't have a cable offers you a tremendous amount of freedom to move around while you video yourself podcasting.
You'll also receive a deluxe furry windshield to reduce background or wind noise further when recording, and its universal design makes it compatible with both Android and Apple devices.
See the Latest Pricing on Amazon
Pros:
A shotgun microphone that operates wirelessly and connects directly to your cellphone's headphone port
Record with a cardioid pickup pattern, concentrating on vocals and eliminating background noise
Has a frequency range of 100Hz – 20KHz, transforming different vocal tones into one concise, conversational tone
The wireless design gives you the ultimate freedom to move around while your video your podcast
Is universally compatible and comes with a deluxe furry windshield
Cons:
The included windscreen is quite big, so it might get in the way of your shot when recording
4. PoP Voice Lavalier Microphone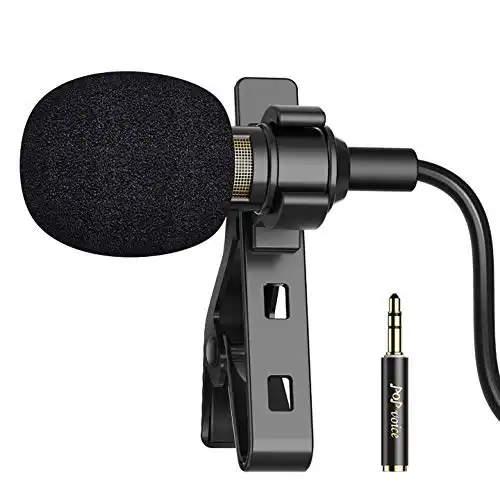 With an extra-long 16ft cord, this Lavalier Microphone from PoP Voice will give you the ability to set your cellphone to record in a variety of positions whilst allowing you to move freely around your studio.
Its omnidirectional pickup pattern operates with flat frequency response. Meaning it will pick up sound from every direction while ensuring reduced background noise and enhanced vocals. This makes it an excellent choice for recording in a variety of environments.
The simple plug and play design will allow you to connect the microphone to your cellphone's headphone port. It even comes with a lightning cable adapter that gives you the ability to use it universally with other devices.
The frequency range of 20Hz – 16KHz produces clear vocals across a range of voice tones, and the two included windscreen helps eliminate plosives while you record.
You'll also receive a storage bag to keep the microphone safe when you're not using it, and a lapel clip to keep it securely in place.
See the Latest Pricing on Amazon
Pros:
Has a 16ft cable that gives you ultimate freedom of movement during your recording
The omnidirectional pickup pattern captures sound from all directions while enhancing vocals
Easy to use with a simple plug and play design
Produces clear vocal tones with a frequency range of 20Hz – 16KHz
Includes two windscreens, a lapel clip, and a storage bag
Cons:
Although compatible with a vast range of Android devices, there are a select few that it won't work with, so you'll need to check this before purchasing
5. Saramonic SmartMic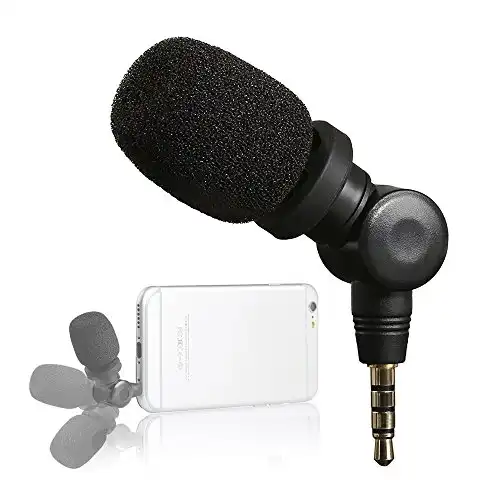 Small, lightweight, and discreet, the SmartMic from Saramonic is perfect for recording video and sound simultaneously in a variety of environments.
Its shotgun-style design means it operates wirelessly, too, giving you more flexibility to position your cellphone in the best position possible.
This mic is a TSSR condenser microphone, which means it can pick up a more comprehensive range of sounds and work across a wider frequency range to deliver fantastic sound and excellent conversational tones.
The innovatively designed microphone head has a multi-position style.
This style allows you to angle it for optimum sound and prevents it from getting in the way of the available angles you can set your cellphone up in.
The microphone plugs directly into your cellphone's headphone port, making it super easy to set up and use. It also comes with a removable foam windscreen that can help reduce background or movement noise and makes it great for recording outdoors too.
See the Latest Pricing on Amazon
Pros:
Is small and lightweight, perfect for recording video and sound in multiple environments
The wireless, shotgun design gives you more freedom to move around and set your camera up wherever you like
Uses a condenser capsule to record a wide range of sounds and frequencies
Has a multi-position head that allows you to angle the microphone at the optimum position
Plugs directly into your cellphone's headphone port and includes a foam windscreen
Cons:
The lightweight design may make it more susceptible to accidental damage
Buyer's Guide
Filming a few behind the scenes clips, upcoming trailers, or even entire episodes of your podcast are all great ways to boost your audience engagement and help your show stand out from the crowd.
But, when it comes to finding the best microphone to do this with, there are a few things you need to bear in mind when shopping. This is especially true for Andriod devices.
Below, we've outlined some key points to think about before you settle on your final decision. Each of these will guide you towards the best possible Android microphone the first time around and get you up and running in record time!
Compatibility
The first thing you need to make sure of is that your chosen microphone is compatible with your device. Get this wrong, and you'll make a potentially expensive mistake.
Android operating systems run across a massive variety of cellphones, and models are constantly evolving and upgrading. So even if you know that your device is Android-powered, you'll still need to make sure it's compatible with the microphone wanting to purchase.
Checking compatibility is pretty simple, though, and most microphones will be transparent and provide a list of compatible devices. If yours isn't there, it's probably not compatible, and it's not worth running the risk of assuming it is.
You might like to use a variety of devices for recording too. If that's the case, it's worth looking for a microphone that can be used universally across various devices, including Apple, Windows, and DSLR cameras.
Connection
Once you're sure your potential new microphone is compatible with your device, be sure to take a look at how it connects.
Most microphones are designed with a simple plug and play design, which allows you to connect it through your cellphone or tablet's headphone port. This connection is by far the easiest way of setting your microphone up to record.
Remember, however, that devices are continually changing, and over recent years headphone ports have evolved from regular 3.5mm jacks to more uniquely-styled connections.
If your device has one of the newer connection-types, take a look to see if your chosen microphone includes any adapters. Having them will allow you to plug the microphone's connector into the adapter, and then attach the adapter to your device.
Lav Mic VS. Shotgun Mic
Another thing you'll need to consider is whether you'd prefer a lavalier microphone or a shotgun microphone. Both come with benefits and drawbacks, so it's crucial to find the right style for your podcasting needs.
Lavalier microphones are typically connected to your device through a cable and then pinned securely in place to your clothing or a nearby stationery item.
Lav mics allow you to get close to the microphone without necessarily having to be super close to your device, so you can get a better frame set up without worrying about sound quality.
If you decide a lavalier microphone is the correct choice for you, then it's a good idea to look at the cable length. The longer the cable, the more freedom you'll have to move around while you record.
Shotgun microphones plug directly into your device without any wires.
This style gives you a lot of freedom to move around and allows you to set your device up to get a wider frame since wires won't be restricting you.
Pickup Pattern
The pickup pattern that your microphone operates with will ultimately determine how your finished episode will sound, so it's an important thing to pay attention to.
Choose a podcasting microphone that records with an omnidirectional, multidirectional, or a cardioid pickup pattern. Each of these designs focuses on vocals while reducing background noise.
Frequency Range
The frequency range is another good thing to consider. Different voices have different tones, and a microphone with a broad frequency range will pick up these tones and produce them as clear vocals during playback.
A broad frequency range will also help keep the overall tone of the finished episode conversational and generally more pleasing to the ears.
Accessories
Finally, it's always worth seeing what else you get for your money when you're buying a microphone.
Many come with a range of included accessories such as windscreens, which reduce background noise and plosives from being picked up when recording.
Lapel clips are also super handy in lav mics as they'll keep the microphone securely fastened in place.
Included storage bags are super useful too and will give you somewhere to safely store your microphone away when it's not in use.
Frequently Asked Questions
What microphone is best for recording with an Android cellphone?
Compatibility is the first thing to think about here. Not all microphones are compatible with Andriod devices, so you need to get one that is. Take a look at our list of Android compatible microphones above.
Is a lav mic or shotgun mic better for recording video when podcasting?
The answer is a case of personal preference. Lav mics are wired, so, although you might get better sound quality from being close to the mic, you may feel restricted.
Shotgun mics give you more scope for setting up a wider frame; however, you may be sacrificing sound quality as you'll be further away from the mic.