As a podcaster, opting for the best microphone that will give you direct audio is crucial.
Audio-Technica has done so with the AT2005 and the ATR2100-USB model microphones, shielding you from surrounding noises and making your podcasting experience less torturous.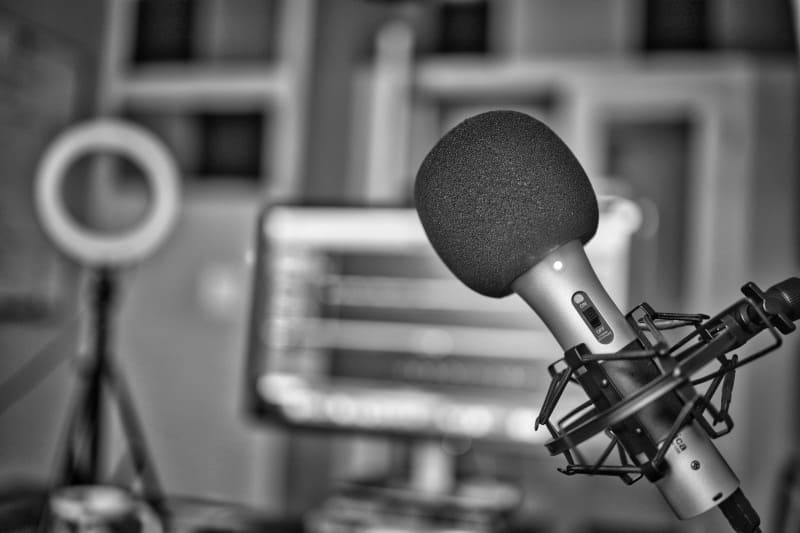 Are you trying to decide between the Audio Technica AT2005 versus the ATR2100? Get the comparison and figure out which one is right for your needs.
ATR2100-USB
Features
The ATR2100-USB is also a dynamic microphone with a cardioid polar pattern. It has a frequency response of 50Hz to 15 kHz and has both a USB option for connecting straight to your computer and an XLR option for live sound applications.
Since it's a dynamic microphone, it rejects much more background noise than any other kind of microphone (like the condenser microphone, for example).
So you don't have to worry about it picking up any keyboard noises, mouse click noises, ambient noises, and so on, which can be a massive problem for podcasters.
When it comes to this microphone as a USB mic:
It can record a bit depth of 16 bits.
A sample rate of either 44.1 kHz or 48 kHz.
The 3.5 mm headphone jack on the bottom of the microphone lets you directly monitor your recording with headphones.
Our Pick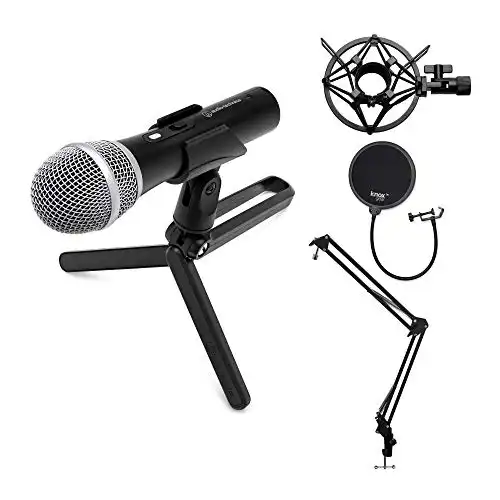 After your preliminary setup is complete and your USB microphone is connected to your computer's USB port, you can plug your headphones into the headphone jack on the microphone's bottom.
While talking into the microphone, you should hear yourself in the headphones and adjust your voice if you're too loud or too low.
All these amazing features come with the ATR2100-USB making it one fantastic mic that is relatively affordable.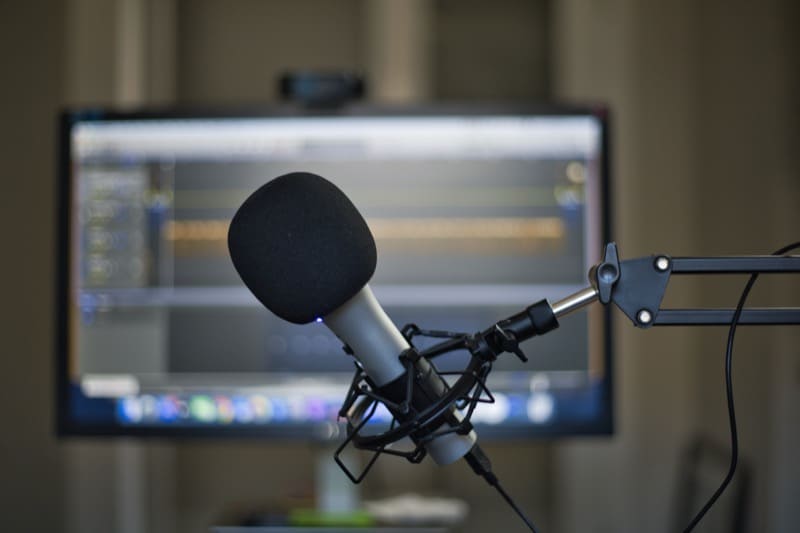 Pros and Cons of the ATR2100-USB
Consumers have expressed their satisfaction with this product based on first-hand experiences, and some of their observations have been described below.
Most consumers of this product agree on the mic's sensitivity. They describe it as having a great range of frequency responses and an excellent one at that.
Relatively cheaper than the AT2005 model.
You get a lifetime end-user warranty when you get the ATR2100-USB
This microphone does not come with its flaws and shortcomings, which end-users have encountered.
Some users have reported the compatibility of this microphone. It doesn't seem to work well with windows 8 and 10.
 Some have complained about an annoying buzzing noise they hear when using this device's USB option. I've never noticed any issues and get compliments all the time about the clean audio.
Another complaint that most people seem to agree on is that the inside connections wear out over time. Either the USB port or the headphone jack slacks after some time.
User experience – ATR2100 USB
The ATR2100 USB microphone is a popular choice for podcasters and other content creators. It has received mostly positive reviews, with a 4.5/5 rating on Amazon.
However, there have also been some reports of manufacturing issues, with some users reporting that they had to purchase multiple microphones in a short time due to problems with the USB port. Overall, the ATR2100 is a popular and affordable option for content creators, but it is essential to be aware of the potential issues before making a purchase.
AT2005
Features
The Audio-Technica AT2005 is a cardioid dynamic microphone that offers high-quality articulation and intelligibility, perfect for home studio recording, field recording, podcasting, voice-over, and on-stage use.
Its cardioid polar pattern reduces the pickup of sounds from the sides and rear, improving the isolation of desired sound source and thereby eliminating background noises.
This digital/analog microphone comes with USB and XLR outputs, so you can connect this to whatever interface you have. You can plug it into your computer via the USB cord that comes with this product or into a mixer via the XLR cable that accompanies this product.
This microphone's exciting feature is the 3.5 mm headphone jack, which provides zero-latency monitoring for your headphones and can also play audio back from your computer.
As far as specs go, this mic has a:
Frequency response of 50Hz to 15,000Hz
Bit depth of 16 bit
A sampling rate of 44.1kHz/48kHz
Now, enough with the geeky stuff; let's cover some basics and talk about what comes in the box.
When you purchase the Audio-Technica AT2005, you will get a nice leather carrying case. This package includes all of the cables you would need (USB and XLR); also, the AT2005 comes with accessories like a tripod stand, a mic clip to hold your mic in place, some documentation, and of course, the microphone itself.
The interesting thing about this microphone is that it's affordable and does not compromise on quality and functionality, so if you're on a budget, this mic would be a home run.
Regarding the build quality, it has an all-metal construction; it's sturdy, has a nice metal grill, generally feels well-built, and only weighs approximately 0.6 pounds.
Pros and Cons of the AT2005
There are a lot of positive benefits to using the Audio-Technica AT2005 microphone, and a few have been highlighted below based on how consumers relate to this product.
Excellent sound quality for an affordable price
It's portable, and since it comes with a pouch, it makes it easy to carry around.
Has its own tripod stand in case you don't have a boomstick to mount your mic on.
Although the AT2005 microphone seems like a remarkable podcast mic, it has some imperfections that consumers have criticized.
The volume adjuster controlling the headphone jack's output on the bottom is a rocker, not a dial, so quick and precise adjustments can be tricky.
Some users have complained about the longevity of the product.
Consumers have complained about the low volume the mic seems to give when connected to a computer (especially Windows) via the USB output.
User experience – Audio Technica AT2005
There are a variety of customer reviews about the Audio Technica AT 2005 microphone. Overall, users seem to think that the microphone is well worth the price and practical for various uses.
However, some users have noted that the microphone tends to boost the highs, which could create an unpleasant sound for people with higher-pitched voices. Overall, the Audio Technica AT 2005 seems to be a good option for those looking for a quality microphone at a reasonable price.
For additional info, you can use the video below as a reference.
How are they similar?
The Audio-Technica AT2005 and ATR2100-USB are excellent mics with very similar features.
They are both dynamic cardioid microphones, which reject background noises, ambient sounds, and reverbs (annoying echoes).
They both have USB and XLR options, which gives a ton of advantages.
Another feature peculiar to both microphones is the headphone jack visible at the bottom of the AT2005 and the ATR2100-USB.
They both have an ON/OFF switch, so you don't always have to worry about being on-air in a live broadcast.
How is the AT2005 different from the ATR2100?
One significant difference that is easily visible is the color. The AT2005 model dons a matte black finish giving it this professional, corporate look, while the ATR2100-USB comes in a metallic silver finish that is hip and trendy. Still, since you're doing a podcast, it shouldn't necessarily matter.
Another thing that sets these two apart is the warranty. Once you get the ATR2100USB, you get a lifetime end-user warranty, whereas with the AT2005, you only get a one-year limited end-user warranty.
A test on both mics got carried out by recording hacks to compare the audio quality of both mics. When the audio feedback from both mics was analyzed, it was found that a slightly fuller low-frequency response occasionally came from the ATR2100-USB.
What that means is that the ATR2100-USB is quite sensitive to low, soft, subtle sounds compared to the AT2005.
Who should get the AT2005?
An AT2005 microphone is a good option for podcasters just starting. You don't want your podcasts riddled with background noises and surrounding sounds, you want to get your message across without interruptions, and this microphone does this for you.
Also, as a podcaster, you want to keep things simple. You don't necessarily want the hassle of connecting your mic to a mixer and then figuring out what button configurations would give the best sounds. The USB feature of this microphone eliminates that stress.
Who should get the ATR2100-USB?
If you're on a tight budget and need a microphone for voice-overs, screencasts, and podcasts, the ATR2100-USB is a good choice. This microphone offers all the cool features of a typical podcast mic without you having to go bankrupt.
References