With an increasing number of people choosing to start their podcasts, the demand for budget-friendly, professional recording equipment has increased.
And, amongst all of the equipment you need to start your podcast, the most important is a good quality microphone. Without one, you won't be able to capture clear, concise vocals. Missing out on those golden moments that make for a great podcast episode could be lost forever.
Bad recording quality isn't something that will help your audience numbers grow through each episode, either. And, in a flooded market, you need your podcast to stand out from the crowd.
So, how can you get a great quality microphone on a modest budget? This is where the Rode Podmic comes to the rescue!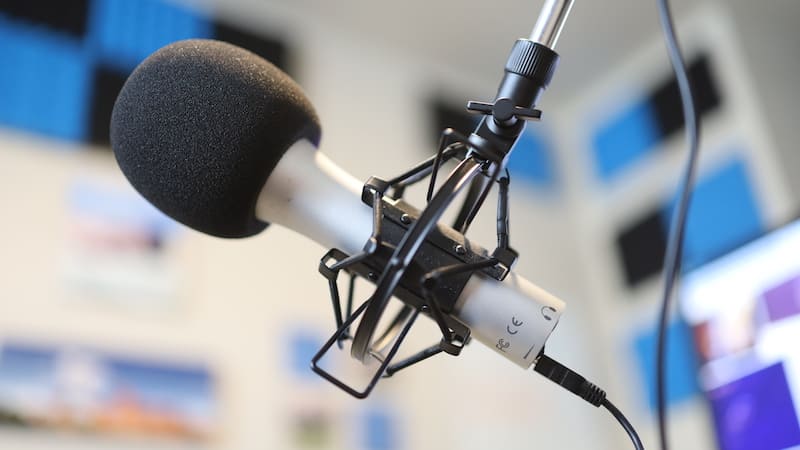 Moderately priced but packing all of the features you'd find in a more expensive professional studio microphone, the Rode Podmic is ideal for anybody new to podcasting.
It's also an excellent choice for any established podcaster that wants a fantastic microphone without having to spend a small fortune on one.
Join us as we go through all the details, features, and specifications of this fantastic microphone.
In the end, you'll have a much better idea of what the Rode Podmic is capable of, and whether it's the best choice for your own podcasting needs.
uk/dp/B07MSCRCVK?tag=podcasthow-20
Design
Let's begin by looking at this microphone's design. It's aesthetically pleasing and has that classic studio microphone look, which doesn't have much of an impact on its performance but certainly gives it a professional feel.
It features an integrated swivel mount that can hold the microphone firmly in position while it's in use, as well as help to reduce vibration while you record.
It's also compatible with both ⅜" and ⅝" stand threads, giving you more versatility when it comes to securing it in place.
This swivel mount allows you to angle the microphone in a variety of positions too. This capability means that you'll be able to sit comfortably without worrying about compromising the recording quality or having to hold your posture in an awkward position while you're talking.
There is also an internal shock mount designed to absorb any noise from table-bumping or typing and prevent it from being picked up while recording.
It's easy to use, its plug-and-play design makes it super simple to set up, and you won't need a degree in audio engineering to get started!
The stable, all-metal construction also makes it extremely durable, and its 937g weight gives it a hefty, secure feeling without being overly cumbersome.
See the Latest Pricing on Amazon
Recording Quality
The Rode PodMic features an end-fire dynamic capsule housed in the microphone's head and protected by a steel mesh. Dynamic microphones are perfect for recording vocals, and the PodMic can pick up a wide range of frequencies and convert them into consistent sounds.
This integrated dynamic capsule also makes this microphone an excellent choice for any podcaster that uses public places for recordings, such as coffee shops or restaurants.
It will concentrate on the sound coming directly in front of the microphone rather than picking up background sounds.
Further enhancing the background noise reduction is the microphone's cardioid polar pickup pattern. This attention to detail makes the Rode Podmic an excellent choice for a podcast with multiple hosts or guests, too, as it will concentrate solely on the vocals directly in front of it.
Even if you use a studio to record, the cardioid polar pickup pattern will reduce any echoing or noise reverberating from bare walls and floors. Ideal if you're new to podcasting and are recording from a small, home studio.
Its frequency response of 20Hz to 20KHz means that it can pick up various tones and vocal differences while maintaining a natural, conversational tone.
The frequency response is an excellent feature as you'll be able to spend less time adjusting sound levels and more time creating your content.
This microphone also features an integrated pop shield. This feature allows you to get up close to the microphone without sacrificing any sound quality or getting those 'popping' sounds that can come from the pronunciation of certain words.
The integrated pop shield means that you won't have to worry about using a foam windscreen when you're recording in certain environments too.
The Rode PodMic is built explicitly with spoken-word recording in mind. It's the above features that make it so remarkable at delivering professional sound and vocals every time.
See the Latest Pricing on Amazon
Connectivity
The Rode PodMic is an extremely versatile choice too. It can plug into any audio interface or mixer, making life a lot easier and means you don't have to purchase any specific equipment to use it.
Naturally, however, Rode has made this microphone with extra compatibility to use with their products. It is optimized to work with the RodeCaster Pro, which will automatically correct the sound levels for each voice type.
The autocorrect is a great feature, but if you don't want to purchase a RodeCaster Pro, the Rode PodMic will still give you fantastic results with your current mixer or audio interface. You will have to adjust the sound levels yourself, though.
Connection to an audio interface or mixer is super easy. Connect using an XLR cable, just as you would with any analog microphone, and you're all set. It really is that simple to set up!
There's also no need to worry about batteries, recharging, or Phantom power with this microphone, which doesn't only make setting it up that much easier but also means it's ready to start recording whenever you are.
See the Latest Pricing on Amazon
Pros and Cons
There are loads of reasons why the Rode PodMic is a fantastic microphone.
However, every podcast host has their own needs and wants, and what works for one person might not necessarily be the best choice for another.
So, to make things even more straightforward, we've put together a list of pros and cons that will help you decide if this microphone could be an excellent addition to your podcasting gear.
Pros:
The aesthetically pleasing design gives the microphone a professional look and feel.
An integrated swivel mount allows you to securely position the microphone at an angle that's most comfortable for you.
The internal shock mount absorbs any random table-bumping noises and prevents them from being recorded.
Is compatible with both ⅜" and ⅝" stand threads
The plug-and-play design makes it super easy to set up.
Features an end-fire dynamic capsule protected by steel mesh
Records with a cardioid polar pickup pattern to isolate vocals and reduce background noise
Has a frequency response of 20Hz – 20KHz that translates a variety of voice types into clear, conversational tones
Features an integrated pop shield to enhance clarity and further protect against noise pollution
Can be used with any audio interface or mixer
Has also been optimized for use with the RodeCaster Pro for automatic sound level adjustment
The 937g weight and all-metal construction give it a durable feel without being overly cumbersome.
Cons:
The integrated swivel mount can feel a little tight at first, but it soon eases up with use.
While its size makes it a compact choice for transport, the 937g could be a little too heavy for some people to carry comfortably.
Doesn't come with a microphone stand; however, you can use a wide variety of thread and mount stands.
User experience
Conclusion
If you're looking for a professional microphone that can record vocals with superior clarity while trying to stick to a modest budget, then the Rode PodMic could be the one for you.
Extremely versatile, it can be positioned at various angles for comfort and securely fastened to both thread stands and arms.
The cardioid pickup pattern and dynamic capsule work together to concentrate solely on the vocals placed directly in front of the microphone and drown out any intrusive background noise. This concentration leaves you with a crystal-clear recording that is comfortable to listen to.
It even has an internal shock-mount that isolates accidental recording noises, such as table-bumping, keyboard typing, or sound reverberation from bare walls and prevents them from being recorded.
The internal shock-mount saves you even more money, too, since you won't have to worry about buying an external shock-mount.
The broad frequency range is capable of picking up a variety of voice types and translating them into a natural tone too. This broad range also reduces the amount of time you need to spend adjusting your sound levels.
It's effortless to use and operates with a plug-and-play style, making it ideal for new podcasters and the less tech-savvy.
A special mention must be given to its all-metal construction too. The structure makes it super durable, and it's compact enough to store in your bag and take with you should you choose to take your show out on the road.
So, whatever the theme of your podcast, the Rode PodMic is guaranteed to produce a clear, easy-listening tone that your audience will love.