There's no doubt that podcasting is quickly becoming one of the most popular forms of entertainment.
Whether you're looking for information, wanting to alleviate some stress with a meditation session, or fancy laughing along with a comedy show, there is a podcast for everyone.
Despite this popularity, however, one thing remains an issue for podcasters all over the world. There isn't much audio equipment that has been engineered specifically for podcasting.
But, thanks to Rode, this is quickly becoming a thing of the past.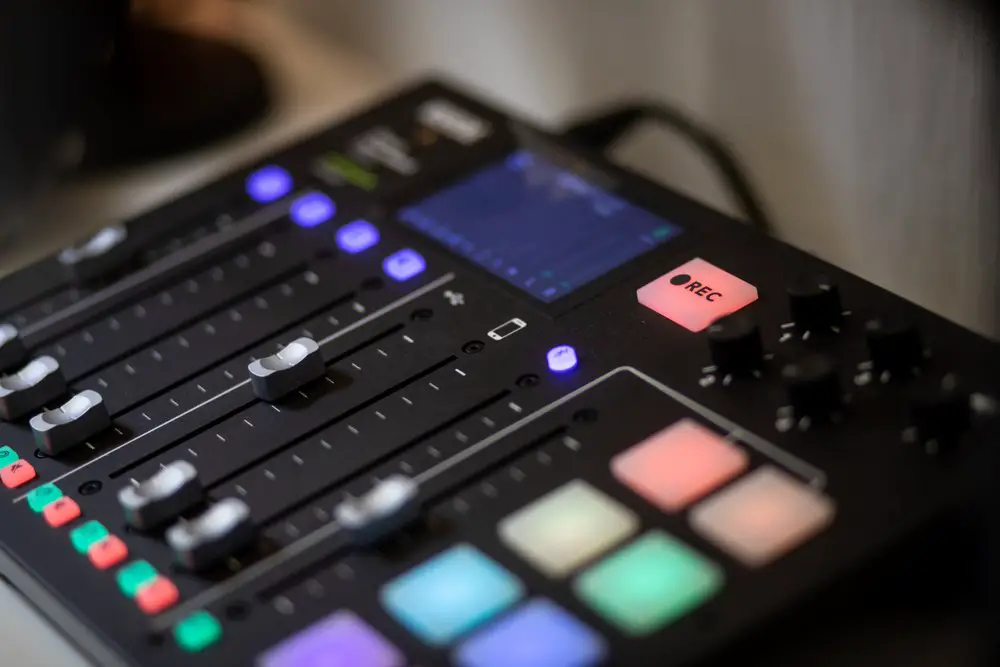 Enter the Rodecaster Pro. Designed entirely with podcasting in mind, this amazing piece of equipment is essentially a digital recorder and a mixer combined into one compact machine.
This combination of skills is essential for any serious podcaster. But what else can it do?
To give you the full breakdown of just what the Rodecaster Pro is capable of, we decided to take an in-depth look at all of its features.
So, whether you're new to the world of podcasting or have been hosting your own show for a while, at the end of this Rodecaster Pro review, you'll have a better understanding of why it's the perfect addition to your recording setup.
See the Latest Pricing on Amazon
Design
Let's begin by talking about the Rodecaster Pro's design. Aesthetically it's very appealing. The sleek, modern build means it would blend in seamlessly with any recording studio. But it's not all about looks.
The sliders, dials and large buttons make using the Rodecaster Pro extremely simple. There aren't any overly complicated symbols to have to decipher either, and everything is pretty self-explanatory. For instance, when you're ready to record, you hit the large, clearly labeled record button.
Something else that we really like about the Rodecaster Pro is the elevated, sloping design. This makes selecting your controls and adjusting your levels feel much more natural and comfortable.
It also gives you the ability to view them much quicker as they are angled better for your eye line.
Another fantastic design feature the Rodecaster Pro has to offer is its compact size. Measuring just 350mm x 275mm, it's ideal for smaller studio spaces and will leave you with the room you need to speak comfortably into your mic.
This also makes it the perfect choice for any podcaster that records remotely or travels between locations from episode to episode.
See the Latest Pricing on Amazon
Audio Recording
Whether you're a solo-podcaster or your show's format sees you welcome a panel of guests each week, the Rodecaster Pro has got your recording needs covered.
First, it allows you to connect up to four microphones at once through individual XLR ports. You can even set each microphone up with its own levels using the easy-to-read control panel.
This is possible thanks to each input port having its own gain slider, mute button, and solo button. This is one of the features that make the Rodecaster Pro the ideal podcasting tool.
You want to mute everybody else's mics while one of your guests is talking. Push the red button underneath each microphone's slider.
There are also some other options that you can adjust each microphone individually for as well. These include:
Compressor: This helps to level out the overall volume of each microphone
High-Pass Filter: Minimizes low rumbling noises or popping sounds across microphones
De-Esser: Helps to create a less sibilant recording
Noise Gate: Reduces the amount of background noise each microphone picks up
Ducking: Automatically lowers the volume of music being played underneath vocals
Aural Exciter & Big Bottom: EQ preset options that change the tone of your voice
Granted, you might think these are features that can be applied during the editing process. But, by choosing to use them during your recording session, you're taking a lot of work out of editing and freeing up more time to research some great content for your next episode.
See the Latest Pricing on Amazon
Multi-Track Recording
Along with multi-mic hosting, the Rodecaster Pro allows you to record multiple tracks at once. These can either be stored in a DAW on your computer, or you can record directly onto an SD card.
Doing this helps give you more control and flexibility in the editing process, making it even quicker and easier to give your show that professional finish.
Live Features
One way to keep your podcast format relevant and interesting is to do an occasional live show. But, most recording equipment won't have the features you need to do this with. Again, it's the Rodecaster Pro to the rescue.
The first of the live-features it offers is to preview any pre-recorded files you're planning on playing within your show. This allows you to double-check you're about to use the correct file without interrupting the live broadcast.
This preview feature is also set to a unity gain level, so, regardless of the position you've got the fader in, you'll get an accurate representation of how loud the clip is before you play it.
Another fantastic live-feature offered by the Rodecaster Pro is the ability to speak with any guests or audience members that are calling into your show 'off-air.' This is useful for a variety of reasons.
For example, you'll be able to brief your caller on what you'll be talking about before they go live. You'll also be able to check their sound levels and make sure you've got a strong connection with them ahead of bringing them onto the show.
Along with the individual microphone controls, these live-features also make the Rodecaster Pro a fantastic choice for anybody hosting a radio show.
See the Latest Pricing on Amazon
Sound Pads
Located on the front of the Rodecaster Pro, there are eight large sound pads in varying colors. These can be used to play audio clips or effects during your recording.
You can even use them to play pre-recorded interviews, which, again, takes a lot of work out of the post-record editing process. These sound pads give you the ability to pause clips quickly, too, while the display panel lets you know how long is left on the clip.
This also gives you the chance to play outro music as you come to the end of each episode directly from the mixer.
Your sound library can be configured and customized from the Rodecaster Pro itself using the display screen or the downloadable companion app.
You'll be able to store 8 banks of sound at once too, which is ideal if you host multiple shows or share your equipment with another podcaster.
Each of your sounds and the settings you've chosen for them can be saved for quick and easy access the next time you want to use them too.
This also means that you'll be able to get ahead of the game and know that they are ready to go once you've hit the record button.
See the Latest Pricing on Amazon
Headphones & Monitors
Our Pick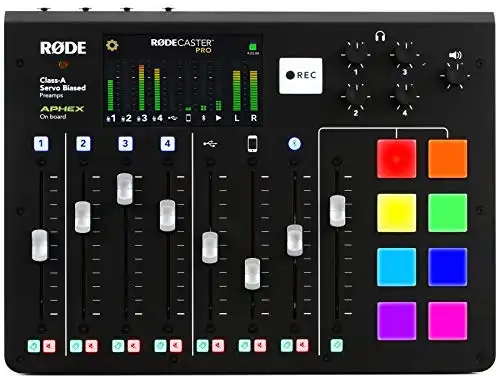 While most digital recorders give you the ability to monitor sound levels through a single headphone jack, the Rodecaster Pro has four headphone jacks!
This means that each person can hear themselves while speaking and can customize their volume to their own preference.
So, if you've got one guest who prefers a louder headphone volume and one that likes things a little quieter, you'll be able to please both people at the same time.
Each of the headphone jacks is ¼-inch TRS, which is the standard for most studio headphones. However, if you prefer to wear earbuds, adapters can easily be connected to the headphone jacks.
The Rodecaster Pro also features ¼-inch left and right output ports too. This allows you to connect speakers or studio monitors to it, and these also have independent volume control.
See the Latest Pricing on Amazon
Connections
As we've mentioned above, the Rodecaster Pro features four headphone jacks and two output ports. However, there are a couple more connection options available to you as well.
One of these is a USB connection, which can be used to record sound coming from a computer, such as an incoming Skype call.
This allows you to invite guests to your show from all over the world without having to bring them into your studio physically.
The USB connection also has its own level-control fader, solo-button, and mute button so that you can control it in the same way as the other microphone ports.
The Rodecaster Pro also features a 3.5mm TRS jack, which can be used for connecting your phone to it.
This allows you to record anybody calling into your show, and, as with the other connections, it also has a level-fader, solo-button, and mute button.
And, if you wanted to keep everything as wireless as possible, you can even connect to your phone using Bluetooth!
See the Latest Pricing on Amazon
Files
All of the above features are undoubtedly impressive. But how does the Rodecaster Pro rate when it comes to storing your recordings? Keeping things true to form, you've got a couple of options here.
The first and arguably easiest way of accessing your stored recordings is through an SD card. This keeps things wireless and helps to slimline the process of transferring files into your editing software.
You can also connect it to your computer through the USB port. This is known as 'Podcast Transfer' and essentially allows you to drag and drop your files into your editing software and upload them to your hosting site.
There is a clever safety feature offered up with the 'Podcast Transfer' method too. Anything you drag over to your computer will be in 'Read Only' format. This means that you won't be able to delete them accidentally.
Accessories 
The Rodecaster Pro doesn't come with any included accessories but, given everything that it can do, the reason for this is because it simply doesn't need any.
However, if you like the idea of kitting it out as much as possible, there are a few additional accessories that can be purchased separately. These include:
HJA-4:

A pack of four 3.5mm to ¼-inch headphone adapters that allow you to connect a standard pair of headphones or earbuds

SC9: This is a 1.5m long TRRS to TRRS cable that you can use to connect your smartphone to the Rodecaster Pro
DC-USB1: A specialized power cable that allows you to use the Rodecaster Pro with any device with a compatible USB output
XLR-ID: A set of colored rings that, when fixed to the Rodecaster Pro's XLR plugs, allow you to color-match each microphone with the interface
Price
There's no escaping the fact the Rodecaster Pro is a pretty expensive addition to your recording arsenal. However, when you factor in the huge number of features it has to offer you, along with its portability, it's definitely worth its price tag.
It may be a little too expensive for anybody that is just starting on their podcasting journey, though. If you know what you need your show to sound like, and you are certain that you'll use all of the features, however, it's a bit of kit that will change your entire recording experience.
Final Word
The Rodecaster Pro stands out from the crowd for its uniqueness, simplicity, versatility, and portability. Each of its remarkable features is ideal for recording various podcast formats and are engineered towards giving your show the best quality sound possible along with that professional finish.
It is an expensive piece of equipment, though. However, it's one that contains a lot of features that you'd ordinarily need to purchase several different adaptors and devices to achieve.
This means that, although your wallet will feel the blow initially, you could actually end up saving yourself a lot of money as your show evolves.
Think of the Rodecaster Pro as an all-in-one, travel-friendly recording studio. Capable of doing so much more than simply recording sound, you'll be able to edit as you record and even live stream your shows and interview guests without bringing them into your studio.
So, if you're serious about podcasting, there's absolutely no doubt that the Rodecaster Pro should be a part of your setup.