With so many shows vying for your attention, the need to create episodes that really stand out is essential for any podcast.
One of the ways to achieve this is by recording in different locations. This could be a busy coffee shop, a walk through the woods, or even backstage at a gig.
But recording remotely doesn't come without its problems.
Getting the sound quality up to studio-standard can be tricky, and you certainly don't want to haul a considerable amount of recording equipment around with you!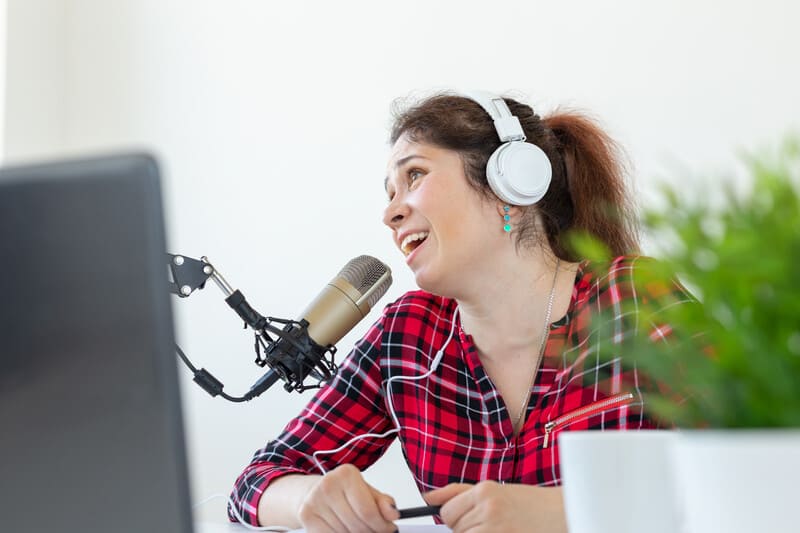 But what's the solution?
The answer could lie with the CEntrance MicPort Pro 2.
This genius little machine is a travel-sized audio interface that, although small in size, packs a powerful punch when recording high-quality sound.
What makes it so good, though? To answer this burning question, we decided to take an in-depth look at all of its features.
So, if you're considering purchasing the CEntrance MicPort Pro 2 but want to know what it's capable of, keep reading for a full rundown!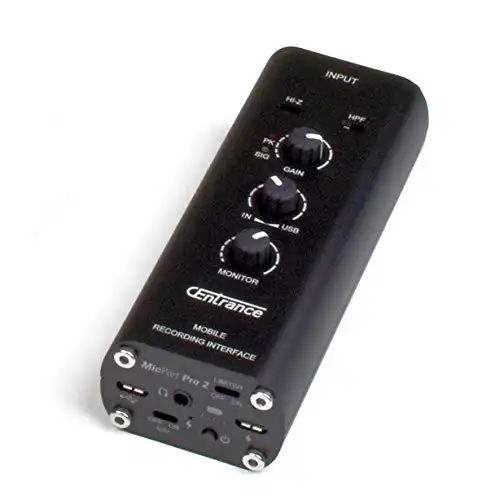 Design
Let's kick things off by taking a look at the design of the CEntrance MicPort Pro 2.
We know that it's small, which makes it ideal for remote recording and makes it easy to store in your equipment bag without taking up a lot of room.
Measuring in at just 4-inches long and 1-inch thick, it fits perfectly into the palm of your hand. It weighs only 8.7 ounces too, so you won't feel weighed down by it even when you're using it for an extended period of time.
The black, metallic case constructed from aircraft-grade aluminum gives it a durable performance, too, so you won't need to worry too much about it suffering from the occasional bump as you travel around.
It's a stylish piece of recording equipment as well and, although that doesn't really affect its performance, it does give it more of a professional feel.
See the Latest Pricing on Amazon
Compatibility
One of the most impressive features the CEntrance MicPort Pro 2 has to offer is universal compatibility.
This means that it can be paired with Windows and MAC operating systems, allowing you to use it across various software, including Audacity and GarageBand.
Its universal compatibility doesn't stop at computer-based operating systems, though. The CEntrance MicPort Pro 2 can also be paired with Android and iOS smartphone systems.
This gives you the ability to record remotely using your phone, cutting down the amount of equipment you need to take on the road even more.
See the Latest Pricing on Amazon
Connection
The CEntrance MicPort Pro 2 features both XLR and USB ports. However, it's important to note that only the XLR port can connect a microphone. The USB ports then connect it to your chosen recording device.
The USB ports are also USB-B (micro), which keeps everything that little bit smaller overall.
Although this might seem like a bit of an issue, there are adapters widely available that can be used for connecting standard USB-C cables to the CEntrance MicPort Pro 2.
This is also a great way of saving yourself a lot of money on different cables.
There is also a headphone jack located on the bottom of the CEntrance MicPort Pro 2. This gives you the ability to hear yourself or your guest while simultaneously drowning out any background noise.
See the Latest Pricing on Amazon
Switches & Dials
Another appealing aspect of the CEntrance MicPort Pro 2 is its ease of use, and this is reflected in the simple switches and dials that are located directly on the front.
The first of these is an HPF (High Pass Filter) switch, which is particularly useful for recording vocals outdoors.
This is because it acts as a windscreen, preventing unwanted wind noise from appearing on your final recording.
It's also highly effective at removing plosives and breath sounds, so every word spoken into the microphone will be clear and concise.
There is also a Hi-Z switch, and this can be used for connecting instruments. While this isn't necessarily useful for podcasting, it does help make the CEntrance MicPort Pro 2 that little bit more versatile.
Now, let's take a look at each of the three dials. The first of these is a gain dial, allowing you to adjust your input recording volume easily.
This is ideal if you're planning on recording in several different environments as you'll be able to make sure your levels are higher than the surrounding noise.
Just underneath the gain dial, you'll find an in-USB dial. This allows you to control the signal coming back at you from your computer, cutting down on any electrical interference and stopping it from appearing on your recording.
The last of the three dials is a monitor dial. This lets you control the incoming-volume being picked up by your headphones.
Again, this is ideal when you're recording in a noisier environment as you won't need to worry about struggling to hear what you're guest is saying.
See the Latest Pricing on Amazon
Power
There's no need to carry a stash of disposable batteries with you when you take the CEntrance MicPort Pro 2 out on the road, either. This is because it features a built-in rechargeable battery.
Charging the battery couldn't be easier either. Connect a USB-B micro cable to one of the two available ports located on the bottom of the device, and it'll begin charging.
This also gives you the versatility to charge from a computer or by using a USB electrical socket.
You can also use Phantom Power provided by a condenser microphone to power the CEntrance MicPort Pro 2. This is a handy feature and is particularly handy if you've forgotten to charge it ahead of your recording session.
To help save your battery power when it's not in use, there is an on/off button conveniently located on the bottom.
This is perfectly placed for easy access and for making sure that you don't accidentally switch the interface off while you're recording.
See the Latest Pricing on Amazon
Price
You'll need a reasonably good budget if you're looking to purchase the CEntrance MicPort Pro 2 as it does sit at the higher end of the price scale.
However, the cost is somewhat justifiable when you factor in its performance and travel-friendliness.
It comes with a one-year warranty as well, which is a testament to the quality of it.
This also means that, in the unlikely event of something going wrong, you'll be able to get a replacement or have it repaired without worrying about any extra costs.
See the Latest Pricing on Amazon
Who is the CEntrance MicPort Pro 2 for?
If you're a podcaster that likes to break free from the studio and record in various environments, the CEntrance MicPort Pro 2 is an essential addition to your arsenal of equipment.
It's also perfect for anybody that likes to switch between laptops and smartphones for recording. You'll be able to work across multiple operating systems too, which makes it even more versatile.
Put simply, owning the CEntrance MicPort Pro 2 is like carrying an entire recording studio around in your pocket!
However, no honest review is complete without looking at some of the potential issues you might have with this small but powerful recording interface.
The only issue that we can really see anybody having is accessing the switches on the front. The dials are easy to turn, but the switches are indented into the body of the CEntrance MicPort Pro 2.
This prevents them from getting accidentally switched on or off as you record but makes them slightly tricky to operate.
Aside from this one small issue, there really doesn't seem to be a downside to recording with the CEntrance MicPort Pro 2.
It really is a highly versatile, powerful piece of recording equipment that gives you the power to record as remotely as you'd like.
Final Word
If you've been thinking about taking your podcast out on the road but are concerned about the amount of equipment you'd need to take with you, you needn't worry anymore.
Consider the CEntrance MicPort Pro 2, your new best friend!
Its small size makes it extremely travel-friendly, and its robust design means it can take anything life on the road has to throw at it without suffering any damage.
But the real power of this little recording interface lies in its versatility. It can be used with any operating system and is even compatible with both Andriod and iOS smartphones.
You've also got complete control over your recording levels and headphone volume directly from the conveniently placed dials.
However, it is a relatively expensive addition to your recording setup, but its features in terms of portability and on-the-go power are unrivaled.
You also won't need to worry about it dying on your mid-recording thanks to its rechargeable battery and Phantom Power options.
So, if you are looking to change your show's format and mix things up a little between episodes by recording outside of the studio, the CEntrance MicPort Pro 2 will give you the freedom you crave without sacrificing sound quality.