From current events to comedy, there is a vast range of podcasts to listen to. And in our digital age, more and more people from all over the world are starting their very own podcasts, to educate and entertain. 
It's not a simple set up though. Recording a podcast requires specific equipment to get the sound quality and production values of each episode up to 'can-listen – let alone 'must-listen' – standard. And that's where you want it. After all, the more professional your podcast sounds, the more likely you are to get subscribers. The more subscribers you get, the more ears you can offer to advertisers. The more listeners you can provide to advertisers, the more interested they become in turning your podcast from your hobby project into a valuable source of revenue.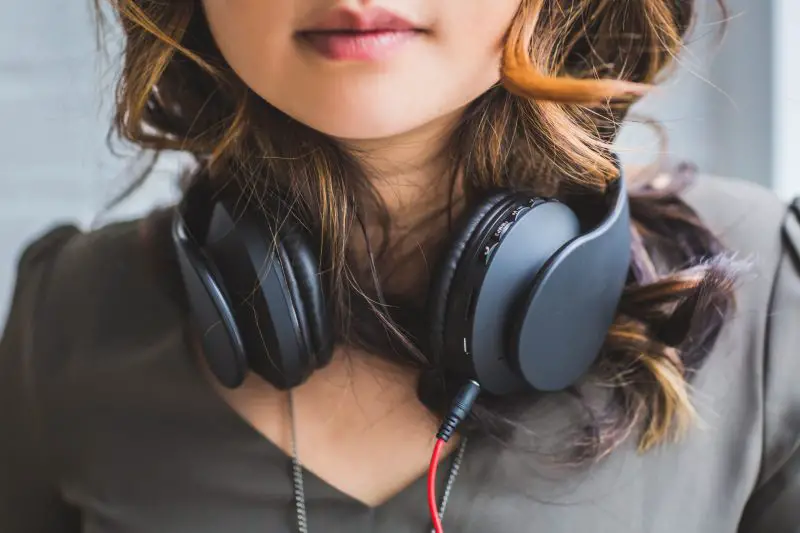 There may not be a direct line between excellent sound quality and increasing your advertising revenue. But there's absolutely a direct line between poor sound quality and audiences and advertisers turning off and backing someone else instead. You need to get your sound quality and your production values right.
If you're starting your podcast, one essential piece of equipment you'll need is a high-quality set of headphones. 
As with all technical equipment, there's debate about the features and specifications of a great pair of headphones. Get a pair that can't do the job, and you've made a costly mistake. 
So we've compiled a list of some of the best headphones for podcasting available. 
Are you ready? Cue the studio, and let's check out our top choice. 
1. Sony ZX Series Wired On-Ear Headphones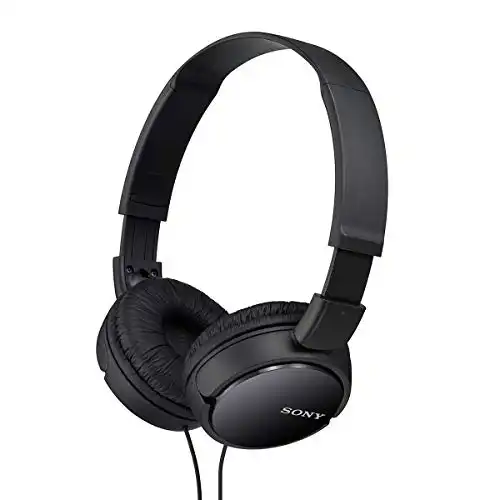 One of the main reasons the ZX Series Headphones from Sony are the perfect choice for podcasting is their 12Hz – 22kHz frequency response and 98db/mW sensitivity. That combination lets them pick up every little sound detail fed into them.
They also feature acoustic bass booster technology, which works with the frequency response and the sensitivity to deliver the levels of clarity you need when recording yourself, your co-hosts, and your guests. 
These podcasting headphones are lightweight and feature foam padded ear cushions, so they stay comfortable even when worn for long periods. That's especially useful if you're recording more than one episode of your podcast per day.
A tangle-free Y-type cord connects them to your soundboard. And these headphones swivel so you can fold them down for convenient storage and transportation – ideal if you're taking your show on the road. Available in a choice of 3 colors, they have a one year warranty. 
See the Latest Pricing on Amazon
Pros:
12Hz-22kHz frequency response and a 98db/mW sensitivity provides superior sound quality

Acoustic bass booster technology adds to the sound quality and delivers pitch-perfect clarity

Padded foam ear cuffs and lightweight construction ensure comfort during use

The tangle-free Y-type cord keeps you securely connected to your soundboard while recording
Cons:
Although the padded ear cuffs provide some noise cancellation, these headphones don't feature any specific noise-canceling technology

 
2. Audio-Technica ATH-M50xBT Wireless Bluetooth Headphones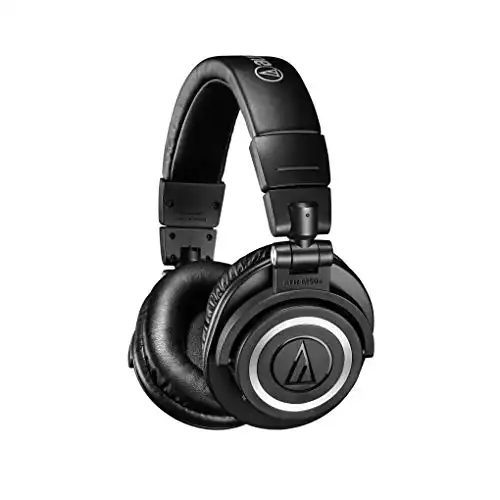 The over-ear design of the ATH-M50xBT Wireless Bluetooth Headphones from Audio Technica help keep the sound enclosed within your ear while drowning out background noise. 
A huge frequency response range of 15Hz-28kHz ensures that sound is delivered with crystal clarity, while their wireless connection gives you the freedom to move around your space. 
And if it's freedom of movement and ease of access you're looking for, you'll love the fact that these headphones have a microphone and level controls built into the ear cup. They connect wirelessly to your recording equipment via Bluetooth, and they even feature a voice assistant. That means you can control them without pressing a button for hands-free podcasting!
These are the podcasting headphones every gadget enthusiast needs. Not only will they give you fantastic sound, but they're also made of professional-grade earpad and headband materials to keep you comfortable all the time you're wearing them.
See the Latest Pricing on Amazon
Pros:
Help cancel out background noise using an innovative over-ear design

Frequency response of 15Hz-28kHz delivers crystal clear sound

Wireless connectivity gives you freedom of movement

Technical features including microphone and volume control built into the earcup
Cons:
Can only be charged using micro USB rather than the standard USB-C Port
3. Beyerdynamic DT 770 Pro Studio Headphones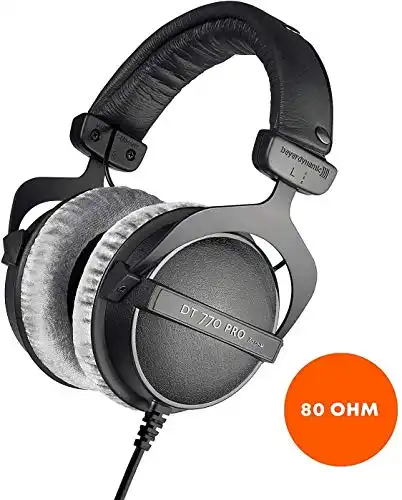 Featuring an innovative bass-reflex system which transforms even the lowest bass noises into crystal clear, defined sound, the DT770 Pro Studio Headphones from Beyerdynamic will give you the ability to hear everything with a new clarity.
It's not just the lower sounds that this system picks up, though. It can also take higher-pitched noises and transform them into brighter tones, letting you understand every word your guests are saying. 
The sound quality is enhanced further by the closed, over-ear design that helps drown out noise pollution. These also feature a one-sided cord design and a generous 3m cable, giving you a lot more freedom of movement than traditional wired headphones.
Super comfortable to wear, they have a fully adjustable padded headband as well as soft, padded velour earpads that are guaranteed to keep your ears protected while you record. And in the unlikely event of something going wrong, you'll be covered by their two-year warranty.
See the Latest Pricing on Amazon
Pros:
The bass-reflex system transforms both low and high-pitched sounds into clearer tones

The closed, over-ear design aids noise cancellation

A one-sided cord design and 3m cable give you extended freedom of movement

An adjustable, padded headband and padded velour earpads make them comfortable to wear 
Cons: 
Some customers noted they were initially quite a tight fit. Once adjusted correctly, though, they were very comfortable.
4. OneOdio Pro-30 Premium Studio Headphones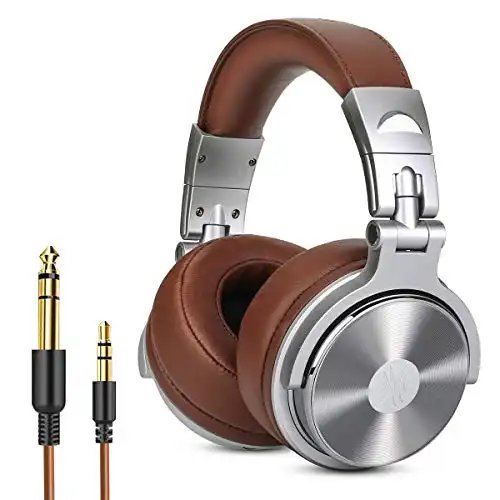 Perfect for any podcast that has multiple hosts or guests, the Pro-30 Premium Studio Headphones from OneOdio give you the opportunity to 'daisy chain' by connecting pairs together using SharePort™ technology, providing a consistent level of sound for everyone.
They also feature 50mm drivers, paired with neodymium magnets and a frequency response of 20Hz-20kHz. With all that working together to produce the best vocal sounds possible, you get bright tones in both low and high-frequency sounds. 
Each earpad is built using luxury memory foam for the most comfortable wearer-experience possible. The earcups themselves have been designed to swivel at 90º to allow for single-ear monitoring when required. 
The cable is among the longest you'll find when looking for podcasting headphones, coming in at an extremely generous 9.8 feet. That's as near to wireless headphone freedom as you can get while still tethered to your recording equipment.
See the Latest Pricing on Amazon
Pros:
SharePort™ technology links several pairs of headphones together

50mm drivers and neodymium magnets produce crystal clear vocals every time

90º swiveling earcups allow for easy single-ear monitoring when required
Cons:
These headphones, made from plastic, are not as sturdy as the others made of aluminum or steel.
5. V-MODA Crossfade M-100 Noise Isolating Headphones
The Crossfade M-100s feature inner and outer rings that separate bass and stop it interfering with higher-frequency sounds. They also come with patented 50mm dual-diaphragm drivers. The Crossfade M-100s are designed to give you sharp, clear vocals at all times.
This innovative technology, matched with the over-ear design, also gives these podcasting headphones amazing noise cancellation properties. If you're looking for their credentials, they've won over 20 awards for performance. 
They're also extremely comfortable using lightweight construction, highly durable materials. Ergosoft™ foam cushions are built into the earcups and contour to the shape of your ears for a natural, weightless feeling.
Microphone and audio controls are located in the 52" cable, giving you easy access whenever you need it. And their unique CliqueFold™ design allows for secure storage and transportation between recordings.
See the Latest Pricing on Amazon
Pros:
Patented 50mm dual-diaphragm drivers, as well as inner and outer rings, deliver superbly clear vocals

Exceptional noise-canceling properties thanks to a combination of patented technology and an over-ear design

The 52" single-corded cable features an integrated microphone and audio controls
Cons:
Although generous, the 52" (4ft) cable is shorter than some others available
Headphones for Podcasting – Buyer's Guide
A good pair of headphones will take your podcasting game from amateur to professional. They're an essential addition to your studio if you're looking to produce the best quality sound possible. 
But there are some things you need to consider before you buy. We've outlined some key points below to help you find the best headphones for podcasting possible. 
Sound Quality
There are technical terms to look for when researching sound quality. The most common of these is 'Frequency Response.' Hertz (Hz) measures Frequency response, and the more extensive the range of Hz your headphones can pick up, the more levels of sound you'll be able to hear. 
For podcasting, go for a set of headphones with a range between 12Hz – 28kHz. That way, you're guaranteed to hear everything clearly and concisely.
'Drivers' are also used in a lot of podcasting headphones. They're especially useful for hearing clear vocals as they break down and separate different levels of sound, before stitching them back together into one bright tone. Drivers in the range of 40mm-50mm are the best if you want to hear those super-clear vocals. 
Noise Cancelling
Noise-canceling features help stop any background noise pollution interfering with the sound quality, and allow you to hear yourself and your guests as clearly as possible.
A lot of the time, the noise-canceling properties will come down to the design of the headphones themselves, with over-ear and closed-back styles creating a vacuum around your ear and stopping any external noise from entering.
Some headphones also feature special noise-canceling functions. They're ideal not only for further enhancing the sound quality but also for recording in an outdoor environment such as a restaurant, bar, or festival. 
Wireless VS. Wired
Wireless vs. Wires is the great headphone debate! Are wired or wireless headphones better for podcasting? Yes. Both. It depends on the podcast and the podcaster. You decide! 
Wireless headphones give you more freedom to move around your workspace as you record and are the obvious choice if you want to take your podcast out on the road. However, they do need charging to work, so you'll need to make sure you're on top of that. Otherwise, you may find yourself unable to record when the time comes.
Wired headphones plug into your equipment throughout your recording sessions, so they give you less freedom of movement. Some podcasting headphones have cables more than 3m in length, so depending on your studio set up, you may not be as chained to your desk as you might think. If you're going wired, go long!
Material & Comfort
What your podcasting headphones are made of will determine their durability. Durability, like anything truly worthwhile, is going to cost you. With the higher price tags on more feature-packed models comes longer lifespans. 
Aluminum is the most commonly used material for constructing headphones. It's super strong but also lightweight, so it stays comfortable throughout long-term use. 
Headphones with foam padding around the earpads and headband are a great option and will help increase your comfort levels. Adjustability is something to look for, too, as this will let you find the most comfortable fit for your head.
This padding will be encased in material to keep it comfortable. If at all possible, go for leather – it's extremely tough and hardwearing, but soft and supple against your skin. 
Frequently Asked Questions
Do I need headphones to record a podcast?
Yes, you do. Headphones are a vital part of the setup and will allow you to isolate your guests' and your vocals so that you can hear everything said. Good headphones, excellent audio quality. Good sound quality, more subscribers, and advertisers.
What are the best headphones for podcasting?
The ones that produce the best sound quality while giving you comfort. A frequency range between 12Hz – 28kHz will deliver clear vocal sounds, as will any headphones that have drivers of around 50mm.