ASMR has become extremely popular over the past few years as a way to disconnect from the outside world, shut out any intrusive thoughts and worries, and sink into relaxation.
Whispers, isolated sounds, and soothing tones all help create the spine-tingling sensations famously associated with this unique way of letting go. It's so relaxing that some people even turn to it as an aid to meditation. 
If you're familiar with ASMR, or Automated Sensory Meridian Response, then you'll know that the effects are amplified by using earbuds. But finding the perfect pair of earbuds that will pick up every tiny sound and help give you the full experience can be hard to do.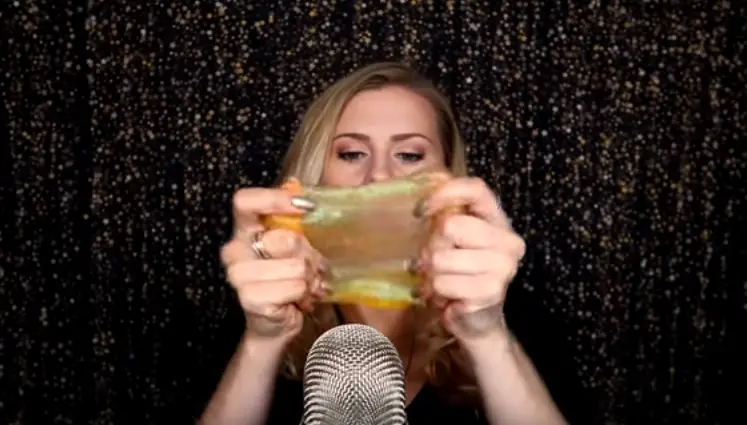 That's why we've done the hard work for you. Below, we've listed five of the very best earbuds for ASMR, each guaranteed to heighten the feeling and help you kick back and relax in ways you've never experienced before.
1. Apple Airpods with Wired Charging Case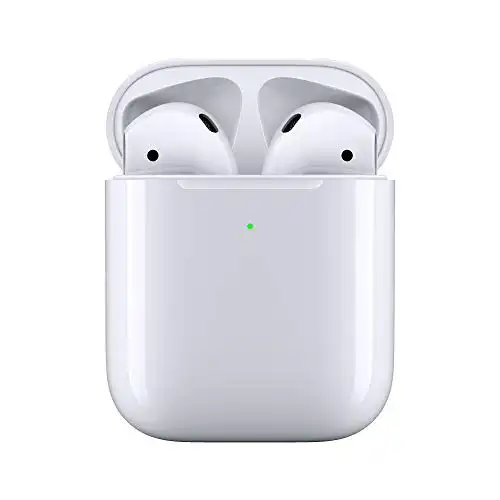 Lightweight and comfortable, the world-famous Airpods from Apple are a fantastic choice for listening to ASMR. Their lightweight construction sacrifices nothing in terms of quality, and they'll deliver crystal clear sound that will allow you to hear every tiny whisper. Many people forget they're even there – which is especially useful when you're relaxing into the soothing sounds of ASMR.
The wireless design lets you find the most comfortable position without being restrained by any cords. And you have plenty of time to drift off to sleep with their 5-hour listening time. They're also easy to recharge, thanks to the included charging case, which is especially useful for charging your Airpods when you're on the go.
The Airpods contain several other features that make them great all-round earphones as well as perfect for listening to ASMR. The built-in microphone allows you to talk hands-free, and you can get quick access to information through voice-activated Siri. 
See the Latest Pricing on Amazon
Pros:
Lightweight and comfortable without sacrificing sound quality

Freedom of movement with their wireless design

Easily recharged with the included charging case

5 hours of listening time from a single charge

Built-in microphone and access to the Siri voice-activated assistant
Cons:
Only compatible with iPhones and Apple products
2. Panasonic RP-HJE120 ErgoFit Earphones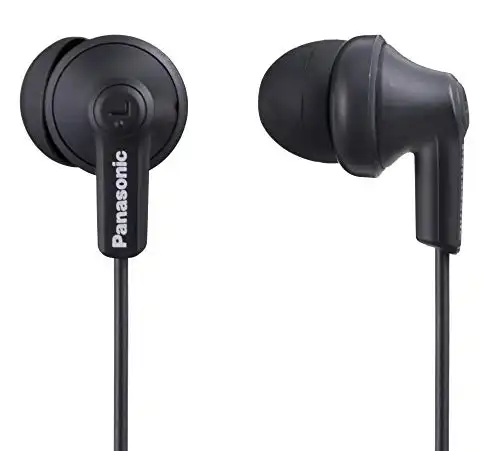 The RP-HJE120 ErgoFit Earphones from Panasonic are the perfect choice for anyone on a budget. But while they're at the lower end of the pricing spectrum, they contain a host of features that you'll find in more expensive models.
Two stand-out features make the Panasonic earphones great for ASMR listening, the first of which is their comfort level. They are incredibly lightweight and will feel as though they're not there while you're wearing them. The choice of 3 differently sized earbud covers allows you to find the perfect individual fit. 
They also feature ErgoFit™ design, which offers noise isolation. That makes these earphones ideal for ASMR because you'll be able to concentrate on the whispers and tingle-inducing noises fed into your ear, without being disturbed by background noise. 
These features, paired with 9mm neodymium drivers, ensure you'll get the high clarity sound you need to immerse yourself in the ASMR experience. Available in a range of colors to suit your taste, with the choice of included microphone, and a one year warranty backs their quality. 
See the Latest Pricing on Amazon
Pros:
Inexpensive, but feature qualities more commonly associated with higher-priced earbuds

Lightweight, comfortable and include three differently sized earbud covers

Constructed using ErgoFit™ design with noise-canceling properties

Available in a variety of colors 
Cons:
Although they aren't wireless, the 3.6ft cord still offers you plenty of freedom to relax into a comfortable position
3. TOZO T10 Wireless Bluetooth Earbuds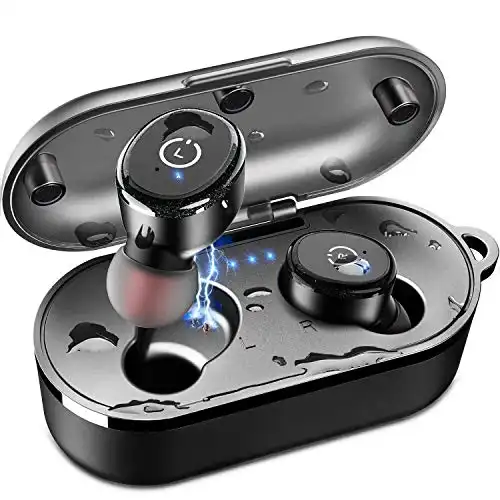 If there's one thing you need to look for in a pair of earbuds for ASMR, it's noise-canceling properties. The T10 Wireless Bluetooth Earbuds from TOZO have got you covered on that score. 
Designed to fit snugly into your ear and prevent any other sounds from entering while you're listening to ASMR, these earbuds feature 8mm drivers that ensure you hear every sound.
Their ergonomic design and gel-flexible silicone earcaps help provide a comfortable fit that lets you relax while wearing them. And their Bluetooth connectivity makes it easier than ever to get quick access to your favorite ASMR tracks. 
The T10 earbuds are waterproof too, so if you're a fan of listening to ASMR as you relax in the bath, you can rest assured that they'll be safe if they get accidentally splashed. They also come complete with a charging case and are available in five different colors. 
See the Latest Pricing on Amazon
Pros:
Feature a larger, in-ear design that helps to cancel out background noise

8mm drivers pick up low and high frequencies and deliver crystal clear sound right into your ear

The ergonomic design and silicone earcaps ensure a super comfortable fit

Available in five colors

Come with a charging case and are waterproof
Cons:
Don't feature a built-in microphone, so cannot be used for hands-free calling
4. Shure SE215 Sound Isolating Earphones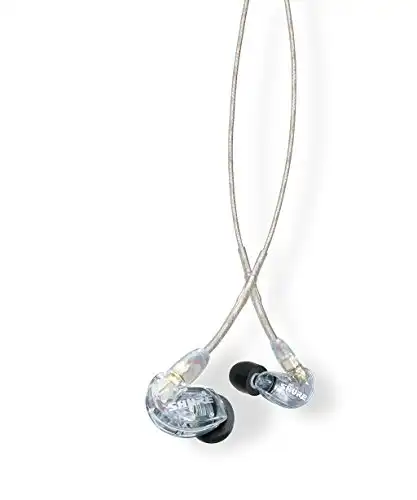 If you like listening to ASMR as you fall asleep, the ingenious design of the SE215 Sound Isolating Earphones from Shure makes them perhaps the most comfortable earphones available. 
That's because they don't protrude from the ear! Instead, they lay almost completely flat against the outer ear, allowing you to relax into your pillow without any annoying little lumps. 
The Single Dynamic Drivers produce clear sound and deep bass. Meanwhile, the comfortable sound isolating sleeves built around each earbud block out up to 37dB of background noise. That lets you fully concentrate on the ASMR without any external interference. 
They designed the wire with comfort in mind. It can hook over the ear instead of draping down the body. You won't get tangled up in cables during the night, as is common with some other earphones. Each connector is gold plated, providing a super-secure connection to your device, while the unique lock-snap mechanism lets you rotate the connector 360º without any blips in sound.
See the Latest Pricing on Amazon
Pros:
Designed to lay flat against the outer ear, making them super comfortable to wear when sleeping

Single Dynamic Drivers ensure clear sound and deep bass

Sound isolating sleeves block out up to 37dB of background noise 

Gold plated connectors on a specially designed wire provide a secure connection to your device
Cons:
A little expensive for wired headphones
5. Bose QuietComfort 20 Acoustic Noise Cancelling Headphones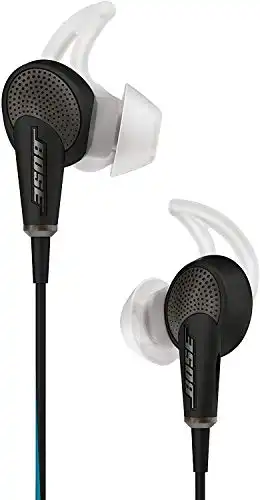 Featuring specially patented Active EQ and TriPort technology that produces clear sound across a range of tones, the Bose QuietComfort 20 Acoustic Noise Cancelling Headphones will pick up every spine-tingling sound as you listen to ASMR. 
Built-in noise-canceling technology powered by a rechargeable battery reduces all surrounding sounds outside your earbuds, and this is further enhanced by the innovative StayHear+ tips on each earpiece. The StayHear+ tips stay securely connected while providing as much comfort as possible.
The wired design of these earbuds includes an inline remote control that lets you switch your device off and on and control the volume of your ASMR track with ease. There is even an 'Aware Mode' option that turns off the noise-canceling technology and allows background sound in when you need to hear what's going on around you. 
See the Latest Pricing on Amazon
Pros:
Active EQ and TriPort technology work together to produce the most precise sound possible

Special noise-canceling technology drowns out any surrounding background noise

StayHear+ designed tips on the earpieces further promote noise-cancellation while ensuring a comfortable fit

Inline controls let you adjust volume levels, and the 'Aware Mode' allows you to disable the noise-canceling technology when needed temporarily
Cons:
Special attention must be paid to the choice of 'Apple Devices' or 'Android Devices' when purchasing, as each pair of headphones is only compatible with the appropriate device 
Earbuds for ASMR – Buyer's Guide
Choosing the right pair of earbuds for ASMR will take your listening experience to a whole new level. Blocking out background noise, translating sounds into high-quality tones, and giving you a weightless, comfortable feeling are all things that a good pair of earbuds should do. 
But everybody is different, and what works best for one person may not be the best choice for you. To help you figure out precisely what you're looking for in a pair of earbuds for ASMR, we've compiled a list of key points to consider when making your decision. 
Device Compatibility
The first thing you need to be sure of is that the earbuds you're choosing are compatible with your device. Get this wrong, and you'll end up with a pair of headphones that aren't suitable for the job at hand.
Most earbuds will work with a broader range of devices, but brands such as Apple and Samsung are designed to work only with devices of the same brand, so it's something worth checking. 
Some brands will also offer you an option for either Apple or Android devices, with their earbuds featuring the appropriate technology for the corresponding device. So take extra care when shopping around and make sure you get a pair that will work with your phone or MP3 player.
Sound Quality
ASMR is performed at very low volumes, so it's essential to make sure that the earbuds you choose can pick up these lower frequencies and translate them into sounds that you can hear clearly.
The technology used in earbuds to achieve this is called 'Drivers,' and generally speaking, the larger the driver used, the more it will be able to pick up on. For earbuds, we'd recommend a pair that have 8mm drivers, as these are unusually large in comparison to the size of the earpieces and will be able to provide excellent sound quality.
Some earbuds also use specially patented technology to produce high-quality sounds, such as Active EQ™ and TriPort™, which work with the drivers to break down certain tones and deliver them back to you with increased clarity.
Noise-Canceling
With ASMR being so quiet, it's also a good idea to look at what noise-canceling properties your chosen earbuds feature. It will help to drown out any background noise and allow you to embrace the soothing sounds being fed into your ears adequately. 
Often, the design of the earbuds themselves will play a part in how much noise they block out. Earbuds that fit snugly into the ear will physically create a noise-blocking effect. 
However, there are also particular technologies and design features that can further enhance the noise-canceling qualities of your earbuds. One of these is the incorporation of sound isolating sleeves built onto the earcaps. These can create a tighter seal around the entrance to the ear canal and can block out up to 37dB of surrounding sound. 
Wireless VS. Wired
The choice between wireless and wired earbuds will ultimately come down to personal preference. However, each comes with its benefits.
Wireless earbuds will give you a lot more freedom of movement while you're wearing them. While it's unlikely you'll be listening to ASMR on the go, they will let you settle into a comfortable position without feeling restrained by the wire. 
They do require charging, though, and you'll need to make sure they're ready to use whenever you need them. Otherwise, you may not have immediate access to your ASMR.
Wired headphones will provide you with a super-secure connection to your device, especially those with gold plated connectors. If you decide to go for wired earbuds, it's a good idea to look at the quality of the cable as well as the length. Anything too short and you won't be able to settle down into a comfortable position with as much freedom. 
Comfort
Your earbuds need to be comfortable as well, especially if you're using them to relax and listen to ASMR, and various design features can help with this. 
One such design feature is the inclusion of several differently sized earbud covers. A range of options allows you to find the perfect fit for your ears while simultaneously enhancing the noise-canceling properties of the buds. StayHear+™ is another useful feature, comprising of a small rubber clip that creates a secure connection between your earbuds and your ear. That secure connection keeps the buds in place while you're wearing them. 
There are even earbuds available that sit flush with your outer ear when worn. That lets you lie sideways with your head on a pillow, without that uncomfortable lump we've all experienced when wearing earbuds in bed. 
Frequently Asked Questions
What is ASMR?
ASMR stands for 'Automated Sensory Meridian Response,' and is a recording of quiet, isolated noises and whispered vocals, designed to help you relax. Frequently it can create a tingling sensation from the scalp that travels down through the spine, and it's for this that its use has become popular in meditation.
What are the best earbuds for ASMR?
There are three essential factors to look for when it comes to finding the best earbuds for ASMR. They need to be able to deliver excellent sound quality; to be able to block out all background noise. And they need to be comfortable enough to wear when you're trying to relax or fall asleep.