Amongst the plethora of digital recorders available, there is one that has gained popularity amongst podcasters and sound engineers from all over the world.
We're talking, of course, about the Zoom H5.
This is a powerful digital recorder and, although small in stature, packs a serious punch as far as its features and sound recording capabilities are concerned. But what is it exactly that makes the Zoom H5 the go-to piece of recoding equipment for so many people?
To answer this question, we decided to break things down and take a detailed look at everything that makes the Zoom H5 such a great digital recorder.
So, come with us as we take a deep-dive into every feature the Zoom H5 has to offer, and, pretty soon, you'll have a better understanding of everything it's capable of.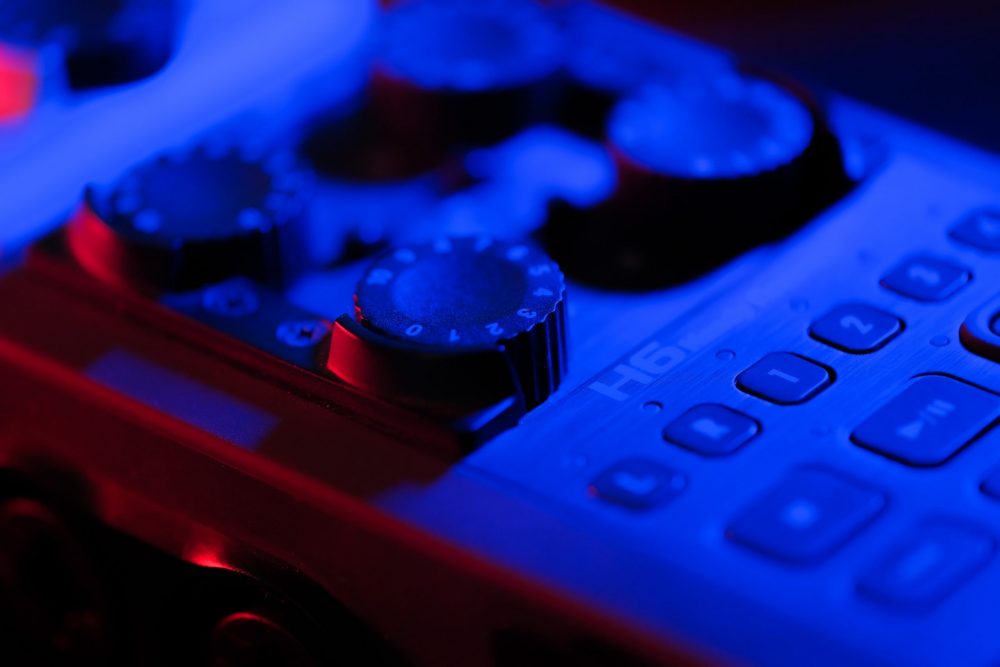 What is the Zoom H5?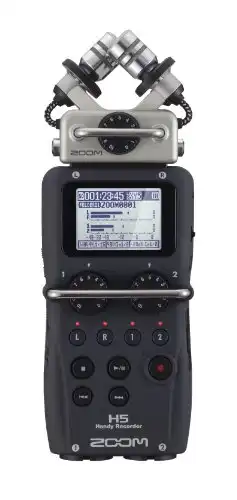 Before we begin breaking down all its remarkable features, it's a good idea to explain what the Zoom H5 actually is. First and foremost, it is a digital recorder. However, it's not as simple as that…
Owning a Zoom H5 is like owning a portable recording studio that you can fit straight in your backpack. It can record audio and store it safely for you. It can be used on its own, or you can attach external microphones.
You can even listen to your recordings directly from the device without uploading them to a computer first.
It really can do it all. Think of the Zoom H5 as your very own personal sound assistant, taking all of the hard work out of recording and allowing you to concentrate on your content instead.
Design
Let's take a look at the overall design of the Zoom H5 to begin with. Its small size makes it portable enough to easily fit into your backpack along with your other recording equipment.
You'll easily be able to hold it comfortably in one hand whilst using it too, and it's lightweight enough not to cause any arm strain even if you're using it for a long period of time.
This is a piece of recording equipment that has been designed with durability in mind as well. The metal and plastic construction makes it super tough, and it won't easily break or suffer from surface damage if you accidentally drop it.
This makes it ideal for recording in a variety of scenarios, including outdoors.
Recording
You've got two options when recording with the Zoom H5. You can either use its own built-in microphones or attach external microphones. This gives you more flexibility to record in a variety of situations.
We'll explore the built-in microphones first. As standard, the Zoom H5 comes with one detachable capsule on the top and two small X/Y stereo microphones.
These allow you to start recording straight out of the box, and they're part of what makes the Zoom H5 a great option for anybody on a budget since you don't need to purchase external mics.
These built-in microphones are of excellent quality too. They'll give you excellent quality when recording single vocals, group vocals, or recording ambient noise.
They're shock-mounted too, which helps provide a reduced level of handling noise being picked up on your recording.
On the bottom of the Zoom H5, you'll find two 'combo' jacks. This is where you're given the option to attach two external microphones through an XLR or ¼" connection. This gives you the option to switch to recording with external microphones if you prefer.
These combo jacks allow you to do something else as well.
By attaching to external microphones, you can transform the Zoom H5 into a 4-microphone digital recorder! Perfect if you're interviewing multiple guests.
And, as if that wasn't enough, there's even a 3.5mm headphone jack that can be used to plug another microphone into (such as a lavalier mic), giving you even more versatility. It's through this headphone jack that you'll be able to listen back to your recordings directly from the device as well, allowing you to re-record if necessary.
Storage
The Zoom H5 records directly onto SD/SDHC cards up to 32GB. This makes recording much easier and gives you quick access to your recordings when you want to upload them.
No more fiddling around with cables and complicated software. Remove the memory card from the recorder and insert it directly into your computer.
Capsules
As we described above, the Zoom H5 includes one X/Y stereo recording capsule as standard. However, this capsule is interchangeable, so you can easily swap it with one of the other compatible capsules available to purchase.
These include a side-mic capsule, a shotgun mic capsule, and an XLR/TRS combo capsule. By switching these capsules out, you're given the versatility to record in various situations without sound-quality being affected.
And, although you'll need to purchase them separately, they are a lot cheaper than having to purchase a range of external microphones.
Dials
Located directly on the front of the Zoom H5, there is a set of dials. These are for adjusting the gain input for each microphone and allowing you to adjust accordingly, much like you would with a mixer or audio interface.
These have been cleverly designed with a protective bar running across the top of them. This prevents them from being accidentally hit during a recording session and ensures that your chosen levels are maintained throughout.
Underneath these dials, you'll find a set of easy-to-use buttons. These are symboled and self-explanatory, allowing you to hit record and play, pause, rewind, and fast-forward your recording.
The beauty lies in the simplicity here, with even the most technophobic people finding their way around the dials and the buttons easily.
Power
As the Zoom H5 is a portable recording device, it does need some power to operate it. This is as simple as inserting two AA batteries into it and hitting the road. It isn't rechargeable, but you could always invest in some rechargeable batteries, so you've always got a stash ready to hand.
It also has a Phantom power setting.
This allows you to power any external condenser microphones you might have attached directly through the Zoom H5 itself without having to worry about finding an external power source or using any more batteries.
Ease of Use
We've touched on the simplicity of its controls above, but we'll elaborate a little more on that now. The Zoom H5 really couldn't be easier to use, regardless of your level of technological prowess.
Once you're ready to start recording and have attached any external microphones you want to use, you select each mic's corresponding channel through the front buttons.
A red LED will then appear to show you that the microphone is active.
These lights also act as an indicator of the quality of your recording. A steady red light means everything is sounding great. However, should the light begin to flicker, you'll know to adjust your gain levels with the dials.
Price & Warranty
The Zoom H5 does sit at the higher end of the price scale, but that's with good reason. It truly is a fantastic piece of recording equipment and comes with features you'd usually find in equipment with an even higher price tag.
It also includes a 12-month warranty that covers you for repair and replacement. There's a small chance you'll ever need to use it, though, as the Zoom H5 is definitely built to last!
Who is the Zoom H5 for?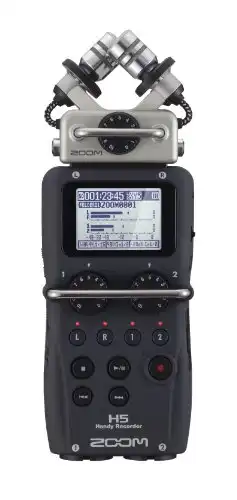 The Zoom H5 is such a versatile tool that the real question is, who isn't it for? It's ideal for recording in a studio or out on the road.
It has everything you need to record several vocals on a single track without needing a big setup. It is ideal for any podcasters with interview-style shows or multiple cohosts.
The only person that probably wouldn't need a Zoom H5 would be a solo podcaster.
The only reason being that it has so many features that would likely go unused, and a USB microphone setup would potentially suit their needs better.
Final Word
Regardless of your sound recording experience level or your technical abilities, the Zoom H5 is a piece of equipment you can't do without. Its plethora of features will help you record the best quality sound in a variety of situations.
The Zoom H5 also has an almost unrivaled versatility, allowing you to expand the number of microphones in use and record directly onto the device.
You can even listen to your recordings without needing to transfer your files to a computer first, which is particularly useful if you're recording outdoors and might need another take.
If you're serious about recording high-quality audio and looking for the best piece of equipment to help you achieve it, you can't really go wrong with the Zoom H5 digital recorder.