Over the last few years, the Zoom H5 has reigned supreme as one of the best digital recorders on the planet. But, as with all technology, things evolve, and improvements are made on existing models.
This is where the Zoom H6 came into play. Built for the most serious audiophiles, this fantastic digital recorder takes everything that makes the Zoom H5 so remarkable and turns the features-dial way up!
You might be wondering what there could ever be to improve on the Zoom H5, though. It's already a powerful piece of recording equipment, and pretty much does everything you could ever need it to.
Below, we'll be taking an in-depth look at all of the features and specifications included with the Zoom H6 and pinpointing what makes it so different from its predecessor. This will also help give you a clearer picture of whether it's the right choice for your own recording needs.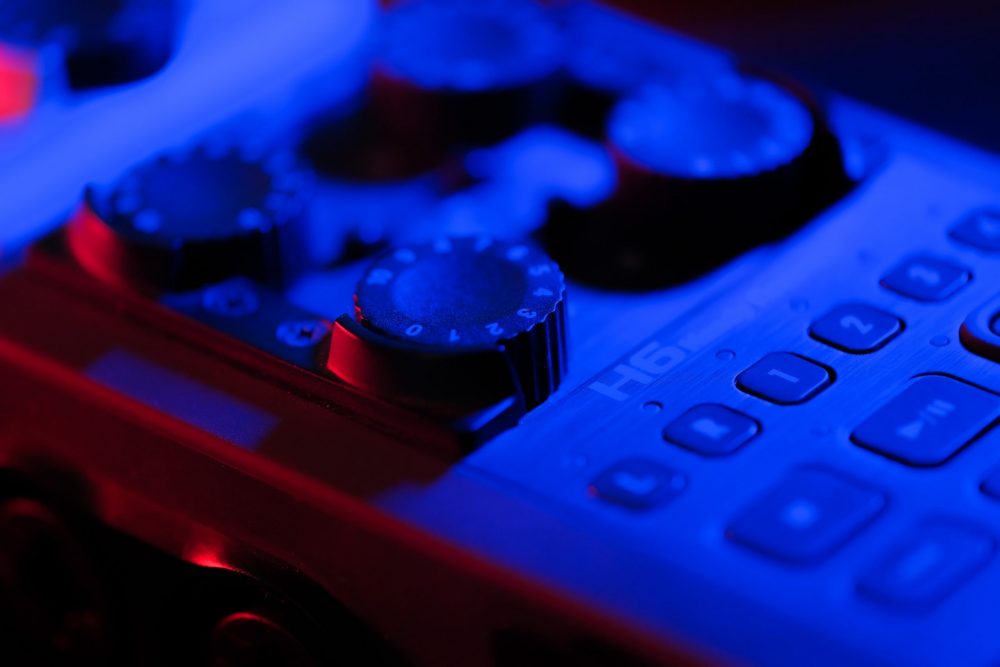 What is the Zoom H6?
Before we dive in, let's take a look at what the Zoom H6 is exactly. This is more than just a recording device. Carrying a Zoom H6 with you is like carrying an entire recording studio that fits neatly into the palm of your hand.
This makes it the perfect choice for recording outdoors, on the move, or for taking from studio to studio. It's also packed with features that allow it to capture amazing, high-quality audio in something that you've never expect, given its compact size.
Design
Let's begin with the aesthetics and the overall design of the Zoom H6. It has a sleek, professional look that won't seem out of place with the rest of your recording equipment.
The metal construction makes it tough and rugged too. This means it will be able to handle any bumps, knocks, or accidental drops without shattering into a thousand pieces. Each of the two built-in microphones is designed to fold back towards the recorder when they aren't in use, keeping them safe from damage.
Recording
While the Zoom H5 allows you to record four tracks at once, the Zoom H6 steps things up a gear and gives you the ability to record six voices simultaneously. This makes it ideal for panel shows and podcasts with multiple co-hosts or guests.
The six-track recording ability is achieved through the addition of two extra XLR inputs. This allows you to run four external microphones into the recorder and use it's two built-in X/Y stereo microphones simultaneously.
Both of the built-in microphones are shock-mounted to reduce handling noise, too, further ensuring you get the best quality sound possible on your finished recording.
The Zoom H6 uses the same interchangeable capsule system as the Zoom H5. However, unlike the Zoom H5, it also includes a side microphone. This gives you a little more value for your money and expands your recording capabilities even further.
It has a 24-bit/96KHz recording capability, which is the same as the Zoom H5. The reason for this not being changed is simply because it didn't need to be. It's already powerful enough.
There are indicator lights located just above each external microphone's channel button, and these have a dual purpose. First of all, they let you know that mic is live, which is always a useful feature. But they've also been designed to indicate the quality of the recording in session.
A steady red light means that everything is secure and sounding great. But, should the lights begin to flicker, you're being told that it's time to adjust your levels. This is a fantastic feature and is definitely one that will help you achieve the high-quality audio you're looking for.
Audio Interface
Although the Zoom H6 can be used to record independently, there may come a time when you'd prefer to record on a computer. In this instance, it continues to be a useful tool as it can be used as a USB audio interface.
This means that you'll be able to record on your chosen software and directly onto your computer's Digital Audio Workstation with multiple microphones. You need to attach the Zoom H6 to your computer through the USB port and connect your external microphones to the Zoom H6. Super simple and very useful!
Storage
Another upgrade that the Zoom H6 brings to the table is an improvement in storage. You can record directly onto SD, SDHC, and SDXC memory cards up to 128GB. There's even a 2DB SD card included with it to help get you started.
Display
The display on the Zoom H6 has also been upgraded and offers you a full-color indication of your levels, battery power, storage capacity, and more.
It's also now conveniently located on the bottom of the device. This helps to keep it completely out of the way of the dials and buttons and allows you to maintain a clear view of the screen whilst you make any adjustments.
Monitoring
The Zoom H6 features both a stereo line out and a headphone jack. This gives you the ability to directly listen to your recordings from the device or play them out loud directly to a speaker.
This is particularly useful for monitoring and adjusting your levels throughout the recording. It also takes a lot of work out of the editing process, allowing you to re-record if necessary without having to wait to hear your recording sounds like from your studio.
Power
You've got two different power options to choose from with the Zoom H6, and each one is specially designed for different recording situations.
If you're out and about and would like to record portably, then all you have to do is insert 4xAA batteries, and you'll get up to 20 hours of use. This is ideal for outdoor recording and for instances where you're unable to locate a power source.
Your second option is to connect the Zoom H6 to a constant power supply through the AC adapter or USB cable. Perfect when you're in the studio and want to ensure your recording device has a stable connection.
Ease of Use
Don't be put off by the plethora of features and the power that the Zoom H6 has. It's a straightforward recording device to use. The entire design is simplistic, and it's easy to see where you're supposed to connect external microphones and headphones.
The buttons and dials are self-explanatory as well, and there aren't any confusing symbols to try and work out or fear pressing.
Its compact size also makes it easy to use, and it can easily be stored in your equipment bag and taken from place to place. You can even have it as a permanent audio interface in your studio without taking up a huge amount of space.
Price & Warranty
The Zoom H6 sits at the higher end of the price scale for a digital recorder, but that's not without good reason. Its features, functionality, and durability are all worth every cent. You're also highly unlikely to find something as powerful as the Zoom H6 in a portable size, which only adds to its versatility.
A 12-month warranty is included as well. This acts as a testament to its quality and allows you to rest assured that you'll be covered for repair or replacement if anything were to go wrong.
Who is the Zoom H6 for?
If you're a podcaster with an interview format or panel show, then the Zoom H6 will be a fantastic addition to your recording arsenal. You might even wonder how you ever managed without one before once you've experienced everything it has to offer.
The ability to add up to four external microphones and the two built-in ones also makes it a great choice of digital recorder for 'round table' podcasts, theatre podcasts, and dramatized audiobooks.
It may be too powerful for solo podcasters, though. That's not to say that it won't do a fantastic job of creating amazing audio; you're just unlikely to use all of the features it comes with.
There are undoubted similarities between the Zoom H5 and the Zoom H6, but improvements and added features make them quite different.
Final Word
The Zoom H6 is a piece of recording equipment that sits head and shoulders above the rest in terms of features and performance. It is multipurpose, allows you to record multiple devices on to separate tracks simultaneously, and can even be used portably or in the studio.
Is it really fair to say it's an improvement on the Zoom H5, though? That's a difficult question to answer.
The Zoom H6 certainly has features that the Zoom H5 doesn't, but it is better suited for certain recording situations and podcast formats. Both are fantastic digital recorders, so the real answer lies within what you need from your recording device.
Put simply, if you have a large show with multiple hosts or guests, the Zoom H6 will be a real game-changer.