Amongst the wide variety of digital recorders available to choose from, the Zoom H5 and the Zoom H6 have continued to gain popularity as 'the best of the best.'
Below, we'll take an in-depth look at each of these digital recorders, break down their different features and help to give you a better understanding of which one might be the best for your own recording needs.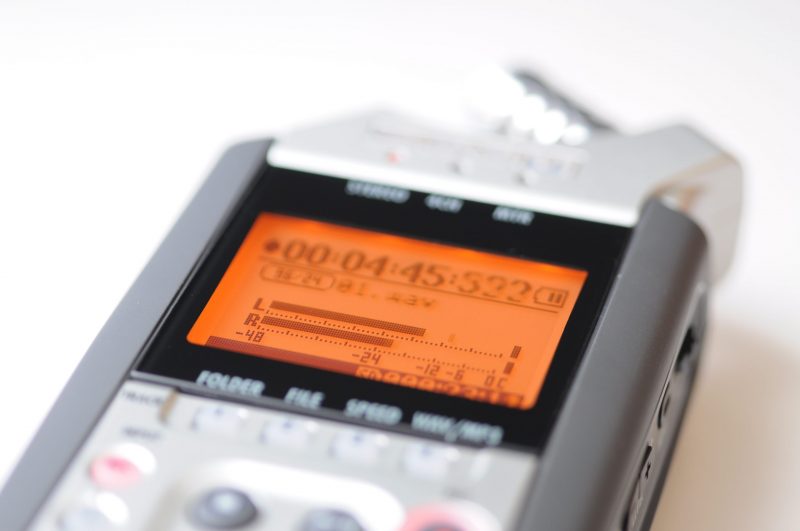 Zoom H5
Features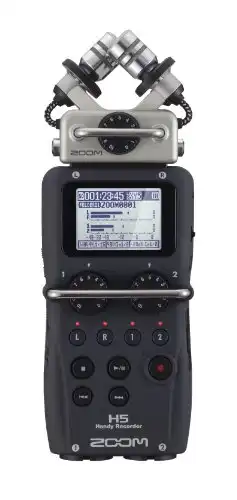 Let's kick things off with the Zoom H5. First of all, the size of this digital recorder makes it compact enough to easily transport from place to place. It is lightweight too, so it won't take up a lot of room in your gear bag or leave you feeling weighed down when you're out on the road.
This innovative little recorder uses a system of interchangeable input capsules so you can find the perfect microphone type for your recording needs. These are all available as separate add-ons and include a Large Diaphragm Mic Capsule, a Mid-Side Mic Capsule, a Shotgun Mic-Capsule, and a Dual XLR/TRS Combo Capsule.
It also features two built-in X-Y microphones that are shock-mounted and allow you to record with reduced handling noise, ensuring you get the best quality audio possible every time.
Powered by AC or USB, it's ideal if you plan to use this recorder as part of your permanent studio setup. And, should you ever want to head outdoors with it, you'll be able to record confidently with up to 15 hours of power from just two AA batteries.
Making it ideal for anybody on a budget or just starting with their podcast, the 24-bit/96KHz recording quality puts it on a similar level as some more expensive, high-end interfaces.
The easy-to-read LCD screen allows you to navigate the various features quickly and easily. Perfect for recording podcasts, interviews, music, and anything else you could ever dream of using it for.
Pros:
It uses an interchangeable capsule system that allows you to choose the best microphone for each type of recording.
Features two built-in X-Y microphones that are shock-mounted to reduce handling noise
Allows you to connect two external microphones through either the XLR or TRS ports
It can be used as an audio interface.
It has a dedicated line-out port that allows you to connect it to a DSLR camera
Lightweight and portable enough to use when you're recording outdoors
It can be powered by the AC or USB port and gives up to 15 hours of power from two AA batteries when used portable
It has an easy-to-read LCD screen that allows you to navigate through the features quickly
A great budget-friendly choice for anybody new to podcasting or looking for a great digital recorder that doesn't cost a small fortune
Cons:
It only allows you to record up to 32GB on an SD or SDHC card
User experience
Based on product reviews, it seems clear that while this device has many strong points, some limitations must be considered before investing in it.
Many users were impressed by the device, citing the high quality of recordings and the ability to use the device in various settings and situations.
However, one user complained about the line input recording sound. Namely, he reported he could only record in MP3 format when using only one input type at a time.
Zoom H6
Features
The Zoom H6 contains all of the features and functionality of its predecessor but has a few improvements that might make it a better choice for the more experienced podcaster. The first of these improvements is adding two extra XLR TRS input ports, allowing you to record up to six tracks simultaneously.
The built-in microphones are the same quality as the Zoom H5, and both are shock-mounted to reduce any handling noise from appearing on your finished recording. The number of external microphones you can pair with the Zoom H6 is also more significant, allowing you to connect up to four at once.
This makes it perfect for podcasts with multiple guests or co-hosts, giving each person access to their microphone without worrying about compromising sound quality.
Your storage options with the Zoom H6 are improved, and it can record directly onto SD, SDHC, and SDXC cards up to 128GB in memory.
Additionally, you will get up to 20 hours of recording power at a time, so you'll be able to use it confidently without worrying about it dying on you mid-recording session.
Generally speaking, the Zoom H6 is an expanded version of the Zoom H5. It's a better choice for anybody looking to record multiple voices at once and allows you to store more on it than the Zoom H5.
Pros:
Allows you to record up to six tracks simultaneously through either XLR or TRS inputs
The built-in, shock-mounted microphones allow you to record without an external mic while reducing handling noise.
It has two extra ports that allow you to connect up to four external microphones at once
It uses an interchangeable capsule system to produce the best audio quality possible.
It can be used as an audio interface and connected directly to a DSLR camera.
It gives you up to 20 hours of power from four AA batteries while recording outdoors.
Features an easy-to-read, full-color LCD screen
Cons:
It may have too many features for anybody looking for a simple recording device.
User experience
The opinions and experiences of others can provide valuable insight into whether or not a product is suitable for your needs.
Many users with experience with the H6 recorder praise its versatility and ease of use, emphasizing how well it performs in various situations. They particularly note the value of having four inputs, as this allows them to easily adjust volume levels on each track independently.
Many users also mention that the Zoom H6 is easy to operate, even for beginners. However, some reviewers have noted that the advertised features may not always match reality.
Which device is best for you?
The features and specifications of both the Zoom H5 and the Zoom H6 are incredibly similar. So, when it comes to working out which is best for you, you'll need to consider your recording requirements.
If you're a solo podcaster, have one other co-host, or have an interview-format podcast with just one guest per episode, the Zoom H5 will serve you well because you will be unlikely to need more than two microphones at a time. Anything more significant might be unnecessary, unused extras.
The Zoom H6 would be a better choice for anybody that records on a larger scale. It offers you the ability to add four external microphones to the recorder. It gives you a larger storage capacity while retaining all the fantastic features you'll find in the Zoom H5.
Both models offer you the opportunity to record outdoors and only require AA batteries when recording remotely. They are incredibly portable too, which adds to their appeal when you're looking for a piece of recording equipment to use outdoors.
Each can be used as an interface and fed a constant power supply through the AC or USB ports, and the 24-bit/96KHz recording quality is similar to that of some more expensive interfaces.
The versatility of each recorder also gives you a chance to save some money as you won't need to worry about purchasing lots of different equipment, which is ideal if you're starting. It also allows you to create a streamlined studio setup and is perfect for recording great audio in smaller spaces.
Frequently Asked Questions
Do I need a digital recorder for a podcast?
Whether you are just starting with your podcast or looking for a new tool to help take your production to the next level, a digital recorder is an essential piece of equipment for any aspiring podcaster.
Can I use a voice recorder for podcasting?
Technically yes; however, the quality of these recordings will vary depending on the type and model of voice recorder used. For best results, investing in a digital recorder is usually advisable rather than relying solely on a smartphone app or similar solution.
How do I choose a digital voice recorder?
There are several factors to consider when looking for a digital voice recorder. The most important is audio quality; additionally, the ability to conveniently carry the device and store files will be vital.
Another critical consideration is how intuitive the interface is so that you can quickly and easily edit or share your recordings without running into any issues. Other essential features include battery life and whether the device has voice activation capabilities or not.