With so many digital recorders available these days, the fight to rise to the top as a reigning champion becomes harder. Features, recording quality and ease of use are just a few things that every brand needs to make sure their products deliver in an almost unrivaled fashion.
One of the standouts amongst this increasingly crowded market is the Tascam DR-05. But exactly what makes it so special? And is it the right digital recorder for your own personal needs?
We've decided to take an in-depth look at everything the Tascam DR-05 has to offer. We'll breakdown all of its features and give a simpler explanation of any technical terms you might not be familiar with.
And, in the end, you'll have a clear understanding of what this powerful piece of recording equipment can do.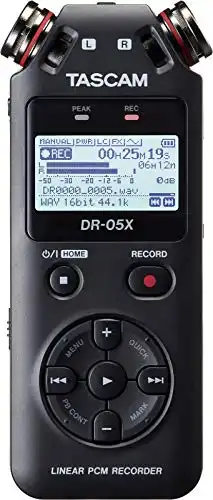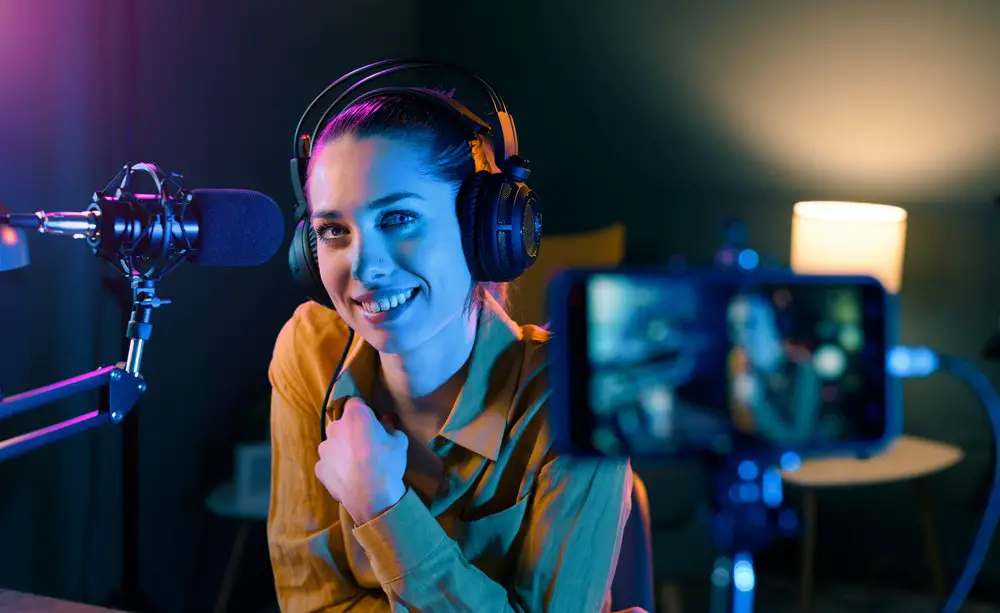 Design
Let's kick things off by looking at the overall design of the Tascam DR-05. It's small in size and lightweight, making it ideal for easily transporting from place to place. So, whether you're recording on the move or traveling between locations, you won't be weighed down by your recording device.
Its small size also makes it a great choice for anybody with a smaller studio setup since it won't take up a massive amount of space. It can also be stored away compactly when you're not using it.
The metallic construction helps ensure it's as durable as possible, and you won't need to worry too much about it getting easily damaged.
Ease of Use
The simplicity of its design makes the Tascam DR-05 incredibly user friendly too. All of the buttons are located directly on the front, and the entire recorder has been designed to be used with just one thumb. This makes it as easy to operate as using your cell phone.
Each of the buttons is self-explanatory, and even the most technophobic person will be able to navigate their way around each feature.
There is an easy to read digital display located directly on the front of the recorder as well. This gives you a clear indication of your recording levels, settings, available battery life, and more.
There are two LED lights above the screen, and these indicate how your levels are sounding whilst you're recording.
The 'PEAK' light will come on when your recording source is too loud for your gain setting, allowing you to make the necessary adjustments. The 'REC' light will illuminate when you've started recording.
Microphones
The Tascam DR-05 features two built-in condenser microphones located directly at the top of the recorder. These are highly sensitive and can pick up a wide range of sounds, making them perfect for a variety of recording situations.
There is also a 3.5mm headphone jack conveniently placed between the two built-in microphones. This gives you the ability to connect an external microphone to the recorder.
You can even insert a splitter into the headphone jack to add a fourth microphone should you need to.
This versatility allows you to expand your recording options even further and interview a panel of guests without any of them having to share a mic.
You could also use this headphone jack to insert a receiver into and record from a wireless handheld microphone. This is ideal if you're hosting a presentation that you'd like to record but don't want to be restricted by cables.
Recording Capabilities
There are many recording features available with the Tascam DR-05, and all of them are ideal for helping you capture high-quality audio.
One of the most impressive is the Peak Reduction setting. This clever feature automatically reduces the impact of loud noises on your recording and helps keep everything at a smooth tone that's comfortable for the ears.
There's also an Automatic Level Control setting that will monitor and increase or decrease your gain settings for you whilst you record. This helps to take a lot of the hard work out of the post-recording editing session.
It's also a fantastic feature for anybody new to sound recording who might not be completely confident with level adjustments.
It even has an Overdubbing feature that allows you to record over an existing audio file. This also helps to take some of the harder work out of the editing process by allowing you to fix any mistakes without recording entire segments all over again.
Alongside these three remarkable features, here are some more specifics about the Tascam DR-05's recording capabilities:
It allows you to record in either WMV or WAV formats.
You have the option to record in either mono or stereo mode.
You also have the option to choose between three different sample rates: 44,100Hz, 48KHz, and 96KHz
There is one other amazing recording feature that deserves a moment of glory too. The Tascam DR-05 includes a Low Cut filter.
This reduces the impact of low-frequency sounds being picked up on your recording and keeps your audio clear even when recording outdoors.
This filter also helps to eliminate plosives and breath sounds, so you'll be able to speak close to the microphone without affecting audio quality.
Audio Interface
The Tascam DR-05 is a super versatile piece of equipment, and this is further proven by the fact it can also be used as an audio interface.
Connect to your computer with a USB cable, and you'll be able to record directly to your chosen software with multiple microphones, using the digital recorder as the middle man.
Storage
It also features a Micro SD card slot, which you can use to record directly onto. This gives you the ability to transfer any files directly to your computer with ease, too, and means you won't have to locate specific cables before you can start editing your audio.
Here are the specifics for what the Tascam DR-05 can record onto:
MicroSD memory cards up to 3GB
MicroSDHC memory cards up to 32GB
MicroSDCX memory cards up to 128GB
Power
There are two power options available to you when recording with the Tascam DR-05. The first of these is battery power, which is the one you'd need to use when recording in a remote location or on the move.
It requires 2XAA batteries, and you'll get around 17.5 hours of recording time before you need to switch them out. This means you won't have to worry too much about having a stash of batteries readily-available at all times.
Your second option is power the Tascam DR-05 with the included AC adapter or USB cable. This is the best choice for studio recording, giving you a constant supply to a power source without thinking about battery life.
Extra Features
The Tascam DR-05 boasts several extra features that make it easy to use along with the microphones and recording capabilities and help you get high-quality audio.
The first of these is a speaker located on the back of the recorder. This allows you to playback your recorded audio aloud, allowing you to check your levels and sound quality with a test before starting your full recording.
You can also listen to your recordings more subtly through the 3.5mm headphone jack. This is the same one that you would attach an external microphone to.
It also features a hold button that prevents you from accidentally making any adjustments whilst recording by disabling all the functions.
And, when you want to set it up for a longer period of time, you can attach the Tascam DR-05 to a tripod or desk-stand with the screw-hole attachment located on the back.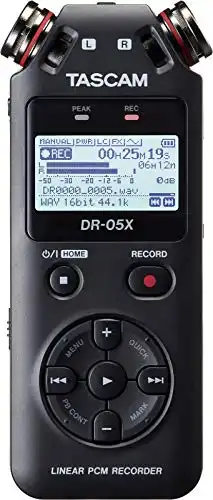 Price
One of the most appealing aspects of the Tascam DR-05 is the price. It's remarkably affordable for something that can do so much.
This makes it a great choice for anybody working with a strict budget or for someone who is new to sound recording and doesn't want to spend a fortune whilst they're still learning.
The option to attach external microphones and use it as an audio interface also gives you more value for money. These are the kind of features you'd expect to see in much more expensive digital recorders such as the Zoom H5 or Zoom H6.
An included 12-month warranty gives you the peace of mind to purchase confidently too, and you'll be covered for repair or replacement in the unlikely event of something going wrong.
Final Word
So, what is the Tascam DR-05? First and foremost, it's a digital recorder. Although, given its features and versatility, this is a fairly simplistic way of looking at it.
Adding external microphones, the ability to automatically adjust your levels, and use it as an audio interface makes it extremely versatile. Not to mention, the number of recording features it has are guaranteed to make sure you get high-quality sound every time you use it.
It's an ideal addition to anybody's recording gear and has a robust design. It's super easy to use, which, when paired with its affordability, makes it a good choice for anybody just starting on their podcasting or recording journey.