Ask a group of podcasters or YouTubers what their preferred microphone is, and the Rode NT1A is almost guaranteed to be mentioned time and time again.
Released in 2003, the NT1A is one of Rode's most popular pieces of audio recording equipment ever constructed. But, with so many years of technology-advancement having passed since it first became available, why exactly does it continue to reign supreme?
We decided to find out! Below, we've taken an in-depth look at the Rode NT1A, going through each of its features and determining once and for all why it's such a popular, reliable choice of microphone.
Rode NT1A
Our Pick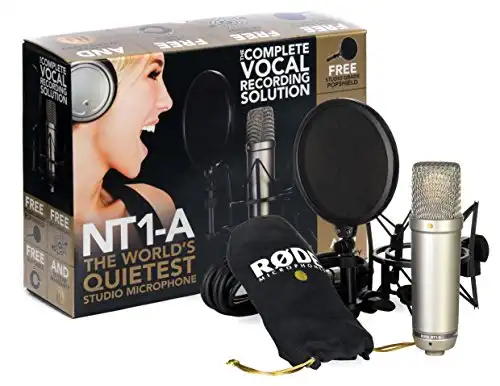 Design
Let's start by taking a look at the overall design of the Rode NT1A. It has that modern-classic appearance that would look at home in any studio setup. While a microphone needs to be more than just aesthetically pleasing, it's always nice to have something that looks professional.
The entire microphone is made from an all-metal construction, and this ensures that it is as durable as possible and keeps the condenser capsule well protected.
So, in the instance of it accidentally falling against your desk or getting bumped when you're gesticulating, there's minimal chance of it getting damaged.
As an extra layer of protection, the metal used in the construction of the Rode NT1A is also nickel-plated. This doesn't only offer additional durability but makes it corrosion resistant. This means that any saliva that builds up over time won't cause any corrosive damage.
Another fantastic design aspect the Rode NT1A offers is that it's really lightweight, weighing in at just 325g. This means that you'll be able to suspend it from a boom arm or a shock mount with a reduced chance of it falling or slowly pulling the arm down towards the desk while you're speaking.
This reduced weight also makes it much easier to transport, so if you'd like to take your show on the road, you won't feel weighed down by it. Also, let's not forget that the durability of this microphone means it's less likely to suffer from bumps and knocks during transport.
Sound
Now, let's take a look at what the Rode NT1A has to offer in terms of recording high-quality audio. The first thing to note is that it features a large, 1" gold-sputtered condenser capsule.
This is its first tool in creating crystal clear vocals and ensuring that the person's voice is recreated as lifelike as possible once converted into an electrical signal.
This condenser capsule works alongside the Rode NT1A's cardioid polar pickup pattern to focus solely on vocal noise. But how does this work?
A cardioid polar pickup pattern only picks up sound coming from a 180º arc directly in front of the microphone. By doing this, it focuses on your vocals while simultaneously blocking out any background noise. The result is super clear, ambient noise-free recordings.
It also has a side-address design, and this means that it needs to be placed vertically when in use. This may not seem like something that would have much of an impact on the quality of sound it produces; however, it does mean that you're more comfortable when using it.
In turn, your vocals will relax, and the entire recording will sound more natural.
Frequency Range
Another thing that helps the Rode NT1A deliver such high-quality sound is the wide frequency range. We're talking 20Hz-20kHz here, and this means that this powerful microphone can comfortably convert a range of voice types into smooth, conversational tones.
Many Rode NT1A users have also noted that it produces a brighter sound in the treble regions. This makes it ideal for people with lower voices, particularly males, and helps keep everything sounding ear-pleasingly clear!
Self-Noise
Have you ever listened to a podcast and noticed a buzzing sound or electrical interference in those small moments of silence? This comes from the microphone's self-noise levels, and if these levels are too loud, the entire episode can sound unappealing.
Again, the Rode NT1A has this problem covered and operates with a self-noise level of just 4dB. This guarantees absolutely no electrical noise or annoying buzzing in those silent moments, and it certainly won't drown out any vocals.
XLR Connection
The Rode NT1A offers an XLR port as its method of connection. While this may seem a little archaic in the modern age of the USB port, it's a guaranteed way to keep a secure connection established at all times.
In fact, many podcasters find that XLR cables are the best connections you could ever hope for. This is because they are much harder to accidentally unplug or tug out of the microphone while you're recording than a USB cable.
The XLR connection port on the Rode NT1A doesn't only give you the ability to form this strong connection, but it's also conveniently located on the bottom of the microphone. This means that the cable is kept well out of the way while you're recording, whether you're suspending it up upwards or downward.
Remember, however, that if you're planning on recording directly to your computer, you'll need to incorporate an audio interface as the middle man between your Rode NT1A and your PC or laptop.
The Focusrite Scarlett Solo and Focusrite 2i2 are amongst the best audio interfaces you can pair a Rode NT1A with, and you can find more information about those here.
Price & Warranty
If there's one downside to the Rode NT1A, it's that it does come with a fairly hefty price tag. If this fantastic microphone tempts you, you'll need a budget of $200.
However, you indeed pay for quality when it comes to recording equipment, and there's no doubt that the Rode NT1A is a microphone built for performance and durability.
This is made even more apparent by the generous 10-year warranty that is included with it. So, even though you may be paying more than you would for a different brand, you'll be able to rest assured that you'll be covered for repair or replacement in the unlikely event of something going wrong.
Accessories
The Rode NT1A is compatible with a wide range of accessories that will further enhance your recording experience. And, unlike a lot of microphones, you don't have to purchase brand-specific accessories for it.
This means that if you've already got a pop filter or a shock mount that you love and that you know well, you'll be able to continue using it with the Rode NT1A.
How Does The NT1A Compare To The Rode NT1?
The Rode NT1A does have a counterpart in the form of the Rode NT1. But is there much of a difference between the two?
As far as durability and sound performance is concerned, there isn't much difference between them. However, the Rode NT1A does have a few extra features that the Rode NT1 doesn't offer.
To begin with, it's lighter in weight compared to the NT1. 70g lighter, to be exact. So, if you're concerned about pairing a microphone with a boom arm or suspending it a shock mount, the Rode NT1A offers you a little more assurance.
Both microphones contain the same gold-sputtered, 1" condenser capsule, the same cardioid pickup pattern, and the same frequency range.
However, the Rode NT1A produces a brighter sound in the treble regions, as we've mentioned above. This makes it the ideal choice for a male podcast host, as it will produce clearer tones on a lower voice.
Finally, another important difference between the two is that the Rode NT1A operates with a lower self-noise level of just 4dB.
The NT1 also has a low self-noise level of 4.5dB, but removing that extra 0.5dB can make a huge difference, especially if you're using your microphone for dramatic readings or for recording an audiobook.
You can read a more detailed breakdown of the differences between the Rode NT1A and Rode NT1 here.
Conclusion
The Rode NT1A goes to show you that some things don't need to be improved on, regardless of how many years have passed since it first hit the market.
The sound quality it produces with its large condenser capsule and wide frequency range is second to none, and capturing clear vocals is incredibly important when you're recording a podcast.
The cardioid pickup pattern further enhances the vocal recording capabilities of the Rode NT1A and, by being able to produce brighter tones in the treble regions, it's the ideal choice for a podcast host with a lower voice.
It's not a cheap microphone, though. However, it is one that is built to last. The solid, all-metal construction ensures it is super durable, and a 10-year warranty backs its quality.
So, if you want a microphone that will last you for years, has a strong reputation behind it and will provide you with the sound quality you're craving, the Rode NT1A would be the perfect choice for your podcast.