One of the most challenging tasks that every podcaster has to face at some point is choosing the perfect microphone for their show.
However, one brand that stands out among the microphones available is Rode. Renowned for creating high-quality audio equipment, Rode is a go-to favorite for audiophiles worldwide.
And, amongst Rode's arsenal of offerings, it's the NT1 and the NT1A that are the most popular choice of microphones for hundreds of podcasters. But what's the difference between the two microphones? And, more importantly, which is better?
We decided to compare them side by side and find out!
Rode NT1
Features
Let's start by taking a look at the Rode NT1. The first thing you'll notice about this microphone is its modern, stylish design that will fit in with any studio setup.
It's not just aesthetically pleasing; however, the all-metal construction ensures that this microphone can withstand the occasional bump without showing any damage. The entire microphone has also been nickel-plated, and this makes it corrosion-resistant.
So, we know it's durable, and a 10-year warranty also backs this up. But what about its recording quality?
The Rode NT1 features a large, 1" gold-sputtered condenser capsule that helps produce some of the cleanest vocals you could ever wish for. The clarity of your recordings is also further enhanced by the microphone's cardioid pickup pattern. This focuses the microphone's attention on the sound coming directly in front of it while eliminating ambient noise. The result is super-clear vocals and zero background noise.
The Rode NT1 also has a frequency range of 20Hz – 20kHz too, which helps to transform various voice types into smooth, conversational tones.
An XLR input port is located directly on the bottom of the Rode NT1, and this can be used to establish a secure connection to your audio interface.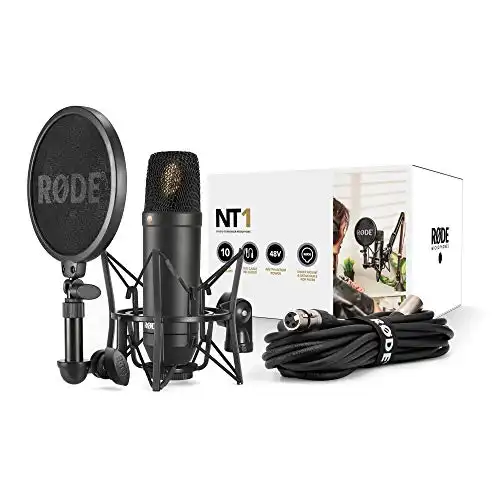 See the Latest Pricing on Amazon
Pros:
The strong, durable construction keeps the capsule well-protected and ensures the microphone can withstand general wear and tear
Features a 1-inch, gold-sputtered condenser capsule
Operates with a cardioid pickup pattern, focusing on vocals and eliminating background noise
Has a low 4.5dB self-noise level
Can pick up a variety of vocal tones with a 20Hz – 20kHz frequency range
Cons:
It is pretty expensive, so not the best choice for anybody working with a limited budget.
Rode NT1A
Features
Our Pick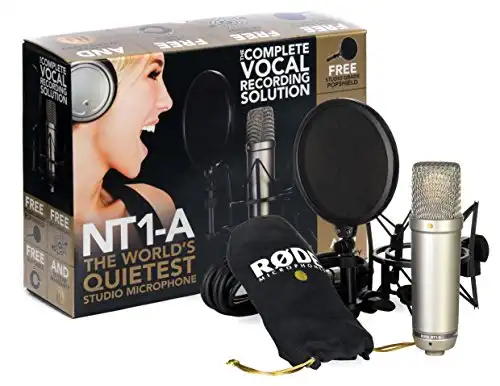 You might think that the Rode NT1 has so much to offer that it would be impossible to improve on it. However, the Rode NT1A has some extra features that will help take your recording experience to the next level.
Before we get into the details of those, however, let's examine the similarities between the two.
As with the NT1, the Rode NT1A features a solid, all-metal, nickel-plated construction that makes it super durable and corrosion-resistant. It also comes with a 10-year warranty which is a testament to its quality.
The 1-inch, gold-sputtered condenser capsule is the same as the NT1 and operates with a cardioid pickup pattern. If you're looking for crystal clear vocals, a cardioid microphone with a condenser capsule will give you the best performance possible.
So, what makes the Rode NT1A different from the Rode NT1?
First of all, it's lighter in weight at just 325g (compared to the 395g weight of the NT1).
The Rode NT1A has the same frequency range of 20Hz-20kHz as the NT1, but it is notably brighter in the treble regions. This makes it better for pairing with male voices, as it will produce more precise notes from lower tones.
It also has a lower self-noise of just 4dB. While this is only 0.5dB smaller than the NT1, it does make a noticeable difference during those short periods of silence. It also has a higher SPL (sound pressure level) than the NT1 to record louder noises more effectively.
The XLR cable port is conveniently located on the bottom of the microphone for easier positioning.
See the Latest Pricing on Amazon
Pros:
The robust and durable construction is tough enough to handle the studio and life on the road.
Features a gold-sputtered, 1" condenser capsule that produces concise vocals
It also features a cardioid polar pickup pattern to eliminate ambient noise and concentrate solely on vocals.
It is lighter in weight than the Rode NT1 so it can be suspended from a boom arm or shock mount with greater confidence.
It has a 20Hz-20kHz frequency range that is brighter in the treble regions, so it's ideal for pairing with low male vocals.
The 4dB self-noise level ensures no buzzing or electrical noise in silent recording periods.
Features an XLR port conveniently located on the bottom of the microphone for easy setup and unrestricted use
Cons:
As with the NT1, the Rode NT1A is an expensive microphone, so it may not be the best choice for anybody new to podcasting or a hobbyist podcaster.
Which is better?
The truth is that there isn't too much of a difference between the Rode NT1 and the Rode NT1A.
Both models offer a large, gold-sputtered condenser capsule and operate with a cardioid pickup pattern. This makes each of them ideal for podcasting since you'll want most of your show to focus on capturing clear, concise vocals.
However, the frequency range of each is something to consider when deciding between the two. While both have the same frequency range of 20Hz-20kHz, the Rode NT1A is notably brighter in the treble regions. This makes it ideal for capturing lower frequencies, so it could be the better option if you're an all-male show.
They are also similar in their construction and are backed by a generous 10-year warranty. However, the Rode NT1A is 70g lighter in weight than the Rode NT1. This may not seem like a significant difference, but it can make a world of difference between your microphone remaining in place or falling when suspended in a boom arm or shock mount. So, think about your studio's setup when considering the two.
Finally, the Rode NT1A has a 0.5dB lower self-noise level than the Rode NT1. You'll want to consider this if your podcast features moments of silence, such as a theatre podcast or audiobook narration. The absolute silence this lower noise level guarantees will keep your listener immersed in the story rather than being put off by annoying electrical interference.
User experience and reviews
Based on reviews, the NT1 is heavier and feels more solid, whereas the NT1A has a lighter feel. Some users think that the NT1-A gives a better representation of what a voice sounds like in real life, so it's a better choice if you're looking for a realistic sound. On the other hand, the NT1 will pick up less background noise, which is more appropriate if you need a more precise sound with no distractions.
Also, it's good to remember that both microphones are very sensitive and require very little pre-amp. If you prefer non-processed sound, the NT1 is an excellent choice, as it has been shown to have better dynamics at high frequencies with minimum distortion.
Overall, opinions on these two models may vary, and it all comes down to personal preference. You can check out this video for more reviews in the comments!
Conclusion
If you're still torn between the two, the simplest way to look at it is this; if you want a warmer-sounding microphone that works particularly well for male voices, then the best choice would be the Rode NT1A. If you're looking for a microphone that works well across various vocals and doesn't need to be brighter in the treble regions, then the Rode NT1 would suit your needs.
Whichever you go for, you need to remember that both the Rode NT1 and the Rode NT1A come with a hefty price tag. So, if you're new to podcasting and are still figuring out what works best for you, or if you're on a smaller budget, a different brand might be more suitable for the time being.
However, if you can stretch the price tag, you'll be adding an invaluable piece of recording equipment to your studio that will last for years.
Frequently Asked Questions
Which Rode mic is best for recording vocals?
The Rode NT1 microphone is known for its low self-noise, which makes it great for producing a natural vocal sound. It is a better choice for recording vocals than the NT1-A, as it tends to pick up on less background noise.
Does the Rode NT1A need phantom power?
Yes! The Rode NT1A and any other condenser microphone require phantom power of 48v for them to work correctly.
How can I make my Rode mic sound better?
Here are some tips for making your Rode microphone sound better. First, use a pop filter to prevent unwanted noise from getting into the recording. Next, ensure you aren't standing too close to walls since there will be resonating effects that can create background distractions. Also, point your mic in the right direction for optimal clarity and volume. And for maximum results, use a pre-amp!