When you're using an XLR microphone to record your podcast, you absolutely need to have one piece of equipment in your studio, an audio interface.
This genius device ensures a strong and stable connection to your microphone, as well as giving you the ability to record directly onto your computer. The result is clean, interference-free sound that will give each episode of your podcast that clear, professional finish.
Choosing an audio interface that can help you achieve that high-quality sound can be a little tricky, though, and a quick online search will bring up hundreds to choose from. However, two stand out from the crowd – the Focusrite Scarlett Solo and the Focusrite 2i2.
Both are created by Focusrite, a brand renowned for manufacturing some of the world's best audio interfaces. But is the Scarlett Solo or the 2i2 better?
Each has its own advantages and disadvantages, and to answer this question, we decided to take an in-depth look at each.
Let's start by looking at the differences between the two.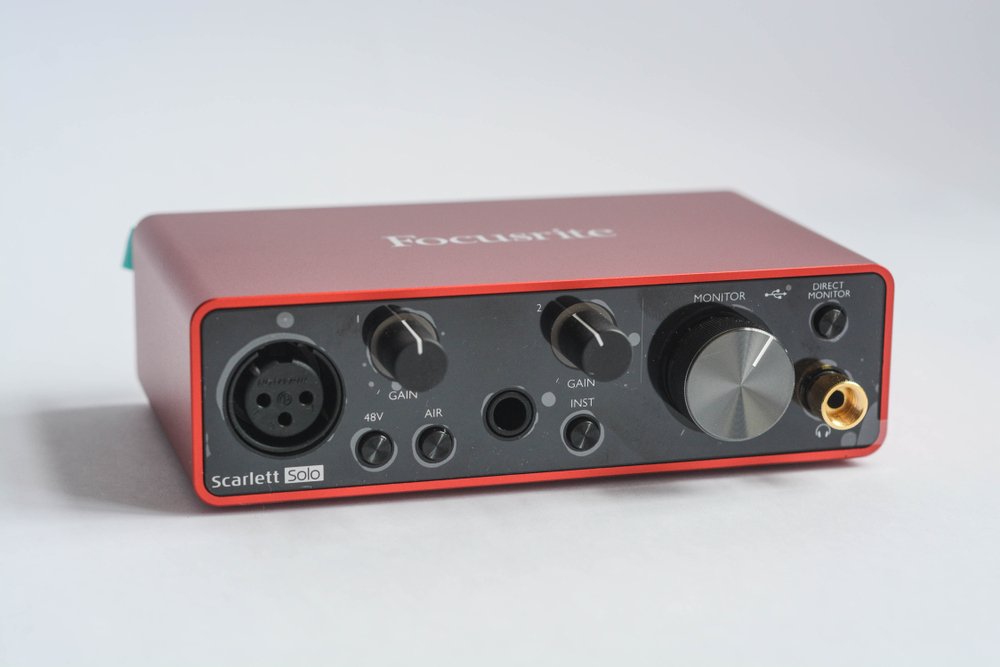 Focusrite Scarlett Solo
The first thing to note when looking at the Focusrite Scarlett Solo is its compact size. It measures just 1.73" x 5.66" x 4.7", making it the ideal choice for a smaller sized studio. This reduced size also makes it much easier to store, and transport should you ever want to take your show out on the road.
The Scarlett Solo is appropriately named and offers one XLR input port, so it's ideal for solo podcasting or audiobook recording. It also features an incredibly easy to use interface that consists of a microphone gain dial and a monitoring dial.
There's also an input port and accompanying gain dial for musical instruments, and this offers you the ability to record music with it, too, if you wish.
It also features QuickStart technology, taking all of the technicalities out of setting it up and allowing you to plug the interface into your computer, connect your XLR microphone, and start recording.
As well as being smaller in size than the 2i2, the Scarlett Solo comes at a reduced price. However, this is because of the removal of one of the XLR ports. Of course, this is absolutely fine if you're a solo podcaster, as you'll only need to use one microphone.
But if you're planning on bringing a guest onto your show, then the 2i2 would be the better option.
See the Latest Pricing on Amazon
Pros:
Offers direct monitoring with a simple flick of a switch
Compact and lightweight, making it perfect for smaller studios or life on the road
Zero-latency recording
Offers a secure connection to an XLR microphone
It is compatible with a plethora of popular DAWs
Powered by a USB cable for convenience
Cons:
It only has one XLR input port, so while it's ideal for solo podcasters, it's not the best option for panel shows or interview formats
Focusrite 2i2
While the Focusrite 2i2 is larger and heavier than the Scarlett Solo, it offers an additional XLR input port.
This means that you'll be able to connect two microphones to the interface at once, so it's ideal for achieving high-quality audio when you're interviewing a guest. It also takes away the issue of having to microphone share.
The addition of this second input port also allows you to record each microphone to its own channel using your DAW, making the editing process a lot easier.
As with the Scarlett Solo, the 2i2 has an easy to use interface consisting of clearly labeled dials and switches. Setup is easy, too, thanks to the QuickStart tool, which automatically provides prompts and even takes you straight to a webpage where you can customize the installation.
One of the standout features offered by the Focusrite 2i2 is its dual preamps. This means that each voice will be produced clearly and concisely. These preamps also feature a switchable 'Air Mode' accessed by a simple touch of a button, and this gives your recordings a brighter, more open sound.
The 2i2 comes complete with a host of professional tools, including First Focusrite Creative Pack, Softube Time & Tone Bundle, Focusrite's Red Plugin Suite, and a 3-month Splice Subscription.
It even includes your choice of one free XLN Addictive Keys Virtual Instrument, which is ideal if you want to add some music to your show.
However, it is worth noting that each of these needs to be downloaded to your computer, so you'll need to think about your available storage space.
See the Latest Pricing on Amazon
Pros:
It offers two XLR inputs, making it perfect for recording with two separate microphones at once
It also offers dual preamps that ensure each voice is captured separately with equal levels of clarity.
Although larger and heavier than the Scarlett Solo, the 2i2 is still compact enough to transport easily or fit into a smaller studio.
Works with a wide range of DWAs
Features direct monitoring
Cons:
It is more expensive than the Scarlett Solo, but this is mainly due to the additional input port and dual preamps.
While both the Scarlett Solo and the 2i2 have many differences, both have a couple of things in common. Let's take a look at these below.
Resolution
The first of these is their resolution. Both the Scarlett Solo and the 2i2 have 24bit/192kHz A/D resolution, and this ensures that a conversation, life-like sound is captured.
This is ideal when you're recording a podcast since you'll want the vocals you're capturing to sound as clear as possible while giving your listeners the illusion of those voices physically being in the room.
Direct Monitoring
Both the Scarlett Solo and the 2i2 offer direct monitoring, and this means that the input signal given from your microphone doesn't have to be sent to your DAW.
This means that there is zero latency between the sound you're creating and the sound you hear in your headphones, leading to a smooth, seamless recording session.
This is an outstanding feature for any podcast with an interview, co-host, or panel format. By removing any possible latency and monitoring everything in real-time, there's much less chance of getting confused over who is speaking, as well as eliminating any extraneous sound.
Which is better?
As you can see, there are similarities and differences between the Focusrite Scarlett Solo and the Focusrite 2i2. This means that there isn't necessarily one that is better than the other. Instead, to work out which would be better for your podcasting needs, you'd need to think about your show's format.
If you're the host of a solo podcast and it's just yourself speaking on your show each episode, then the Scarlett Solo would be a good choice. This is because it only has one XLR input port.
While it's often useful to have a second port if you won't use it, you'll spend more money on something you don't need.
Comparatively, the Focusrite 2i2 features two XLR input ports. This makes it a better choice for co-hosted podcasts, interviewing guests, or panel shows.
It is a little more expensive than the Scarlett Solo, but it does offer you more in terms of what you can do. Not to mention, it comes with an included tools bundle that will really help you produce the highest quality podcast possible.
Both the Scarlett Solo and the 2i2 are super easy to set up and use, which is a great thing to have in common. This means you'll spend less time having to worry about fiddling with software, and, instead, you'll be able to start recording pretty much straight away.
Conclusion
As we've outlined above, the question of whether the Focusrite Solo or the Focusrite 2i2 is the better audio interface is not an easy one to answer. It will ultimately come down to your podcast's format and your recording style.
If you're still torn between the two, one extra thing to think about is the size of each of them.
While both are small in size, the Scarlett Solo is compact and lightweight, so it's ideal for smaller studio spaces and for taking from place to place. This allows you to record from a remote location with greater ease and gives you the ability to take your preferred recording equipment to a guest's studio.
It's super difficult to find fault with either of them, but if we were forced to pick a winner, we'd have to say the 2i2 comes out on top.
Sure, it's a little larger than the Scarlett Solo, but it's additional ports, and dual preamps offer an extra layer of versatility. It's a little higher in cost, but if you can afford to stretch your budget, then it's definitely worth investing in.
After all, even if you're hosting a solo podcast at the moment, there's nothing to guarantee that you won't want to bring a guest in to interview or change the format of your show at some point.
With the Focusrite 2i2, you'll save yourself some money as you won't have to purchase a new audio interface should these situations ever arise.