Audio content is booming, but there is one question on the minds of podcasters everywhere. How can I get more listeners?
Growing an audience takes time, but with patience and perseverance, it's possible.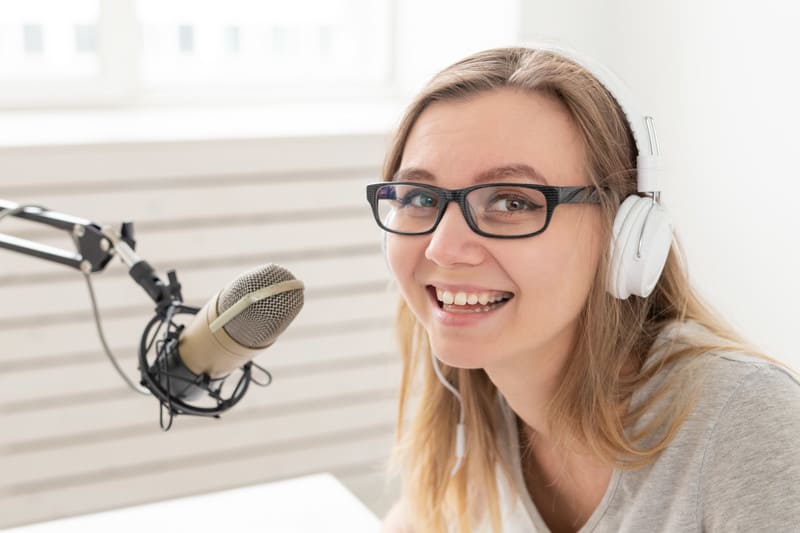 The key is to start small with consistent content. Then begin introducing methods to raise your profile and attract more listeners.
After all, an increase in listeners leads to more success as a podcaster. And more success can transform into new opportunities, like sponsorship and advertising.
By using the techniques below, you can crack open the potential in your podcast and boost those listener figures.
Invest in marketing
Think of a podcast like a product. You want to attract more people to 'buy' it. Except the customers are listeners and, unless there is a paid subscription, they 'buy' it by listening.
Successful podcast marketing doesn't happen overnight, though. To get more listeners, you need to invest time, effort, and possibly money into marketing it.
Here are a few ways to use marketing to grow an audience:
Use blogs and previews on other channels to attract new listeners and reel them in.
Work with brands for cross-promotion.
Set up social media channels to build a following.
Ask guests to share episodes on their channels to widen your network.
A marketing plan can include all the above or just a couple of actions. It all depends on how fast you want to grow and how much you can invest.
Use SEO to boost your podcast.
SEO is your friend when it comes to growing an audience.
The internet is a busy space, and you have to shout to get noticed. Otherwise, your podcast will never make it onto the first page in a Google search.
To optimize a podcast, include SEO keywords in descriptions, and episode titles.
SEO is the long game, and you won't see results straight away. But when done correctly, it's worth the wait.
Collaborate with others
Collaborating with others is a great way to expand your network and gain more listeners.
You can collaborate with other podcasters or with brands. Whatever adds more value to your show.
For example, you could interview a leading figure in your niche or start a partnership with a peer. Or, you could collaborate with a company that has an excellent reputation with your listeners.
Not only are collaborations good for exchanging knowledge. But they can also help to grow an audience base and professional network.
Create a community
The more that listeners feel like they know you, the more they will keep coming back to listen to your podcast.
That's where building a community comes in. It can be through a podcast Facebook group or by introducing a Q&A segment on the show.
By interacting directly with listeners, they will feel part of the process. And it opens up communication channels for feedback and topic requests.
Think about where your podcast is hosted
A good hosting company will have unlimited bandwidth to support your podcast as it grows.
Why is it important? Because every time an episode gets downloaded, it uses a percentage of the bandwidth. The last thing you want is to reach a bandwidth limit and stop new listeners from accessing your show.
There are free hosting options out there, but they often include limits on the bandwidth. For long-term growth, it's worth paying for an unlimited plan.
Consider advertising your podcast.
Advertising is one of the oldest tricks in the book. Why? Because it usually works.
For podcasts, digital advertising can be very effective. Think social media advertising on Facebook and Instagram and pay-per-click with Google Ads.
The downside? Advertising costs money and so requires some up-front financial investment. But, if you're serious about growing your podcast, then it could be worthwhile.
Another option would be to go phygital. Generate free QR codes for your podcast and place them where they'll catch the eye of your target audience.
Submit to app directories
If you want more listeners, submitting the podcast to an app directory is essential.
The two most popular directories are iTunes and Spotify. Yes, there are others, like Google Podcasts and Stitcher, but Apple and Spotify take the top spots.
Don't just stick to the most popular options. To have the best chance of growing your podcast, it's a good idea to submit the show to as many directories as possible.
Hold a competition for listeners.
Holding a competition is a great way to engage with existing listeners and grow an audience.
Here are two examples:
Listeners that leave an online review are entered into a prize draw to win the latest business book in your niche.
Ask listeners to tag friends in a social media post to be entered in a prize draw.
As long as the prize is relevant to the listeners, it can be a successful way to raise the profile of the podcast show.
Include a call to action
Do you have an email newsletter that you're trying to grow? Or a YouTube channel on a similar topic?
Use your authority and platform as a podcaster by including a call to action to promote them. For example, ask listeners to sign up to the newsletter or subscribe to the YouTube channel.
The listeners already like you and trust you, so they're more likely to want to hear more from you.
So, have fun with the methods above to get more podcast listeners. But remember, keep an eye on consistency and continue putting out great content.