Recording on-the-go and from different locations is a surefire way to keep your audience entertained and come back for more week after week.
And, when it comes to vlogging, there's no doubt that a smartphone is the best tool for the job.
But, getting that professional finish with a smartphone can be a little tricky.
Shaky hands and bad angles can ruin your shot and, before you know it, your vlog is sliding down the ranks as it gets outshone by higher-quality videos.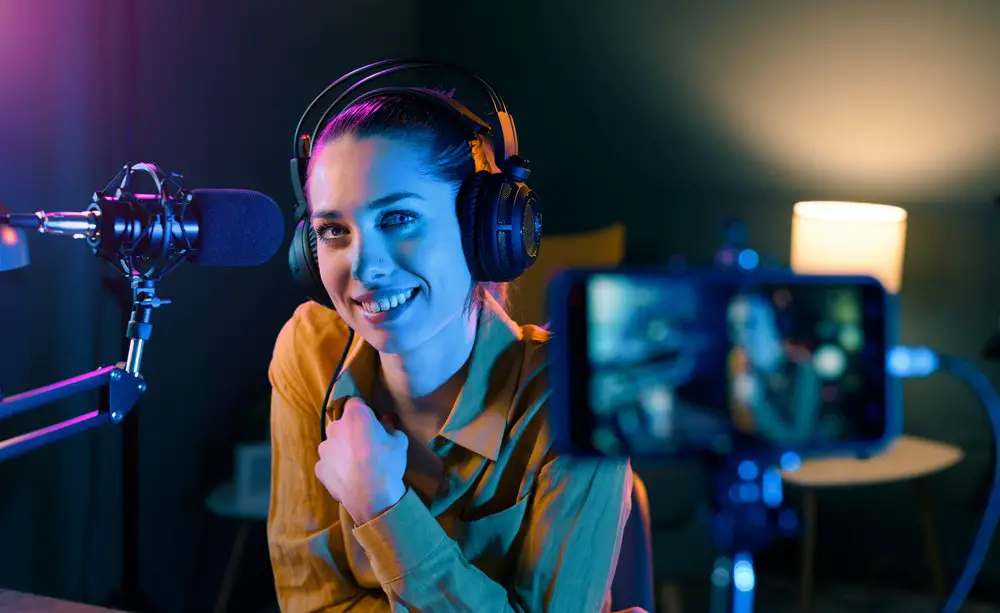 So, how can you make sure each episode of your vlog has that cinematic feel to it that will really make it stand out from the crown?
A tripod, stand, or mount designed specifically for your smartphone is a great place to start.
Investing in one of these will open up a whole new world of angles and will keep your smartphone steadily in place while you record.
However, with so many to choose from, how are you supposed to know which is the best for your needs?
To lend a helping hand, we've listed five of the best smartphone tripods, stands, and mounts available.
We've also put together a buying guide that will help steer you in the right direction and find the perfect choice the first time around.
In a hurry? Let's kick things off by taking a look at our top pick.
1. UBeesize Tripod S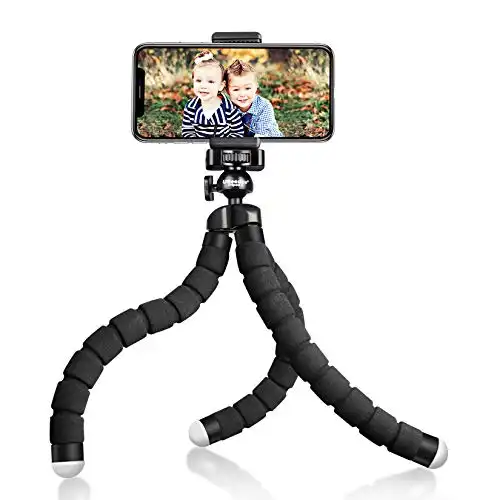 Featuring super flexible, octopus-style legs and height adjustable from 6.3-inches to 8.26-inches, the UBeesIze Tripod S will keep a tight grip on your smartphone in a variety of positions.
It's solid too and can support any device or camera weighing up to 1kg.
This is thanks to its sturdy metal construction, which, as well as giving it superb stability, also offers durability. This makes it ideal for taking on the road and filming between locations, too, as you won't have to worry about it getting easily dented or scratched.
You've got multiple mounting options available to you with this tripod as well. The integrated screw thread allows you to secure digital cameras, and when you want to switch your smartphone, attach the universal adapter.
It also features non-slip feet, so you won't have to worry about your smartphone slowly sliding out of focus while it's in use. Lining up the perfect shot for vlogging is easy too. Select 'selfie mode,' and you can record in both portrait and landscape from up to 30 feet away!
See the Latest Pricing on Amazon
Pros:
It has super flexible, octopus-style legs capped with non-slip feet that provide excellent stability.
Is height adjustable from 6.3-inches to 8.26-inches, giving you more versatility over your angles
Constructed from high-quality metal and has a metal ball joint support for durability and stability
Features an integrated screw thread and a universal adaptor that can be used with a variety of smartphone and digital cameras
The 'selfie mode' allows you to take pictures and film from up to 30 feet away.
Cons:
Some people found that pairing the selfie mode with their device took a little while to figure out.
2. Square Jellyfish Jelly Grip Tripod Mount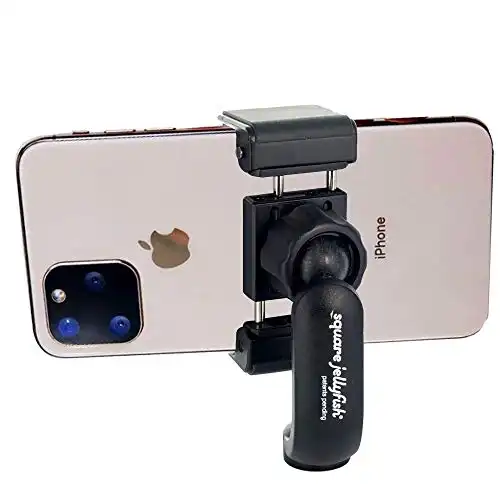 Universally compatible with all smartphones' shapes and sizes, this Jelly Grip Tripod Mount from Square Jellyfish is the ideal choice for anybody looking for a quick and easy mounting option.
Insert your smartphone into the integrated grip, and it will be held securely in place.
The grip is also perfect for switching between devices without having to fiddle with any adapters. The mount itself features a universal screw thread that allows you to match it to a huge variety of tripods and stands. This means you'll be able to pair it with any existing stands you might have.
While you might think that something so versatile would be large and heavy, this couldn't be further from the truth. This tripod mount is lightweight and compact, making it a great choice for anybody documenting their travels through a vlog.
The 360º swivel design makes getting the perfect angle for your shot is easy too. So, whether you want to film in landscape or portrait, you'll there's no risk of your phone slipping out of place.
You won't need to worry about it causing any damage to your smartphone while it grips it in place, either, thanks to the soft rubber cradle.
See the Latest Pricing on Amazon
Pros:
Is universally compatible with all shapes and sizes of smartphones
The integrated grip makes mounting super easy and takes away the need to use adapters.
Features a universal screw-thread that allows you to pair the mount with a variety of stands and tripods
Has a 360º swivel design that holds your smartphone securely at multiple angles
Its compact, lightweight design makes it ideal for anybody vlogging on-the-go
Cons:
Is just a mount, so it doesn't come with any stand or tripod.
3. Manfrotto PIXI Mini Tripod Kit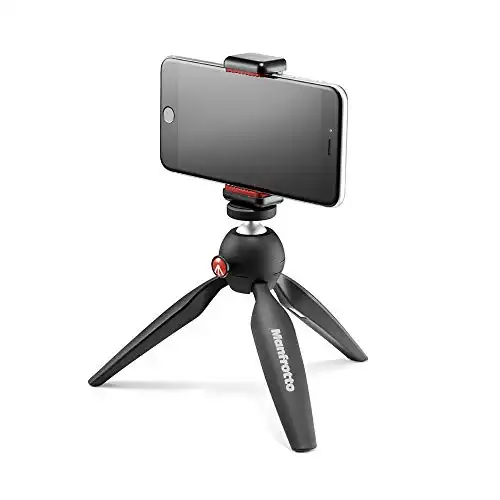 If you're looking for a compact stand to take with you on the road, the PIXI Mini Tripod Kit from Manfrotto could be a perfect choice.
Measuring 10-inches and weighing just 7.8-ounces, it's travel-friendly design won't weigh you down or take up much room in your bag.
Mounting your smartphone to this tripod couldn't be easier. Insert it into the clamp, and the firm grip will hold it securely in place. The integrated rubber pads will provide it with non-slip stability and protect against scratches and damage.
One of the most impressive features this tripod kit has to offer is its versatility, and it can be used in three different ways. The first of these is a standard tripod, simply by extending each of the three legs outwards. Push the legs back inwards, and you've got a firm-grip hand-held stand.
Finally, detach the legs completely, and you can use the mount as an angled-support by pulling out the self-standing bracket located on the back. Constructed from aluminum and technopolymer, this is a durable tripod that is perfect for any vlogger.
See the Latest Pricing on Amazon
Pros:
Measures 10-inches and weighs just 7.8-ounces, making it ideal for any on-the-go vlogger
Is universally compatible with a wide variety of smartphones
The clamp-grip makes mounting easy, while the integrated rubber pads ensure your phone is protected.
Can be used as a tripod, handheld stand, or as an angle self-supporting stand
Constructed from aluminum and technopolymer for durability
Cons:
Doesn't offer multi-angle support and cannot hold a smartphone in a vertical position
4. Joby GripTight ONE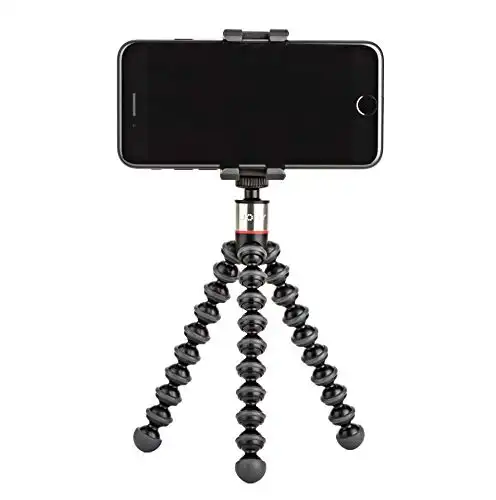 Getting the perfect shot for your vlog can be difficult, especially if you're recording outdoors.
However, thanks to the Joby GripTight ONE, things just got a lot easier. Each of its legs can be positioned independently, allowing you to create a stable frame in even the trickiest position.
Every leg has also been capped with a rubber foot grip. This ensures that the tripod is kept stable no matter where you've positioned your smartphone. You won't need to worry about your smartphone sliding out of the mount either, thanks to the rubber-lined firm grip.
This tripod is universally compatible with all smartphones, so there aren't any adapters to worry about fitting to it beforehand. You're also offered the versatility to switch to a different tripod should you need to use the standard ¼-inch – 20 screw thread.
It is also lightweight and compact, so it can be taken from place to place without weighing you down. And, if you'd like to switch to a digital camera instead, you can unscrew the grip and use the integrated screw-mount to attach it securely.
See the Latest Pricing on Amazon
Pros:
Each leg can be positioned independently, allowing you to create a stable position in a variety of angles.
Rubber foot grips on the bottom of each leg offer further stability and support while filming.
The rubber-lined firm grip is universally compatible with all smartphones.
Can be paired with a wide range of other tripods and digital cameras too
Is compact, lightweight, and ideal for taking out on the road
Cons:
Can only hold a smartphone or digital camera in a landscape position
5. Kenu Stance Compact Tripod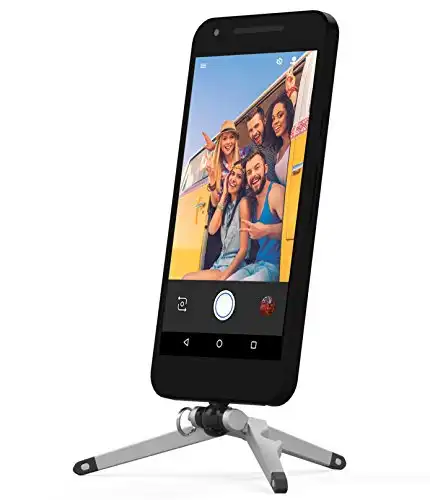 The Kenu Stance Compact Tripod has innovatively redesigned the way your smartphone connects to the stand.
There's no longer any need to fuss with adapters or clamp it in position. Instead, you use your smartphone's charging port to create that strong connection.
This makes it one of the most compact tripods you'll come across too, and it will easily slide into your pocket or bag without taking up too much space or weighing you down. It even has an integrated keyring that allows you to secure it to a zipper for easy access.
When you're ready to start recording, pull each tripod leg outwards to create stable support. When you're done, push each of them back in again to bring the tripod back to its compact size. You can also use it as a handheld stand when it's in this closed-position.
This clever little tripod also features a ball and socket joint just below the connection point. This allows you to position your smartphone at the best angle for the shot and locks it securely in place once you're ready.
And, to give it that extra bit of fun, there's even a bottle opener built into one of the legs!
See the Latest Pricing on Amazon
Pros:
Creates a secure connection to your smartphone through it's charging port
Is super compact and durable, making it the perfect choice for traveling with
The foldable design makes it easy to create a stable tripod as well as a handheld stand.
Features a ball and socket joint that allows you to angle your smartphone however you like
It also features a keyring and an integrated bottle opener.
Cons:
You'll need to check whether your smartphone has a USB-C or lightning port before purchasing as there are two options to choose from
Buyer's Guide
Achieving the best shots possible for your vlog or holding your smartphone steady when you're recording a podcast is made much easier when you use a tripod, stand, or mount.
However, as with all recording accessories, there are some things you need to consider before you settle on your final decision.
From smartphone compatibility to the size of your tripod, paying a little extra attention to these when you're shopping will help save you time and money.
Take a look at some of the key areas to focus on when you begin your hunt for the perfect smartphone stand.
Tripod, Stand, or Mount
The first thing to think about is whether a tripod, stand, or mount is the best option for you. While all can hold your smartphone securely, each is slightly different.
Let's start by looking at tripods. These feature three separate legs, which are usually foldable, and offer you strong support for your smartphone.
Their foldable design makes them much more travel-friendly too. Some tripods even have legs that can be positioned independently, which is ideal if you try to create a stable shot on an uneven surface.
Stands are much like tripods but tend to be less flexible. They are usually built as one unit, which means they aren't as travel friendly. However, they are great for studio recording and will give you a strong, stable place to mount your smartphone.
Mounts don't usually come with an included stand or tripod. This means that they need to be attached to an existing stand you already own.
They are much smaller in size than tripods and stands too, which makes them travel-friendly. However, you'll need to attach it to a tripod or a stand to get the shot you need.
Attaching Your Smartphone
Once you've determined whether you need a tripod, stand, or a mount, you'll need to make sure that it's compatible with your smartphone.
Different accessories use different methods to attach your smartphone, so it's about finding the right one for your needs.
Grips and clamps are the most popular as they offer a universal fit. They are also much easier to attach your smartphone too, and will hold it firmly in position by creating a tight grip on it.
This means that you won't have to worry about your phone fitting. You'll be able to slide it into the grip and start recording.
If you choose a stand that uses a grip for attaching your phone, make sure that it features integrated rubber pads. These will offer even more stability for your phone and prevent it from sliding out of position mid-recording.
Rubber pads will also help to prevent your smartphone from getting scratched or damaged by the grip.
Another option available to you is a screw thread. These create the strongest attachment by literally screwing the stand to your smartphone or mount. This type of connection also offers you the versatility to attach different recording devices such as a GoPro or a digital camera.
There are also some tripods, stands, and mounts that allow you to attach your phone through its charging port. This takes away the need for adapters and clamping your phone in place.
Instead, you'll connect your phone to the stand as you would when plugging in your charger or headphones.
Positioning
It's important to look at the positioning options that your chosen tripod, stand, or mount can offer you too.
Getting the perfect shot could require setting your smartphone up at a certain angle. Some stands are extremely restrictive and will only allow you to film in landscape.
So, start by thinking about whether you prefer filming in landscape, portrait, or a mixture of both. We'd recommend going for an option that allows you to swivel the camera as and when required, as this will give you a greater choice of shots available.
Ball and socket joints are perfect for this as not only do they allow you to position your smartphone; however, you like but will also lock it in place. This means there's no risk of your smartphone gradually sliding out of frame while you're recording.
Extra Features
As with all recording devices and accessories, it's worth seeing what else you can get for your money.
Smartphone tripods, stands, and mounts are no exception to this rule, and some come with some fun and useful features.
One of the best extra features available is 'selfie mode.' This allows you to line up your shot and hit record from up to 30-feet away. It also reduces the amount of time you'll spend editing yourself out of your video while you quickly run into the frame!
Some stands come with handy travel-friendly features, such as an integrated keyring. This allows you to attach it to a zipper on your bag or chain it to your keys, giving you easier access when you need it.
It also helps to save a little more room in your bag.
Frequently Asked Questions
What is the difference between a smartphone stand and a smartphone mount?
A smartphone mount gives you a secure place to attach your smartphone for recording but doesn't come with a stand.
This means that you'll need to attach it to a tripod or desk stand before you can use it.
A smartphone stand or tripod is an all-in-one unit that usually includes a mount and is ready to go straight out of the box.