When it comes to buying a microphone, things can become a little complicated. There is a tonne of technical jargon to figure out and, even when you think you've made a decision, an advance in technology comes along and changes the game.
If only there were a microphone that could do it all! Well, it turns out that there is. Say hello to the Samson Satellite.
This clever little microphone has become one of the most popular choices for podcasters from all over the world. By what exactly makes it such a fantastic piece of recording equipment?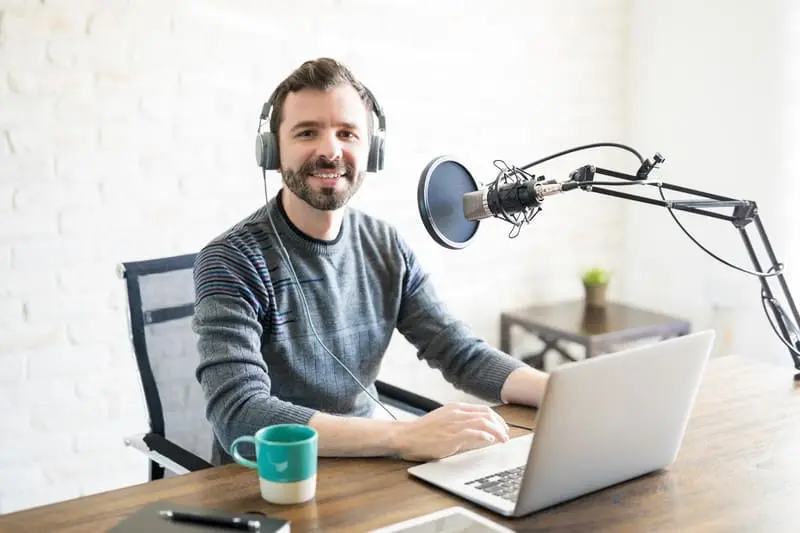 We decided to find out. Come with us as we take a deeper look into all of the features and specifications this amazing microphone has to offer. And, in the end, you'll have a better idea of whether this is the microphone you've been looking for all along.
Design
There's no denying that the Samson Satellite is aesthetically pleasing. It has a sleek, stylish design that would look at home in any professional recording studio.
It's also quite small in size, making it ideal for anybody with a limited amount of space in their setup.
This smaller size makes it perfect for storing away neatly too, and you can even transport it between locations without it taking up too much space in your equipment bag.
The Samson Satellite is also a side-address microphone. This allows for a more comfortable and natural style of speaking.
You also won't have to worry about pointing the mic directly at your mouth, and you'll be able to move your head and gesticulate without compromising sound quality.
Pickup Pattern
This is where the Samson Satellite really begins to show off its skills. Most studio microphones offer you one pickup pattern, meaning that you have to do a lot of research and figure out which works best for your podcast format.
The Samson Satellite offers you the choice of three different pickup patterns in one microphone! This gives you the ability to use one microphone for all of your recording needs.
It also saves you a lot of money as you won't need to purchase a range of microphones for different purposes.
Let's look at each of the pickup patterns available with this microphone below and what each one is best suited for.
Cardioid Pickup
If you're looking for a pickup pattern to concentrate on your vocals and nothing else, then a cardioid would be the one to choose. It works by focusing on sound coming from a 180º arc directly in front of it while simultaneously drowning out background noise.
A cardioid pickup pattern is also a great choice for outdoor recording as it will prevent any ambient noise from being picked up by the mic.
Bidirectional Pickup
If you've got a co-host or are interviewing a guest but don't really have space to set up two microphones, a bidirectional pickup pattern is your best friend.
This will focus on sound coming from two different directions, allowing you both to share a microphone comfortably without sacrificing any audio quality.
As with a cardioid pickup pattern, choosing bidirectional will block out any noise coming from behind the microphones.
Omnidirectional Pickup
Choosing this pickup pattern allows you to capture high-quality audio from every direction. It's perfect for round-table podcasts, theatre podcasts, and panel shows.
Switching between these pickup patterns is quick and easy.
All you have to do is select your choice using the slider located on the microphone's front and switch to your desired pattern. This also means no logging onto complicated software to make your adjustments.
Shock Mount
The Samson Satellite features an internal shock mount located in the microphone's head. This helps isolate the condenser capsule and prevents any accidental noises, such as table-bumping or walking on floors, from being picked up.
This shock mount also helps to eliminate plosives when you're speaking. It doesn't come with an additional pop filter. However, these are easy to find online and are quite affordable.
Built-in Controls
As well as the easy to use slider that lets you switch between pickup patterns, the Samson Satellite also features two more built-in controls that are conveniently located on the front of the microphone.
The first of these is a mute button. This allows you to stop the microphone from picking up any sound. So, should you feel a sneeze coming on or need to cough, you can quickly and easily hit the mute button to leave it off your recording!
There is also a volume control dial and a headphone jack. This allows you to monitor yourself whilst you're recording and gives you the ability to adjust your volume levels when necessary, making the editing process that much easier.
Zero Latency
On the subject of monitoring, the Samson Satellite features zero-latency direct monitoring. This allows you to hear yourself when you're recording without any delays or annoying echoes, as well as cutting out any audio that's coming from your computer.
This also makes it a great microphone for Skype or Zoom calling. We all know the struggle of trying to deal with feedback when conducting an online interview, but with zero-latency monitoring, that's a thing of the past.
Connection
One of the most appealing aspects of the Samson Satellite is that it features a plug and play design. This means it can be easily connected to your computer or recording device through a USB cable.
This makes it easier to install and expands the variety of devices you can pair it with. It even comes with USB to USB lightning cables, allowing you to use it with an iPhone or iPad!
Compatibility
The versatility of the Samson Satellite continues to shine through in the fact that it is universally compatible across operating systems. So, as with its connectivity, you aren't restricted by the device you use to record onto.
This also means that you've got more freedom over what production software you edit your podcast with. So, whether you prefer Audacity or GarageBand, you'll be able to use the Samson Satellite with both.
Frequency Response
The Samson Satellite also has a frequency response of 20Hz-20KHz. This means that it can pick up a wide variety of vocal sounds and produce them into clear, conversational tones.
This is particularly useful if you're mic-sharing with a co-host or several guests as you won't have to worry about adjusting your levels too much when it comes to editing.
However, it's worth noting that the frequency response does alter depending on the pickup pattern you've chosen.
When you're using cardioid, the frequency range is 80Hz-18KHz. Bidirectional and omnidirectional pickups give you a frequency range of 20Hz-20KHz.
There really isn't very much difference between the two, and both will still produce the smooth, warm tones you want from a microphone.
Mounting Options
Your microphone needs to be held steadily in place when you're recording if you're going to achieve that professional sound. Luckily, the Samson Satellite has you covered here as well.
Three legs can be pulled directly from the body of the mic to create a tripod desk stand. The back leg can even be slightly angled to allow for a more comfortable recording position.
Then, when you're finished, each leg can be folded back inside the microphone for the ultimate in compact storage. This also makes transporting it between locations or taking it out on the road a lot easier.
You can also attach the Samson Satellite to a traditional microphone stand using the pre-installed screw-hole. This gives you the versatility to find the best mounting option for your needs.
Price
The Samson Satellite is surprisingly affordable when you take into account everything it can do. Switching between pickup patterns is something that you would find in a higher-end microphone such as the Blue Yeti, so it's a great option for any professional podcaster on a budget.
Likewise, this is a good choice of microphone for anybody new to podcasting or sound recording. You'll be able to discover what sort of pickup pattern works best for you without costing you a fortune.
It will prevent you from having to purchase multiple microphones before you're certain too.
Final Word
The Samson Satellite is a small microphone that packs a mighty punch. If there was one word to sum it up, it would be 'versatile.' And it's this versatility that makes it really stand out from the crowd.
It's easy to use, can be paired with a huge variety of recording devices, and is universally compatible across all operating systems. It even comes with foldable legs that transform it into a self-standing microphone.
But the real star feature is the choice of three pickup patterns. This is something you would ordinarily find in microphones that are priced much higher. This freedom of choice gives you the power to find the best sound for your podcast too, while further enhancing the mic's versatility.
If you're looking for a powerful microphone that can give you fantastic audio, but you're on a tight budget, you can't go wrong with the Samson Satellite.