As a podcaster, you'll no doubt be fully aware of the importance of owning a good-quality microphone.
Crystal clear vocals, the elimination of background noise, and concise, plosive-free words are all essential to any great-sounding podcast.
But what's the best microphone to help you achieve such high-quality audio? There are tons to choose from, but one that has become the go-to for podcasters from all over the world is the Samson Q2U.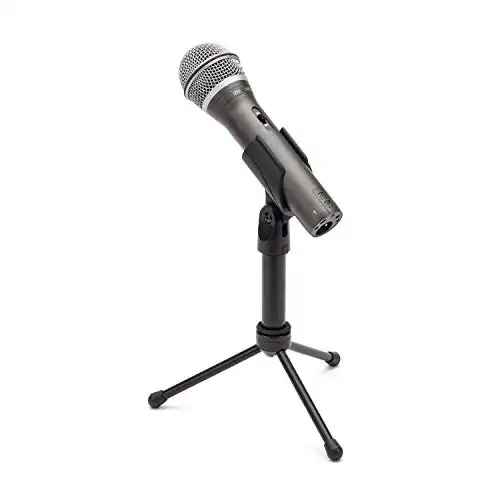 What's the reason behind this though? Sure, it looks great, but when it comes to recording vocals, is it really worthy of its popularity?
We decided to take a deep dive into all of the features the Samson Q2U has to offer and determine once and for all exactly what makes it so special.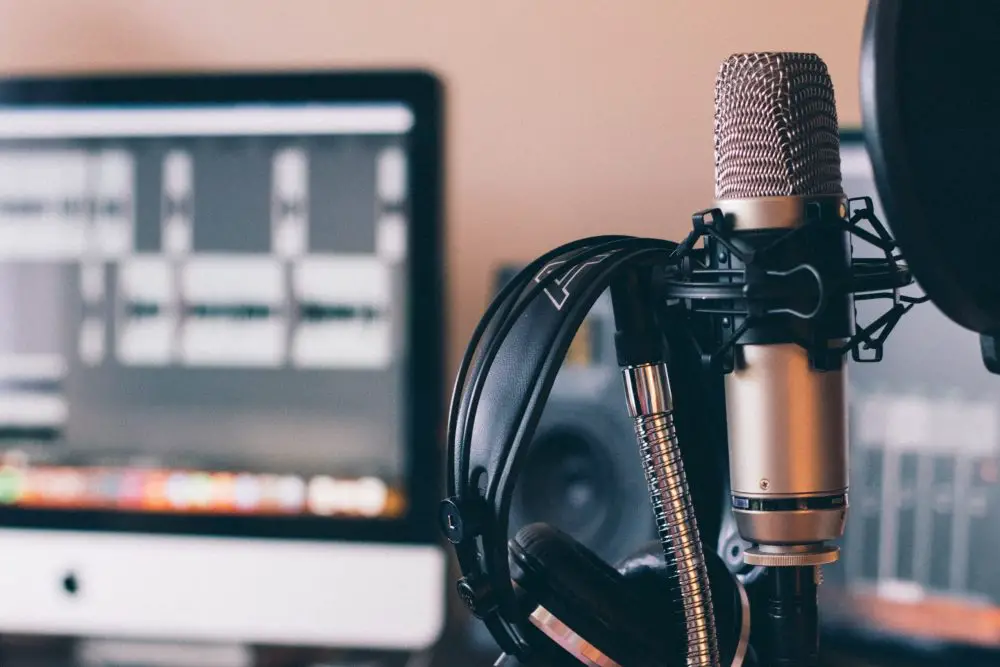 Design
Let's start by taking a look at the design of this fantastic microphone. It has that traditional appearance associated with microphones, and its simplicity is one of the most appealing things.
There's no need to worry about mic placement too much and it can also be mounted in a variety of ways.
Whether you're using a microphone stand or a boom arm, you simply fix the microphone in place and you're good to go.
It also has a sleek, black finish that would look good in any studio.
Of course, it's aesthetic appearance won't have much of an impact on the recording quality, but it's always nice to feel as though your studio is as professional-looking as possible.
See the Latest Pricing on Amazon
Recording Capabilities
If a microphone isn't capable of recording high-quality vocals, it's basically useless as far as podcasting is concerned. However, this isn't something you'll need to worry about with the Samson Q2U!
A dynamic capsule is housed within the microphone's head and this is capable of picking up a wide range of vocal tones and frequencies.
It then converts these into clear, conversational tones that are appealing to the ear and give your podcast that professional finish.
The dynamic capsule works harmoniously with the Samson Q2U's cardioid polar pickup pattern.
This makes it perfect for recording vocals as it concentrates solely on sound coming from a 180º arc directly in front of the microphone, while simultaneously drowning out any background noise.
This leaves your finished recording with super-clear vocals and no ambient noise.
The combination of the dynamic capsule and the cardioid pickup pattern also makes it a great microphone for a variety of podcast formats and for recording outdoors.
An on / off switch is built directly onto the front of the microphone too. This allows you to cut the microphone while keeping your recording equipment running.
It also gives you that extra peace of mind that the microphone is switched off during certain situations.
See the Latest Pricing on Amazon
Compatibility
Another fantastic feature the Samson Q2U has to offer is universal compatibility, which means that you can connect to your recording software using either a USB or an XLR cable.
his versatility is useful for many reasons.
Perhaps you like to switch up your audio recording equipment between episodes.
This universal connectivity means you won't have to worry about finding an appropriate microphone each time.
You can take your own microphone with you to another studio too and not have to worry about any issues with connecting to their recording equipment.
It's not just the connection that's universally compatible though. The Samson Q2U is also compatible with all operating systems including Windows and MAC, making it even more versatile.
It can even be paired with Android and iOS devices through a Host OTG cable or Apple's Lightning to USB camera adapter.
This gives you the ability to take your show out on the road and record in remote locations without having to bring a huge mobile studio setup with you.
There is also a 3.5mm headphone jack located on the bottom.
This gives you the ability to monitor your recording while it's in progress, allowing you to make necessary adjustments and taking a lot of work out of the editing process.
See the Latest Pricing on Amazon
Accessories
The dynamic capsule, cardioid pickup pattern, and universal compatibility make a perfect combination for high-quality audio.
However, as if these remarkable features weren't enough, the Samson Q2U also comes with a variety of accessories that give you an even better shot at getting that professional finish you're looking for.
The first of these is a tripod desk stand. This allows you to easily set the microphone up on any flat surface and keeps it held steadily in place throughout your recording.
It's extremely user-friendly and comes with an extension piece too. So, even if you're a little technophobic you'll have no difficulty in getting the microphone placement perfect!
This included tripod desk stand is also a great accessory for anybody working with a smaller budget, saving you from having to spend more money on a separate stand.
A microphone clip is included too, which allows you versatility over mounting. So, even if you do already have a microphone stand that you like using, you'll be able to create a secure connection to it.
Another fantastic accessory included with the Samson Q2U is a windscreen. This protective, foam cap is placed directly over the microphone's head and helps to eliminate any wind-noise being picked up when you're recording outdoors.
It's not just great for outdoor recording though. By placing the windscreen on your microphone, you'll also be able to better eliminate the risk of any plosives from appearing on your finished recording.
These are the noises that naturally come from the pronunciation of certain letters which, if left uncontrolled, can produce an unappealing 'popping' sound.
To complete the accessory bundle, the Samson Q2U also comes with an XLR cable and a USB cable. These can be used to connect the microphone to your chosen recording equipment.
Again, this helps to save you a little money as you won't have to worry about purchasing either cable separately.
See the Latest Pricing on Amazon
Price
Given its impressive features, recording capabilities, and generous accessory pack, you might expect the Samson QU2 to come with a hefty price tag. But, you'll be surprised to learn that it's really affordable.
Compared with other microphones capable of producing the same, high-quality sound, the Samson QU2 sits comfortably at the lower end of the price spectrum.
You might also be thinking that a microphone that is so appealing to anybody with a smaller budget is bound to break almost straight away.
But, once again, the Samson Q2U defies these expectations and isn't only highly durable, but comes with a 2-year warranty to back it up.
This means that, in the unlikely event of anything going wrong with it, you'll be able to get a replacement with no fuss.
See the Latest Pricing on Amazon
Who is the Samson Q2U for?
With its amazing recording capabilities, there isn't really anybody that the Samson Q2U wouldn't suit.
This powerful little microphone is ideal for podcasting and will give you those sharp, concise vocals you need to really make your show stand out from the crowd.
It's perfect for a variety of podcast formats. From solo shows to interviewing a panel of guests, the cardioid pickup pattern will keep the vocals of the person in front of the microphone loud and clear while ensuring no annoying background noise appears on your final recording.
If we were to look at a format that it wouldn't be suitable for, it would be a round-table recording where all participants are sharing the same microphone.
For that, you'd be better suited to the Samson Satellite, which offers you three different polar pickup patterns.
Final Word
It's clear to see why the Samson Q2U has become such a popular choice over recent years.
The recording capabilities and the audio it helps to produce are second to none in terms of quality and are perfect for podcasting.
If you're looking for clear, consistent vocals on every single episode of your podcast, this is the microphone for you.
Sitting at the lower end of the price scale, it is also a fantastic choice for anybody new to podcasting who might be working with a smaller budget.
Not to mention, the variety of included accessories help to save you even more money when it comes to setting the microphone up.
Put simply, the Samson Q2U is a feature-packed, powerful microphone that will really help take your podcast to the next level.