Personal finance can be a confusing and complicated topic. This is true specifically if we are still in the process of learning the money management ropes. Seeking help from experts, and getting their professional guidance and advice can make things like budgeting, saving for retirement, purchasing a home, or getting out of debt a lot easier.
Financial planners can help us deal with this money matters, but we have to pay the price for the services rendered.
The Best Podcast for Personal Finance Can Be Our Brilliant Option
Many of us might be hesitant to seek help from experts because of the service fee; instead, we look for other ways that can deliver good results without making our pocket burst. One of these brilliant options is finance podcasts.
Listening to a personal finance podcast is proven to be a more convenient and affordable means to gain a solid knowledge of finance. Finance podcasts help us getting clear on our money goals and creating solid plans on how to achieve them regardless of our location, be it in the treadmill at the gym, inside the car, or at home.
Personal Finance Podcasts-Learn the Basics
Learning the basics is one of the vital initial steps to effective personal finance management. You can never dig deep on this matter if you do not begin with the basics. Whether you are a recent graduate, knowing so little about personal finance, or you are simply trying to break some nasty credit card habits, the following podcasts are ideal for those seeking to learn the basics of personal finance. Additionally, individuals will find the motivation to get their financial management on track:
1. Function:
We are also big fans of the newest "Function". Although this is now one of those traditional financial shows, this pays close attention to personal finance apps such as Mint and then evaluates how this has changed the way individuals think about money.
2. The Dave Ramsey Show:
Dave Ramsey, a best-selling author, radio host, and personal finance guru shares his expert thoughts about investing, insurance, personal finance, retirement, and many more. This is perfect for those who wanted to learn from authoritative sources without being bored.
3. The BiggerPockets Money Podcast:
Regardless of whether you're rich, chances are you'd prefer to be more extravagant and wealthier. Everybody hoping to fill their pockets can take something from the "BiggerPockets Money Podcast." In this podcast, Mindy Jensen and Scott Trench talk with luminaries to gather knowledge on how to save more and spend intelligently and making that savings higher.
4. Planet Money:
To support your financial power, it pays to know more about the master plan. Truly, almost all of us are discussing the economy. NPR's "Planet Money" digital broadcast is fun to listen to." Planet Money" blends expert dialogues and narrative stories to separate the basics that influence you regularly.
It additionally prompts intriguing inquiries like, "For what reason are there such a large number of mattress stores operating out there?"
What is the Best Podcast for Personal Finance?
Now that you have learned about the personal finance podcasts for beginners, it's time to dig deeper and learn the best of the best podcast for personal finance. But with thousands of podcasts available to choose from, you may be wondering which podcast is the best.
If in search for the best podcast for personal finance, we would all agree that the following can be the best podcast for personal finance that can be considered:
1. So Money with Farnoosh Torabi:
All of us wanted to live a happy and wealthy life. This is one of the best podcasts for personal finance that focuses on helping us lead a healthier and happier life. Farnoosh Torabi interviews big names in business, self-improvement, and personal finance every Monday, Wednesday, and Friday and uncovers their special stories.
In every episode of the podcast, money makes complex subject matters, and lessons of business moguls and billionaires are made accessible to everyone. When asked regarding the podcast, Farnoosh Torabi states that his hope for listeners is to find real inspiration from detailed and intimate money stories.
He also hopes that we will be motivated to build bigger dreams and live their financial lives the best way can be. I can feel the positive emotion in Farnoosh Torabi's revelation.
He stated that when a listener writes to him and says that they can start their own business, buy a house, and paid all their debts because of his show, this simply makes his life.
2. Afford Anything with Paula Pant:
We are certain that this podcast can give us personal finance a boost. In this podcast, Paula Pant answers listeners' questions on personal finance, entrepreneurship, real estate, personal development, and she also interviews experts in these fields.
I believe that this podcast is what we all need to realize that we are capable of doing anything with money; however, not everything.  You will finish each episode ready to begin making progress on your life goals, including your financial goals.
We might probably hear about numerous podcasts, but Afford Anything is one of the best podcasts for personal finance. This podcast will help us come up with the most informed decisions, especially in making the most of limited resources, including energy, time, and money.
This podcast also features a wide range of experts in the different fields ranging from psychology, behavioral economics up to investing. They give answers to all questions submitted regarding how individuals can retire early, achieve financial freedom, travel more, and maximize their wealth as well as their life in general.
3. Money for the Rest of Us with David Stein: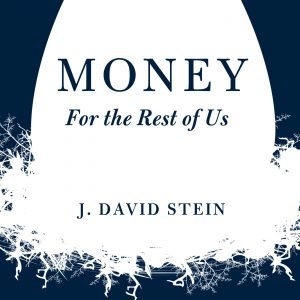 David Stein spearheads this podcast. He is a former investor who's focused on helping DIY investors come up with the right and smart choices. We all experience managing our own finances but there are instances that we are unsure of what we are really doing.
David discusses in his podcast how making investment decisions on our own can be confusing and overwhelming; there is a lot of noise in the investing world. David's experience and thoughtful advice help listeners cut through that noise and confidently manage their own investments.
With this podcast, David Stein wants to make financial market swings to be less stressful, and his goal is to create a podcast aimed at helping individual investors clearly understand what's going on with the business and economic markets and how these impact their portfolios.