To keep your podcast interesting and guarantee that your listeners return each week with eager ears for your next episode, you may occasionally need to venture outdoors.
Recording remotely opens up the ability to create new, exciting content that you can't achieve when you're confined within the four walls of your recording studio.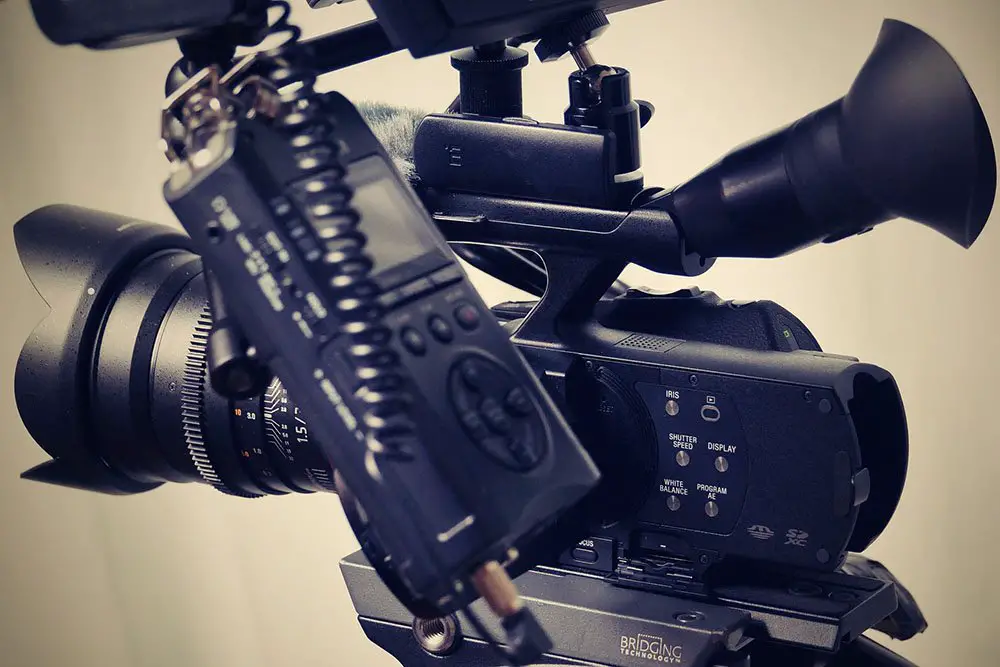 However, your setup will need to be a little different. You also don't want to be burdened with carrying huge amounts of heavy equipment around with you.
So, what's the solution? The answer is simple! Invest in a handheld digital recorder.
Two of the most popular handheld recorders available today are the Tascam DR-40 and the Zoom H4N. Both of these are compact enough to use remotely while providing you with high-quality audio.

But is there any difference between them? And, more importantly, which is the best? We decided to find out and have taken an in-depth look at each of them.
Below, we'll break down each of their features to help you determine whether the Tascam DR-40 or the Zoom H4N is the right choice for your recording needs.

Design
Let's begin by taking a look at the design of each handheld recorder. Both are remarkably similar in this respect, and each brand seems to have thought about style and durability.
Aesthetically, both the Tascam DR-40 and the Zoom H4N would fit in with any recording set up.
Both digital recorders feature a solid, all-metal design, which ensures they are as durable as possible. This is ideal when you're recording outdoors as the risk of accidentally dropping increases.
However, with a super-tough recording device, any damage occurring is significantly reduced.
Built-In Microphones
While aesthetics and durability are essential, your handheld digital recorder's recording capabilities also need to be of high quality.
Both the Tascam DR-40 and the Zoom H4N are masters in their field here, and both of them feature two built-in microphones.
These microphones operate with a unidirectional polar pickup pattern, which is perfect for outdoor recording.
This is because they will only focus their attention on the sound coming from directly in front of them while simultaneously blocking out any background noise.
So, even if you're recording in a hectic environment (such as a coffee shop or a shopping mall), your vocals will shine through above other noise.
One thing that does separate the two recorders when it comes to their built-in microphones is that the Tascam DR-40 can also be switched from XY to AB recording.
Meaning it can record with an omnidirectional pickup pattern as well as a unidirectional pattern. So, if you're recording a group of people at once, you can place the recorder in the center of a circle, and everybody's vocals will be recorded clearly.
External Microphones
Another fantastic feature that both the Tascam DR-40 and the Zoom H4N have to offer is two XLR connections located on the bottom of the recorder.
This allows you to connect two external microphones and record up to four voices simultaneously!
You're even offered a multitrack function with both recorders, and this allows you to record each voice onto a separate file. This makes editing and mixing easier than ever.
Ease of Use
Of course, being able to navigate your way around your handheld digital recorder is a hugely important factor. And, yet again, both the Tascam DR-40 and the Zoom H4N have been designed to be as easy to use as possible.
Pretty much every function you'll need to access is made readily available through clearly-labeled buttons located directly on the front of the recorders.
So, whether you need to hit record, playback your tracks, or skip back to make sure everything sounds excellent before you start your full recording session, it's all super easy.
It's also effortless to see what microphone you're recording with, your recording time, and other essential information through the large screen that both recorders feature too.
Monitoring
Both the Tascam DR-40 and the Zoom H4N also feature a 3.5mm headphone jack and a volume switch located directly on the bottom.
This is useful for a couple of reasons. First of all, you're able to monitor your levels throughout your recording session.
It's also super useful as you'll be able to record a small section and play it back to check on the quality before you start recording properly.
This undeniably saves you time when it comes to editing. It also eliminates the nightmare scenario of uploading your file to your editing software and finding nothing has been captured!
Memory
When you're recording in a studio, the software you're using will keep your file stored while it's recording.
You'll also be using a computer with a large amount of memory, so storage isn't too much of an issue. However, once you head outdoors, things become a little more complicated.
There is a slight difference between the Tascam DR-40 and the Zoom H4N when it comes to memory.
The first thing to note is that both can record onto SD cards up to 32GB. However, the Tascam DR-40 comes with a 2GB memory card as standard, while the Zoom H4N doesn't come with any included memory card. This means that you'll need to purchase one separately before you can begin using it.
Brands change things up a lot, so there may be a time in the future when the Zoom H4N does come with some memory offerings.
But, for now, if you want that extra bit of value for money, the Tascam DR-40 could be the way to go.
Power
Since you'll be recording remotely with the Tascam DR-40 or Zoom H4N, you'll also need to make sure that a power source is available.
Don't worry; this doesn't mean hunting down a power outlet! Instead, both recorders are equipped with some unique features that will ensure they don't die on you while you're recording!
Both the Tascam DR-40 and the Zoom H4N feature Phantom Power. This means they can be connected to another device, such as a DSLR camera, and feed off the power it uses to function.
This is particularly useful if you'd like to record video and sound simultaneously, without having to rely on a low-quality microphone that's built into your camera.
Each recorder can be powered by batteries, too. The Tascam DR-40 requires 2xAA batteries, and the Zoom H4N also requires 2xAA batteries to function in this way.
You can also establish a permanent power supply by connecting a micro USB to each of these recorders.
This is ideal if you're recording in a studio environment or have access to an electrical outlet when you're recording remotely.
Price
It's no secret that audio recording equipment can be an expensive investment. So, what's the price comparison between the Tascam DR-40 and the Zoom H4N? There isn't a lot in it, but the Tascam DR-40 comes out as the cheaper of the two, with a general saving of around $50.
There is a reason behind this, though! It certainly isn't the lesser of the two recorders in terms of features or functionality, but it has a more evolved counterpart in the Tascam DR 40 X.
The DR40X has some extra features that the Tascam DR40 doesn't; however, the DR40 still stands as one of the best handheld digital recorders you'll encounter.
Aside from it's evolved younger sibling, the only other digital recorder that can show it any contest is the Zoom H4N.
Both recorders also come with a one-year warranty from the date of purchase, so you're offered a little extra value for your money.
Conclusion
Is there an outright winner between the Tascam DR-40 and the Zoom H4N? Both are quite similar, not only in design but also in functionality. And this makes choosing the best a little difficult.
To figure out which would be the right choice for you, you would need to consider your recording needs.
If you're looking to record up to four people at once, then both are good options. However, if you'd like to get clear vocals from a larger group of people, then the Tascam DR-40 would be the better choice.
You've got the option to switch the microphones from unidirectional to omnidirectional recording.
The Tascam DR-40 also comes with a small amount of memory, while the Zoom H4N does not.
However, it's fair to say that the Tascam DR-40 is slowly becoming outshone by a more evolved version of itself. The Zoom H4N is yet to suffer this fate, so arguably, it could be more relevant for a longer time.
Whichever handheld digital recorder you choose, you're guaranteed to get outstanding quality when recording remotely.
You'll even love them so much that you might decide to streamline your entire studio setup into one of these fantastic little devices!