It doesn't matter how top-quality the content or how impressive the guest you've invited onto your podcast is – if your show isn't recorded using proper recording software, it won't have that professional finish that every podcaster wants.
This isn't always an easy thing to find, though. A quick online search will pull up hundreds of different types of recording software, each of which claims to be better than the last. So, the real question is, which is the best?
To take all of the hard work out of it and help you find the best solution for your individual needs, we've put together the ultimate list of the 10 best podcast recording software available.
Are you in a hurry? Let's kick things off by taking a look at our top pick.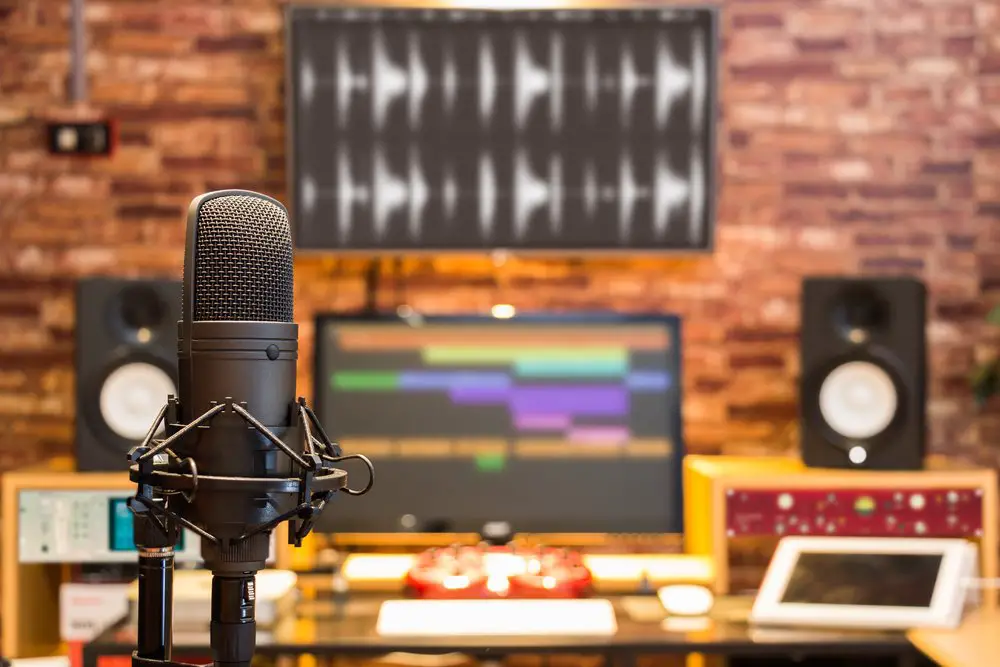 This is one of the most popular DAWs (Digital Audio Workstations) amongst podcasters, and this is most likely because it's packed with features.
The fact that it's totally free to use also makes it a popular choice, especially for new podcast hosts or anybody working with a limited budget.
Here are just a few of the things you can do with Audacity:
Record audio
Record computer playback
Convert cassettes, CDs, and vinyl records into digital recordings
Edit various sound files including WAV, AIFF, FLAC, MP2, MP3, and Ogg Vorbis
Cut, copy, splice, and mix sounds together
Change the speed or pitch of a recording
We know it can record audio, and that's the main goal here. However, it can do so much more than that. In fact, it has the ability to record the kind of high-resolution audio that you would normally associate with premium subscription software.
It's also got an extremely user-friendly interface and is simple to navigate. Clearly-labeled menus and buttons allow you to start recording quickly, and you can even export multiple individual tracks simultaneously.
Another great feature Audacity has to offer, and something that many people overlook when searching for recording software is that it can be used universally across operating systems.
So, whether you use MAC, Windows, or Linux (or you like switching between them), you'll always be able to use Audacity.
GarageBand first came onto the scene around 15 years ago, and since then, it's been a popular choice for podcasters using Mac Operating Systems.
In fact, it's actually an included piece of software on all Apple computers, so if you're starting from scratch and want to keep everything as streamlined as possible, purchasing a Mac as your podcasting laptop would be a good choice.
However, if you're already using a Mac Operating System, then you won't need to worry about spending any extra money downloading GarageBand as it's totally free!
As sound-recording software, it will come as no surprise that it can record high-quality audio, but it also allows you to record and store more than 250 tracks and record with multiple microphones at once. GarageBand has to offer some other useful features that can take your recordings to the next level, too.
The most outstanding of these is a built-in sound library that offers loops and sounds that can be laid over an existing track. It also has various audio editing tools that you can use to cut, splice, and mix your recordings and really give your podcast that high-quality finish.
You've also got a huge variety of file-sharing options, so exporting and publishing each episode of your podcast is easier than ever.
If your podcast has an interview format and you'd like to be able to invite interesting people onto your show from all over the world, then Ringr could be the best podcast recording software for your needs.
Using an app, Ringr connects you with a remote guest and starts recording as soon as the conversation starts. And, once the conversation has finished and you've stopped recording, the file will automatically upload to the Ringr platform.
The Ringr app will also create separate audio files for each person speaking and then merge them to improve audio quality. This is ideal if you'd like a fairly hands-off approach when you're recording, and it takes a lot of the work out of the editing process.
There is a premium subscription needed to use Ringr, and the higher the price goes, the higher the quality of your recording will be.
It also doesn't offer as many editing features as some other podcast recording software. Still, if you're looking for a way to conduct remote interviews with high-quality audio, then it's definitely a good choice.
Resonate Recorder offers perhaps the simplest way of recording audio online, and it's a great choice for any technophobic podcaster!
All you need to do is plug in your microphone and record your podcast directly from your web browser. You can even use your smartphone, which is ideal if you're recording on-the-go.
The recording is saved in a high-quality WAV file, which you can then download when you're done. It's that easy!
Since this software is so simple, there aren't any editing tools or special effects to play with, but this doesn't stop you from adding them in later using a separate editing program.
It's also a great piece of backup software that you can use to record alongside another recording program, making two tracks at once and preventing losing your audio if your primary software fails halfway through your recording session.
If you've been using GarageBand to record your podcasts and are looking to upgrade your software to something a little more professional, then Logic X Pro would be the way to go.
It's remarkably similar to GarageBand in terms of its interface and usability, which means there is much less of a learning curve.
However, as you dive deeper into the features it has to offer, you'll begin to notice how much more powerful it is than GarageBand.
Features such as custom fades and ripple edits allow you to edit each episode of your show and produce it much more efficiently. You can also add sound effects, vintage EQs, and simulate acoustic spaces. And, while some of these features won't necessarily be needed for podcasting, it's good to know you have them if you wanted to change your format a bit.
Be warned, though, Logic X Pro is recording software that has been designed for professional sound recordists. It can also only be used on Mac computers that support 10.13.6 or later versions of the Mac OS. So, if you use a Windows PC or Linux to record with, you won't be able to use this software.
This is one of the oldest recording software products available, and the fact it has been around for so long gives testament to its quality and capabilities.
It has all of the features you need to record in high-quality audio, as well as some editing features that can be used to produce a professional-sounding podcast.
With Pro Tools, you're able to mix multiple tracks and add effects to your existing recordings. You're also able to collaborate with other members of your production team wherever they are by using the included cloud access.
The interface is a little harder to get to terms with unless you're a seasoned podcaster, but it becomes easier to navigate after a few hours of use. It also doesn't do as much intuitive work for you as some other types of recording software. However, once you've learned how to use it, you'll have a new set of skills to add to your bow!
A monthly subscription fee is required to use Pro Tools, although there is a free version with fewer features. You can also download Pro Tools onto multiple computers, so it's a good choice for large-scale podcast production with an entire team of people working on each episode.
Being stuck with a set interface isn't always the best thing. We all learn in different ways and have different production needs, after all. So, if you'd like to customize your workspace, but you've yet to find recording software that allows you to do this, you need Reaper!
With Reaper, you're able to customize the layout fully and many of the features to better suit your needs and preferences. You're also able to store and work on an unlimited number of tracks, and you have access to an unlimited number of effects that you can use to edit your recording.
Despite its power and seemingly limitless abilities, Reaper remains an affordable option, one of the many reasons it's so popular within the podcasting community.
Reaper's developers are also constantly updating its functionality too, so you'll be constantly offered new and exciting features that you can use to produce the best podcast possible.
Over the last couple of decades, Adobe Audition has established itself as one of the very best editing software products on the market.
It is equipped with a huge range of recording and editing tools that are easy to use regardless of your audio-editing skill level. This makes it a great choice for experienced and new podcasters alike.
It supports high-quality recording on more than 32 tracks, so it's also a great choice for an interview or panel-show format podcasts. And, amongst the plethora of editing effects on offer, it's the DeNoise effects that really make this recording software stand out.
This allows you to remove any background noise that has appeared on your recording. So, if you've accidentally chosen the wrong type of microphone to record on or you've been recording in a boisterous environment, you'll still be able to produce a high-quality piece of audio with clear vocals.
Adobe Audition requires a subscription, which can be purchased as a one-off payment or through a monthly subscription. However, there is no contract, so if you only need to use it for a short amount of time, you'll be able to cancel without having to continue paying for the license.
If you have a multimedia podcast with video and graphics as part of its brand, you can also grab Adobe Audition in an Adobe Bundle. This will allow you to keep all of your editing and recording software in one place, rather than having to use separate programs for separate things.
Hindenburg Journalist is a record software product that is ideal for a variety of uses. It can be used for solo recording as well as interviews and co-hosted podcasts. It's also super easy to use and can be navigated without any trouble, even if you're not 100% confident with audio recording yet.
Once you've recorded an episode of your podcast, Hindenburg Journalist allows you to import and edit all audio file types, regardless of their bit rates or sample rates. This gives it a fantastic universal appeal.
It also has a Voice Profiler tool that creates EQs automatically and improves the quality of your recordings by balancing the highs and lows for you.
This takes a lot of work out of the editing process, which isn't only a great thing for anybody new to editing but also frees up quite a bit of time so you can focus on creating top-quality content instead of spending hours in the editing suite.
Several other useful editing features will help you produce a great-sounding podcast. These include fade-in and fade-out effects and a range of tools that can help you edit out any mistakes.
Hindenburg Journalist also lets you upload your podcast episodes directly to Loudness, Libsyn, or Soundcloud. You can even add host, show, and RSS details without having to switch to a separate piece of software.
These features come at a cost, though, and Hindenburg Journalist is a little more expensive than some other recording software products. However, for the features and flexibility it offers, it is a fairly justified price tag.
If you're looking for podcast recording software that is incredibly easy to use, then Zencaster should be at the top of your list. It's also ideal for podcasts with an interview format, as all you need to do is send a link to your guest, and the entire conversation will be recorded in lossless 16-bit 44.1k quality.
While recording, Zencaster will automatically separate each guest's vocals onto individual tracks. This prevents any drop-offs from happening during the interview and makes it much easier for you to edit certain parts of the conversation where necessary.
Recording can either be done online using your web browser or by downloading the Zencaster app. Within the app, you'll find a soundboard that lets you add intros and outros to each episode of your podcast using just a few simple clicks.
All recordings are also edited automatically by Zencaster, so there's no need to spend too much time going through the editing process or adjusting audio levels.
As Zencaster is online recording software, there is no installation required, and it can be used across all operating systems. This makes it one of the most convenient and easy-to-use platforms available, and, what's more, it can also be used to record from anywhere in the world.
So, if you're interviewing a guest from a different country or want to break free from the studio's restraints, Zencaster is a great tool for allowing you to do this without sacrificing sound quality.
There are two versions of Zencaster available to choose from. The free version gives you access to basic recording and editing capabilities, while upgrading to a premium version will unlock all of the features. For the most part, however, the free version will usually be more than capable of handling all of your podcast's needs.
However, it is worth noting that the free version will only allow you to record up to two guests at once, and you're limited to a maximum of 8 hours of audio recording each month.
So, if your podcast exceeds this time (or if you have multiple podcasts), then you'd be better off upgrading to a paid subscription.
It allows you to record audio through the microphone in your computer, phone, tablet, or any device. You can record your screen and webcam, too. You can save and download as files or share the recordings via a unique link.
Quick Reference Guide
If you're still not sure about which recording software would be best for your podcast, take a look at the quick reference guide we've put together below. This will make it easier for you to match each against your skill level and your budget.
| | | | |
| --- | --- | --- | --- |
| Podcast Recording Software | Best For | Supported Operating System | Price |
| Audacity | All skill levels | Linux, Mac OS, Windows | Free |
| GarageBand | New to intermediate skill levels | Mac OS, iOS | Free |
| Ringr | All skill levels. Also, particularly good for podcasters who conduct remote interviews | Web-based, Android app, iOS app | Price plans start from $7.99 per month |
| Resonate Recorder | All skill levels | Web-based | Free |
| Logic X Pro | Experienced podcasters | Mac OS | $199.99 |
| Pro Tools | Experience podcasters | Windows, Mac OS | $29.99 per month, although different pricing plans are available |
| Reaper | All skill levels | Windows, Mac OS | $79 – $599 |
| Adobe Audition | Experienced podcasters | Windows, Mac OS | $20.99 per month |
| Hindenburg Journalist | All skill levels | Windows, Mac OS | Price plans start at $95 |
| Zencaster | All skill levels. Also, particularly good for podcasters who conduct remote interviews | Web-based, Android app, iOS app | Price plans start at $20 per month |
If you're looking for software that is more geared towards editing than recording, then Descript is a fantastic choice. It has a powerful set of tools that allow you to record remotely, transcribe, edit, and overdub audio, which is particularly useful if you create video content alongside your podcast.
It's also a super useful tool if you want to edit your podcast's content and length. For example, if you want to create episodes that are only around 30-minutes in length, but you have an hour's worth of audio recorded, you can use descript to cut and delete unnecessary audio easily.
It also allows you to record across multiple tracks and export each recording to be easily compiled into a master file.
However, one of the best features that Descript has to offer is its transcription function. This allows you to create an unlimited number of transcriptions for your podcast and boost your SEO discoverability. In turn, more listeners are drawn to your show, and your audience number continues to increase.
There is a free version of Descript available, which covers the basics of audio recording, but if you'd like to unlock all of the features, you'll need to upgrade to the premium version. It's still fairly affordable, though, and comes in at a much lower price than some other software available.
Final Word
From the list of podcast recording software we've listed above, you can see that there is a choice for everybody regardless of skill level or budget.
If you're really looking for a way to get the best value for your money, or if you'd like to keep your entire recording and editing process as streamlined as possible, then it would be a good idea to choose recording software that is packed full of features. This is also a good way to go if you're thinking about turning your podcast into a lucrative business that will attract advertisers.
However, if your podcast is more of a hobby and you're looking for a way to record high-quality audio in the easiest way possible, then a free version will be more than suitable for your needs.
You may even find it's easiest to use a web-based program or one that comes with an app, as you won't have to worry about installing it or making sure you've got the correct operating system to use it with.
Whichever you go for, one thing is certain – using a good piece of podcast recording software will allow you to spend less time worrying about the quality of your recording and spend more time creating top-quality content that will allow you to grow your audience numbers!