The Shure MV7 and the SM7B are popular dynamic microphones that can be used for various applications. They are similar, but some characteristics set them apart.
Which microphone is better for streaming? I'll evaluate the two mics in this article.
Key Factors for a High-Quality Streaming Microphone
First, let's examine what makes a microphone suitable for streaming.
Namely, if you're doing voice recording work, you want to focus on delivering great content and audio for your streams.
And to make that possible, you will need a reliable microphone that produces a clear sound.
With that said, a streaming microphone should have the following characteristics:
Clear audio quality and ability to capture audio with minimal ambient noise
directionality: directional mics are preferred for streaming as they pick up sound from one angle and focus on the streamer's voice
easy to use: your streaming microphone should be easy and intuitive to set up and use
durability: aim for a durable mic you will use for years to come
price: streaming mics can vary in price, so make sure to stick to your budget
Features
Next, let's take a closer look at the pros and cons of both microphones.
Shure MV7
Pros
Dynamic: Dynamic microphones like the Shure MV7 are great for streaming because they help eliminate ambient noise and create a rich, focused sound.
Versatility: The mic features both XLR and USB connectivity, which makes it suitable for different types of equipment
Sound quality: The Shure MV7 is suitable for voice recording and creates a high-quality sound
Ease of use: It's simple to set up and use, even for beginners
Compatibility: The model is compatible with both PC and Mac
Optimized for podcasting: It can be used for different recording scenarios, but it's perfect for podcasting and singing
Cons
Price: The Shure MV7 is a mid-range microphone but could be an expensive investment for some users
Stand or mount are not included.
Weight and portability: The mic is on the heavier side and might be harder to carry around
Shure SM7B
Pros
Dynamic microphone designed for recording speech and vocal performances
High-quality sound: The mic is known for premium sound quality and for producing smooth, clear recordings
Durability: This microphone has a solid, robust construction, and it's built to last
Versatility: This is a multi-purpose microphone suitable for singing, broadcasting, streaming, and the like
Flat frequency response is good for capturing vocals or instruments
Integrated pop filter that helps eliminate background noise
Cons
Price: The SM7B is a good investment but not ideal for people on a budget
Connectivity: Unlike MV7, the SM7B only features XLR outputs and no USB connectivity
More suitable for professionals rather than beginners
Premium Choice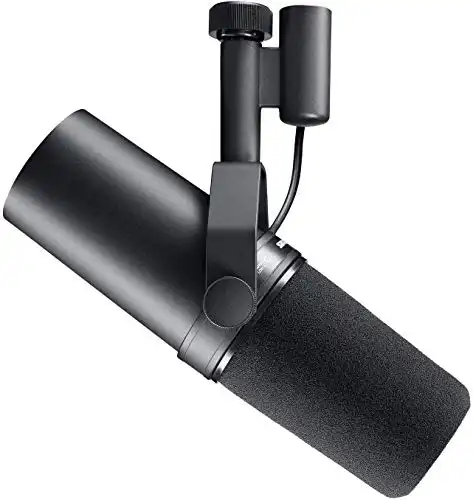 Audio quality
While both dynamic microphones create impressive sound quality, the Shure SM7B is arguably better.
Namely, the SM7B is an industry classic for a good reason. It creates a warm, rich sound and is better suited for capturing instruments.
According to online reviews and comparisons, the SM7B sounds more natural than the MV7.
The MV7, on the other hand, is more of a close-proximity microphone, and it does a better job of capturing speech than singing, for example. While it might not be the best choice for singers, it is a solid piece of equipment for streaming.
Additionally, the Shure MV7 mic is made purposefully for podcasting and offers plenty of features that can come in handy when streaming.
Check out this video for a more detailed comparison of the two microphones.
Ease of Use
The Shure MV7 is a user-friendly microphone made for podcasting, and it's considered a more affordable version of the SM7B. Its built-in headphone output and touch panel make this microphone easy to use, even for beginners.
However, not everyone prefers its touch controls, as this reviewer states they are far from perfect.
Although the Shure SM7B is considered the more advanced model, it is still fairly easy to use. One of the things that makes SM7B easy to use is the built-in pop filter.
However, the SM7B does not feature USB connectivity and requires preamps and an audio interface.
Price and Value for Money
When choosing a microphone, one crucial factor to consider is the price.
If you're starting with content creation, you probably want to be conscious about your budget and the money you put into it.
And if you're streaming professionally, you might also want to look into models with a hefty price tag.
Both microphones have excellent capabilities, but for creators with a tighter budget, the MV7 is the better option.
The SM7B, however, is intended for professional use and is, therefore, the more expensive choice.
User experience
The Shure MV7 received plenty of positive comments in online reviews.
Those who tried it describe the microphone as durable, versatile, and producing superb sound quality.
One user mentioned the MV7 is an excellent choice for gaming and streaming and that he was impressed with it. Another user went so far as to say this was the best microphone he had ever purchased.
Some users criticized the touch controls and stated they needed improvement. Some people also think this microphone is overpriced and that there are alternatives in the same price range or lower.
Based on reviews, the Shure SM7B is not the industry standard for no reason. Users have praised this mic for its versatility and performance.
One reviewer stated that this microphone would help you achieve the sound of professional YouTubers and podcasters.
Among many positive reviews, there were also some negative experiences. One customer said he didn't like how close he had to stand to the microphone for it to work.
Final thoughts
In conclusion, both microphones offer plenty of benefits for streaming and podcasting, and you won't be disappointed in whichever you choose.
Many streamers would prioritize sound quality in a mic, and the SM7B is superior when it comes to that. However, the Shure MV7 is made explicitly for podcasting and is also a good choice for streamers.
Consider your needs and budget and decide what works best for you.
Frequently Asked Questions
Can the Shure SM7B be used for music recording as well as streaming?
Yes! The SM7B is a versatile microphone that can be used for podcasting, voice recording, as well as recording vocals and instruments. It has been widely used in recording studios for different musical genres.
Is SM7B worth it?
Depending on your budget, the Shure SM7B could be one of the best microphones to add to your recording setup. Many reviews have confirmed that it sounds as good as mics of $800 or more.
The SM7B is an industry standard for a reason and is worth the price.
Is the Shure MV7 compatible with Mac and PC?
Yes, the MV7 is a highly compatible microphone that can be used on Mac and PC using its USB cable.
Do I need a pop filter for the Shure MV7?
While you may use another pop filter on the Shure MV7 (such as the one from SM7B), the MV7 comes with its own cover. A pop filter is essential to prevent plosives, especially if you're working with inexperienced vocalists.
Does the Shure MV7 require any additional software or drivers?
No, the MV7 can be used alone without any additional software. It can, however, be used with the ShurePlus MOTIV app for additional features. The app can adjust mic gain, monitor mix, EQ, limiter, compressor, and more.
How important is microphone placement for streaming?
Microphone placement is one of the most critical aspects of streaming or any recording in general. Your microphone should be close enough to your mouth but not too close that it picks up unnecessary breathing or other noises.
Try experimenting with different distances and placements until you achieve your desired sound.
Should I use a USB or XLR microphone for streaming?
That depends on your recording needs. USB microphones are generally easier to use and set up, as they can be directly plugged into any computer or device.
However, XLR mics require an external audio interface or mixer to connect to a computer, and they can also be a little more expensive. So a USB mic might be a better option if you're a beginner.
How much should I spend on a streaming microphone?
A good microphone is the foundation of your streaming equipment and should be high quality. However, it doesn't need to cost a fortune, as many budget-friendly options are available, starting at $50.
In general, you can expect to invest around $100 or $200 in a streaming mic that will produce clear audio.