Microphones are a crucial component of any recording studio, and there are countless options on the market. Shure has been a trusted brand for many musicians and podcasters, and the MV7 and SM58 models are no exception.
Both are excellent in their way, but there are some differences.
Let's take a closer look at these two microphones and determine which is better suited for your needs.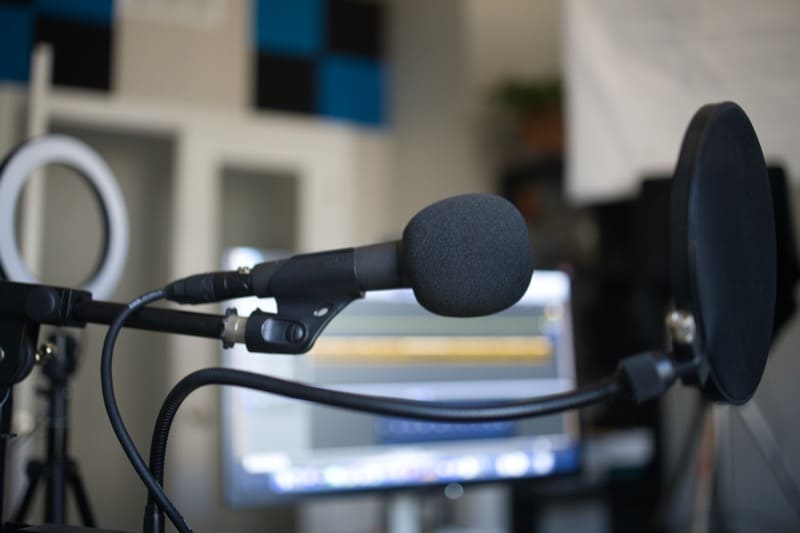 Features
To start, here are the technical specifications of the MV7 and SM58.
Shure MV7
Microphone type: Dynamic
Connectivity: USB/XLR
Frequency response:  50Hz-16kHz
Sensitivity: Unidirectional: -55 dBV at 1 kHz; Unidirectional: -47 dBFS/Pa at 1 kHz
Accessories: Micro-USB Type-B to USB Type-C Cable; Micro-USB Type-B to USB Type-A Cable
Weight: 550g
Shure SM58
Microphone type: Dynamic
Connectivity: XLR
Frequency response: 50Hz-15kHz
Sensitivity: -56.0 dBV
Accessories: XLR 3-pin cable, windscreen, microphone clip
Weight: 327 g
Similarities and Differences
Here are some key similarities and differences between the Shure MV7 and SM58 microphones:
Similarities:
Both are designed for recording vocals, such as podcasting, singing, and voiceover
Both have a cardioid polar pattern, which means they mainly capture sound directly in front of the microphone while rejecting sounds from the sides
Both have a similar frequency response that is optimized for vocals
Differences:
The Shure MV7 is a hybrid microphone with both USB and XLR connectivity, while the SM58 is an XLR-only microphone that requires an audio interface or mixer
The Shure MV7 has a LED touch panel that can be used to adjust various settings, while the SM58 lacks this
The Shure MV7 is more expensive
The SM58 is a more classic microphone that has been an industry standard, while the MV7 incorporates more modern features.
Design
The Shure SM58 is designed for handheld use, while the MV7 is a studio microphone typically placed on a stand or boom arm.
The Shure MV7 has a touch panel interface that can be used to control gain, headphone level, monitor mix blend, and muting. With its touch panel and real-life headphone monitoring, the MV7 is more modern in design.
You will love the SM58 if you prefer a simpler and old-school design.
It might look ordinary, but the build quality is outstanding. This is a microphone that will stand the test of time.
Ease of Use
These microphones are relatively easy to use once you get familiar with their features. The SM59 is a classic, more straightforward microphone, while the Shure MV7 offers more flexibility.
While both microphones are dynamic, they have different connectivity.
Unlike the Shure MV7, which offers XLR and USB connectivity, the Shure SM58 is XLR only. That means it will need an audio interface or mixer to work.
With that said, both microphones are beginner friendly.
Audio Quality
Both microphones can create excellent audio, but they sound pretty different.
The Shure SM58 has been a staple in the industry and is loved by many musicians for its warm, smooth sound. It is known to emphasize midrange frequencies, creating clear and articulate audio.
The SM58 can be used for recording vocals but has primarily been used for live performances. It is known to have excellent noise rejection.
The Shure MV7, on the other side, has a more natural sound. It also features voice isolation technology that should eliminate as much background noise as possible.
The MV7 is widely regarded as a mic that creates an authentic "radio presenter sound".
To hear how they both sound, check out this first-hand comparison.
User experience
Many people have praised the Shure MV7 for its sound quality, while the Shure SM58 is known as an affordable and reliable mic.
A reviewer noted that the SM58 is better for singing and the MV7 for speaking.
According to this user, the Shure MV7 is much more forgiving of greater working distances, and the Shure SM58 will most likely need a booster amp.
Another person stated that the SM58 is the best microphone out of the affordable options he tried. One reviewer even went so far as to say that the SM58 is "THE mic that every voice sounds good on".
Price and Value for Money
Overall, both microphones are excellent for their respective price points. The MV7 is significantly more expensive, but it has some advantages, such as the touch panel and modern design.
The Shure MV7 provides more flexibility because it's an XLR and USB microphone.
However, if you are looking for a durable and reliable mic, the Shure SM58 will not disappoint. But remember, this microphone needs an audio interface/mixer to work, which can be an additional cost if you don't already own one.
Final Words
In conclusion, the choice between the MV7 and SM58 Shure microphones is a matter of preference.
The MV7 has a more modern look and feel and is primarily designed for streaming and podcasting. The SM58, on the other side, is a classic, widely popular dynamic mic ideal for live performances.
So if you're a beginner or professional podcaster, the MV7 may suit you better. However, if you're looking for a cheaper alternative, the SM58 will work just as well.
Frequently Asked Questions
Is the Shure SM58 good for recording vocals?
Yes, the Shure SM58 has a frequency response optimized for vocals, which is ideal.
Why is the Shure SM58 so good?
The SM58 is a rugged, durable microphone with a balanced frequency response and good noise rejection. It's one of the best in its class and a true industry staple.
Does Shure SM58 need phantom power?
No, the SM58 is a dynamic microphone and therefore doesn't need phantom power.
Is the Shure SM58 wireless?
Yes, the SM58 is available in a wireless version. It can be used for live performances, with the ability to move around freely.
Here's a video if you want to learn how to set up the wireless SM58:
Should you use a condenser or dynamic microphone for studio recording?
Both dynamic and condenser mics are suitable for studio recording.
A condenser mic might be more appropriate if you record many subtle details. But a dynamic microphone might be better if you want to capture a high-energy drum track or loud riff.
Is the Shure MV7 a USB microphone?
The Shure MV7 is a hybrid USB/XLR microphone, which means it offers USB and XLR connection via their respective outputs.
Can I use the Shure MV7 with a smartphone or tablet?
Yes. You can easily connect the microphone to a device using a USB cable. The MV7 is versatile and can be used with all platforms: PC, Mac, Android, and iOS.
Is the SM7B better than the MV7?
Not many mics can compete with the outstanding Shure SM7B. It produces slightly better audio and has a broader frequency range than the MV7. It is also better suited for recording instruments.