If you're new to podcasting or have been doing it professionally, you are probably looking for an efficient microphone.
The Shure MV7 and the Rode PodMic are both popular dynamic microphones for podcasting and content creation, and they each have their unique strengths and weaknesses.
I will closely examine both products in this article and help you determine which is right for you.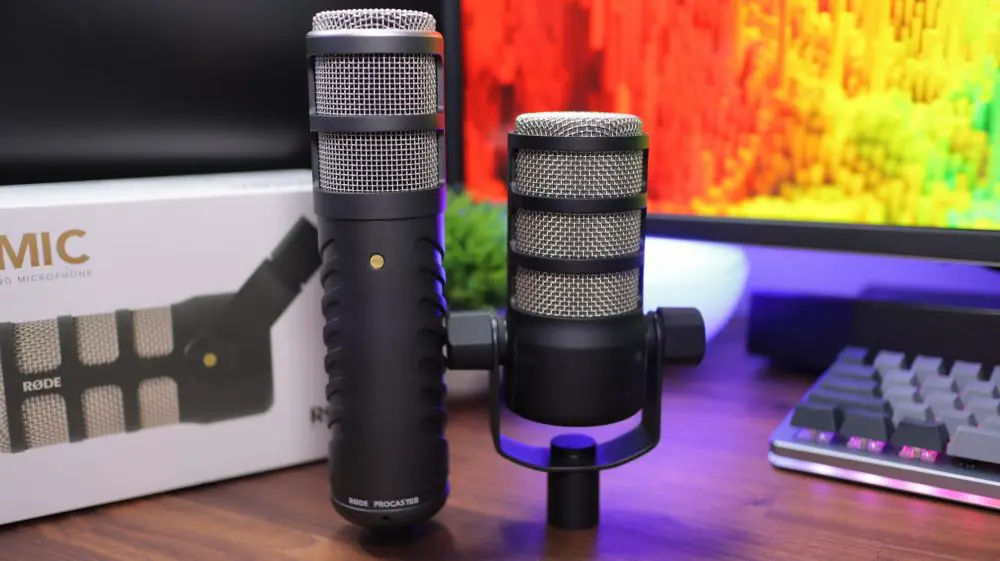 Features
To get a general idea of both mics' capabilities, let's look at their specifications first.
Shure MV7
Microphone type: Dynamic. Dynamic mics are rugged, versatile, and often used for live performances, streaming, and podcasting.
Frequency Response: 50 Hz – 16 kHz
Polar pattern: Unidirectional (Cardioid), which helps to minimize background noise
Sensitivity: -55dBV/Pa. This sensitivity is typical for a dynamic microphone, and it's suitable for many purposes
Connectivity: USB and XLR. The Shure MV7 can be connected to computers and other digital devices through USB and to mixers and preamps through XLR.
Weight: 1.21 lb / 0.55 kg
Rode PodMic
Microphone Type: Dynamic microphone optimized for various recording applications
Frequency Response: The Rode PodMic has a fairly standard frequency response of 20Hz – 20kHz
Polar Pattern: Cardioid
Sensitivity: -57dBV/Pa
Connectivity: XLR. Though similar in price to many USB mics, the Rode PodMic doesn't offer a USB output connection. That means you will need to have an audio interface to connect this mic to
Weight: 2.1 lb / 937 g
Internal pop filter and internal shock mount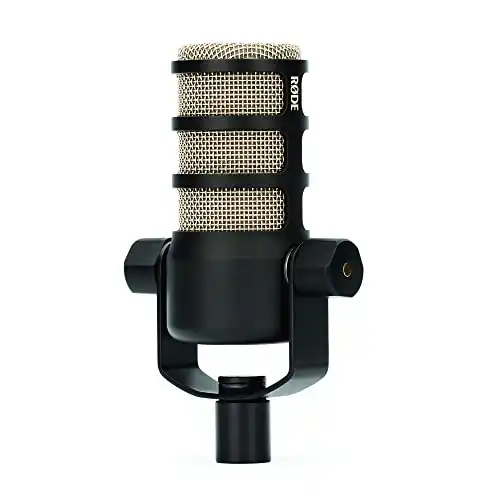 Design
For most people, design is as important as functionality. Luckily, with these microphones, you'll get both.
The Shure MV7 is a well-designed, sleek microphone with a robust build. The model is available in black and silver color options, so you can choose whichever suits your setup best.
It is compact and doesn't take up much space, which is especially good for those with limited space.
This mic is portable, easy to carry, and set up in different situations.
On the other hand, the Rode PodMic looks and feels like a high-quality piece of equipment. Its black metal finish and robust construction make it a great addition to any recording setup.
The Rode PodMic is also the heavier option weighing 2Ibs, but many users defined it as a "tank" and "beast" and guarantee you will use it for years.
Sound Quality and Performance
Both the Shure MV7 and Rode PodMic are dynamic microphones. Dynamic mics are typically less sensitive to ambient noise and can handle high sound pressure levels without distorting the recording.
Specifically designed for voice recording, the Shure MV7 mic is an excellent choice for any musician, podcaster, or content creator. Its cardioid polar pattern allows it to capture sound from the front of the microphone while minimizing background noise.
For a hands-on test of the Shure MV7 sound quality, take a look at this video:
Aside from a remarkable design, the Rode PodMic also features excellent sound quality.
The microphone has been widely praised for creating a warm, rich sound and clear recording. The microphone effectively handles background noise thanks to an integrated shock mount and pop filter.
If it is used with EQ, the sound of this microphone can go from great to exceptional.
Check out this YouTube video for a sound test and review of the Rode PodMic:
Ease of Use
Most creators look for a user-friendly device to help them easily capture great audio.
The Shure MV7 is widely popular in the podcasting industry, and it's easy for podcasters of all skill levels. It offers an intuitive design and guarantees a comfortable recording experience.
It can be used with a wide range of recording software, and one of its strong points is USB connectivity.
The Rode PodMic offers only XLR connectivity and requires an audio interface.
If you already don't have one, this could be an additional setup cost. Aside from this drawback, it is also considered pretty easy to position and use.
Value for Money
The Rode PodMic is an excellent option for those on a budget, as it is significantly cheaper. It is a durable and functional mic and has tremendous value for the price.
The Shure MV7 is more expensive for a mid-range microphone and could be costly for many podcasters, especially those starting out.
However, remember that the Rode PodMic comes at the expense of owning a mixer or audio interface, which could cancel out the price difference if you need to purchase extra stuff.
Ultimately, it's essential to consider your budget and recording needs before deciding.
User experience
The Shure MV7 microphone is highly rated for its performance by users. Many reported the mic is excellent for streaming, podcasting, online meetings, etc.
Users praise its versatility and reliability as a USB microphone. However, the touch-sensitive volume control on the unit has been criticized for its small size, which makes it difficult to use.
One user also stated that the mic isn't the best for singing as it creates a harsh sound.
Similarly, the budget-friendly Rode PodMic also received mixed ratings.
Its quality and durability impressed many users, but some were dissatisfied with it.
One person struggled with equalizing the Podmic; she reported that minor adjustments could lead to feedback issues.
Final Words
All that said, these microphones have distinctive features and flaws.
One significant advantage of the Shure MV7 in this comparison is USB connectivity. The PodMic lacks this feature, and if you decide to go for it PodMic, you will need an audio interface.
The RodePodmic is the cheaper alternative and a great choice if you're on a budget. But if you are ready to invest more money in your equipment, the Shure MV7 is the way to go.
Whatever your choice, try to make the most of your mic. Happy podcasting!
Frequently Asked Questions
Does the PodMic need a shock mount and pop filter?
Rode PodMic already has a built-in pop filter, so there is no need for an external one. Additionally, the microphone cannot be mounted to a shock mount because of its swinging design.
Does Rode PodMic need an interface?
Yes, it does. The PodMic is an XLR output microphone and doesn't have USB connectivity, so it must be used through an audio interface.
Can I use the Rode PodMic for recording instruments?
Yes. While the PodMic is primarily designed for vocal recording, it can also be used to record various instruments such as guitars, drums, and other sources.
And because it's a dynamic microphone, it is less sensitive to background noise, making it suitable for recording musical instruments.
Can I use the Rode PodMic with a USB?
No, the Rode PodMic doesn't have USB connectivity – it is an XLR-only microphone.
Is the Shure MV7 noise-canceling?
Yes, it is highly effective at canceling ambient noise and eliminating reverb that occurs when the voice bounces off walls or floors.
Does the Shure MV7 sound good?
The Shure MV7 is known for capturing outstanding audio. It creates a clear and crispy sound, unlike the SM7B, which is smoother sounding. The MV7 is a professional microphone that can compete with more expensive models in terms of sound quality.
Can I use the Shure MV7 with an interface or mixer?
Yes, this microphone is compatible with your audio interface, field recorder, mixer, or computer. It can also be connected to a smartphone or Android/iOS device.
Does the Shure MV7 require any additional software or drivers?
No, the MV7 doesn't need any additional software. However, you can install the ShurePlus MOTIV app to access additional features and gain control over your recordings. The app is available for Windows and Mac computers.