Choosing a microphone is an essential step in the podcasting world. Ultimately, you want a reliable mic to help create a good listening experience for your audience.
Two popular options are the Shure MV7 and Blue Yeti. They are both versatile mics that have much to offer.
But which is superior? Let's compare the two microphones side by side.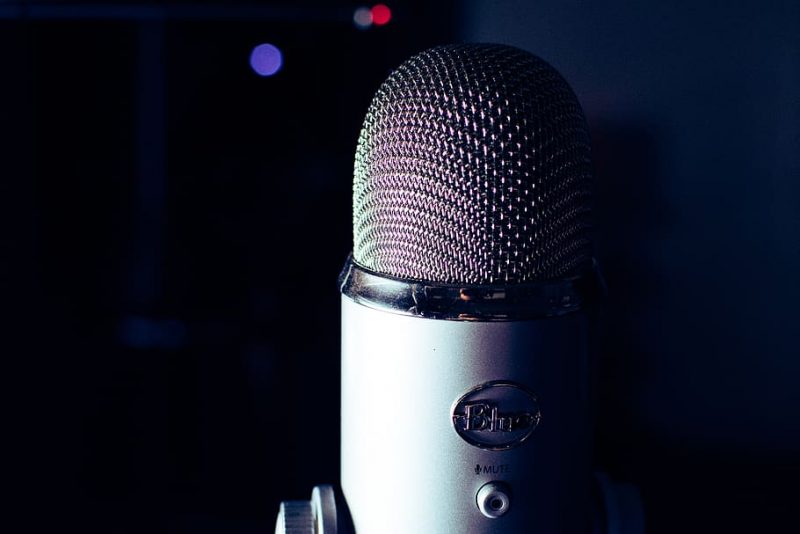 Features
First, let's dive into some technical details about these two microphones.
Shure MV7
Shure is known for delivering versatile, high-quality microphones; the MV7 is no exception. It can be used for various recording scenarios but is predominantly intended for podcasting.
Microphone type: Dynamic. Dynamic mics are rugged, versatile, and often used for live performances, streaming, and podcasting.
Frequency Response: 50 Hz – 16 kHz
Polar pattern: Unidirectional (Cardioid), which helps to minimize background noise
Sensitivity: -55dBV/Pa. This sensitivity is typical for a dynamic microphone, and it's suitable for many purposes
Connectivity: The Shure MV7 offers both USB and XLR connectivity
Weight: 1.21 lb / 0.55 kg
Blue Yeti
If you've been searching for microphone recommendations online, you must have encountered the Blue Yeti.
The Blue Yeti is a best-selling USB microphone popular among podcasters and content creators. It stands out for its professional recording capabilities and affordable price.
Here are some of its key features:
Microphone type: Condenser
Frequency Response:  20Hz – 20kHz
Polar pattern: Blue Yeti offers four polar patterns: cardioid, bidirectional, omnidirectional, and stereo, making it ideal for recording one or multiple people
Sensitivity: Adjustable. You can tweak sensitivity to your preference by using the gain control on the mic.
Connectivity: The Blue Yeti is a USB microphone
Weight: 1.2 lbs / 0.55 kg
Design and Ease of Use
These microphones have similar metal bodies but look very different once you remove the windscreen.
Shure MV7
The Shure MV7 is smaller and lighter than Blue Yeti. It has three inputs: a headphone jack, an XLR cable, and a micro-USB cable. It also features touch sensors to adjust the volume or mute it.
Remember that the windscreen that comes with Shure MV7 may not be the best, but you can also use the SM7B windscreen on this model.
Also, if you use the MV7 as a USB microphone, it comes with free software you can use to access additional features.
Our Pick for In-Person Interviews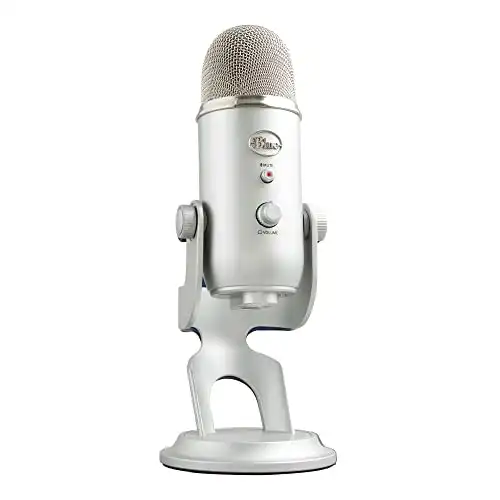 Blue Yeti
As for Blue Yeti, it is one of the most professional-looking microphones out there. It's a popular pick among Youtubers, so you've probably seen it in a video somewhere.
On the back, there are dials that can be used to control the gain and setting of the mic. The Blue Yeti will require a pop filter, and it is advised to invest in one for this mic to reduce background noise.
Audio quality
These microphones can produce fantastic audio but are different in some ways. The Shure MV7 has more of a warmer sound, while Blue Yeti can sometimes pick up on a lot of echo and surrounding sounds.
You can use gain control on Blue Yeti to control audio and tweak the settings to your preference. Meanwhile, if you use MV7 as a USB mic, you can access a wide range of features that will enhance the sound of your recording.
Additionally, the Shure MV7 allows you to have complete control over how your voice sounds, as you can choose between different tones, such as dark and bright. Most people go for the dark option and say it's more natural sounding, but it comes down to preference.
For more in-detail comparison, check out this video:
Price and Value for Money
In terms of price, the MV7 is the more expensive option, and it's specifically made for podcasting and streaming. Meanwhile, the Blue Yeti is more affordable and could be better on a budget.
However, the Shure MV7 offers some advantages over Blue Yeti, such as better voice isolation and plenty of features.
As mentioned in the specs, the MV7 offers XLR and USB connectivity, making it a more versatile option than Blue Yeti.
But if you don't need additional features, you'll be good to go with Blue Yeti because it's functional in its own way. With the tri-capsule array, you can switch between polar patterns depending on the sound you want to achieve.
User experience
Reviewers agree that the Shure MV7 is an excellent USB microphone well-suited for podcasting but has some flaws.
Namely, several people have commented that the touchpads on MV7 could be improved. One user also said while MV7 is great for podcasting and Zoom calls, he couldn't create professional sound with it.
However, another reviewer stated that the MV7's audio quality is top-notch, so it all comes down to personal preference.
One person revealed that they have much less effort to produce clear sound now that they switched from Blue Yeti to Shure MV7.
As for Blue Yeti, users have praised this microphone for being suitable for various applications like podcasting, singing, gaming, etc.
One person stated they were disappointed initially with the sound, but the quality drastically improved once they started speaking directly in the mic.
One podcaster commented they always used the Blue Yeti and called it a "must-have for professional podcasts".
Conclusion
The Blue Yeti and Shure MV7 are excellent podcasting mics at different price points. Ultimately, you need to consider your needs and budget before deciding.
If you're only starting, the Blue Yeti is an affordable, versatile option many content creators recommend. However, if you want to achieve excellent sound quality and keep noise to a minimum, the MV7 might be better.
Whichever you choose, I'm sure you'll be able to unleash your creativity and create excellent content.
Frequently Asked Questions
Can I use the Shure MV7 with a shock mount and/or audio interface?
The Shure MV7 doesn't need a shock mount because it has enough internal shock mounting to isolate the sound properly.
As for an audio interface, the MV7 has multiple outputs and can be used with various devices, computers, mixers, and interfaces. And because it has both USB and XLR connectivity, you can also use the MV7 without an audio interface.
Can I use the Shure MV7 for music recording?
Absolutely, yes. The Shure MV7 is more than a podcasting mic and works well for recording vocals. Musicians in recording studios widely use Shure microphones. It might not be adequate for musical instruments, though.
Which is better, MV7 or SM7B?
While the SM7B is known as an industry standard, the MV7 doesn't fall too far behind. The MV7 may be better suited for speech and podcasting, while the SM7B can record anything from rock vocals to heavy drums.
Is Shure MV7 good for background noise?
Yes, the MV7 is optimal for minimizing ambient noise in your recordings. This mic is naturally insensitive to low rumblings that cause background noise thanks to its cardioid polar pattern.
Is the Blue Yeti intended for professional use?
Yes, but beginners can use it too. However, it might work better in the hands of someone more professional.
Why do people buy Blue Yeti?
The Blue Yeti has been among the most popular podcasting and voiceover microphones in recent years. It's relatively affordable but still offers great features such as high sound quality, usability, and versatility.
Is Blue Yeti good for Discord?
It is one of the most popular microphones on the market, and tons of people use it for Discord and voice chat. It can be used for live streaming, ASMR, gaming, podcasting, singing, and other applications.
Is The Blue Yeti good for gaming?