When starting in the podcasting business, choosing the right equipment is highly important.
The Rodecaster Pro and Zoom H6 are both popular digital audio recorders used by podcasters and recording studios. In this article, I will explore the differences and similarities between the two and help you determine the most suitable one.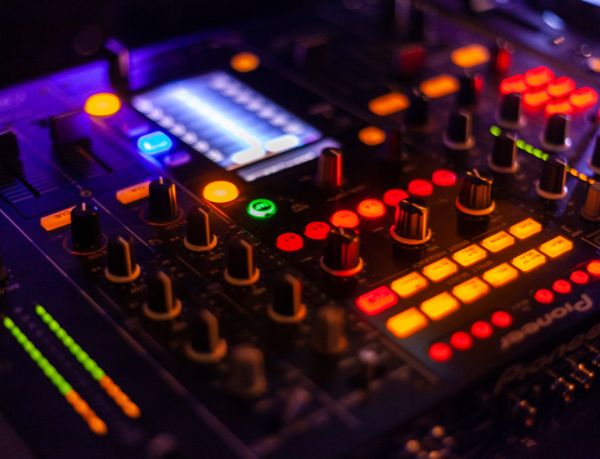 Features and Capabilities
Rodecaster Pro
According to Rode, the Rodecaster Pro is one of the world's most powerful all-in-one solutions for podcasting. Here are some of its key features:
Multitrack recording: Rodecaster Pro allows you to record up to four sound sources at the same time, making it ideal for podcasts with multiple guests
Eight programmable sound pads: make your podcast more engaging by adding sound effects, music, or any other audio clip to your track
Four microphone inputs: having multiple inputs helps record numerous people simultaneously and apply effects and mixing to individual microphones.
Bluetooth connectivity: integrate your smartphone, tablet, or laptop for added versatility and remote recording
High-quality microphone pre-amps: make the most of your mic by adjusting input levels and enhancing sound quality
Over 50 studio-quality sound effects and processing tools
An intuitive interface makes it easy to use for podcasters of all levels of experience
Our Pick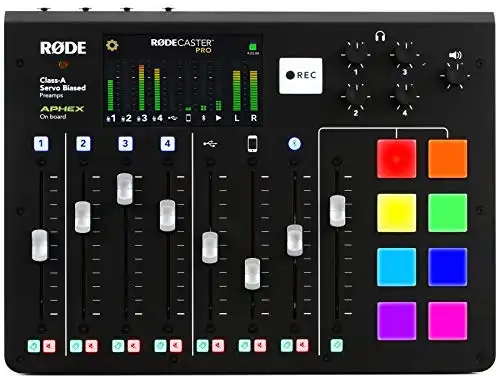 Zoom H6
The Zoom H6 is a versatile, portable audio recorder suitable for different recording scenarios. Some of its key features include:
Interchangeable microphone capsules: switching between microphone capsules allows you to adapt to different recording situations
Six-track recording: great for multi-person interviews or music recording sessions
Multiple inputs: the H6 offers four XLR/TRS combo outputs, as well as two 1/8″ outputs (stereo line out and headphone out) with dedicated volume control
Onboard effects: use compression, limiting, low-cut filtering, and reverb to adjust the sound quality of your recording
Portable design: take your podcast studio with you and record anywhere and anytime
SD card storage with a large amount of storage space
User-friendly interface
Sound quality
The Zoom H6 and Rodecaster Pro offer high-quality audio recording capabilities, and choosing between the two will depend on your specific needs.
Rodecaster Pro
With Rodecaster Pro, you can pair high-quality condenser microphones to the XLR/TRS combo inputs. Additionally, it has onboard pre-amps that guarantee clean audio with minimum distortion.
The device also features a range of sound effects that can help increase your recordings' overall sound quality.
Rodecaster Pro also offers streaming capabilities, allowing you to connect your device to a computer and access audio editing software such as GarageBand.
You can further enhance your recordings and create a better listening experience.
Check out the video below for a hands-on demonstration and review of the Rodecaster Pro.
Zoom H6
However, the Zoom H6 recorder also offers many features to help you achieve excellent sound quality.
With its interchangeable microphone capsules, Zoom H6 enables you to adapt to different recording environments and make the most of it.
Similar to Rodecaster Pro, you can connect the Zoom H6 to your PC and use it as an input device for audio software.
To further enhance the quality of your recordings, you can get creative with some onboard effects such as reverb and compression.
Ease of use
Regarding manageability, both devices offer a simple and intuitive interface for users of all skill levels.
The Rodecaster Pro is designed specifically for podcasting and is effortless to operate. Many podcasters appreciate the device for its streamlined design and user-friendly interface.
Although the Rodecaster Pro is relatively compact, the Zoom H6 is a winner in terms of mobility. This recorder is durable, easy to hold and carry around, and perfect for recording on the go.
Both products come with an operation manual that provides the necessary information to help you make the most of your device.
Price and value for money
At a lower price point, the Zoom H6 is a more affordable option than the Rodecaster Pro.
As previously described, both devices offer a wide range of features and can be used for different recording purposes. So, the decision between the two comes down to personal preference and your specific needs.
If you're a hobbyist podcaster and don't want to spend a fortune on equipment, the H6 might be better, as it could save you a few bucks.
And if you're looking for something specifically made for podcasting, the Rodecaster Pro is the way to go.
User experience
Rodecaster Pro
Online reviews show that the Rodecaster Pro has positively impacted the users' podcasting experience.
Many users praised the functionality of this device and reported that it had helped them improve the quality of their recordings.
However, some users weren't happy with the product and left negative reviews.
One user mentioned that the RodeCaster Pro falls short of a critical function – equalization – which they believe would take it to the next level.
Another user stated that the device is a bit overpriced since it stopped working after only seven weeks of use.
Zoom H6
The Zoom H6 received many positive product reviews, and users highly value it for its practicality and portability.
One reviewer comments on the swappable microphone feature, stating it's a strong point.
Another reviewer says that they believe there is nothing better on the market for the price. However, one user mentions that the interface seems basic and cheap.
Final Words
In conclusion, the Rodecaster Pro and Zoom H6 are highly regarded audio devices that offer plenty of features.
The Zoom H6 is more affordable and portable, making it easier to carry.
The Zoom H6 might be a better option if you're looking for flexibility. But if you are looking for a device specifically for podcast production, the Rodecaster Pro is for you.
Frequently Asked Questions
Is Rodecaster Pro worth it?
The Rodecaster Pro serves as an all-solution for podcast production. It offers a wide range of features, built-in sound effects, and much more.
However, it is more pricey than some other audio interfaces, and if you don't need as many features, you might want to go for something more affordable.
Can the Rodecaster Pro be used with other microphones?
Yes, the Rodecaster Pro can be used with other mics as long as they can be connected to an XLR output.
Can I connect multiple microphones to the Rodecaster Pro?
Yes, the Rodecaster Pro can connect up to four microphones via XLR inputs. But if you need even more than four, this video will show you how.
Does the Rodecaster Pro have sound effects?
Yes, the Rodecaster Pro features plenty of built-in effects such as EQ, compression, and noise gate. You can also use the sound pads to add jingles or pre-recorded segments to your track. The mixer is perfect if you want to enhance the quality of your recordings and add a personal touch.
What is Zoom H6 good for?
The Zoom H6 recorder is used for a variety of purposes. It's an excellent device for recording music, filmmaking, podcasting, field recording, and more.
How long can Zoom H6 record for?
The Zoom H6 can record for up to 20 hours using either four alkaline or rechargeable NiMH AA batteries.
Can I use the Zoom H6 as an audio interface?
Yes, you can. Just connect the recorder to a computer via USB and record directly into your favorite streaming or recording software.
How many microphones can I connect to the Zoom H6?
The Zoom H6 allows you to connect a total of six microphones. It has four XLR jacks and an additional dual XLR capsule on top.