The Rodecaster Pro is an all-in-one podcast studio that can record, stream, and even record phone calls.
In 2022, Rode introduced a new, upgraded version – the Rodecaster Pro 2. But what are the differences?
In this article, I'll compare the Rodecaster Pro to its successor and determine which is better.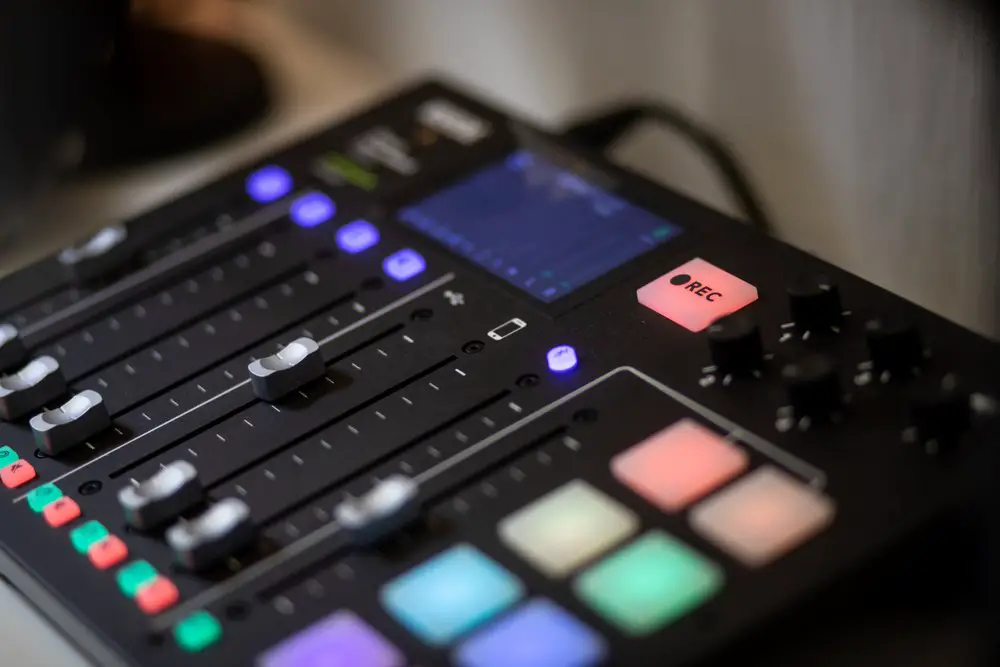 Features
The Rodecaster Pro and Pro 2 are designed for podcasting and have many features in common. However, the improved version also has some updates. Let's take a look at them.
Similarities
Usability: Both Rodecaster Pro and Rodecaster Pro 2 are all-in-one podcasting solutions
Sound pads: Both have built-in sound pads that can be used for effects, jingles, and more
Bluetooth connectivity with phone call integration
Inputs: Both have four high-quality XLR inputs
Differences
Preamps: The Rodecaster Pro 2 has improved preamps that can enhance the sound of your microphone.
Touchscreen: The Pro 2 comes with a bigger, better-looking touchscreen
SMART pads: Pro 2 features new sound pads that are fully customizable and able to trigger effects, commands, and more
Ease of use: Pro 2 two has more of a learning curve to get adjusted to it. Rodecaster Pro is more of a plug-and-play device
Price: The Rodecaster Pro 2 is also more expensive than the original model
Portability and weight: Rodecaster Pro 2 is slightly thinner and smaller
Accessories. The original model contains the interface, an adapter, a USB cable, an AC power cable, sound pad templates, and sound pad cards. Rodecaster Pro 2, however, only comes with one power adapter and one USB cable
Our Pick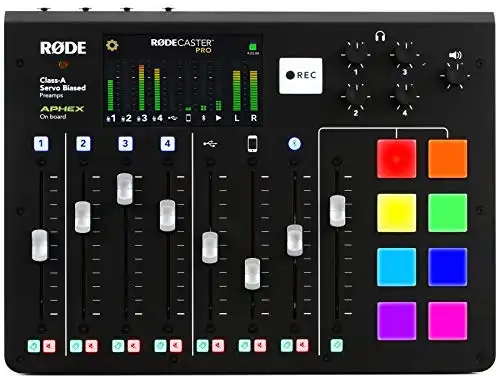 Design
There are also some differences worth noting in terms of design. The Rodecaster Pro 2 is a smaller and thinner unit, making it more portable.
Additionally, the sliders are different too. There are eight physical sliders on the original Rodecaster Pro, each linked to a specific channel.
Rodecaster Pro 2, however, has nine sliders in total, 6 of which are physical and three virtual. Each physical channel can be dynamically routed to any individual audio source.
Another addition that comes with the upgraded version is the SMART pads.
Audio Quality
When comparing the audio quality of these two models, there are various factors to consider.
As the preamp gain increases from 55 to 76dB, the Rodecaster Pro 2 can now support a broader range of microphones. With these improved preamps, there is also less need for editing to boost the sound of the mic.
Additionally, the inputs and outputs also play a role in creating good sound. The Rodecaster Pro features four Neutrik combo microphone inputs that can be connected to instruments and devices.
Another key factor is audio processing. Some users were dissatisfied with the original Rodecaster Pro's internal audio processing, but the Pro 2 is different.
The Rodecaster Pro 2 has been enhanced to offer more control over settings such as EQ and compressor. It also has plenty of new effects like reverb and funny voice effects, although some creators don't need those.
Price and Value for Money
While the newer model is more expensive, it also comes with a wide range of new features. Those additional features might be worth the cost for some users, but for others, they're not.
So, if you're new to podcasting and don't want to spend a fortune on your equipment, you will be good to go with the Rodecaster Pro.
If you're on a more professional level and ready to invest, the Pro 2 can be a nice upgrade.
Ultimately, the choice between the two models will depend on your budget and preferences.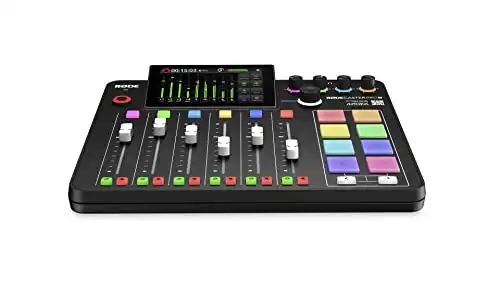 User experience
Some users who upgraded from Rodecaster Pro to Rodecaster Pro 2 have not noticed a significant difference. One person stated that people should get what they can afford because they won't use most of the new features anyway.
This user also suggested thinking about what you need and going from there.
Another user reported that, while the Pro 2 adds some excellent features, they don't justify upgrading from the original Rodecaster Pro.
A different user commented that his strong impression is that the new Rodecaster doesn't sound as good as the old one. Namely, his microphone doesn't sound as warm as it used to with the Pro one.
Conclusion
In conclusion, the difference between Rodecaster Pro and Pro 2 is minimal. If you're someone who wants to keep up with the latest technology, go for the Pro 2.
With some features and enhancements, the Rodecaster Pro 2 is considered slightly better. However, the original Rodecaster Pro will work well for most podcasting needs and save you some cash.
Frequently Asked Questions
Can I use the Rodecaster Pro 2 to record a phone or video call?
Yes, you can. The Rodecaster Pro 2 has a USB output that can connect to your computer, phone, or another device. Once connected, you can record directly from your device.
Does the Rodecaster Pro 2 have better audio quality than the original Rodecaster Pro?
The Rodecaster Pro 2 features improved preamps, and many users would agree that you can achieve better sound quality with it. If you're looking for the best possible audio, Rodecaster Pro 2 might be worth the upgrade.
Is the Rodecaster Pro 2 worth it?
The Pro 2 has a hefty price tag that might not be affordable to beginners. However, some of its functions may be worth the investment. Specifically, the Rodecaster Pro has ultra-low noise and high-gain preamps that enhance audio quality.
Thanks to its built-in features, the Rodecaster Pro 2 can also reduce editing time, making it a worthwhile investment.