The NT1 and NT1000 are both high-quality condenser microphones with many similarities. They are widely used for voice recording, podcasting, singing, and much more.
Let's compare these two models regarding specifications, sound quality, and price. Read on!
Our Pick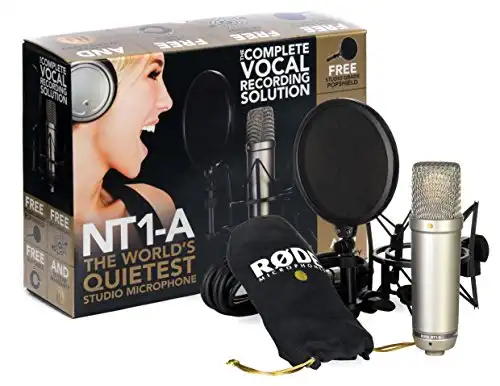 Features
To provide an overview of both items, I'll start by listing some of their most prominent features.
Rode NT1A
The Rode NT1A is a popular condenser microphone that is exceptionally good at recording vocals.
It has become a best-seller and is often used by Youtubers and content creators.
The NT1A features a cardioid polar pattern and flat frequency response, allowing it to capture clear, high-quality recordings and eliminate background noise.
Let's look at some of the pros and cons of this microphone.
Pros
Bright sound: The NT1A is known for creating rich, bright-sounding audio
Cardioid pickup pattern: The highest sensitivity is directly in front of the mic, which is convenient for reducing background noise
Fairly affordable price: Despite its great qualities, this is an affordable and accessible microphone
Low noise: At only five dBa, this mic has an exceptionally low self-noise level making it ideal for recording
Elegant design: The microphone is nicely designed and feels light
Cons
Not quite suitable for recording instruments
Too bright sounding for some people
Requires an audio interface and preamps

Rode NT1000
The Rode NT1000 is an impressive microphone designed for recording vocals, instruments, voiceover, and many other applications.
This is a versatile studio microphone with low self-noise and full-frequency response.
Here are some of its pros and cons.
Pros
High-quality sound: The NT1000 produces a clear, crisp sound
Wide range frequency response
Cardioid pickup pattern
Low self-noise: The NT1000 also has a low self-noise level of 6 dBA
Elegant design: With an all-metal construction, this is a sturdy but nice-feeling mic
10-year warranty:
Cons
Weight: It's on the heavier side, which might be unflattering for some users
Design
Both of these Rode microphones have a sleek, robust design and are very easy on the eye. They deliver impressive performance and are an elegant addition to any setup.
The NT1A has a simple design without buttons or pads and comes with a shock mount to keep the microphone firmly in place on the stand.
On the other hand, the Rode NT1000 has an all-metal body, and even though it's heavier, it is still a nice feeling microph0ne. It doesn't have any buttons or pads either, but the absence of a low-cut switch is one drawback.
Audio quality
Both are condenser microphones with a cardioid pickup pattern, but there is some difference in audio.
In terms of sound, the NT1A can add brightness to your recordings, maybe even too much. The NT1000 is better if you want to achieve a more subtle tone.
For people with a deeper voice, the NT1A could accentuate the scratchiness and create a less pleasant sound. However, the Rode NT1000 can sometimes sound too crisp when capturing higher frequencies.
Also, remember that these microphones may require a bit of EQ in the post-production process.
For a closer comparison, check out the video below.
Price and Value for money
When choosing a new piece of equipment, price is extremely important. If you're a beginner, you probably aren't looking to make significant purchases and are instead sticking to a budget.
While both of these mics are high-quality, they vary in price. The Rode NT1000 is more expensive and is better suited for professionals.
With the NT1A, you'll get the distinctive Rode sound without breaking the bank.
User experience
As for the Rode NT1A, users have praised its impressive build, the sound it produces, and how good it is, considering the price.
One person went as far as to say this microphone is worth more than he paid.
Another user called it a must-purchase, even for beginners. However, he would have preferred it to have an off switch.
Based on online reviews, the Rode NT1000 is an overall versatile mic, and users are satisfied with its performance.
One user noticed that the mic is especially adequate for lower voices. Another user commented on the wide, warm-sounding range and said the pickup on this mic is incredible.
Another reviewer, a professional voice actor of 30 years, stated that the NT1000 is his favorite mic, which says a lot about its quality.
Conclusion
The NT1A and NT1000 are two exceptional condenser microphones for home setups and recording studios. Both mics can be used for various purposes, and they are incredibly quiet with low self-noise.
However, the NT1000 does a better job of recording musical instruments.
If you're on a tight budget, go for the NT1A rather than NT1000 because it is also more expensive.
Ultimately, you won't go wrong with either, so choose what's best for your specific needs.
Frequently Asked Questions
What is the Rode NT1A best suited for?
While the Rode NT1A can be used for all kinds of recording situations, it does an exceptional job at recording vocals. It has high sensitivity and very low self noise, making it ideal for voice recording.
Does the Rode NT1A require phantom power?
Like any condenser microphone, the Rode NT1A needs phantom power to operate. It requires P48 volts or P24 volts phantom power.
Is the Rode NT1000 compatible with recording software?
Yes, it can be used with popular recording software such as Pro Tools, Logic Pro, Ableton Live, GarageBand, and others. The NT1000 has XLR connectivity and can be connected to a computer or other recording device.
What is included in the Rode NT1000 package?
The NT1000 package includes the following: the Rode NT1000 microphone, a microphone stand, a zip pouch for storage and transportation, a microphone cover and a 10 year warranty card.