Podcasts are having a big moment right now.
What was once a trend is now a booming industry, with everyone jumping on board.
If you started a podcast years ago, you're probably well ahead of the game when it comes to recording techniques and equipment.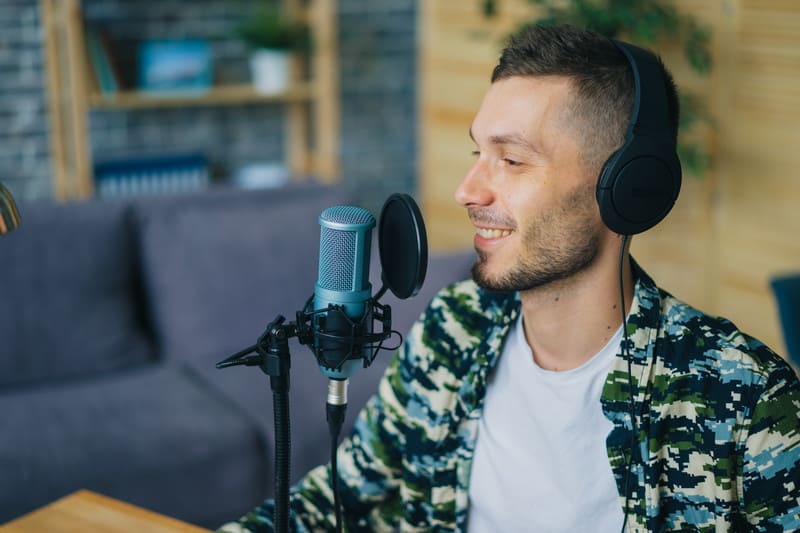 But for those new to the scene or new to podcasting remotely, recording high-quality audio can be a challenge.
So, what does remote recording mean?
Recording a podcast remotely is when the presenter and the guest (or guests) are not in the same location. For example, when a presenter in California wants to interview someone that lives in New York.
Thankfully, there is plenty of technology to make it happen despite the distance involved.
To start, though, let's look at why high-quality audio is essential when recording a podcast.
High-quality audio
People listen to podcasts to be educated, informed, or entertained about a topic. But if the audio is terrible, it will affect the overall quality of the episode. And maybe even the reputation of the entire show.
Put simply, poor-quality audio turns listeners away. And in today's technology-savvy world, there is no excuse for cutting corners, even when recording remotely.
To guarantee top audio quality when recording remotely:
Then there are three ways to record a podcast remotely.
The methods are:
Computer to computer (the most common method).
Recording a phone call (good for convenience and flexibility).
The double-ender (for the highest-quality audio recording).
Let's find out how they all work.
How to record by computer
The computer to computer method involves each person connecting to a digital platform to record the episode.
To use the computer to computer method you need:
A good internet connection.
A microphone.
A web browser i.e. Google Chrome.
Then, you can start the recording by using an audio recording platform.
Zencastr and Squadcast are great options. They are both dedicated podcasting platforms and designed to record each person on a separate track. This means the audio will be crystal clear.
Another option is to use the record function on the video calling app, Zoom. This is a simple and cost-effective solution. But if using Zoom, invest in good microphones.
Apart from potential technical issues, the computer to computer recording method is the most accessible format out there. That's why it's also the most common method used.
How to record via Skype
You can record right in within the Skype app. It's a new functionality that Microsoft added recently. In the past, you had to use a 3rd party app, like Ecamm Call Recorder to record audio and video.
Now, you just click record on Skype and both parties can download the files after the call. I still use Call Recorder since there are a few more options and higher quality videos. I like the HD video for publishing on YouTube.
How to record by phone
Sometimes, using a cell phone is the only option available.
You might not get the most professional-sounding quality, but it does have some advantages. First, it allows you to be mobile. And second, you need minimal investment, which makes it budget-friendly.
For this method, it's a good idea to have the following equipment:
A portable audio recorder.
An audio connection cable to connect to the phone.
A high-quality microphone.
Headphones.
A portable audio recorder is essential for a clear recording of your voice. This won't help the quality of the guest's audio, but it's better than the entire episode sounding like a recorded phone call.
There is one thing to remember, though. You and your guest will need to find a quiet space to record the audio. Cell phones pick up even the smallest amount of background noise, and you don't want that when making a podcast episode.
How to use the double-ender method
For the best audio quality, when recording a podcast remotely, use the double-ender method.
It works by both parties recording the audio locally with a computer/laptop, a portable recorder, or a digital audio workstation (DAW).
After the recording, the host and the guest upload or send the files to a post-production team. Then the recorded tracks are edited and mixed to create the podcast episode.
While this method does result in great sounding audio and is used by the leading players in the podcasting world, there is a downside.
Both the host and the guest need a local recording set up. Or at least have access to one.
For some people, it's just not possible. So instead, the computer to computer or recording by phone methods are the most practical options.
Recording audio remotely
Recording a podcast remotely is a challenge, but it's not impossible.
All it needs is a creative attitude and flexibility with a little bit of help from technology.
Plus, as more people work from home, recording podcasts remotely is a trend that will keep going. For now, at least.