If you're searching for a compact podcasting solution, the Zoom Podtrak P8 and Tascam Mixcast 4 are two popular mixers in the podcasting industry.
Both are designed for streaming and podcasting, but they have some differences.
Let's take a closer look at these devices and help you determine the right choice for you.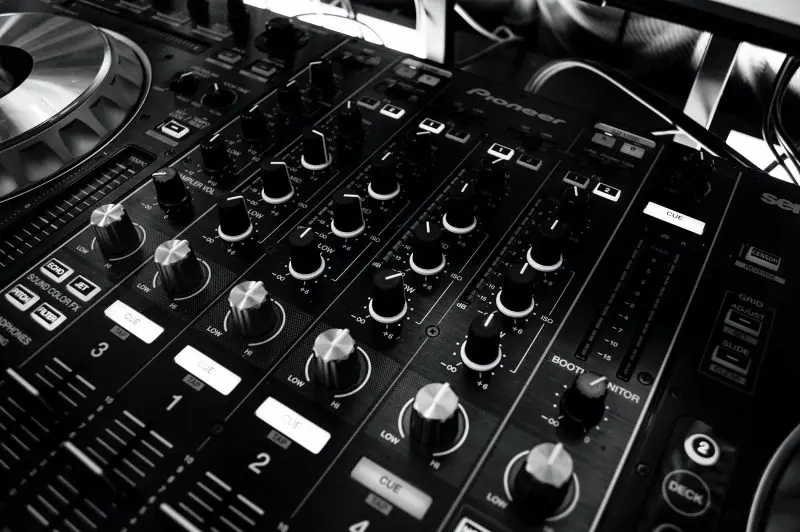 Features
Firstly, let's compare the technical features of these two podcasting stations.
Zoom Podtrak P8
Outputs: 6 microphones and 6 headphone outputs
Display: 5″ Color Touchscreen
Preamps: 6 mic preamps
Connectivity: XLR, TRS, TRSS, Bluetooth
Phantom power requirements: 48 V (selectable on individual inputs)
Weight: 5.7 lb / 2.6 kg
Tascam Mixcast 4
Outputs: 4 microphone inputs and 4 separate headphone outputs
Display: Touchscreen
Preamps: 4 mic preamps
Connectivity: XLR, TRS, TRSS, USB, and Bluetooth inputs
Phantom power requirements: 48 V (selectable on individual inputs)
Weight: 3.1 lb / 1.4 kg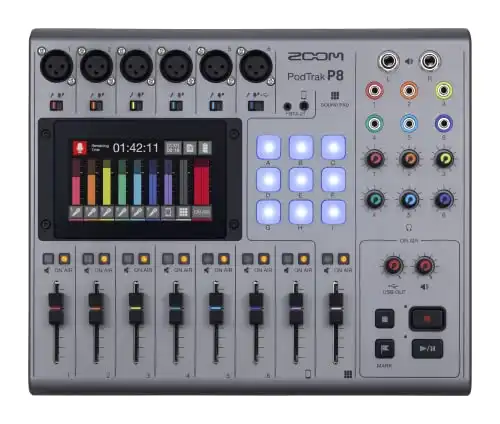 Design
Mixcast 4 and Podtrak P8 are designed for podcasting and live-streaming applications.
The Podtrak 8 has 6 XLR inputs, while the M4 has only 4. This may seem like a significant difference, but since one of the channels on the Podtrak 8 is occupied by USB, it's not a drastic advantage.
The Mixcast 4, however, has a designated Bluetooth and TSSR channel. In other words, if you don't plan on having more than 4-5 guests in the studio, Podtrak's more significant number of inputs is unimportant.
Similarly, the Podtrak P8 also has more individual headphone outputs.
Both mixers are made from plastic but feel robust. The M4 feels slightly heavier and like it lasts a long time.
Both devices have sound pads that can be used for jingles (many are preinstalled), adding background music, etc.
As for buttons, the P8 has some clicky buttons for muting, which can be annoying when recording a podcast.
Ease Of Use
The Tascam Mixcast 4 is a user-friendly audio workstation that ditches complicated settings. This reviewer praised it as one of the best podcast stations and the easiest to operate.
Both the Mixcast 4 and the Podtrak P8 offer color coding for different channels, making it easy to navigate between various people on a podcast.
However, these audio workstations may be better suited for group podcasting, whereas solo podcasters would be better off with an audio interface.
Check out the video below for a closer real-life comparison of the two mixers.
User experience
Users have praised both the Podtrak P8 and the Mixcast 4, but they have some drawbacks, too.
Podtrak P8
Although the Podtrak P8 received plenty of positive online reviews, one person was disappointed with the build quality. Namely, they stated that this mixer is made from cheap plastic and doesn't feel sturdy.
Various people compared the Podtrak P8 to the Rodecaster Pro and considered the Rodecaster superior, with better audio quality and fine-tuning.
On the other side, users have praised the functionality and versatility of this product. One user even called it a "must-have for freelancers and studio professionals".
Tascam Mixcast 4
Users have praised the Mixcast 4's flexibility to be used without a computer. One person stated the mixer is very intuitive and packed with features.
After a closer look at the Mixcast 4, this reviewer commented that the XLR combo jacks are highly versatile. However, he also stated that it's not quite tailored for musicians as well as individual podcasters.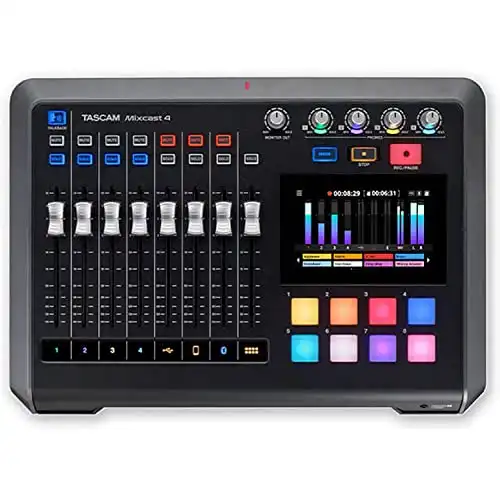 Price and Value for Money
In terms of price, the Zoom Podtrak P8 is the more expensive option compared to Tascam Mixcast 4. The prices may vary depending on the retailer, region, and availability.
The Podtrak P8 offers more features and capabilities that podcasters may or may not need. For instance, it has more inputs, additional effects, etc.
But if you only need basic mixing features, the Mixcast 4 will work fine at a lower price point.
Which device you choose ultimately depends on your specific needs and budget.
Final Words
In conclusion, both devices are packed with beneficial features for beginner and professional creators. The Podtrak P8 is the more expensive option, so you would need to consider your budget before purchasing.
Additionally, the Mixcast 4 might be easier for beginners because it's more intuitive and can be used without a PC.
Also, remember that these audio workstations are more suitable for group podcasting, whereas individual podcasters would benefit more from an audio interface.
Choosing the Podtrak P8 or the Mixcast 4 mostly depends on your specific use case.
Frequently Asked Questions
What is the difference between a mixer and an audio interface?
Mixers and audio interfaces are similar, but the main difference is their purpose. Audio mixers are mainly used for live sound reinforcement, while an audio interface is used for recording audio through a computer.
What is Zoom Podtrak P8?
The Zoom PodTrak P8 is a podcasting and audio production recorder designed for podcasters, content creators, and broadcasters. It serves as a complete podcast studio with all the features you need to record, mix, and edit your recordings.
Is the Zoom Podtrak P8 portable?
Yes, it is. The Zoom Podtrak P8 is a portable audio station that can be used on the go without needing a computer or external device.
What size SD card do I use with the Podtrak P8?
The PodTrack P8 can record directly to an SDHC card with a maximum capacity of 32GB or an SDXC card with a maximum capacity of 512GB. This gives you plenty of flexibility and storage space for your recordings.
How do I use Mixcast 4?
You can set up your Mixcast 4 podcast station in a few simple steps. Check out this video below:
Can you use a Tascam for streaming?
Yes, absolutely! Tascam devices allow you to connect microphones, instruments, or other audio sources to your computer for streaming.
Additionally, Tascam offers the MiNiSTUDIO interfaces specifically designed for real-time control, effects, and enhancement of your voice for live streaming and gaming.
Can I use the Tascam Mixcast 4 with my smartphone or tablet?
Yes, you can easily connect the Mixcast 4 mixer to a phone or tablet using the appropriate adapters. It was primarily designed to be used with a computer, though.
Can I connect multiple microphones to the Podtrak P8 and Mixcast 4?
Yes, both devices offer multiple microphone inputs, ideal for recording multiple guests on a podcast.
With the Podtrak P8, you can connect up to 6 microphones or other audio sources. The Mixcast has four inputs that can be used to connect mics and other audio sources.