The Shure MV7 microphone and its new version, the MV7X, are powerful tools for any podcasting studio. They are similar dynamic microphones, but each has its unique traits.
But how do these two models compare with each other? Read on! Let's put them to the test and determine which is better.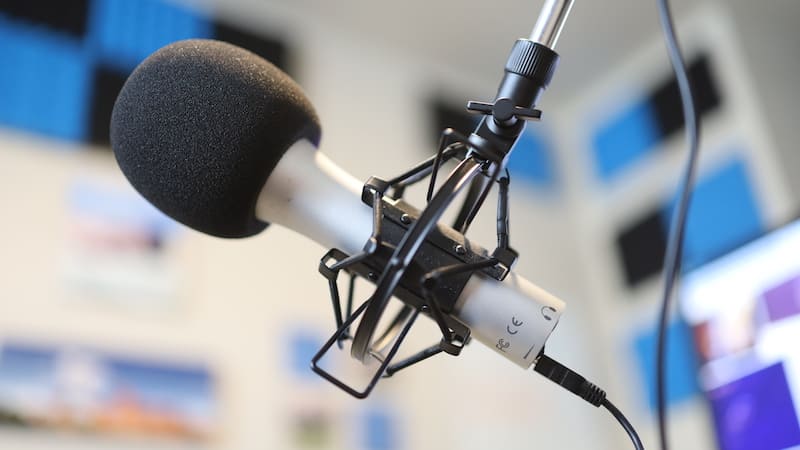 Features
The Shure SM7B has been an industry standard for podcasters but is also quite expensive for most. There's good news because the MV7X is a similarly designed mic with a lower price point.
They are affordable dynamic microphones for podcasting, streaming, YouTube, and other recording purposes.
Unlike the MV7, the MV7X doesn't have USB connectivity, only XLR. Remember that using it requires an audio interface, which is a separate investment.
Let's take a look at some Pros and Cons of the Shure MV7X:
Pros
XLR output is an improvement. Some users were dissatisfied with the XLR output on the MV7, and this one seems to be much better.
Recording speech: The MV7X is excellent for capturing speech and creating a natural sound
It can be used without a windscreen to create a brighter sound
Affordable price point
Compatible with most audio interfaces
Sleek broadcast design
Great as a second microphone if you're having multiple guests in a studio
Cons
Not ideal for recording instruments such as acoustic guitar
Plosive rejection is not great
Lack of USB connectivity. MV7X only features XLR connectivity; hence it can't be used without an audio interface
Design
Overall, the MV7X is a bit more modern, but these two mics look pretty similar.
One notable similarity between the MV7 and MV7X is the touch controls. The MV7 and the Shure MV7X feature a touch panel with customizable settings.
The Shure MV7 comes in two colors – black and silver. It's made from metal and has a professional, robust build. There are also customizable color combinations for the MV7, so you can choose what matches your setup.
The Shure MV7X is available in black only. It also features an all-metal body, a metal grill, and metal screws to adjust the mounting system.
The MV7X is very broadcast-looking and nice on camera, which is especially important for video recordings. Unlike the MV7, it has no buttons or switches, just one XLR output.
Both microphones are fully adjustable and can be an excellent addition to any setup.
Audio Quality
As for audio, both the Shure MV7 and MV7X produce clear recordings and are great podcasting tools. Let's compare their sound quality.
Shure MV7
The MV7 is highly regarded for creating a professional sound. It can be used for various applications, like podcasting, streaming, voiceover, singing, etc.
Additionally, users can further enhance their recordings using the Shure Plus MOTIV app. With this program, you can adjust EQ, monitor mix, mic gain, limiter, compressor, and more.
The MV7 also has a foam screen, acting as its pop filter.
Shure MV7X
The Shure MV7X can also be used for various recording applications.
However, the MV7 and MV7X can get sensitive to plosives and pick up more unwanted sounds. For better plosive rejection, using them with a pop filter is recommended.
The Shure MV7X is not the greatest guitar microphone because it lacks the liveliness for this type of recording. However, this mic is a good tool for recording speech, creating a natural sound that is not over-boosted.
For singing purposes, the MV7X creates a mid-forward, rounded sound. It's decent, but there are better singing microphones on the market.
For a closer comparison, I recommend watching this video.
Price
In terms of price, the Shure MV7 is the more expensive option of the two. However, although MV7X comes at a lower price point, it still needs an audio interface to work.
While you can easily connect the MV7 to any computer or device, you will need an audio interface to connect the MV7X. And in case you already don't have one, this can be an additional cost.
Overall, both microphones are reasonably affordable for non-professional creators, but the MV7X may cost more if you purchase it with additional equipment.
User experience
As for the Shure MV7, users were generally satisfied with its performance. One customer reported choosing this microphone because it offers USB and XLR connectivity.
Another user emphasized that the MV7 delivered clear and crisp audio and was highly versatile for different purposes.
According to one reviewer, if you buy the MV7X, you will have a great-value microphone on your hands. Another user praised it but noted that the lack of a USB output is a clear disadvantage.
Another user commented that while the microphone does an excellent job for podcasting overall, he did face some problems with picking up to much desk noise.
He also reported that his microphone was prone to plosives and should be used with a decent pop shield to avoid this.
Final Words
Both the Shure MV7 and MV7X are excellent microphones with similar characteristics. Both are good choices for podcasting, with minor differences in sound.
With that said, the MV7 offers more connectivity to computers and mobile devices, while the MV7X is an XLR-only microphone.
The MV7X is also more affordable, but keep in mind it requires an audio interface.
Ultimately, it all comes down to your budget and specific needs.
Frequently Asked Questions
How can I make my Shure MV7 sound better?
The MV7 is a relatively insensitive microphone. Try speaking close into the mic to get the best possible sound. Speaking directly into the mic creates a more bass response and a radio broadcast sound.
You can also try using the Shure Plus MOTIV app to enhance the quality of your recordings further.
Is the Shure MV7 compatible with mobile devices?
Yes! The MV7 is highly compatible and can be paired with PC, Mac, Android, and iOS. It can be used as both a USB and XLR microphone.
Can I use the Shure MV7X for streaming?
Yes, it's great for streaming purposes. The MV7X is made to be an affordable alternative to the SM7B, a mic that has been an industry standard.
The MV7X delivers exceptional sound quality thanks to its voice isolation technology. Streamers can capture rich vocals in imperfect rooms/conditions with this microphone.
Does the Shure MV7X require phantom power?
No, the MV7X is a dynamic microphone – no phantom power is required.