When it comes to podcasting, perhaps nothing is more important than a good microphone and its associated accessories. If you're looking for the best boom arms for podcasting, plenty are available. But which one should you get?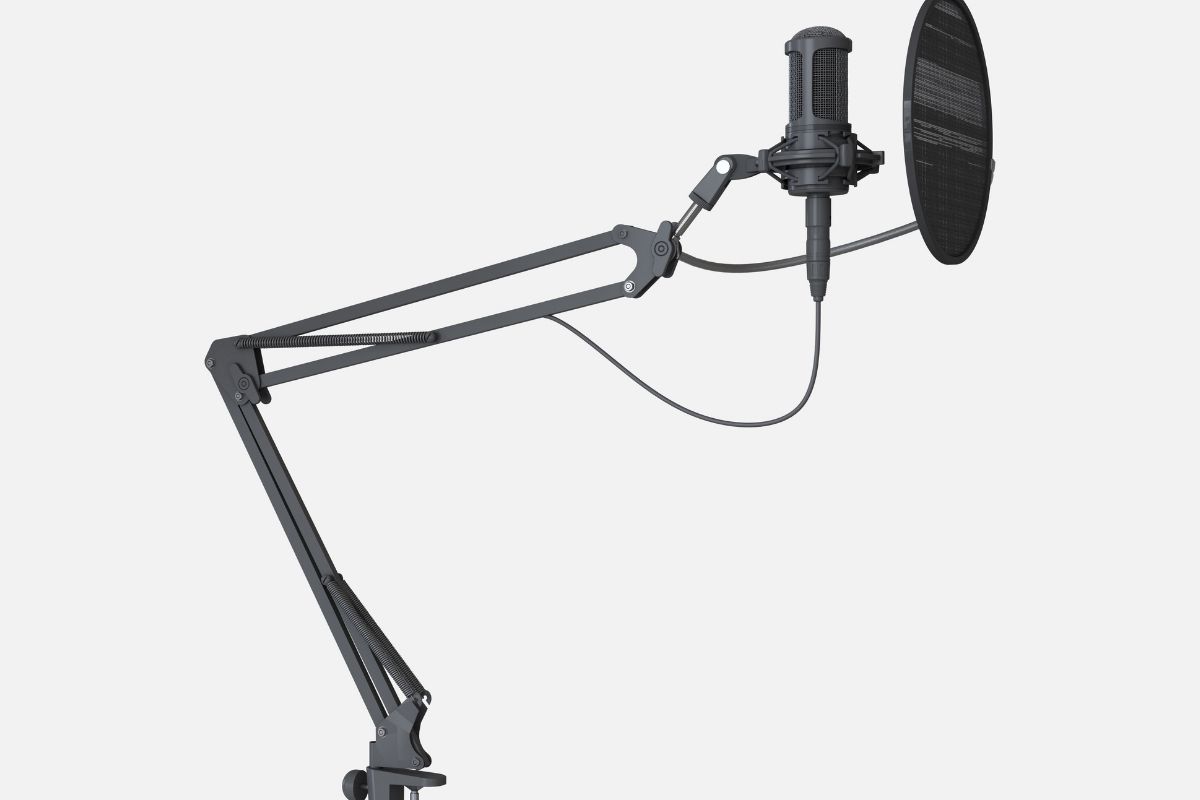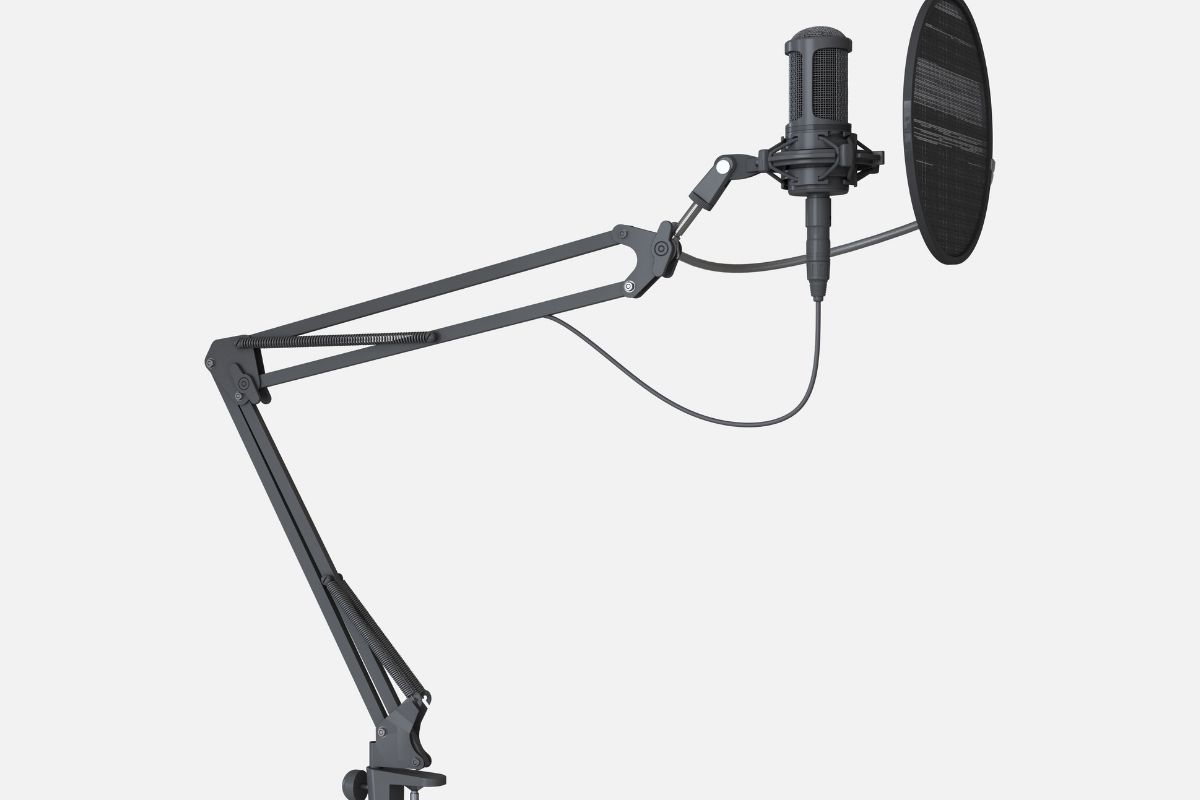 This guide will show you the best options in each price range. I've also included a few tips about choosing the best boom arm for your needs via the dedicated buyer's guide.
Read on to get started and find the best microphone boom arms you can pick up now!
Samson MBA28-28" Microphone Boom Arm For Podcasting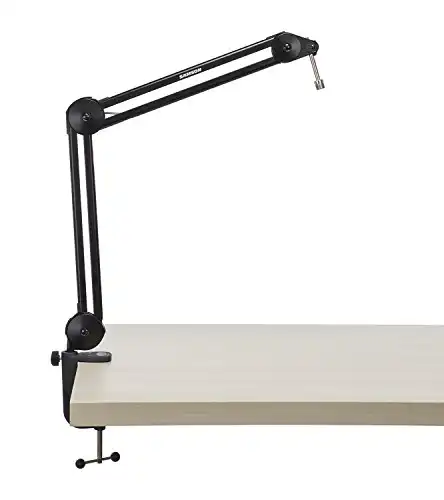 Features
The price of this arm is incredibly affordable, at under $50, which makes it considerably more affordable than most competing mic arms.
There are also other size options that you can choose from, such as a smaller 18" boom arm that will cost you a little less and two longer boom arms that cost just a little bit more.
The arm features an internal spring structure throughout, which allows you to fold it away easily and stow the arm when not in use. It also allows you to move it about into whatever position you need.
And you don't have to worry that it doesn't have a silent operation because of its lower price tag. If you need to reposition the mic while recording, it won't creak and squeak as you move it!
The arm is also surprisingly sturdy and strong. It can support over 5 pounds of weight at once, making it great for those amongst you with heavy and expensive mics that you don't want to damage.
Its attached C-clamp allows you to easily adjust the arm's grip to suit a table of any size or thickness as you see fit.
However, the Samson MBA28-28" microphone boom arm has some drawbacks.
The first thing that you'll notice is that the arm occasionally has trouble holding a mic placed in an upright position.
The mic will slowly rotate out of position, which is very annoying when recording a long-form podcast.
To prevent moving, placing the microphone on the arm in a hanging position is recommended.
Pros
Very affordable, which is perfect for those just getting started in podcasting.
Able to hold up a considerable amount of weight.
The C-clamp makes it easy to fix the arm to any desk.
Cons
The microphone can move slightly if placed upright.
The C-clamp is not overly broad, which can be annoying for specific desks.
Buy on Amazon.
K&M 23860 Microphone Desk Arm – Black
Features
This particular microphone has a slightly heftier price tag, but you also get access to a much greater slew of excellent features for that price.
First off, one of the most remarkable features of this mic is its ability to support massive amounts of weight.
If you have a favorite microphone that you would otherwise worry is too heavy for any other average boom arm, then you can easily use it with this arm!
Another feature that makes this microphone arm stand out is its ability to be used with almost any desk. You do not need to purchase an expensive desk to handle boom arms.
This boom arm will easily clamp onto a desk of any size or shape, so you don't have to wrestle with clunky clamps.
Another great feature of this microphone is its ability to be folded away, thanks to the spring structure inside.
However, as we mentioned previously, this boom arm is more expensive, so you will need to fork over a lot of cash to access some of these fantastic features.
This boom arm also does not come with any noise dampening to prevent the sounds of tapping on your desk from being picked up by the microphone.
You will have to buy a separate shock mount to prevent such a problem.
Pros
Top of the range features.
It can hold a significant amount of weight.
Cable management is much easier with this boom arm.
Cons
Has a very hefty price tag.
Does not come with any noise-dampening.
Buy on Amazon.
RODE PSA 1 Swivel Mount Studio Microphone Boom Arm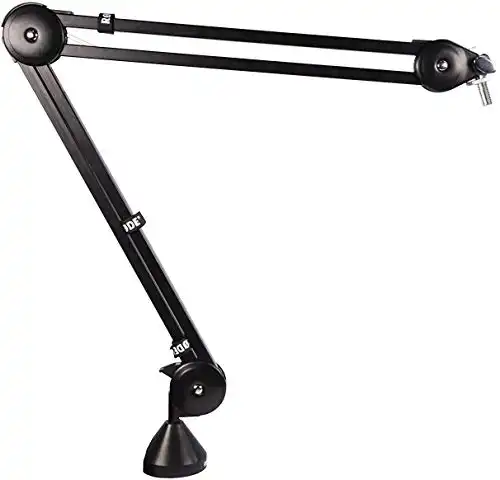 Let's take a look at another more affordable boom arm option.
It is incredibly versatile and can be used with nearly any type of desk. It has a swiveling base that allows you to place the microphone anywhere, which is perfect for recording podcasts.
Podcasts are usually very long, so you need to be comfortable as you record.
What you'll like about this boom arm is how well it holds the microphone. The microphone's weight won't feel like it adds an extra strain to your arm. The arm can hold up to 4 pounds of weight, after all!
The construction of this arm is perfect, thanks to the sturdy materials used throughout and the spring mechanism inside that allows it to move from position to position smoothly without strain and without squeaking.
However, the springs need to be oiled or lubricated for them to move silently. This can be difficult to do, as the entire structure of the boom arm is riveted tightly, which makes taking it apart temporarily very difficult.
The boom arm also has trouble holding larger microphones than it was designed for. If you use a large microphone, you may find that the arm cannot support it properly.
Pros
It can hold up to 4 pounds, perfect for most professional mics.
Solid construction throughout and uses a spring mechanism to allow it to be readjusted easily.
Two methods to fix the arm to your desk make it easy to accommodate all desk types.
Cons
There is a limit to the weight the arm can handle, which could be very annoying for some.
The arm is difficult to take apart, making maintenance very troublesome.
Buy on Amazon.
YellowTec YT3105 M!ka "ON AIR" Microphone Arm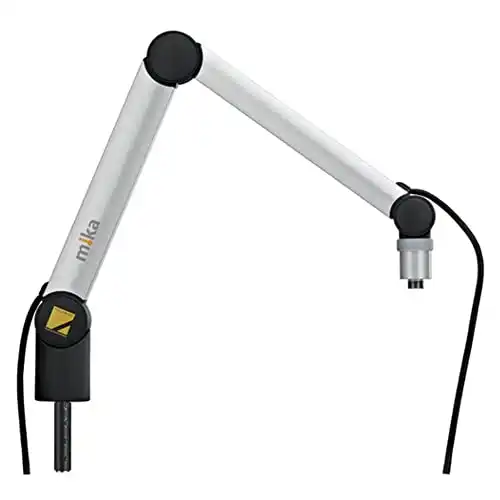 Features
This is easily the most expensive on this list, but it also comes with some of the best features and quality throughout.
This is easily one of the sturdiest boom arms and one of the most solid. When using this boom arm, you won't need to worry about it dropping your mic or falling over.
It has a swivel base that allows you to adjust the microphone's angle, and it features two unique joints dotted across its arm.
This means that you can very easily adjust the position of your microphone while recording, and you won't have to worry about the microphone slowly shifting out of that position.
The joints are also incredibly silent, so you never have to worry about the arm making harsh squeaking noises as you adjust it.
And you also don't have to worry about cable management when it comes to this arm.
The arm comes with a native XLR cable, which is fed throughout it to hook up your favorite mic quickly and then provide it with the power it needs, all without any trouble or hassle.
Unfortunately, this boom arm is relatively short, especially compared to other competing models with significantly smaller price tags.
This may be a massive downside for some, as its 21-inch reach is too short for certain podcasting setups.
Pros
It features a professional build that looks incredibly beautiful.
It moves silently, which prevents unnecessary noise from leaking into your recordings.
The internal XLR wire makes it easy to hook up your mic and keep the cables discreetly stored.
Cons
Features a considerably shorter reach than competing models, which can be incredibly off-putting for some.
It has a daunting price tag, so it is reserved for those with plenty of experience.
Buy on Amazon.
Buyer's Guide
So now that we've presented you with some of the best boom arms on the market, I'll bet you're willing to pick one up for yourself, right?
Awesome, but first, we should take a look at some of the most important things you should consider before investing in this equipment.
Cost
If you are new to podcasting, you will probably want to go for a more affordable and straightforward model. Also, you probably won't need to buy a boom arm with too many advanced features.
The more expensive the boom arm is, the more features it will likely have, and many of these features would go unused if you were not sure how to use them.
If you choose to go for a more expensive boom arm, you should check that it isn't too pricey.
To find out if it is overpriced, check reviews from other people who have used them. If a product has few reviews, it is best to avoid it.
Quality
You also want to ensure that any boom arm you buy is of the utmost quality. Check that the materials that make up the arm are sturdy, high quality, and stand up to significant strain.
A boom arm that is not built well can fall apart during use and will likely creak during use, which can be disastrous when recording a podcast.
You don't want to pay for a cheap boom arm that is made up of low-quality materials that won't hold up to the strain that may be placed upon it by a microphone.
Ease Of Use
Once again, your skill level with recording equipment is crucial at this step. You want to ensure that your boom arm is easy to use.
This includes installation so that you can easily ensure that your microphone is held up properly and ease of movement so that you can move the arm about whenever you need to without running the risk of damaging it.
A more advanced boom arm may have more features that you may not yet understand how to use, and this would prove incredibly costly, so you may want to steer away from advanced boom arms if you are not experienced enough.
For more insight, check out the video below!
Frequently Asked Questions
What's the point of a boom arm for podcasting?
Whether you're just starting with podcasting or looking to improve the sound quality of your existing setup, a boom arm can make all the difference in helping you create high-quality content.
By adjusting the height and angle of the mic, you can ensure that it picks up clear and crisp audio, minimizing distortion and any other unwanted elements.
What can I use instead of a boom arm?
If you're on a tight budget or don't have much space in your recording setup, a boom arm might not be feasible. The key is to find solutions that allow you to optimize the placement of your gear to capture high-quality audio for your podcasts.
In this case, mounting your microphone directly onto your desk or a music stand can give you convenient access while reducing ambient noise that may interfere with your recording.
Does a boom arm reduce vibrations?
Yes, a boom arm can help to reduce vibrations in a microphone. This is because the boom arm helps to stabilize the entire setup, securing the microphone and dampening any potential movement that could cause excess noise or distortion.
Do I need a shock mount if I have a boom arm?
Depends! If your microphone is designed to be used with a shock mount, you may need one to prevent unwanted vibrations and noises from affecting the sound quality and clarity of your recordings.
On the other hand, if your microphone has built-in shock mount features, it may be OK to use without an additional shock mount.