Many people use OBS to create their own podcasts. And why not? It's free and open-source software and is available for both Windows and Mac operating systems.
But OBS is predominantly used for live streaming and video recording, so asking how well suited it is for podcasting is quite the question.
In this article, we're going to discuss what OBS actually is, how it works, what equipment requirements there are to use it, whether it's any good for podcasting, and how to use it for podcasting.
Then we're going to look at some of the most popular alternatives.
At the end of the article, we'll wrap up with a conclusion, and by this point, you should have gleaned enough information to decide whether OBS Studio is the right choice of software for your podcasting endeavors.
So, let's get down to the nitty-gritty.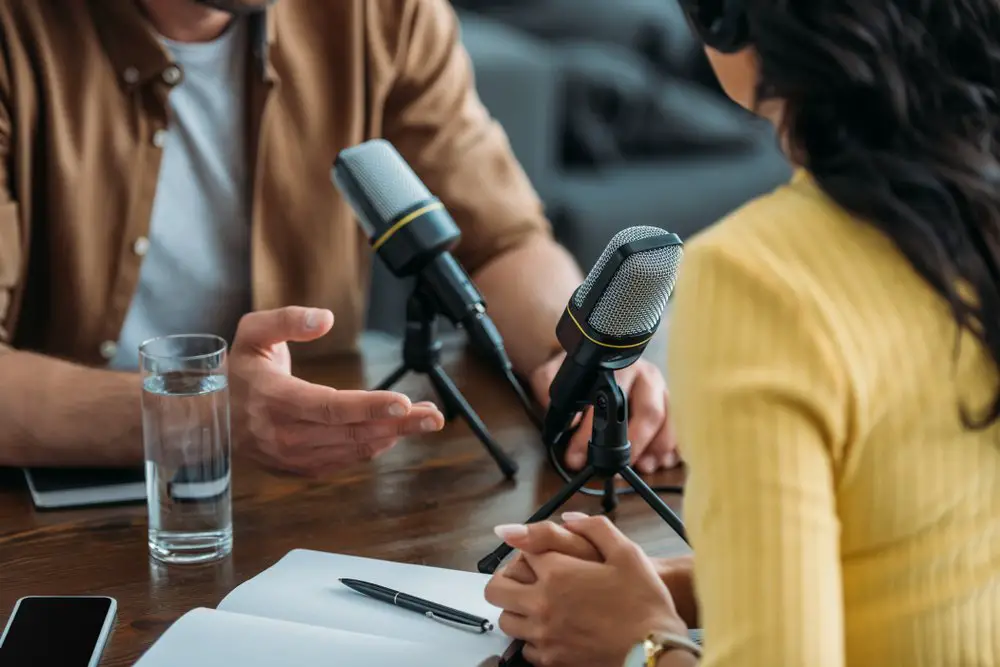 What is OBS?
OBS stands for Open Broadcaster Software and is now referred to as OBS Studio for those who don't know.
The software suite is the whole package, able to do both recording and live streaming, providing real-time source and device capture, scene composition, encoding, recording, and, of course, broadcasting.
You can use it to stream to the likes of Twitch, YouTube, and Facebook.
How does OBS work?
Whether video and audio or audio alone are in your scene, it is put onto your live stream.
But it does a lot more than that. It allows you to customize your scenes with sources and use a mixer.
What do I need to use OBS?
In addition to the right operating system, Windows, Mac, or Linux, you'll also need your PC to have an AMD FX series or Intel i5 2000-series processor (dual or 4-core preferable) or higher, a DirectX 10 capable graphics card, and at least 4 GB of RAM.
Is OBS good for podcasts?
OBS Studio is predominantly aimed at live video production, including video acquisition compositing and creation.
And it's pretty good at what it does. Compared to its competition, OBS studio requires far less equipment and takes up less hosting space.
This is why some people also ask whether it can also turn its hand to use in podcasting.
Technically, it can be used for podcasting, and we're going to explain how later on. However, it's important to note at this point that it's just not possible to record or stream audio input only on OBS.
For this reason, it would only be fair to say that OBS Studio might not be the best tool for an audio-only production.
However, we would argue that that's not necessarily such a bad thing. Sometimes it's better to incorporate some body language and/or facial expressions into whatever it is you want to convey.
Or, if that doesn't appeal to you, you could broadcast live or recorded videos featuring your brand logo alongside your podcast audio. Besides this way, you could help attract a larger audience for your content.
How do I use OBS to record my podcast?
Some things are best explained via a demonstration rather than mere words, so please check out this very quick YouTube video which shows you how to record podcasts with OBS Studio.
Or, for a more in-depth walkthrough, you could read the blog post available on this link, which also discusses different web hosts and their prices.
Alternative Podcasting Software
As we mentioned earlier, OBS Studio does not allow you to record or live stream audio-only. So if you've decided that you only want to record audio, then you might be interested in using other free, open-source software.
In this case, we would recommend using Audacity.
Audacity is a free, open-source, cross-platform audio app. It's an easy-to-use, multi-track audio editor and recorder for Windows, Mac OS, and Linux. It can record live audio through a microphone or mixer and can also capture streaming audio.
It's definitely up there with the most well-known and popular apps for audio content. For a beginner's guide to using audacity, you can check out this link. To download the Audacity app, click here.
But Audacity is not without its competition, and you may also want to look into trying GarageBand, which is another free, open-source audio recording and mixing app. However, sadly GarageBand is only available to run on Apple brand computers and devices.
To look at what GarageBand has to offer and to get the download, click here.
Elsewhere on our website, we also feature an article comparing and contrasting Audacity and GarageBand, complete with a handy FAQ section. You can access it here.
Then, if you were prepared to spend money on podcasting software, your options also include Adobe Audition. To look at what Adobe Audition has to offer and to get the download, click here.
You would have to pay a monthly subscription fee, but you can start with a free trial to see how you like it.
Conclusion
So, there are clearly several benefits to using OBS Studio for your podcast, including turning your podcast into a video that you can upload to the like of YouTube and attract a bigger audience.
And as well as creating recordings, you can also use it for live streaming.
But there is a caveat with using OBS Studio, and that's that it does not allow you to record audio-only content. So, if you've decided that you only want to record audio, then, by all means, you should explore your options.
Your best options for free audio recording apps include Audacity, which is available on both Windows and macOS, or GarageBand, available on macOS only.
But if you don't need to only look at free audio recording apps, you may also want to consider Adobe Audition.
Our advice is to decide what features you're looking for in your audio recording app and match that up against what all these apps have to offer.
In short, OBS Studio can be used for recording and live streaming, but you should first explore your options before settling on what app to use for your podcasts.