Jordan Harbinger has worked as a Wall Street lawyer for many years, and thus, as a result of his time involved with the cases of some of the world's most successful people, he has developed a natural curiosity for the people he investigates, and thus his very own podcast series has become renowned for its inquisitive style.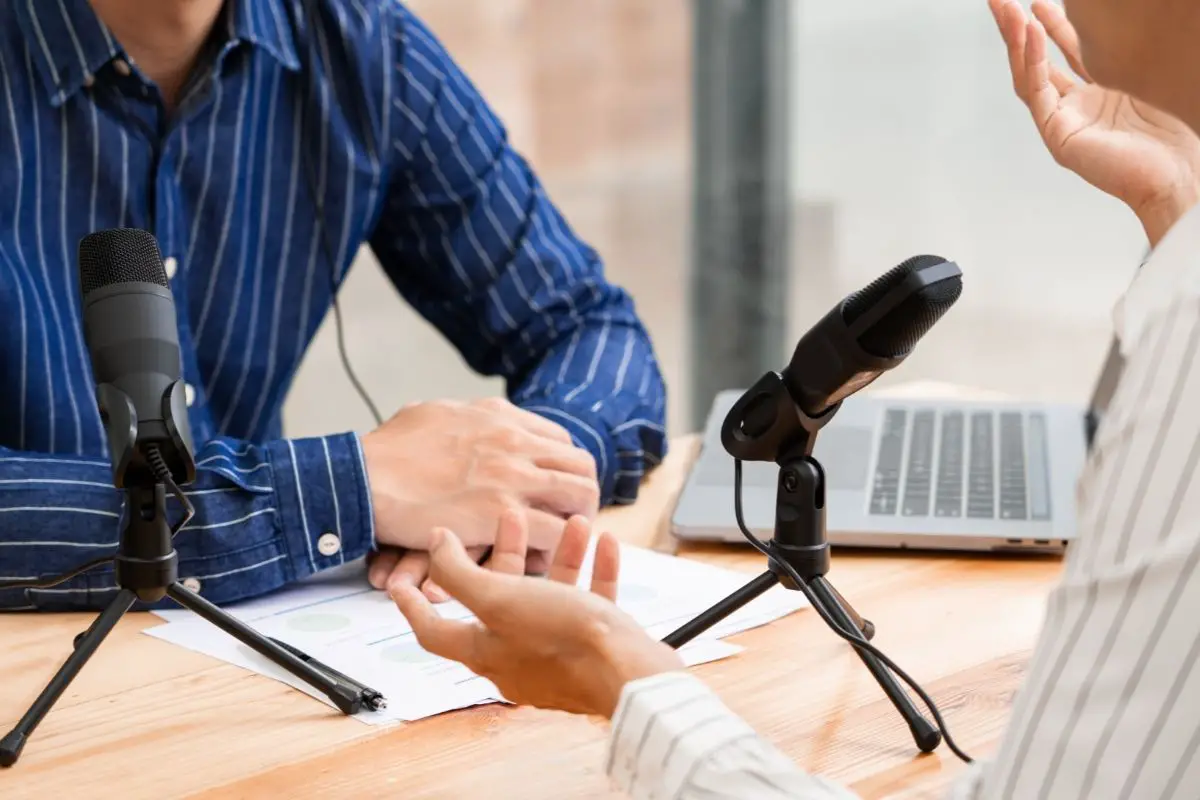 Jordan makes for a perfect host, as he invites highly successful guests to discuss how they got their starts in their respective industries and asks them plenty of questions to really dig out the truth.
It's a very prolific show, as evidenced by its over 500 episodes already having been produced, and the immense streaming numbers each episode draws in.
However, this means that it can be difficult to find out where to start with the series.
Luckily, you have come to the perfect place, because I am going to show you some of the absolute best episodes that the series has ever produced.
Read on to get started.
Episode 494 – Rutger Bregman – Humankind: A Hopeful History
Special guest Rutger Bregman joins the show in this episode to spread a little bit of positivity and joy as he discusses the recent release of his book Humankind which details how humans are actually inherently good, despite popular consensus to the contrary!
Both Rutger and Jordan not only discuss the incredible work that went into producing the book, but also some times in which humanity has demonstrated an overwhelming tendency towards good.
These include events such as the aftermath of the Blitz in World War 2 and the aftermath of Hurricane Katrina.
They also discuss the psychology that leads us to believe that humanity is inherently evil, which helps to explain why it is such a prevalent belief.
Listen on jordanharbinger.com.
Episode 492 – Michael Shermer – Why We Believe Weird Things
The nature of belief is somewhat mysterious and difficult to pin down.
Humanity has, for as long as it has been around, believed in numerous things, hence the continued prevalence of religion in the modern world.
But why is it that humanity so often chooses to believe in things? And why do so many choose belief even in the face of overwhelming odds?
This episode takes a very compassionate approach to the concept of religion and doesn't treat it in a condescending way.
Michael Shermer identifies as a skeptic, which is very different from a cynic.
Though he may be interested in debunking religion, he respects others' beliefs in it.
This is a nuanced episode that tackles a truly human topic in a very delicate way.
Listen on jordanharbinger.com.
Episode 348 – Thomas Kostigen – Hacking Planet Earth
Geoengineering looks set to completely turn the tides on global warming and curb the potential impacts that climate change may have.
Professional Geoengineer Thomas Kostigen joins the show in this episode to discuss his latest book Hacking Planet Earth.
But don't worry, if you don't already know what geoengineering is, rest assured that this episode of the podcast will explore the concept in depth.
The episode kicks right off by defining the concept, and then looking at some of its current applications, and how applications of it could change in the future!
This episode will really show you the potential for geoengineering, and the great impact it could have on our continued survival as a species.
Listen on jordanharbinger.com.
Episode 513 – Charlamagne Tha God – The Opportunities Of Black Privilege
Charlamagne Tha God takes the opportunity to join the show in this episode as he discusses his latest work Black Privilege: Opportunity Comes To Those Who Create It.
Not only do Charlamagne and Jordan discuss the contents of the book, which touches on modern race issues, but they also discuss Charlamagne's extensive career, including his early years, such as when he used to sell crack on the streets!
Charlemagne also has some great and inspiring ideas for avoiding self-fulfilling prophecies and avoiding negative preconceptions of yourself.
This all helps to make this one of the most inspiring episodes of the series, and one of the best ever.
Listen on jordanharbinger.com.
Episode 511 – Does A Reformed Abuser Deserve A Second Chance?
This episode asks a very simple but ultimately complex and nuanced question, and that is whether or not a reformed abuser deserves a second chance at life.
This episode allows Jordan to show off his inquisitive nature and his ability to explore concepts in a detailed and nuanced way.
Though it is a difficult question to come up with a definitive answer to, Jordan makes a valiant attempt to explore it in depth.
This is easily one of the best episodes of the series to try out, thanks to the fact that it shows off Jordan's hosting talents, and his willingness to explore issues in a compassionate manner.
Listen on jordanharbinger.com.
Episode 487 – Connect With Cult Father, Or Don't Even Bother?
This episode explores a true story involving a daughter who, after many years of indoctrination, found herself escaping the clutches of her controlling father and the cult that he was a part of.
It has been some years since the woman emancipated herself from her estranged father's grasp, but now she finds herself wondering whether it would be worthwhile to reconnect with him.
To make matters very difficult, the girl is told, by her father, that if she does not repent, she will not even be allowed to set foot back onto her father's property.
Jordan explores every angle of the situation to try to come up with an amicable solution, and some of his ideas are very interesting.
Listen on jordanharbinger.com.
Episode 404 – Guy Raz – How I Built This
Guy Raz hosts the equally popular How I Built This podcast, in which he interviews famous entrepreneurs and successful business people to find out how they found their successes.
When Guy is joined by Jordan, you can bet they will have some very fascinating discussions, and this episode is a testament to that, as they discuss some of the most successful entrepreneurs of recent years.
When two fascinating podcast hosts put their minds together you get classic episodes like this!
Listen on jordanharbinger.com.
Episode 680 – Recycling – Skeptical Sunday
Recycling has already proven itself to be a very effective way to stave off climate change, and this episode of the show is dedicated to celebrating the act.
But what different kinds of recycling are there, and what kind of impact is it all having?
It can be easy to forget just how much of an impact recycling can have on the environment, and this episode serves as a perfect reminder.
Jordan also discusses exactly what happens during the recycling process to help save the planet, as well as a number of ways in which listeners can improve their own recycling practices to guarantee that their actions have a positive impact.
Jordan also discusses the annoying fact that certain materials cannot be recycled, and investigates exactly why it is the case, and why such materials are still in such heavy circulation.
Listen on jordanharbinger.com.
Episode 240 – Richard Clarke – Defending Ourselves In The Age Of Cyber Threats
Richard Clarke is definitely one of the most high-profile guests that the show has ever had.
Richard has worked in national security for well over 30 years, and in that time worked directly under three presidents of the United States!
With the continued importance of the internet and communication technologies in our modern lives, there is perhaps no better guest to have on the show to discuss how listeners can protect themselves against the many threats that the internet can pose.
Both Jordan and Richard discuss how cyber attacks have been used to directly impact physical infrastructure in the real world, and how cyber terrorists should be treated as just as serious a threat as traditional terrorists.
This episode is full of surprises regarding the power that cyber threats can have, and why it is important to be wary of them.
Listen on jordanharbinger.com.
Episode 366 – Bill Nye – Radical Curiosity Saves The World
Bill Nye is not only one of the world's most celebrated public speakers and scientists but is also something of a celebrity in his own right.
Many people across the world grew up with his teaching on science distributed on the Disney Channel in the early 2000s.
Bill Nye is as naturally inquisitive as Jordan, so this episode is dedicated to exploring the value of curiosity, as displayed by some of the real-world impacts that a sense of curiosity can have on the world at large.
Topics that are discussed in this episode include things such as modern science, and the increased rise in skepticism regarding proven scientific fact, such as flat-earth theorists, and anti-vaccination pundits.
They also discuss the continued impact that Bill Nye's early work still has on young people across the nation, as evidenced by his television show still being used to teach new generations about science.
Listen on jordanharbinger.com.