Sometimes you just don't have the time to spare to listen to an entire hour's worth of podcasts.
Sometimes life is just a little too busy, and free time soon becomes a luxury.
But in a world dominated by podcasts with episodes that go for well over an hour at a time, how on earth can you possibly entertain yourself with a podcast when you have a spare half-hour?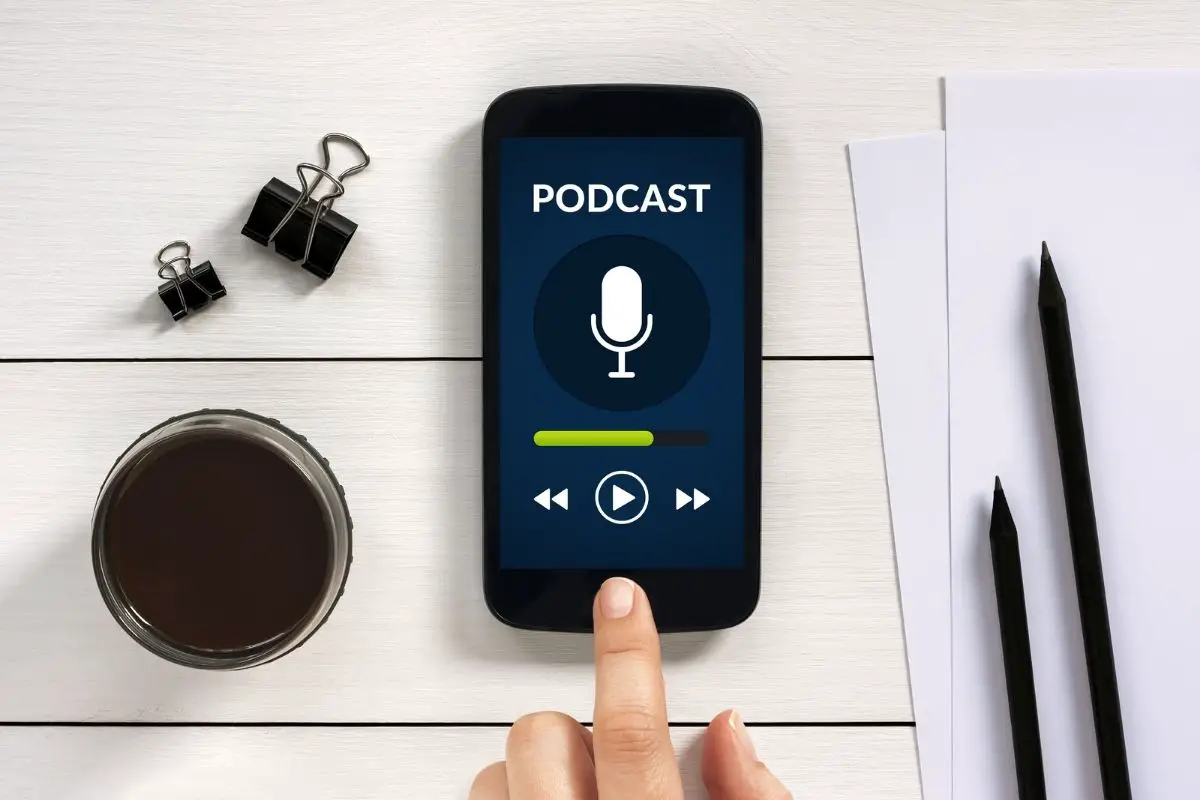 Luckily, I've put together this comprehensive list of the best podcasts that are a perfect solution to exactly this problem.
Do you want a podcast series that is short and easy to consume but still fully enriching, entertaining, or maybe even educational? If so, then this list is the perfect place for you to start.
I've compiled a truly eclectic list of shows that cover a wide range of genres and topics so that there is always something perfect for occupying your mind in those few minutes of spare time.
So, why don't we delay no further, and jump right in with the first entry on our list?
Read on below to get started and find out some of the best podcasts with episodes under 20 minutes long!
TEDx SHORTS
TED, known for hosting some of the best and most illuminating talks and conferences with some of the most brilliant thinkers of our time, or just anyone who has an interesting experience or life, has decided to condense their recognizable format into the form of an awesome podcast.
However, you needn't worry when listening to the TEDx SHORTS podcast, as each and every episode is designed to be short, compact, and easy to consume, with no episodes ever exceeding the 20-minute mark.
This makes it perfect for your morning commute to work, for example, as the interesting ideas explored in the show will awaken your mind and get you ready for the day ahead.
Each story is fully illuminating and will fill your mind with inspiration so that you can tackle whatever your day throws at you.
I could rave on and on for hours about this podcast, but you're here because you don't have that kind of time! So check the show out now and prepare to be inspired!
Listen on ted.com.
The Daily Punch
Do you have trouble keeping up with the intricate world of politics?
Ever find yourself left in the dust when it comes to figuring out which political party represents which ideas, and which politicians are working in your best interests?
Don't worry, it happens to the best of us, which is why Punchbowl news decided to put together the excellent Daily Punch podcast.
This podcast seeks, every morning, to explain to you the most recent developments in the political realm, so that you can always be up to date on the issues that are most important to you, without having to spend hours reading the news every single day.
By throwing on each episode of The Daily Punch, you are able to quickly get up to speed on the political world so that you can keep up with water-cooler conversation and fight for the things that matter to you politically.
The short format of this show sets it directly apart from many political podcasts that often labor the point and see run times in excess of 1 hour or 2 hours at a time!
I still find myself continually impressed at just how much the hosts of this show manage to stuff into just a few minutes, yet without ever overwhelming the listener with information overload.
It manages to always report on only the most important facts and never become tiring.
Listen on cadence13.
Motherhacker
The trouble with finding shorter podcasts is that you may come to believe that you have to miss out on some of the best fictional podcasts around.
Many of the most popular fictional podcasts feature immensely long episodes, which can be very frustrating for any with very little time, as such series are best experienced by consuming whole episodes at once.
However, you are in luck, because you don't have to miss out on this next show which is definitely one of the best fictional podcasts I have ever listened to!
Motherhacker, written by the immensely talented Amanda Lipitz, follows the story of one woman, down on her luck, who chooses to take to vishing in order to make a little bit of extra income to help to support her family.
'Vishing' refers to voice phishing, which is the act of making fraudulent phone calls to reveal the personal information of victims to steal money from them.
Though she feels terrible doing it, protagonist Bridget is left with very little choice if she wishes to keep her family fed.
This creates a palpable sense of desperation within the story that will have you rooting for Bridget at every turn, no matter how desperate or dark her situation becomes, or the lengths she must go to improve it.
Of course, one of the best things about this series is that it features episodes that frequently are shorter than even the ten-minute mark, which makes it incredibly easy to listen to in shorter bursts, or even to binge through, should you ever want to.
To make the deal even sweeter, however, the show also features an all-star voice cast including the likes of Carrie Coon, Alan Cumming, Lucas Hedges, and Pedro Pascal, just to name a small few.
This makes the show very enjoyable to listen to, as these seasoned actors each bring their performing skills to the role to elevate this perfectly written material even higher.
This series is also a Spotify Original series, which means that it is exclusive to that platform.
This means that you can be sure that it is a high-quality show that is well-deserving of your time and attention.
Listen on gimletmedia.com.
HistoryPod
It's always good to learn a little bit of history.
The only problem is, many of the best resources out there to help you to learn history are very expansive and thus it would take you a very long time to learn about even some of the smallest historic events.
If you want to learn a little more about human history, but be able to do so in a way that is time-efficient and doesn't take up your precious time, then you should look no further than HistoryPod.
HistoryPod is a wonderfully produced podcast series that has a very simple premise. Each day a different historic event is explored within just a few minutes.
The historic event of each day is chosen based on the day itself.
For example, if you were to tune in to the podcast on April 3rd, 2022, then you would be met with an episode based around the murder of Jesse James at the hands of Robert Ford.
Structuring the series in this way helps to make the show very engaging. It also helps to make the show very addictive.
Each morning you will wake up excited to check out the latest episode and to find out what the topic of the latest episode will be.
This is a great podcast if you're fixing for something interesting that will enlighten you, and help you to be a little better informed.
And the best thing of all is that you don't have to dedicate lots of time to the show.
Each episode is incredibly short and can be the perfect thing to listen to in order to wake your mind up and get yourself going!
Listen on historypod.net.
Short Wave
Science is an immensely interesting and mind-blowing topic, but the only problem is that many scientific publications that report on the latest developments in the field, or its history, tend to be rather obtuse and very inaccessible, especially to newer readers.
Many require intense knowledge of science or the use of highly specific terms that often fly over the heads of the average layperson.
Short Wave from NPR is the perfect remedy for this exact problem.
This short-form podcast, dedicated to creating 10-minute episodes, seeks to make scientific knowledge accessible to all.
Each day the show focuses on a new range of topics to help to expand your mind.
Each episode is packed to the brim with historical science as well as some of the newest scientific developments.
This can be a wonderful show for starting your day with a little bit of positivity, as each episode is packed full of amazing advancements in medicine and life-improving technology.
The show is also highly entertaining to listen to, and often quite hilarious.
The hosts are dedicated to keeping the show rather lighthearted and breezy, so it never feels like a chore to listen to.
The show is energetic and full of life and passion for science.
This show boasts a perfect balance between humor and knowledge to help you not only be entertained but educated at the same time.
It's the perfect show if you're looking for something that will keep you interested and engaged throughout the entire episode.
Listen on npr.org.
How To Be A Girl
This series is truly enlightening and contains some very vital discussions on gender and the changing role that it is playing in society today.
The focus of the series is very simple, as it explores the relationship between Marlo Mack and her six-year-old trans daughter.
The show is produced entirely by Marlo herself in collaboration with her daughter as the two discuss some surprisingly heavy topics.
This also gives the show a very charming and rather cute tone, as you can really feel the love that the two hosts have for each other.
True to its title, the conversation between Marlo and her daughter very often turns to what it means to be a girl.
What's involved in being a girl, and what gender means on the individual level.
The conversation can also become quite emotional at points, and you'll be surprised at how astute Marlo's daughter seems to be, and how well she is able to express her own ideas and emotions.
This is a truly beautiful series that takes a very simple and modern concept and creates something truly beautiful from it that will easily stand the test of time and act as a perfect time capsule for Marlo and her daughter to look back on and reminisce over.
The episodes are also incredibly short, so you can easily catch up with the show in no time at all by listening to a few episodes at a time in your spare time!
Listen on howtobeagirlpodcast.com.
The Truth
Podcasts make for a great platform for storytelling and showing off some of the best in modern fiction.
However, no podcast series better shows off the beauty of short stories than the awesome podcast The Truth.
This fantastic series is dedicated entirely to platforming short stories from some of the best writers, often choosing stories from writers that don't receive nearly enough recognition for their work as they should.
However, what truly makes this podcast series stand out is that each story in each episode is actually recorded as if it were being acted out, rather than simply being narrated.
This makes it feel like you're listening to a gripping and exciting blockbuster movie!
It also helps you to feel directly involved in the story, which makes this easily one of the most immersive podcast series I have ever had the joy of listening to.
In fact, the hosts of the show actually recommend that you listen to the series through headphones to get the best experience, which makes this show the perfect option for any of you who might have a long daily commute!
The series also uploads very regularly, and though a few of the episodes occasionally push past the 20-minute mark they never exceed an hour in length, so you can always find some time to enjoy!
Listen on thetruthpodcast.com.
The Savvy Psychologist's Quick And Dirty Tips For Better Mental Health
You can bet that with a title as long as this show definitely knows what it is talking about. Have you ever felt a little bit overwhelmed by the modern world?
Ever find yourself wishing you could slow down and improve your mental health but you just don't have the time? Don't worry, because you are definitely not alone.
If you want to improve your mental health, you may find yourself daunted by the many options out there designed to help you, each of which often requires a significant time investment to work.
That's where this awesome podcast comes in to save the day.
Each episode of this show is easily less than 10 minutes, so you can easily tune in quickly and get exactly what you need.
The show is hosted by Dr. Monica Johnson, who has a very sympathetic and soft tone that makes the show comforting to listen to.
But the show is also very funny, thanks to Monica's humorous style.
The show will help you to better understand and cope with emotions, and each episode's topic is clearly written in the title, so you can always be sure of the advice that you are going to receive, and that it will definitely be beneficial for you in the long run!
Listen on quickanddirtytips.com.