Comedian and actor Justin Long feels like life is too short.
Having recently entered his 40s, Justin has decided to find out how other people search for meaning in their lives and what gives them a greater sense of satisfaction with life.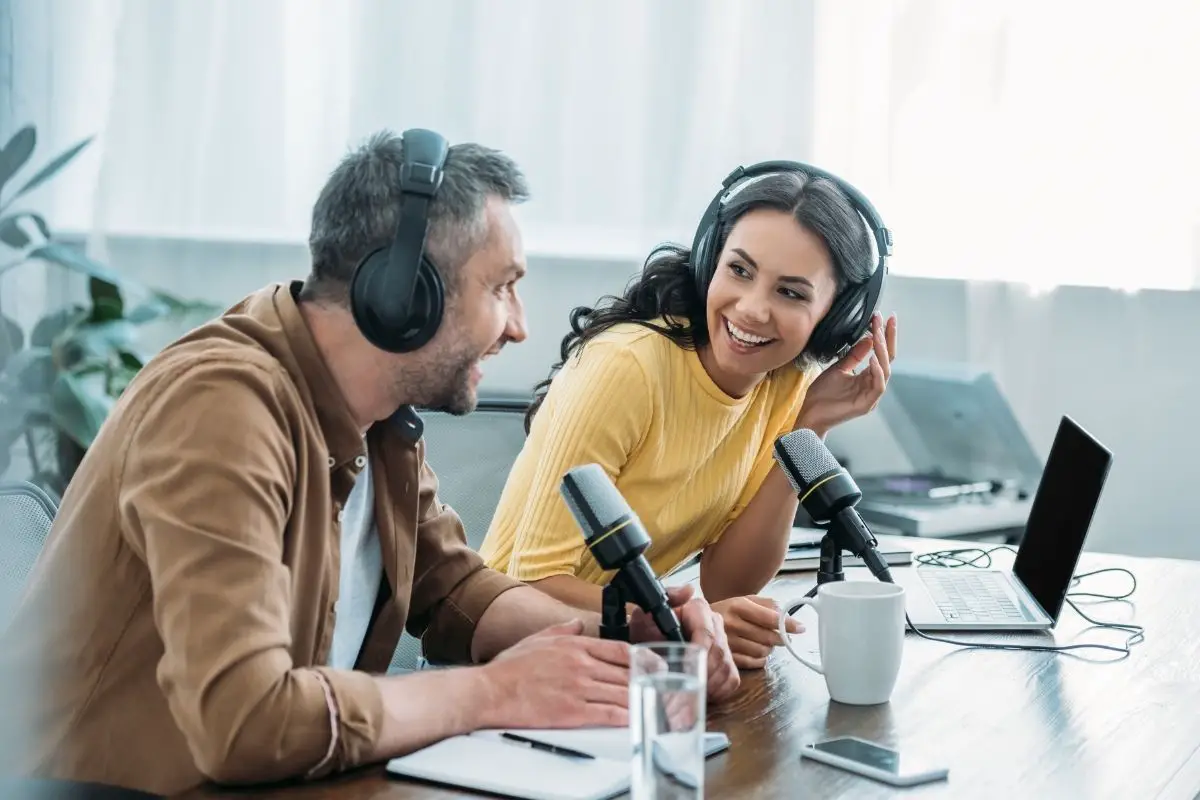 However, the show isn't just concerned with finding the meaning of life or getting bogged down in nihilistic questions of existentialism, as Justin is also interested in finding out what people's favorite snacks are or what emojis they use most often.
This podcast is wonderfully life-affirming and immensely fun to listen to.
If you're ready to try it out for yourself, check out the following episodes, as they are easily amongst the best!
Nick Frost
British actor Nick Frost is one of the best guests Justin has featured on his long-running podcast series.
Nick has an excellent sense of humor that you've already likely experienced, thanks to his appearance in famous films such as Shaun Of The Dead, Hot Fuzz, and Paul.
In this episode, Justin asks Nick what he did with his quarantining time during the early pandemic lockdowns and how Nick was able to stay creative while staying at home.
This makes the episode truly essential if you are a Nick Frost fan, as it will give you invaluable insight into his creative process and the kinds of things that inspired his unique brand of humor.
We also learn a little more about Justin, as he takes the time to dive into some of his earliest jobs before he found success as an actor.
Listen on luminarypodcasts.com.
Charlie Day
You likely know Charlie for his immensely popular role in the long-running cult sitcom It's Always Sunny In Philadelphia. Luckily, Charlie is also hilarious outside of that show!
This episode of Life Is Short is a testament to that fact!
As soon as Charlie sits down to record the episode, he and Justin begin reminiscing about some of their early shared memories of working together in New York City.
The two also discuss what it is like to receive criticism from critics' reviews for films you've starred in.
They discuss how they deal with immense criticism and how they have learned to take such criticisms with a relatively large grain of salt!
Justin also talks about some of the best advice he has ever received throughout his career, including some pertinent advice from Adam Sandler.
It's a very inspiring and heartwarming episode.
Listen on luminarypodcasts.com.
Louis Theroux
Documentary legend Louis Theroux joins the show in this seminal episode of the series. The two discuss making a documentary and what it is like to envelope yourself with the lives of your subjects!
Louis is a fascinating guest who is more than willing to respond to just about any question sent his way!
We also learn about what Louis learned from working with documentarian and human rights activist Michael Moore on some of his earliest documentaries.
You'll come out much more appreciative of how far Louis has come as a filmmaker, and you'll likely find yourself wanting to rewatch some of his most famous documentaries.
You don't want to miss out on this fascinating episode of the show!
Listen on luminarypodcasts.com.
Kevin Smith
This episode is fantastic, thanks to Justin and his guest, filmmaker Kevin Smith, who have a long history together. This history is thanks to the numerous films they have worked on, such as Tusk and Zack And Miri Make A Porno.
They quickly discuss what it is like to be on the set of a film and what is involved in making a film work out in the end.
It's also fascinating to hear what went down behind the scenes of their films.
Hearing both the actor and the director discussing the films themselves is a fascinating opportunity that will help you to better appreciate the filmmaking craft!
We also learn a lot about Kevin himself over the course of this episode, as he discusses his Catholic upbringing and what kind of influence it may have played in his later life and his films.
Listen on luminarypodcasts.com.
Alan Cumming
Though you may not know it, Alan Cumming has likely appeared in many of your favorite films!
He is an unsung hero in modern Hollywood, and this episode is dedicated to celebrating his very eclectic career!
This episode is quite reflective, as Alan Cumming spends a lot of time talking about his Scottish identity and how his identity has become more nuanced as he has grown older and taken on more and more work.
We also learn a lot about the late legend Stanley Kubrick, as Alan recalls some of the earliest stories of his first encounter with the director while on the set of Eyes Wide Shut.
This is a yet undocumented story of Kubrick's career, so it is great to hear about such a remarkable story!
Listen on luminarypodcasts.com.
Seth Green
Seth Green first found success as a child actor and has maintained a healthy level of success ever since the early days of his career.
Now he is perhaps best known as the lead showrunner behind the popular cult show Robot Chicken, but he has also had many breakout roles in films such as the Austin Powers series.
In this episode, Justin takes the time to learn about Seth and what makes him tick. What are the things that inspire his work, and what he believes makes life worth living.
Towards the end of the episode, Justin and Seth are also joined by Seth's wife so that we can learn a little more about where his life is at now and how married life is currently treating him!
Listen on luminarypodcasts.com.