Some of the biggest podcasts ever uploaded to the internet have been part of the comedy genre.
The genre is incredibly popular with so many people, and it is not difficult to see precisely why.
Each podcast series can bring something new to the table, and each one has a unique style that makes it stand out from the crowd.
One might be focused on discussing current events or politics with a comedic twist, while others may be more focused on film franchises or other popular culture touchstones.
There are countless podcasts out there waiting for you to check them out, but how can you possibly choose just one to listen to out of the crowd of many across the internet?
Luckily, you've come to the best place possible because I have compiled this comprehensive list of some of the best comedy podcasts that you can listen to.
No matter what your tastes are, I can guarantee that there is something for absolutely everyone on this list and that you will find something that has you bursting out in laughter.
Read on below to get started!
WTF With Marc Maron
This is easily one of the longest-running podcasts I have ever witnessed. Considering Marc Maron's perfect comedic track record, it is no real surprise that his show has been able to broadcast so frequently for so many years.
Marc Maron is well known for his slightly acerbic wit, and this makes him the perfect podcast host for the modern age, as he can really get his guests talking to create truly great episodes.
The show has garnered much of its acclaim for Marc's sense of humor and how he carries out his interviews.
Marc has a very probing and comprehensive style in every episode to get his guests in a talkative mood.
If you want to know more about some of your favorite celebrities, then the Marc Maron podcast is easily one of the best places to go.
And while Marc can get his guests talking, he is never intrusive or outright rude, and his guests always have a great time, and thus, so will you!
This series is excellent if you want a show that is funny, informative, and insightful into the world of Hollywood.
It is an excellent way to learn even more about some of the most talented writers, directors, actors, and comedians and better understand their creative processes.
Listen on wtfpod.com.
Comedy Bang Bang: The Podcast
Comedy Bang Bang is one of IFC's biggest shows, and this is because it sets itself entirely apart from other late-night shows on television.
The show isn't rigid or highly scripted, and the guests are encouraged to improvise and go off-script whenever possible.
This has made the show immensely popular, so it was only a matter of time before the host, Scott Aukerman, would lend the wonder of Comedy Bang Bang to the podcasting medium.
The show is ideally suited for the podcast medium, as the guests are all invited onto the show and then encouraged to chat with one another loosely and go off on wild tangents and discussions.
This makes the show incredibly easy to listen to and, of course, also makes it hilarious at every turn.
This show is perfect for you if you want an entertaining and enlightening show.
You'll be entertained by the fact that the hosts are so relaxed and casual when they speak, and you'll be enlightened by the fascinating conversations and tangents the guests discuss.
Improvisational comedy is ideally suited for podcasting, and you'd be surprised at just how many celebrities are naturally gifted at improv!
Listen on earwolf.com.
You Made It Weird With Pete Holmes
Everybody has their own weird secrets or weird habits or hobbies. Even some of the megastars across the world have something to hide. Something that might make them seem a bit strange.
This show, hosted by Pete Holmes, is a celebration of weirdness and non-conformity and helps make it easier to celebrate what makes every person unique and valuable.
With each episode, Pete invites a new guest onto the show to discuss the weirdness in their own lives, which makes this show a great twist on the usual interview formula.
If you want to know a little more about Simon Pegg, for example, check out his guest appearance episode, as he discusses some of the weirdest moments and secrets of his life.
This show is easy to listen to and will have you in fits of laughter with every episode because some of these stories can get pretty weird!
The show is also very uplifting, as it serves as a lovely reminder that human nature is messy and that we're all a little bit weird deep down, and that that is okay!
Listen on youmadeitweird.libsyn.com.
Office Ladies
If you're a fan of comedy, then it is a safe bet to assume that you are also a fan of the hit comedy series The Office.
Though the show officially finished serialization a few years ago, the show is still a massive part of the cultural consciousness.
So much so that it only makes sense that there would be a number of The Office-oriented podcast series across the internet.
However, perhaps none are quite as brilliant and hilarious as Office Ladies, which is hosted by two of the show's stars, Jenna Fischer and Angela Kinsey.
These two are hilarious women, and they can bounce off of one another perfectly in every episode.
The series itself is dedicated to re-exploring The Office in exhaustive detail. To achieve this goal, both Jenna and Angela discuss a different episode of the tv series within each episode of the podcast.
This series makes for a fantastic and vibrant celebration of the wonder of The Office and will very quickly have you feeling nostalgic for the first time you watched the series.
Both Angela and Jenna's experiences on the show give an incredible amount of insight into The Office, how it was produced, and what went on behind the scenes with every single episode.
Thus, if you are a fan of The Office, you owe it to yourself to listen to this hilarious series because not only is it laugh-out-loud funny, but it will also help you to better appreciate the extraordinary efforts that went into bringing the show to fruition.
You must try out this show, especially if you love The Office as much as I do. It's just too good to miss out on.
Listen on officeladies.com.
Doughboys
There are so many podcasts dedicated to exploring the absolute best food and restaurants in the culinary world.
Each one shows off the best dishes ever made and is dedicated to celebrating some of the best restaurants from around the earth.
That is why comedian co-hosts Mike Mitchell, and Nick Wiger have set out to create a podcast dedicated to celebrating the glory of some of the most popular chain restaurants!
Whether you're a fan of Subway or Arby's, there is an episode in this show perfectly suited for you.
The two hosts are incredibly funny. They can create entire podcast episodes talking about seemingly innocuous topics such as fast food and make an absolute riot of laughs every second.
And even if you aren't a particularly diehard fan of Mcdonald's, the energy between the two hosts is so palpable that it is practically impossible not to find yourself laughing along!
Check out this podcast because you are in for a real treat. You'll never look at your favorite chain restaurant the same way again after listening to Doughboys.
Listen on headgum.com.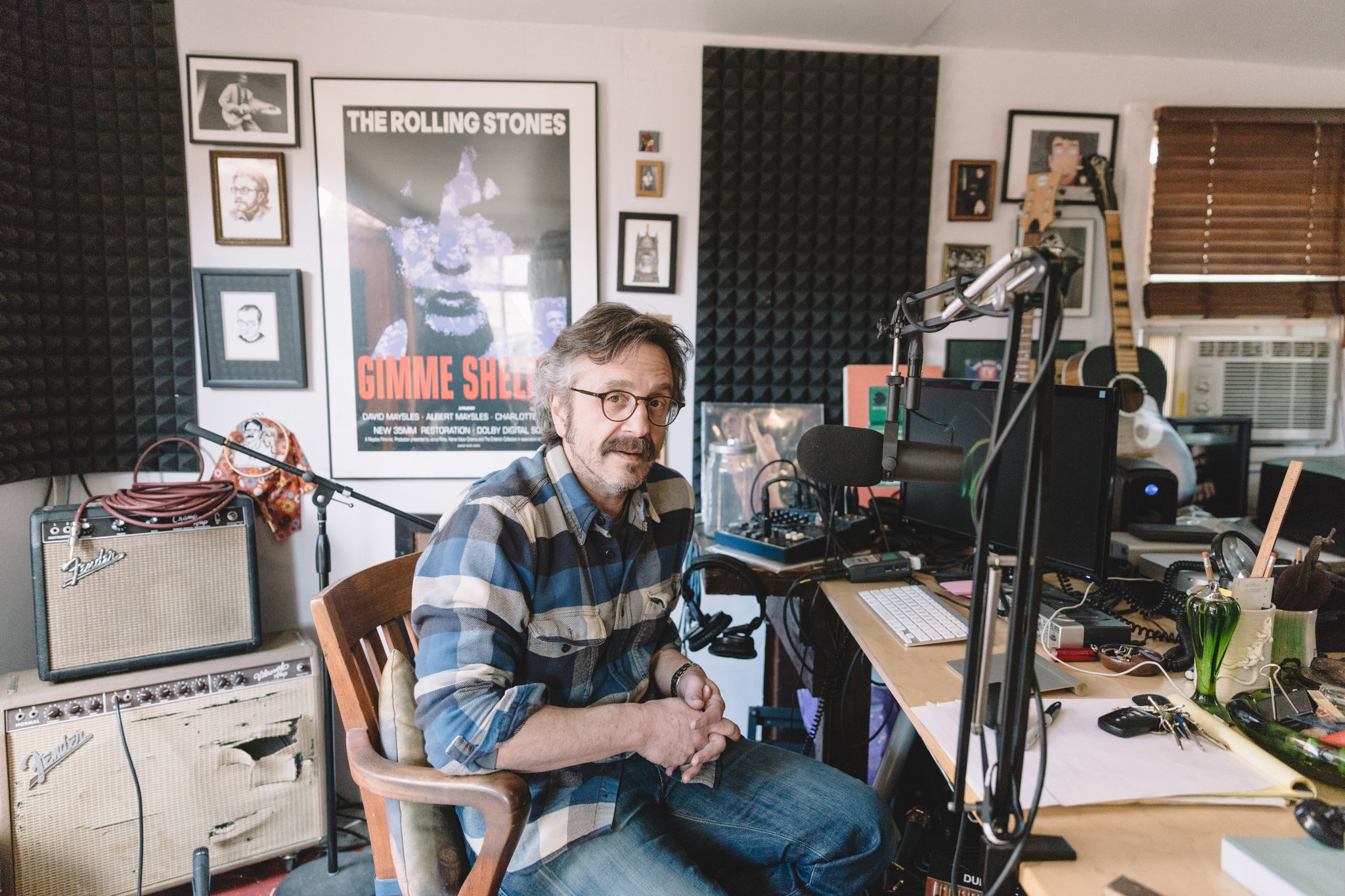 Wolf And Owl
The immensely popular British comedians Tom Davis and Romesh Ranganathan have decided that too many podcasts involve hosts discussing things for a particular purpose or specific focus.
They've decided that the world needs more podcasts dedicated to friends chatting about very little, and this show might prove that that is correct.
Though Wolf and Owl do not have a central theme or an immediately recognizable hook, the energy between the two hosts and the absolute hilarity they can create makes their show one of the best things you can listen to online.
These are easily two of the funniest men on the internet, so you cannot do wrong, even when they are chatting about nothing important.
The two hosts might prefer to describe their show as a waste of time, but I can tell you with certainty that it is easily one of the funniest podcasts I have ever listened to and that every episode is simply a wonderful treat.
Listen on play.acast.com.
Doug Loves Movies
Do you love movies? Of course, you do! Few things are more enjoyable than discussing some of your favorite movies with hilarious people and growing to love them even more!
Doug Benson, an immensely talented comedian in his own right, has a clear and palpable love of movies, and this show is a perfect showcase of that exact fact.
With each episode, he invites a new series of guests onto the show, and they all discuss some of their favorite movies.
You'd be surprised at how much you can learn about some of your favorite celebrities and artists based on their favorite movies.
This show is a very entertaining way to learn a bit more about your favorite artists, making it very easy to listen to.
One of the best things about this podcast is that it allows comedy fans to get together and talk about something they enjoy.
It doesn't matter what movie they are discussing, whether it is a classic like Casablanca or a modern sci-fi film such as Gravity,
Doug Loves Movies serves as a perfect celebration of some of the biggest and most famous films of all time and some of those hidden gems.
Thus the show is perfect if you are also a film fan and want to find some more film recommendations to broaden your film knowledge.
Listen on douglovesmovies.com.
Fake The Nation
Suppose you want to experience some of the best that comedy podcasts can offer. In that case, you should try out some podcasts from otherwise marginalized voices, such as the amazingly talented and very funny Negin Farsad.
This show is dedicated to exploring the political situation of the current world, as well as various current events, which makes it a great place to keep up with everything going on in the world.
To make the show even better, Negin can offer her unique perspective on everything she discusses as an Iranian-American Muslim woman.
Thus, listening to the show can help you broaden your political scope and better understand the perspective of groups potentially outside of your own.
But don't worry, the show is also hilarious, and each episode brings a new discussion and thus plenty of opportunities for new laughs.
Each episode, Negin is joined by a new series of guests, each of which can bring their perspective, which helps widen your understanding of the world further and allows for some incredibly unique and humorous discussions.
This is the perfect show for you to hear some of the funniest commentaries on politics and current affairs from some of the most humorous and intelligent pundits.
Listen on earwolf.com.