The BFFs podcast is perfect for you if you're a fan of all things pop culture, celebrities, and influencers.
It is hosted by an unlikely trio – Josh Richards, Dave Portnoy, and Brianna Chickenfry – that have incredible chemistry.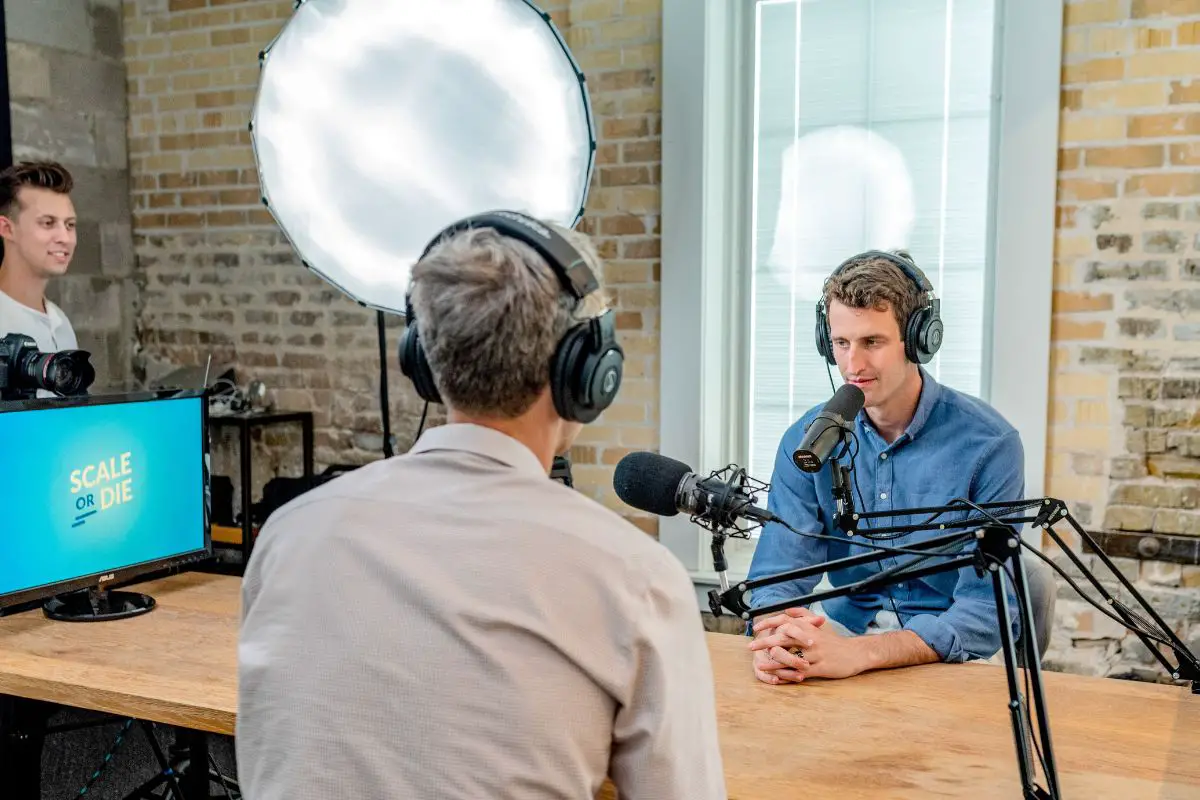 The BFFs discuss all the drama you want to know about, and they have some fantastic guests, from Jake Paul to Dixie D'Amelio!
You never know what to expect from the team, making this podcast very entertaining.
Below, I've listed the best BFFs episodes to get you started. Check them out!
Will Kim Kardashian And Kanye West Get Back Together?!
The Kim Kardashian and Kanye West saga has caught the attention of millions of people, whether they were previously interested in celebrity gossip or not.
And the BFFs are no different!
In this episode, they discuss whether or not the mysterious celebrity ex-couple has a chance of ever getting back together or not.
They also chat about the Surviving Sophia scandal and the controversial MrBeast Squid Game video.
Jake Paul On His Bet Against Tyron Woodley
Few people haven't at least heard of the name Jake Paul.
He started as an American social media personality – a controversial one at that. But, he has recently become a professional boxer and continues to challenge icons in the industry.
In this episode, the BFFs are joined by Jake Paul and discuss his upcoming fight against Tyron Woodley.
Of course, they also touch upon his hate for Floyd Mayweather. The BFFs also chat about the FaZe crypto scam and Charli getting 'canceled.'
Jeffree Star On His Return To The Internet
Jeffree Star is an American Youtuber, entrepreneur, makeup artist, singer-songwriter, and owner of a makeup brand.
Although this sounds impressive on paper (and it is), Jeffree Star has also been shrouded in controversy.
In this episode, the BFFS are joined by Jeffree Star in Miami to discuss his return to the internet, his new makeup line, and all of the unavoidable drama around his name.
They end the episode with a hilarious game of f*ck, marry, kill.
Dixie D'Amelio Rates F*** Boys
If you've ever listened to the BFF podcast before, it will be no surprise that the team has been desperate to get Dixie D'Amelio on the show.
Well, they have finally succeeded!
In this episode, social media star Dixie D'Amelio talks about her new single, her transition into the music industry, and her past failed relationships.
They play a new game with Sixie called Rate That F*** Boy.
Sienna May Gomez
Sienna May Gomez is a huge TikTok and YouTube star.
She quickly rose to fame and has since partnered with huge brands, including Levis, Maybelline, and Reebok. She also has a clothing brand.
In this episode, the BFFS have an open, honest, and engaging chat with Sienna.
This interview is probably the least toxic one the team has ever done! They also introduced a new game called '04 or Before.
Trisha Paytas
Trisha Paytas is an American Youtuber and singer. Their channel consists of a variety of content, from lifestyle vlogs to mukbangs and music videos.
Paytas has never shied away from internet controversy and has had their fair share of fiery feuds.
In this episode, Trisha joins the BFFs to discuss their beef with the TikTok icons, Charli and Dixie D'Amelio. Josh and Dave also recap last week's mixup with Bryce Hall and invite him onto the show again.
Cam Holmes & Emily Miller Expose Too Hot To Handle Secrets
Too Hot To Handle is the newest dating show to take the world by storm.
The show revolves around a group of adults with a history of engaging in meaningless flings.
The group can win a huge cash prize, but only if they don't engage in sexual activity (including kissing).
Cam Holmes and Emily Miller are featured in season 2 of Too Hot To Handle.
In this episode, the pair join the BFFS to talk about their rise to fame, the aftermath of the show, and their mysterious relationship status.
Will Livvy Dunne Sell Her Bath Water To Josh Richards?
Olivia, or Livvy, Dunne is an American gymnast and social media personality.
Currently, she is competing for Louisiana State University in the NCAA, and in 2017 she was a member of the USA national gymnastics team.
But, there is far more to Livvy Dunne than her excellent gymnastics career.
In this episode, Livvy joins the BFF to talk about people on TikTok requesting her bath water and her rise to becoming a huge influencer.
Bretman Rock Is Spending A Week Alone In The Jungle?
Bretman Rock is a Filipino-American beauty influencer and social media personality.
In this episode, Bretman joins the BFFs to talk about his crazy lifestyle as an actor, actress, athlete, activist, singer, songwriter, and scientist on the side.
They also discuss Bretman's Nike Ambassador Campaign for Pride Month and his popular new YouTube series titled '30 Days With Bretman Rock'.
The team also finished with a game called 'To Cancel Or Not To Cancel.'
Nikita Dragun On The Netflix Hype House Documentary
Nikita Dragun is an American Youtuber, model, and makeup artist. In this episode, she joins the BFFs from Miami to discuss the new Netflix documentary, Hype House. This documentary shows the depressing side of TikTok fame.
The group also discuss the Victoria's Secret Fashion Show and Dragun's new makeup line, Dragun Beauty. They also touch on Nikitia's past failed relationships and her platform as one of the most popular transgender influencers.