Firstory aims to be the one-stop shop for podcasts to grow and connect with audiences.
Promotion and engagement tools like FLink, cross-platform comment links, and voicemail are some of the things that are unique to the Firstory platform.
The platform is kept flexible to meet podcasting needs, these tools can be used for sharing, communicating, collecting feedback, and gathering content insights for you from whichever platform listeners choose to tune into.
Formed in 2018, a group of young podcasters designed Firstory around their pain points and experiences in using existing platforms to make the best podcast hosting more accessible to every podcaster.
To this day, Firstory has accumulated over 10,000 podcasters worldwide and has become the number 1 podcast hosting platform in Taiwan; and is especially popular among podcasts conducted in Chinese.
This article provides a full review of Firstory, occasionally matching it against Anchor FM, for benchmarking and comparison purposes.
Check out Firstory for Yourself
Best for Independent or New Podcasters
The intuitive, clean, and straightforward user interface makes it easy for new or experienced podcasters to hop right into Firstory's platform. Despite it looking simple, there are some pretty rad features that might pass your attention, making it suitable for growing podcasters.
With the learning curve kept at a minimum, new podcasters can use these handy tools to streamline their podcasting journey while focusing on creating great content.
Simply upload your audio files onto Firstory. The platform has a built-in dynamic audio insertion, so those who record in multiple snippets no longer need to merge them before uploading.
With just a few clicks, you can have your podcast distributed to Spotify, Apple Podcasts, and other major platforms. Promoting your podcast and engaging with audiences becomes easy with the podcaster-centered tools and user experience.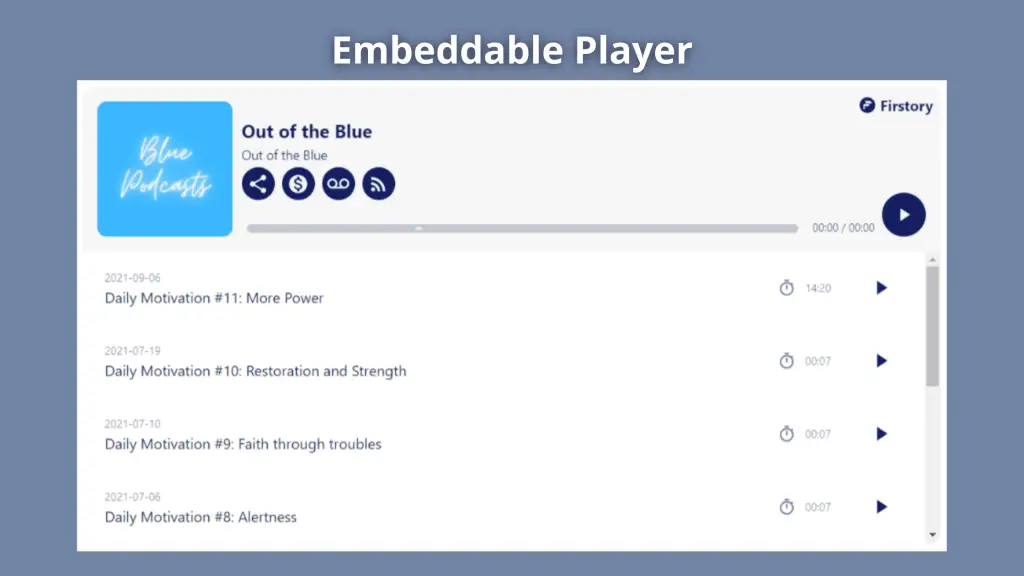 Integrated Plugin
Like Anchor and many other hosting platforms, Firstory does not currently have a WordPress plugin. Firstory provides you with an embeddable audio player link and HTML code that you can easily copy and paste onto your website.
You can also choose to show comments and descriptions and use iframe. Pro Plan users will be able to customize the player's color scheme in the Settings.
Storage, Bandwidth, and Time Limits
Firstory offers you unlimited storage, bandwidth, and episode length for your show. However, it is recommended that each uploaded file size remains under 500MB to avoid any technical issues.
On the other hand, Anchor has a 250MB upload limitation and unlimited bandwidth. When recording on Anchor via mobile app, the maximum recording time is 2 hours.
Firstory supports the following file types: MP3, MP4, M4A, AAC
On the other hand, Anchor supports the following: MP3, M4A, WAV, MPG
Although Firstory supports MP4 files, the platform does not currently support video podcasts. Podcasters who wish to have video podcasts are encouraged to upload the video separately on their website or YouTube.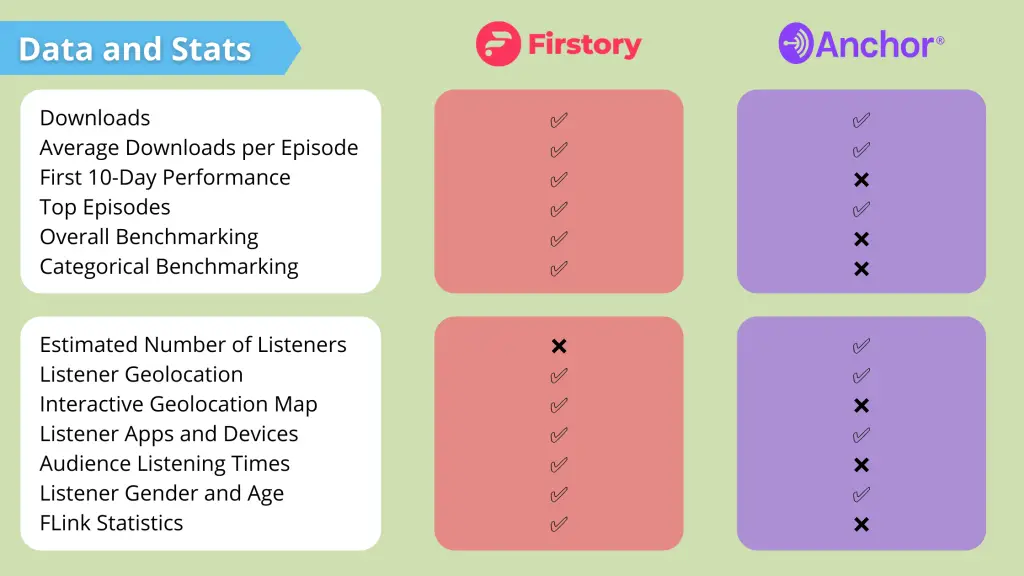 Data and Statistics
Podcast Performance Metrics
Firstory Studio shows the following podcast performance metrics:
Overall Downloads
Average Downloads per Episode
First 10-Day Episode Performance
Top Episodes
Benchmarking within your Category
Overall Benchmarking (Pro feature)
On the other hand, Anchor only shows the Number of Plays (downloads equivalent) and Top Episodes.
Listener geolocation
Both Firstory and Anchor provide the percentage distribution of audiences across countries.
However, Firstory takes it further by providing an interactive map visualization, with darker shade colors representing higher percentages and lighter colors representing lower percentages.
Listening platforms
Both Firstory and Anchor provide the percentage distribution of listeners across operating systems (devices) and apps.
Firstory also has a chart that shows your podcast's audience listening times, allowing you to optimize your podcast episode upload time.
Listener demographics
Both Firstory and Anchor provide information on audience age and gender. Firstory mainly acquires this data straight from Spotify onto your Firstory dashboard.
FLink statistics
FLink is a Firstory-exclusive universal link you can use to promote your show (we'll cover the details later). As part of Firstory Studio's data analytics, you'll be able to see the number of FLink page views, clicks, and the click distribution to the platforms and other links you have on your FLink.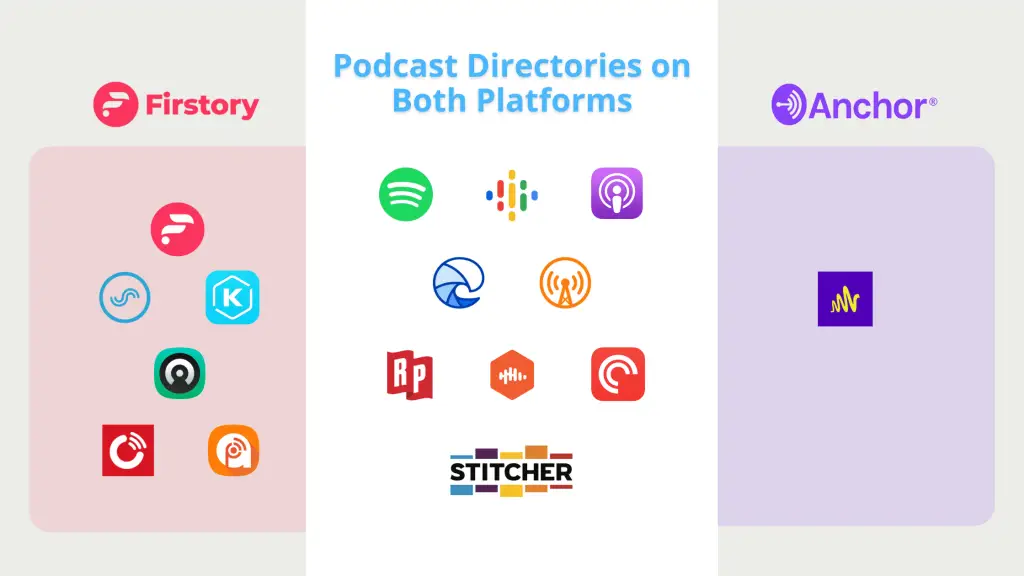 Listing/ Integration into Podcast Directories
Firstory distributes to 15 directories:
Firstory (One-click distribution)
Spotify (One-click distribution)
KKBOX (One-click distribution)
Pocket Casts (One-click distribution)
Apple Podcasts
Breaker
Player FM
Stitcher
Podcast Addict
Radio Public
SoundOn
Google Podcast
Castbox
Overcast
Castro
On the other hand, Anchor distributes to 10 platforms, all of which (except Anchor's player) are included above.
However, it is essential to note that there are many more podcast aggregator platforms. If you don't see a particular platform above, you may still be able to submit to that platform yourself.
Automatic One-Click Submission
Firstory lets you submit your podcast to 4 directories using automatic one-click distribution: Firstory player, Spotify, KKBOX, and Pocket Casts. You can then claim your podcast from Spotify for Podcasters and KKBOX for Podcasters afterward.
Manual Submission and Aggregators
Among the remaining 11 directories that do not get an automatic one-click submission, 7 of them, including Apple Podcasts, require manual submission, which can be done in a few clicks. The other 4 are aggregators that automatically post your show once you've submitted them to Apple.
Simply click "Start Submission" from the Firstory Studio Distribution page for manual submission platforms. You'll be redirected to a page where you can simply paste your RSS feed to submit.
Apple Podcast Reviews and Ratings
Firstory's Apple Podcasts integration lets you view your Apple Podcast reviews across all countries right from Firstory Studio. This unique feature isn't typically found in most hosting platforms and makes it more convenient for you to access audience feedback from one of the top podcast sites in the market.
Dynamic Insertion
Dynamic insertion is usually a feature you'd associate with ad insertion when selling old and new ad spaces to advertising companies and other entities.
Apart from being able to quickly and conveniently insert ads, you can also easily swap, add, reorder, or remove audio snippets, music, CTAs, and public announcements.
When uploading a new episode on Anchor, you can add, drag, rearrange, and form your episode using several audio clips, similar to Firstory's Dynamic Insertion. However, you must revert published episodes back to draft status and republish them if you wish to edit the audio of an already-published episode. At Firstory, you can edit directly without needing to unpublish and republish.
Speaking of publishing new episodes, Firstory also allows you to set episode description templates (show notes) for the information you wish to place under every podcast episode. This may be your CTAs, but it can still be a handy thing to have.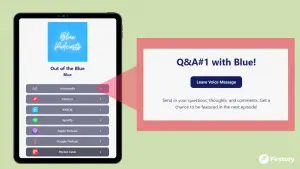 Promotion and Engagement Tools
Promotion and engagement tools are some of Firstory's unique features. Although it may take some time to figure out and grasp their usage, taking the time to do so can potentially help save a lot more time in the long run.
FLink
This is the tool we mentioned earlier under Data and Statistics. FLink acts as an all-in-one link you can use when promoting your podcast on social media, sharing them with friends, or encouraging others to check out your show.
It is similar to Linktree in that you can add the links to your social media sites, website, internet shop, or monetization links. FLink's primary value for podcasters is that it automatically inputs the podcast directory links for you.
That is, the links to your podcast on Spotify, Apple Podcasts, Google Podcasts, etc., are automatically placed for you. You can also include the built-in Firstory voicemail button for visitors to send in their voice messages.
Firstory Pro users can unlock access to episode-level FLinks (in addition to show-level ones) to drive visitors to their latest or target episodes. Additionally, Pro users can also customize their FLink color scheme.
Voicemail
Similar to Anchor, Firstory allows listeners to send you voice messages that you can play straight from the platform or download for succeeding episodes. Firstory will enable visitors to record a maximum of 90 seconds each time without signing up. The company believes that removing the signup wall would encourage more people to engage.
For reference, Anchor's voice messages function requires users to sign in (or sign up) before leaving their voicemail, which they can record for a maximum of 60 seconds each time.
Of the leading podcast hosting platforms, Firstory and Anchor are amongst the few that offer built-in voicemail functions.
Cross-Platform Comment Link
Is there a comments section on Spotify and many other podcast directories? Nope. That's the purpose of Firstory's cross-platform comment link. It can help you collect audience feedback directly from listeners from any platform.
Every time you upload a new episode through Firstory Studio, a "comment link" button is automatically generated for you. You can opt to delete this if you don't want it to appear.
No matter which app your audiences are listening from, they can simply click on this link, and a pop-up browser page will appear. They can then leave a comment under your episode, and you'll be able to view and reply to these comments right from Firstory Studio.