There are more aspects to creating a podcast than you might think. Sure, you need a microphone, headphones, and a plethora of other recording equipment. But, while these will help you record your show, they won't do much in the way of getting its name out there!
To market your podcast and scream its name to the world, you'll need a website to accompany it. And, one of the best services for creating a website is WordPress.
The choice of designs and themes offered by WordPress gives you a place to take about your show, provide links to streaming services, embed each episode, and even produce video content.
However, if there is one downside to WordPress, there are almost too many options to choose from. A nicer problem to have, you might think. But, when it comes to creating a website for a podcast, there are certain features that you need to look out for, and not every theme offers these.
So, to make things easier, we've created a list of the 10 best podcast WordPress themes. Each of these is ideal for promoting your show, gaining new listeners, and generally taking your podcast to the next level.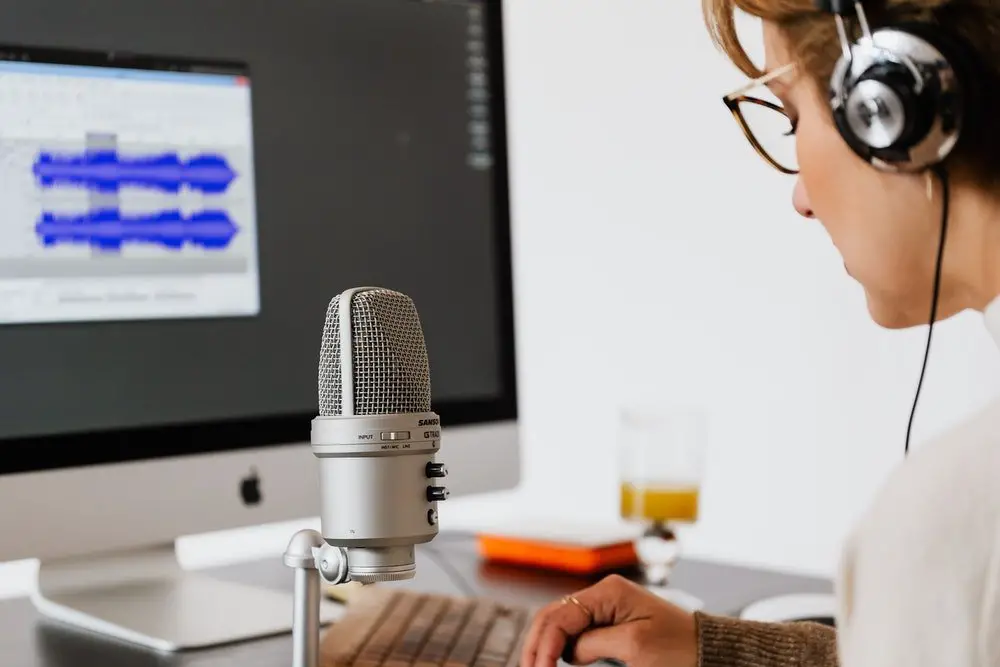 Megaphone is a pretty good all-around WordPress podcast theme. The design would work for most shows, and, thanks to the customizable settings, there are a total of six different homepage layouts to choose from.
Each homepage layout shares a similar style, but the content is laid out differently for each. So, if you would like to keep things simple, you can choose the layout that offers a single column.
Or, if you'd prefer every tab of your website to be easily viewed from the homepage, you can choose the layout that provides multiple columns.
With Megaphone, you've got full control over the color scheme of your website, allowing you to keep your podcast's branding consistent across each platform.
There are recommended color options, but these are only suggestions, and you can choose from a huge variety of colors as well. You've also got total control over fonts, and these are quick and simple to select and change whenever you want.
Amongst the plethora of features offered by Megaphone, you'll find a 'sticky' audio player. This keeps your podcast playing uninterrupted while your listeners navigate through the different sections of your website.
You can also use the Megaphone theme to host your podcast content anywhere you like, then integrate your chosen hosting platform with your website. This offers you quick, seamless uploading and frees up some time.
Various WordPress plugins are compatible with the Megaphone theme, giving you even more publishing and show-management options.
Offering more than just a website, the Dixie WordPress theme is designed to help you quickly build an audience.
It does this by offering a fully-featured audio player that can be used for listening to episodes of your podcast, as well as being integrative with Libsyn, Podbean, Spreaker, and other services, allowing you to display a full list of episodes.
Another fantastic feature Dixie has to offer is the option to embed a video player. This allows you to post vlogs and is ideal for bringing new listeners to your show with exclusive, behind-the-scenes content.
The default homepage layout provides everything visitors to your website want to access in one place and gives you space to introduce your show and promote each episode easily.
There is also a section where you can create profiles for each member of your production team and give your podcast a more 'human' feel.
If you don't like the default homepage's look, it can be customized using the Elementor drag-and-drop tool. This allows you to easily swap and change the placement of certain tabs and menu options.
The Elementor plugin also comes with its own set of pre-built templates, giving you even more options over your website's layout.
Tusant is a WordPress theme that has been built specifically for anybody that wants to create a podcasting, music, or video website.
What's more, it allows you to publish an unlimited number of episodes, so it can be used as a back catalog and makes an invaluable resource for new listeners to your show that would like to travel back to the very beginning.
Its design and functionality are simple, which is what you want when you're trying to steer people towards audio content. There's also no searching for the audio player as it's located directly on the homepage, so your audience will have no trouble accessing each episode as it's released.
Tusant integrates with the best podcasting plugins and platforms and allows you to upload your show directly to your website or embed them from audio files hosted elsewhere. This is ideal if you're yet to settle on which hosting platform you'd like to use or if you're in the process of changing hosts.
Another fantastic thing about the Tusant WordPress theme is that it is mobile-friendly. This means that your listeners will be able to listen to your show anytime and anywhere. It's also optimized for SEO, which makes it easier for new listeners to find your show.
The standard color scheme of Tusan is dark and brings a modern, stylish look to your podcast. However, you can customize colors and appearance to suit your brand better if you wish. There's also a drag-and-drop page builder included that makes it easier than ever to do this.
You have four different templates to choose from with the Podcaster WordPress theme, giving you the ability to customize your website and really find a look that suits your show.
With each design, the homepage is user-friendly and easy to navigate and provides you with a place to introduce your show.
You can also use the homepage to provide links to the streaming services that your podcast is hosted on and create a full list of each episode.
Of course, like all good podcast themes, Podcaster also includes an audio player, and you can even upload a featured image to each episode to really keep your brand on track.
Podcaster allows you to publish show notes and descriptions alongside each episode of your podcast, which is ideal for boosting SEO and getting your show discovered by new listeners.
There are loads of customizable options included with Podcaster, which you can use to change fonts, colors, and your website's header areas. This WordPress theme is also regularly updated, so you'll be able to stay on trend and add new and exciting features to your website as soon as they are available.
Castilo is another WordPress theme that was created with the sole purpose of helping you create a website to accompany your podcast.
It allows you to host and publish episodes of your show directly from your website, which gives you more control over storage and removes the expense of a monthly subscription to a hosting service. This is particularly ideal for new podcasters who may be working with smaller budgets.
The Castilo WordPress theme also has full RSS feed support, allowing you to promote new episodes of your podcast far and wide. It even comes with the ability to connect to Google Play and iTunes directly from your website, again removing the need for a hosting platform.
However, if you already have access to a hosting platform or have a back catalog of episodes stored on one, you can use the Castilo theme feature to import them to your website easily.
You can even create a custom schedule that will pull new episodes listed on your hosting platform directly to your website automatically, saving you time and effort.
The standard design of the Castilo WordPress theme is simple. Your audience will find it easy to navigate, featuring a library of templates, each of which includes all the necessary features you need from a podcasting website. It also includes social media integration and a newsletter sign-up form that can be used to reach out to a wider audience with ease.
Whether you're launching a new podcast from scratch or your existing website could do with a bit of a makeover, Podcast Master is the perfect WordPress theme for helping you create a stunning website.
There are a total of eight pre-designed templates to choose from, and you can customize each of them better to suit the branding of your podcast. You can also take full advantage of the WooCommerce support plugin that allows you to sell both digital and physical merchandise safely and securely.
Podcast Master features a 'Featured In' section as well, which you can use to showcase your show's achievements and lets your audience know exactly why they should be tuning in!
As well as being aesthetically pleasing, Podcast Master allows you to publish and store an unlimited number of episodes. It also features an archive template that you can use to organize and store each episode of your podcast neatly, rather than having them as an ever-growing list on your website's homepage.
The newly-designed audio player makes it easy for your audience to listen to your show directly from your website. You can also add external links to streaming services such as Spotify and Google Podcasts.
Rare Radio features four different demos, each of which is perfect for a podcast website. All demos have a stylish homepage layout that is packed with loads of useful features. Its user-friendly interface makes it an excellent choice for any technophobic people looking for a way to build a top-quality podcast website with minimal effort.
While each of the four choices is feature-packed, they all have a unique design. This means that you'll be able to find the choice that's best suited to your podcast's branding, rather than relying on a stock template that doesn't quite match anything else.
You can choose to have an audio or video player directly on the homepage to give your listeners easy access to your show. You can also list all of your recent episodes in chronological order. There is a category interface that allows you to organize episodes so that your audience can easily find the ones they'd like to listen to.
The Rare Radio WordPress theme also includes some eye-catching templates that you can use to publish your show notes, and you can also add an image gallery to the site to give your audience a behind-the-scenes look at your recording process.
This theme also includes fantastic social media integration. It even allows you to run a direct feed from your Instagram account to keep it constantly updated and appealing to your dedicated audience.
If you're looking for a WordPress theme that allows you to publish your podcast, post video content, and keep your audience updated with upcoming news, then Viseo is a great choice. It's also super easy to import in just a few clicks, so it's ideal for anybody who isn't completely confident building a website.
The aesthetics of the standard template are modern and stylish and will give your podcast a super-professional appearance. And, if you'd like to keep everything on brand, you can change colors and fonts with ease.
One of the most appealing features of the Viseo WordPress theme is the full-screen slider on the homepage. This is designed to preview your latest content, or a particularly entertaining or informative segment of your show, to really grab a new listener's attention as soon as they arrive.
The default layout displays excerpts from your latest blog posts accompanied by an image and the publication date. This helps your audience find what they're looking for with ease and allows them to check on any new content without having to search for it too extensively. The website's footer can also be adapted to your preference and allows you to display your own choice of content or external links.
Customizing the Viseo WordPress theme is super easy, thanks to the included drag-and-drop page builder tool. Again, this makes it a great option for anybody new to WordPress themes or if you're looking for an easily manageable way to create a website for your podcast.
Stylish and functional, the Wpcast WordPress theme can be integrated with Apple Podcasts, Google Podcasts, Spotify, and a host of other platforms to make it easy to tie everything together in one place. And, you'll still be able to publish episodes on your website, too, giving your listeners even more platform options.
There are two different homepage layouts to choose from, and both look super professional and are packed with useful features. One of these features is a podcast slider, which can be used to highlight your favorite episodes or those that are favored amongst your audience and promote them to new visitors to your website.
Doing this also allows you to create a list of your episodes and make it easier for your listeners to select their favorites and relisten them whenever they want.
Dedicated sections of your website can also be given to recent blog posts designed to keep your audience engaged and informed of upcoming show themes or guests.
You can also create user-profiles for yourself and your team members, giving your listeners the inside scoop on who's who and generally making everything feel a little more human.
Customizing the Wpcast WordPress theme is really easy, and whenever you want to make changes, all you need to do is use the included drag-and-drop page builder tool.
To keep your audience engaged and interested in your podcast, you'll occasionally need to create video content alongside your audio. And, to do this, you'll need a website that you can publish both types of content on.
This is where the Vlog WordPress theme comes in. It's user-friendly, video-friendly, and will help you take your show to the next level.
It's also fully integrative with video hosting websites such as YouTube and Twitch, so as well as being able to post directly onto your website, you can pull through any historical videos you've already created. It also comes with a plugin that makes it easier than ever to import audio files from hosting services.
As soon as you start adding content to your website, whether it's audio, video, or both, the Vlog WordPress theme provides you with a range of tools that help you organize your content in a way that is easy for your audience to navigate. This includes creating multiple playlists, which can be used to produce a stream or series of related podcast episodes or videos.
You're almost spoiled for choice with the number of templates to choose from with Vlog, and there are over 200 possible post layout combinations! So, whether you prefer to keep things on brand and stick to a certain format, or you like to change things up to keep your audience engaged, you'll never run out of options.
Another super useful feature that the Vlog WordPress theme has to offer is detecting video thumbnails and then setting them as the featured image for that specific post. This means that you don't have to fuss with creating and uploading additional thumbnail images from your existing content. Instead, it's all done for you!
The built-in player that comes with the Vlog WordPress theme can handle both audio and video playback directly from your website, too. It also features a 'watch later' function that allows your audience to bookmark videos and has a cinema-mode designed to display your content in a distraction-free way.
Honorable Mention – Audioatro
Audioatro is a WordPress theme that is designed for multiple projects. Still, it contains certain audio features that make it a good choice for anybody looking to build a podcasting website. In fact, of the two main demos in the Audioatro theme, it would be fair to say that one of them looks as though it has been designed specifically for podcasting!
Such features within this demo include an interactive content slider located directly on the homepage. This can be used to take potential listeners to some of your best episodes, as well as giving your existing audience the ability to find and relisten to their personal favorites with ease.
The homepage will also display your podcast's latest episodes in chronological order, along with a featured image and a playback button. This makes it easier than ever for your listeners to find new episodes and play them straight away without clicking through different tabs.
If you'd like to give your podcast a little more personality, you can also take advantage of the 'profiles' section and allow each team member to introduce themselves to your audience. There is also a section for displaying excerpts from your latest blog posts and keeping your listeners up to date with upcoming episodes.
Another thing that the Audiatro WordPress plugin offers is a WooCommerce online shop builder plugin. This allows you to generate sales through your website by selling digital and physical merchandise securely. You can also use this plugin to set up subscription payments and create a donation button.
So, while this plugin hasn't made our official 'Top 10', it's certainly a good choice for anybody looking for a website that can be self-hosted, integrated with external services, and help you get your podcast out to a wider audience.
Final Word
There you have it; ten of the best podcast WordPress themes available to choose from, along with an extra honorable mention!
Each of the themes we've listed above will allow you to publish audio directly on your own website, and some can even host video files for when you want to give your audience an exclusive piece of content.
Whichever you choose, remember to keep your website regularly updated! If you don't, you may find that your audience numbers begin to drop and, even worse, so will your search engine discoverability!