Marie Forleo has quickly become one of the biggest names in online content, thanks to her socially conscious digital empire, which she has used to help bring actionable advice and tips to achieve a more happy and fulfilling life to the millions of visitors to her website.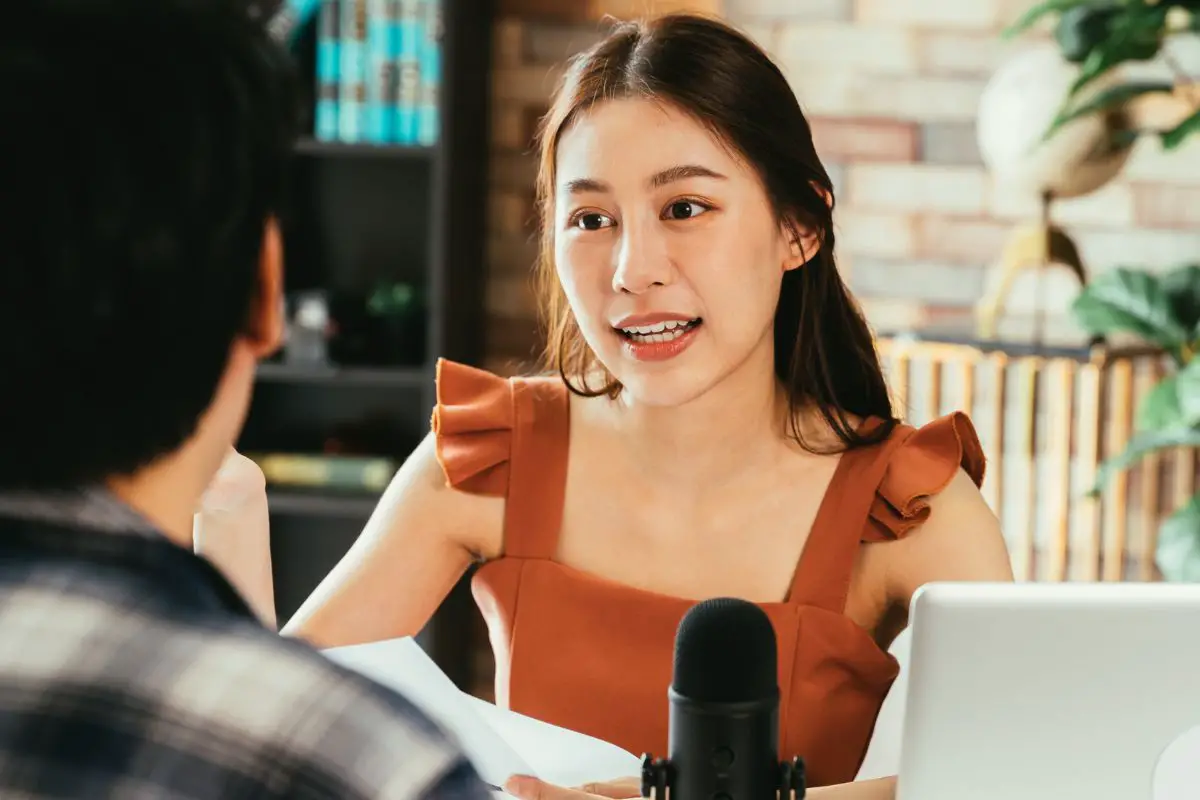 However, one of her best productions is the Marie Forleo Podcast.
This show sees Marie talking to an incredible roundtable of guests, each of whom joins the show to talk about how they have found better happiness and success in their own lives and what steps they took to achieve such goals!
This podcast will not only keep you entertained but will also help motivate you to be the best person you can be and take every opportunity to reach your goals.
But, to experience this glory for yourself, you'll need to know which episodes to check out, right? Why not try out some of the episodes I've listed below? They're genuinely the best of the best!
Bryce Dallas Howard: On Being An Artist, Mother, & Entrepreneur
Bryce Dallas Howard is one of the biggest stars in Hollywood today. Her appearances in the blockbuster Jurassic World films, and her directorial efforts in shows like The Mandalorian, have made her a truly inspiring artist of modern Hollywood.
However, Bryce has faced several challenges on her path to super-stardom, and she has had to find numerous ways to tackle those challenges.
In this episode, as Marie talks to Bryce, we very quickly learn a little more about her challenges with depression, learning difficulties, and the burnout that can come when tackling multiple creative projects at once.
This is easily one of the best episodes of all time, as Bryce is a long-time fan of the show, so she comes on fully prepared to answer any question and is incredibly candid throughout.
Daymond John On Why You Need To Keep A "Broke" Mindset In Business
One of the very best things about the Marie Forleo Podcast is that Marie is willing to invite a diverse range of guests onto the show to discuss a wide array of topics.
In this episode, she invites the fascinating Daymond John to talk about all things business and why he believes that to make it in the business world, you need a "Broke" mindset.
Daymond talks about why it is essential to keep a tight hold of the purse strings when starting a business, as the early days of a company tend to be a time in which many burn through their initial funds and leave themselves at risk of trouble further down the line.
This has become a classic episode, not only because the star guest is incredibly fascinating, but because the conversation brings up essential discussions about the importance of ambition and struggle in business.
Abby Wambach: Forget Little Red Riding Hood. Be A Wolf
This episode is dedicated to exploring the power of personal agency and the importance of discovering your power and abilities.
Guest Abby Wambach believes it is crucial to find out who you are as a person and stand up for yourself at every turn.
Especially if you are a marginalized person, it is more important than ever to stand up for your beliefs and values and be your true self.
This episode will give you the inspiration you need to embrace yourself and embrace a much happier life.
Abby is one of the best guests the show has ever seen, thanks to her well-spoken nature and her ability to get along with Marie, creating charming chemistry often missing from other podcast series.
Sleep Revolution: Transform Your Life One Night At A Time With Arianna Huffington
Achieving quality sleep has become harder and harder for people around the world in recent years, thanks to the constant stimuli that attempt to distract our brains at every moment of every day.
After having a fantastic trip to Sicily and having one of her best nights' sleep in years, Marie rediscovered the power of a good night of sleep. In this episode, alongside special guest Arianna Huffington, author of The Sleep Revolution, she seeks to spill all about the power of sleep.
If you struggle with getting a good amount of sleep daily, or you just want to know of the immense power that sleep has, this episode is the one for you.
It is not only incredibly informative but also very enjoyable.
This episode is one of the most jam-packed extravaganzas in the show's history.
In this one episode alone, Marie invites seven inspiring guests to come on and talk about some of their favorite words of advice for budding creatives and those looking to make it in the world of creative writing.
And even if you are not looking to make it in the world of creative writing, much of the advice in this episode can be applied elsewhere in other creative pursuits, making it one of the show's best episodes.
Never Let Fear Stop You Again With Koya Webb
Fear is one of the most significant barriers to success and personal growth that many people across the world face and also prevents many of us from being truly happy.
So how do you live with fear? Or how do you learn to move past it to achieve things you would never have thought yourself capable of?
This episode of the podcast, featuring the awesome Koya Webb, is dedicated to finding out.
Koya Webb is best known for her health coaching and activism, and in this episode, she gives out some of her best advice that listeners can use to stave off their fear and achieve more extraordinary things.
Brené Brown: Braving the Wilderness and How We Can Belong to Each Other and Ourselves
Brené Brown has transformed and touched the lives of many people. That's what makes her a special guest for this podcast.
Tune in as Marie and Brené come together in an all-time favorite episode.
They cover topics like bravery and why it's important to have difficult conversations. Their wisdom will captivate you and make you want to implement some of their advice in your personal life.
The discussion is full of insight that will inspire you to take action and work on your self-improvement.
Here's Why I Meditate (Plus 5 Easy Steps to Start)
We all know that meditation is good for us, but it can be hard to get started. Like anything else, the more you practice meditation, the better you'll get at it. But initially, it's normal to feel challenged or frustrated.
In this episode of Marie Forleo Podcast, she talks about the benefits of meditation and how to overcome any challenges you might face when starting.
After listening to this podcast, you'll be inspired to try meditation!
Tony Robbins On What It Takes To Have An Extraordinary Life
Most people never achieve their goals because they never take the time to figure out what they want in life.
But anyone can build a great life for themselves, and this episode will tell you how.
Tony Robbins is the guest on the show, and he talks about how to have an extraordinary life through achieving personal growth and provides actionable steps you can use right now to create change.
This is one of the best episodes because it gets honest about what's working in your life and what's not.
No Time for Your Creative Passions? Here's the Fix
We all know it's essential to make time for our passions and creativity, but it can be hard to stick with this habit when life gets busy. Finding time for our day-to-day responsibilities is challenging enough, let alone carving out time for our creative passions.
If you long to learn a new language or take up a hobby — but never seem to have the time — this episode will provide you with a simple trick. Using this strategy, Time Genius student Dominika finished her novel in just two weeks!
This episode reminds us of the difference between having time and simply making it.
If You Struggle With Anxiety, This Trick Will Change Your Life | Gabby Bernstein
Anxiety is not just physical — it's also emotional. We're afraid of everything from losing a job to accidentally saying something wrong in a presentation. And because we worry so much about what will happen in the future, we can't be fully present in the moment.
In this episode, Gabby Bernstein teaches six words that instantly calm your mind and help you soothe yourself under any circumstance.
After listening to this podcast, you will feel more in control of your anxiety and be able to handle difficult situations with ease.