Let's get you the best mixer for your podcast sounds.
Audio mixers enable you to combine multiple audio sounds, changing the quality of the various audio signals and the dynamics of sounds. The audio mixer is the next step in sound quality.
In the confusing world of mixers, some are better than others. And in today's world, a direct USB connection to your laptop is a must.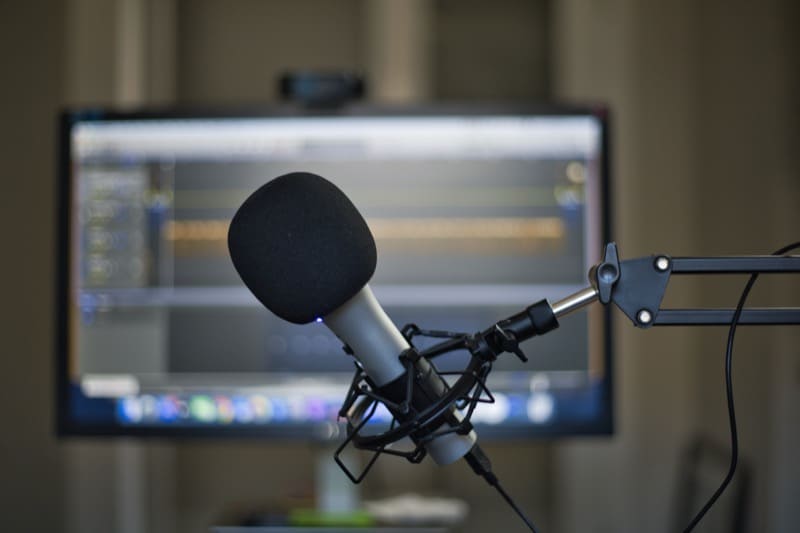 We've looked into many mixers on the market and chose 3 of the top audio mixers for you:
RODECaster Pro
Behringer Xenyx 1204 USB
Yamaha MG10XU.
Our favorite choice is the RODECaster Pro (see on Amazon) for its wide range of possible sound input functions, pre-recorded sounds, and other impressive features.
With so many mixers on the market, it's hard to know which one is best for streaming. They all have similar features and functions, but so many confusing knobs, sliders & adjusters. It isn't easy to know if you're choosing the right one.
We've done our research and will introduce you to the best result from what we've read and seen.
RODECaster Pro
Features
The RODECaster Pro mixer claims to be one of the best USB mixers globally for its relatively moderate pricing.
For podcasters who want a simple mixer with a range of audio input options and non-complicated processors while producing amazing sounds, this is the mixer for you.
The RODECaster Pro has fewer knobs and sliders than most other sliders, but it gives you the broadest range of sound input options.
This mixer gives you up to 4 microphone XLR inputs, a desktop input through USB, a minijack input (i.e., phone), and even Bluetooth audio input.
The different inputs mean that with the RODECaster Pro, you can have four people with their mics, another using the USB input, another interviewee through their phone minijack, and connect your phone through Bluetooth and call in another interviewee for their contribution.
Our Pick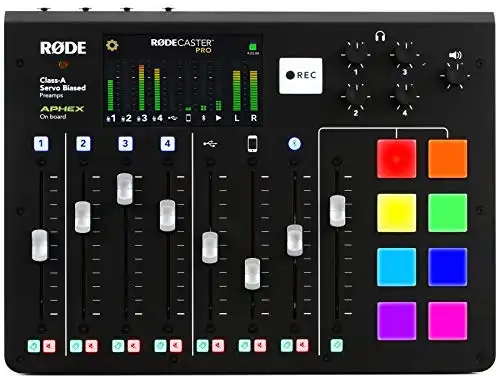 You have the flexibility of programming sounds or music that you need and inputting them into the sound pads to the right. This way, you can play any sounds in real time while recording your session.
The RODECaster pro has four headphone jack volume adjusters for each headphone input and a master volume.
If you're used to touchscreen controls, you will like the RODECaster Pro. Its clean interface with minimal buttons and sliders is made possible through the touchscreen control system at the top of the mixer.
The RODECaster helps to reduce some editing hours through its built-in processor.
Physically, the RODECaster is around 4.37 lbs and 17" x 14" x 5" in dimension.
User experience
Many podcast reviewers have thanked RODE for introducing such a simple mixer and reducing their editing time by hours. The RODECaster is ready to go, right out of its box, with minimal setup.
Admittedly, the RODECaster Mixer is not the cheaper mixer for a podcaster. However, you are getting the bang for your buck with this mixer. Its built-in features and wide range of input options will reduce hours of editing work while producing top-quality sounds.
Plus, it's easy on the eyes.
Yamaha MG10XU
Features
The Yamaha MG10XU is dubbed the best value mixer.
This mixer has four mic preamps that are perfect for audio input with phantom power. To assist with condenser microphones, the Yamaha MG10XU also has gained control of the first two channels.
For each channel, there are EQs to help adjust for the differences and challenges of recording with different voice types and frequencies. To change the voice quality, it also has compressors built-in.
The Yamaha MG10XU has 24 FX adjusters assisted with a parameter control knob. One downside of the MG10XU mixer is that there is no possibility of a combination of FX controls.
More unique to the Yamaha MG10XU are the two XLR outputs for maintaining quality sound.
The Yamaha MG10XU has two 1-knob compressors, specific to the first two channels, instead of a master control 1-knob compressor for all audio inputs. It is perfect for sessions where you may have two vocals and perhaps instruments in the background.
If you need to use your mixer at the standing level, the MG10XU mixer has the capability of being installed onto a mic stand with a mic stand mount.
The power supply is external with a converter cord, so the MG10XU can maintain its small and portable profile.
Best Value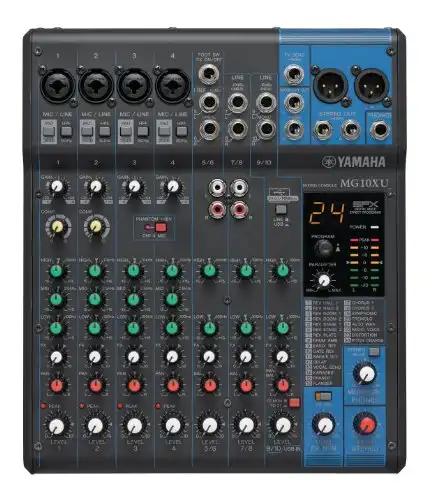 This mixer is 7.47 lb and 15.75" X 5.2" X 14.17"… a little lighter than the Behringer, but larger.
User experience
Podcasters have loved this mixer for its ability to filter out some of the lower background noises, portability, ease of use, and smoothness of the dials. Additionally, the MG10XU was built by Yamaha, a trusted sound brand with top quality, so reviewers love it.
On the downside, some mixers prefer faders as opposed to rotary dials for increased control precision. The USB 2 cable is not included with the mixer, but a direct connection via USB is possible.
Behringer Xenyx 1204 USB
Features
The Behringer Xenyx 1204 USB mixer is a premium ultra-low noise, high-headroom analog mixer. It is excellent for entry-level users.
With 4 XLR phantom power inputs, you can use both dynamic and condenser microphones.
Its four compressor control knobs are classified as studio-grade and are specific for professional vocals. If you have an ear for music, the neo-classic "British" 3-band EQ adjusters will be the adequate controls you'll need.
With the Behringer Xenyx 1204 USB, you get the benefits of podcasting software downloaded on the Behringer website. It's got over 150 instrument and effect plug-ins with free audio recording and editing software.
The two AUX inputs for each channel give you pre-fader and post-fader for monitoring and effects.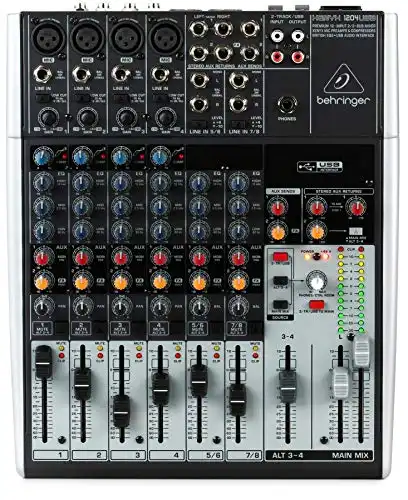 The alternative output options allow you to route the mix to multiple places. Control and headphone outputs will enable you to listen to different things in the mix, from the control to the headphones.
The power supply that works between 100V and 240 V allows you to take the mixer anywhere.
Although this mixer is small: 5.08" x 10.6" x 3.8", with a weight of 8.37 lbs, it is almost twice as heavy as the RODECaster Pro.
With this mixer, you get rack-mount brackets, so you can mount it or use it straight on your desktop.
User experience
Reviewers love the Behringer Xenyx 1204 USB mixer for its flexibility, wide range of features, and ease of use. This product will fit all your needs with a relatively lower budget for entry-level sound mixers or podcasters with little variation in sound inputs.
Some reviewers have reflected that the compressor with this mixer does not support live performance as well as they'd hoped. However, if you are a podcaster without a ton of sound input, this might not be as big a problem as it may be for the mixer of music.
Lastly, some reviewers have also stated that while the mixer itself does the job, the product seems to be a bit cheap, and the brackets, along with the purchase, do not quite fit with the mounting screw on the mixer itself.
Features, Benefits, and Frustrations
Analog vs. Digital
Both analog and digital mixers give you instant access to the effects, control, and mixing that you want. However, because digital mixers have the capability of programming, you will often find additional features with digital mixers.
Analog mixers have controls for each channel right on the console. Digital mixers, on the other hand, may require you to access each channel control through the digital system. Accessing each channel means you cannot see everything at once and have to make several changes simultaneously.
With analog mixers, the more advanced you go, the more you may find that you need add-on products to help with FX and dynamics processing.
As a result, digital mixers are typically more expensive than analog mixers. As a podcaster, you may not need those additional features that a musician might, so an analog mixer might be enough.
Preamp and phantom power
For podcasters using audio mixers, they typically don't need a complex system, the preamp and phantom power features are highly valuable.
The preamp controls the gain of the audio input. A preamp for microphone input is a built-in feature of mixers to optimize microphone signals.
Condenser mics require an external power source to reduce output impedance (or resistance). If you have a condenser microphone or want to use a condenser mic in the future, phantom power is essential. Dynamic mics do not require phantom power because they are "passive" mics.
EQ Section
As we briefly discussed in our "How far should you be from your mic" article, the variation in voice tone and color can affect sound production and processing.
That is why the EQ section is essential. It allows you to control the tone or color of the audio inputs to help optimize sound quality and ease of listening.
Number of Input Variations
As a podcaster, sometimes you are on the go, sometimes you don't have a mic on you, or sometimes you would like to call in another conversationalist to join your episode.
The variation in input options is something you might want to consider. Aside from microphone inputs, what are the other highest audio input options? Maybe laptop interviews, cell phone conversations, etc.
Another consideration is whether your mixer has enough microphone inputs. For the time being, you might be a solo podcaster or interviewing one other person. But it might be an important investment in the long term.
Portability
Many podcasters are not recording in a specific studio and are often on the go, recording in different spaces. If this is the case, you'll want to consider the weight and size of your mixer.
From what we have seen from podcast reviewers, the smaller, simpler audio mixers are sufficient for the nature of podcasting. It allows them to carry all of their equipment: laptop, microphone, mixer, and notes, to every recording session. The more complete your gear is at the time of recording, the less editing you'll need to do later.
Brand: Price & Quality
Based on our research, in the audio mixers industry, the prices follow reasonably close to the quality of the product/level of professionalism. In other words, the simpler the function, the lighter the fare, and vice versa.
With that said, the expensive and low-quality products get weeded out due to the highly technical nature of these products. So, of course, make sure to read the ratings and reviews before you buy anything.
The most commonly used audio mixers with the best price and quality brands are:
Behringer
Yamaha
Mackie
Allen & Heath
RODE
Conclusion
An audio mixer separates your podcast from those podcasters only using a killer microphone. It allows you to produce one sound mix from various audio inputs while adjusting the effects and quality.
When purchasing an audio mixer, you'll want to consider whether you'll need an analog or digital mixer, preamp and phantom power features, the EQ section, the number of input variations available, your mixer's portability, and the brand.
We love the ease of use, portability, and added functionalities of the RODECaster Pro.
Our Pick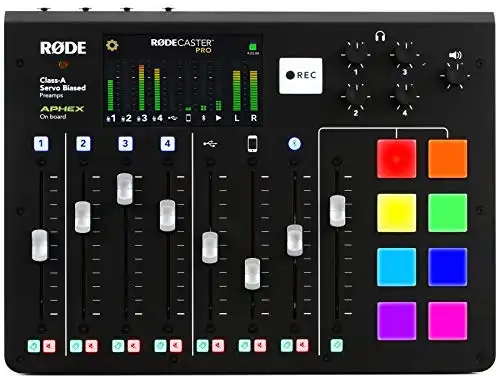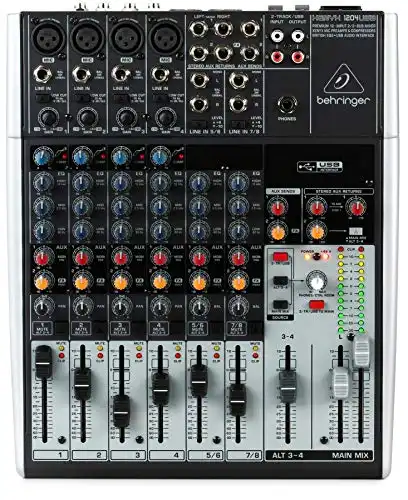 Best Value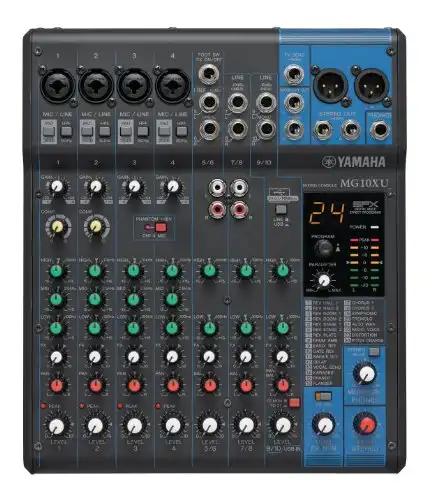 Frequently Asked Questions
Do I need an audio mixer for podcasting?
Audio mixers are not mandatory for recording a podcast, but they offer plenty of benefits to help bring your show to the next level.
Why are audio mixers useful for podcasting?
Mixers are a very popular tool used in podcasting for various reasons. Firstly, they allow you to record multiple audio sources at once.
Additionally, they can help you to control the levels of each audio track, and many mixers also come with built-in effects that can be used to enhance the sound of your podcasts, such as reverb or echo.
Does an audio mixer improve sound quality?
Using a mixer gives you greater control over the sound in your production. You can adjust levels, add EQ, and apply other effects to get the perfect sound. This can make a massive difference to your audio and video quality.